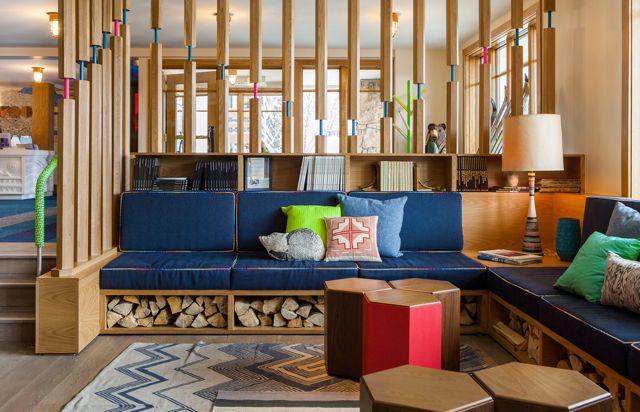 Throwback ski lodge style with a seriously fun vibe, and rooms that start at $189 a night–Wildwood Snowmass is a total find.  The playful retro style is the vision of NYC design studio Reunion Goods & Services —Carlton DeWoody, Eric Adolfsen, and Laura Flam. Note to hotel owners, sign them up for more hotel projects!  They are currently working on the 12-room Hotel Tivoli set to open this summer in Tivoli, NY. Cannot wait to see what they come up with next. Check out the Wildwood's coolest design sources, the scoop on staying there, and pics from my stay: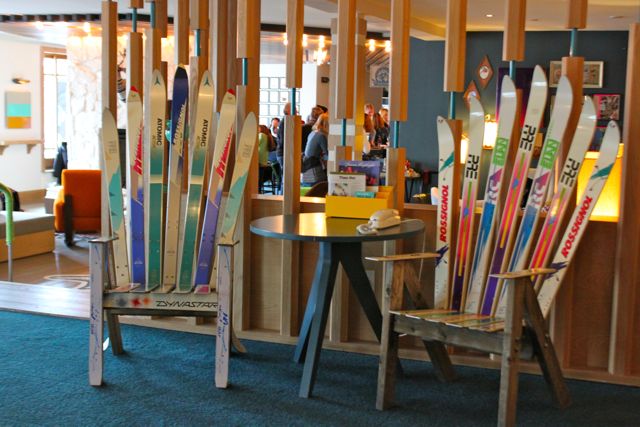 VIBE: Throwback ski party style. Chairs crafted out of skis greet you at the front desk. The lobby is open and connected to the bar where there is a very fun apres ski scene every day. There's often a band playing–  think Grateful Dead , Allman Brothers, & Tom Petty covers.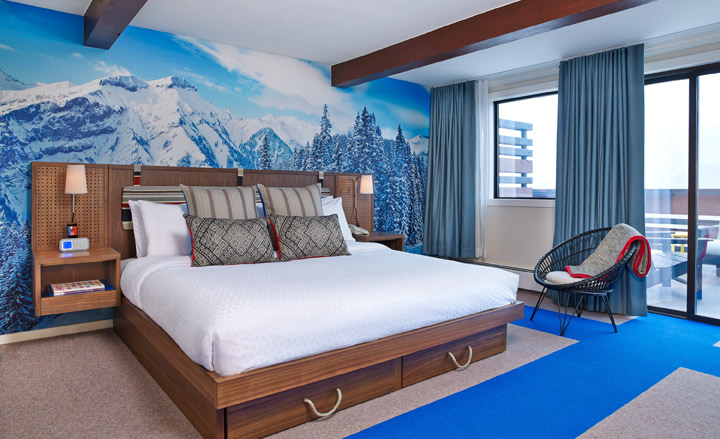 WHO ITS BEST FOR: People who want a seriously fun hotel with a laid-back vibe right on Snowmass mountain, but don't want to spend a ton of money.
WHO SHOULDN'T BOOK: It's a revamped motel, so if you don't like stepping out of your hotel room into the cold, this isn't for you. It's also not the place for someone who wants 5-star service, you're bringing your own bags up to your room which are on the small side and no frills. This is not Aspen (for me, a good thing…).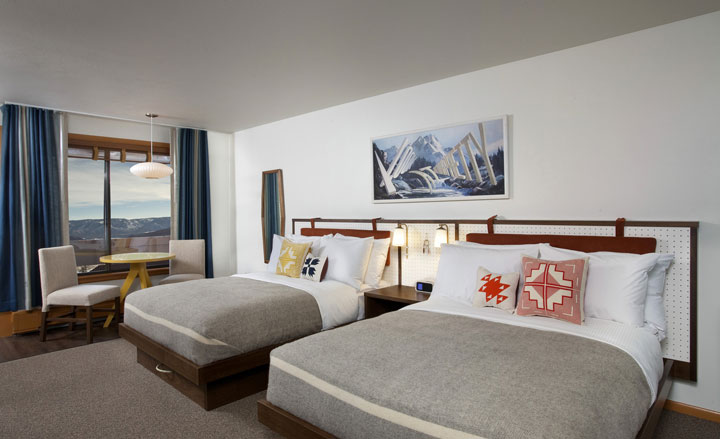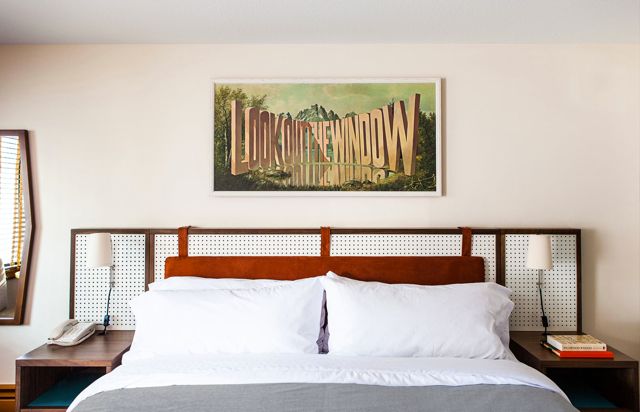 THE ROOMS: The most comfortable mattresses I have ever stayed on! The rooms boast a vintage motel vibe–with everything you need, no frills. One of my favorite touches was the Artist Wayne White's "Look out the Window" lithographs that "cleverly acknowledge the futile attempt of any artwork to compete with the natural beauty of Snowmass." Totally.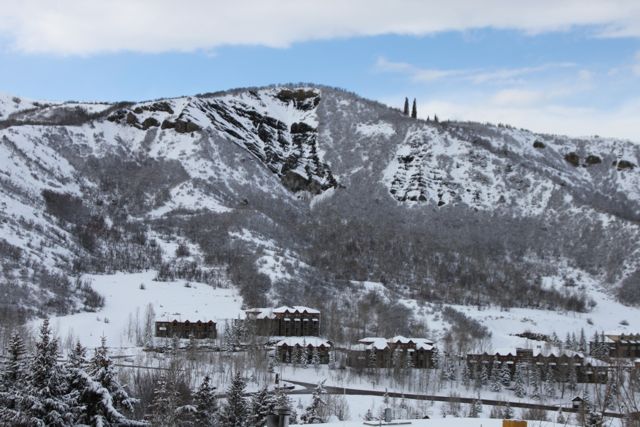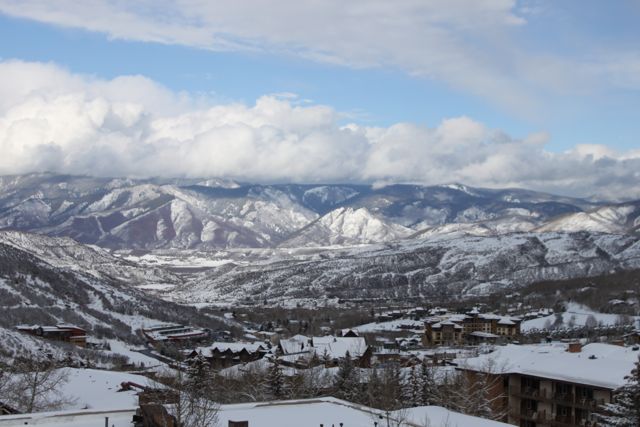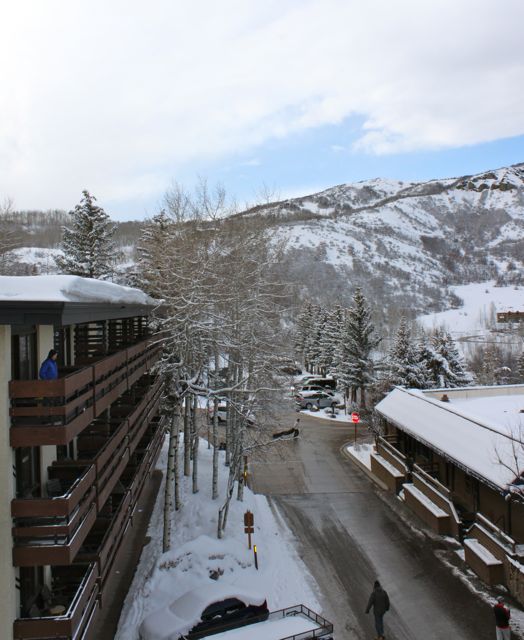 THE VIEWS: When you do look out the window, these are your views. Killer.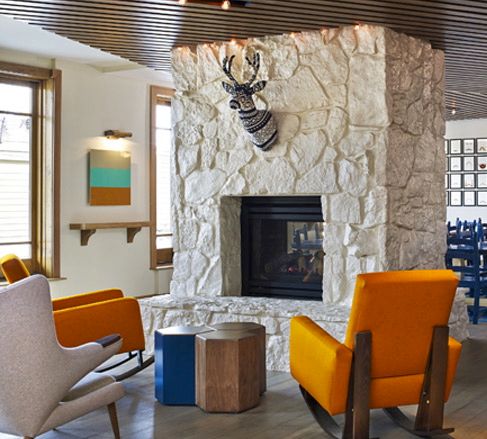 THE PERKS: The Wildwood is about 200 yards from the slopes, right on the mountain. There is an outdoor pool, yummy Noodle Bar restaurant, and the lively bar complete with visiting bands. Because it's a Starwood hotel,  you also get to use some of the amenities (pool, restaurants) of the ski in/ski out Westin which is steps away.
Design note: The orange rocking chairs are DucDuc in Maharam felt and  sweater deer head was made by the artist Rachel Denny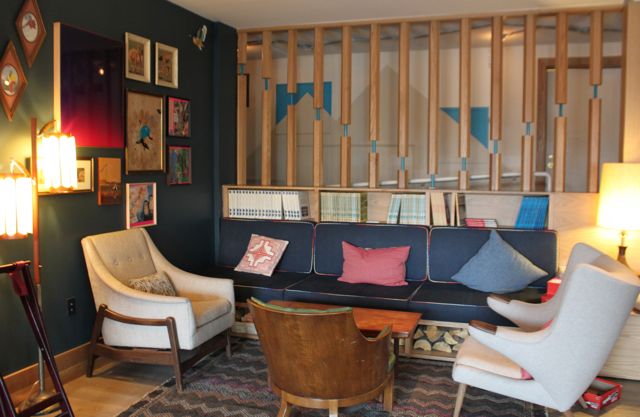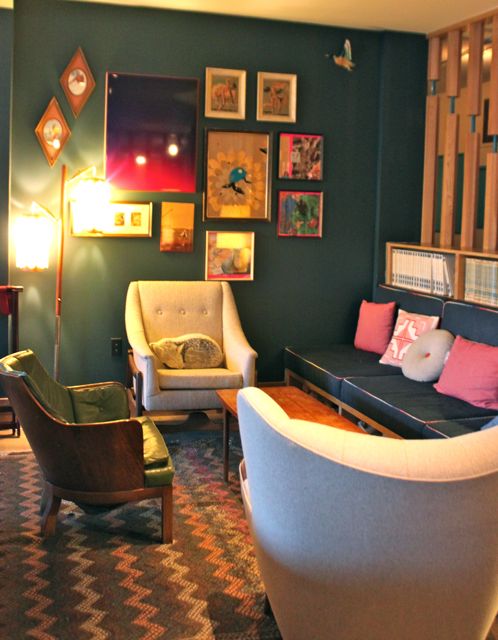 FAVORITE SPOT IN THE HOTEL: The lobby hands down. There are retro board games, travel tomes, even vintage encyclopedias. With the bar right there and a fun scene, you'll want to hang out there anytime you're not on the slopes or sleeping.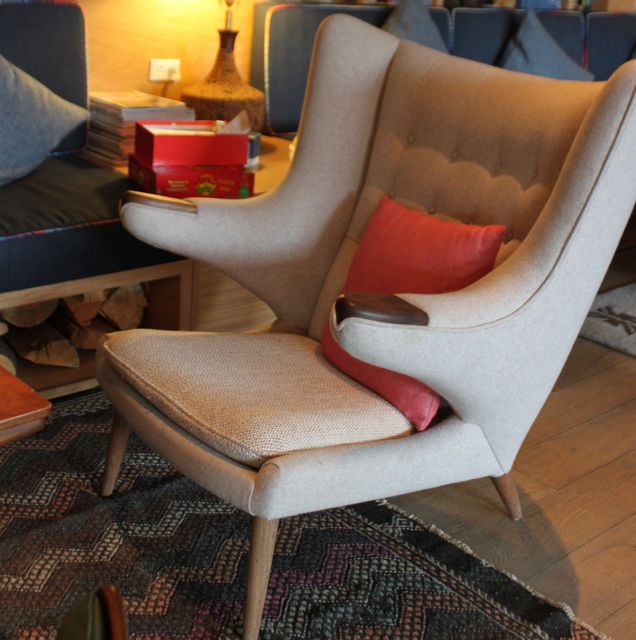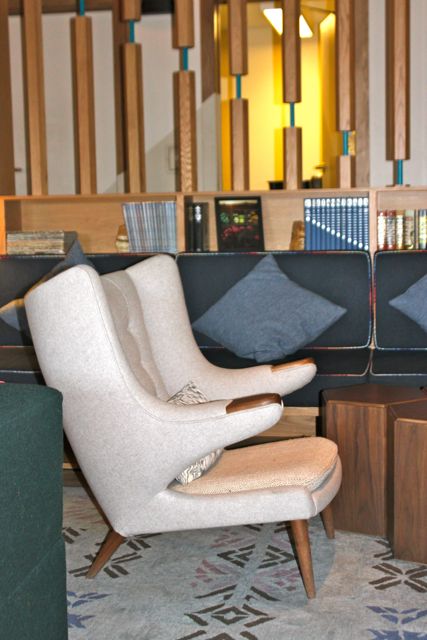 DESIGN IDEA TO CRIB: Hans Wegner Papa Bear Chairs would be a groovy bedroom chair or a way to inject a retro vibe into a living room or man cave.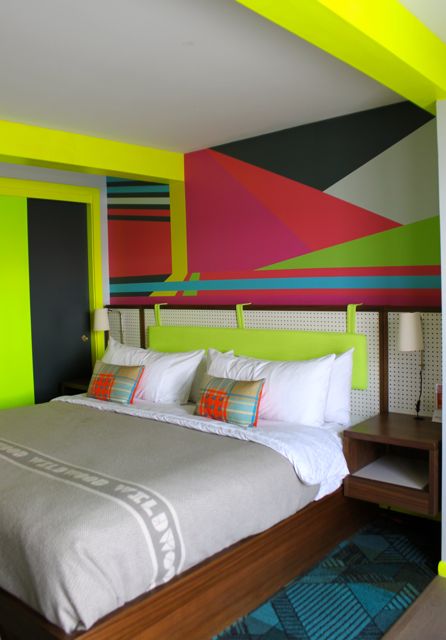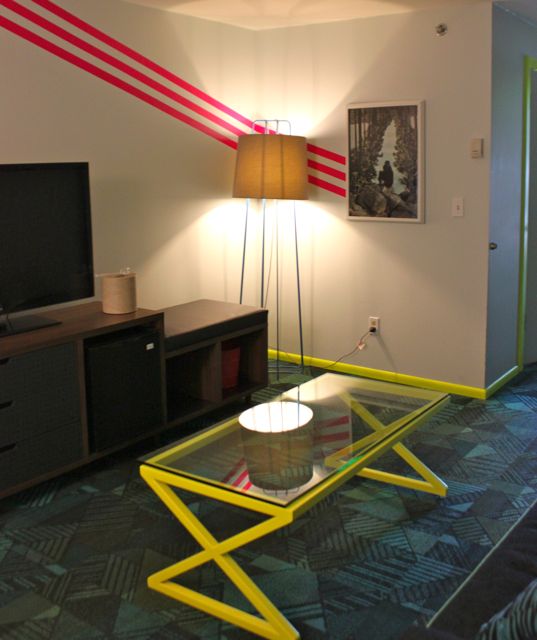 SWEET SUITES PART 1: The suites are roomy and have way more happening designwise than the entry-level rooms. Case in point this neon-hued suite that completely channels the 80s.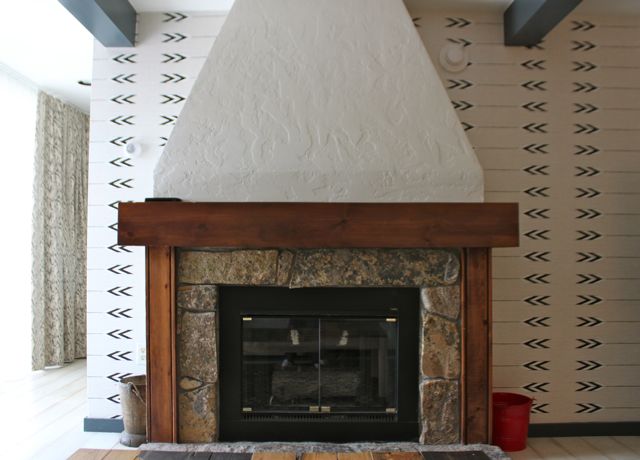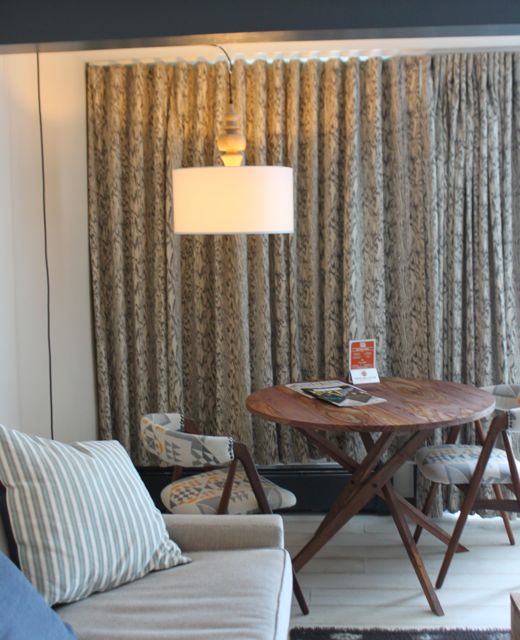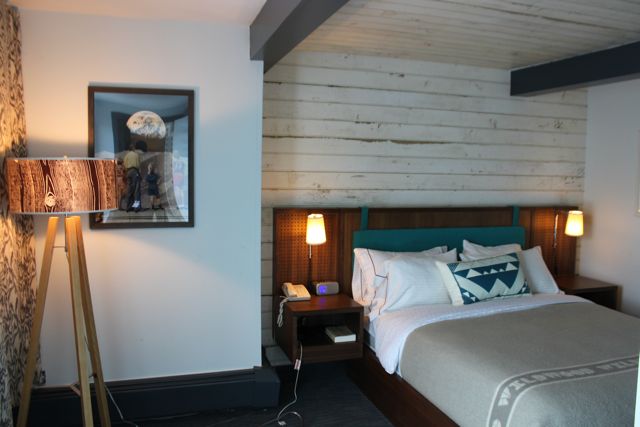 SWEET SUITES PART 2: With a freplace and a roomy deck with a view, the Wooden Wisdom suite is my favorite. Love the curtain fabric by Valley Forge, vintage-ized wood planks in the sleeping nook, and tripod lamp,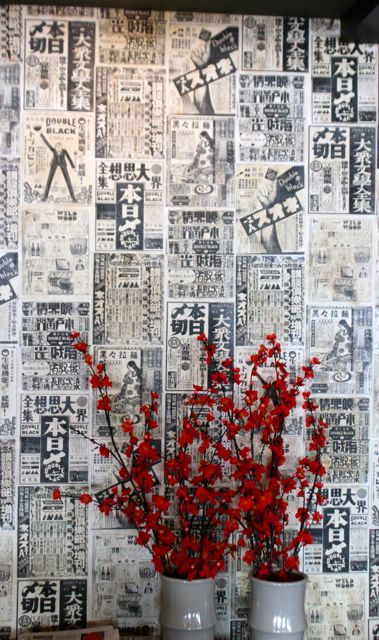 COOL WALLPAPER: The wheat-pasted wallpaper in the Double Black Noodle Bar was made by Reunion mixing vintage Japanese ads with their own graphics and typography.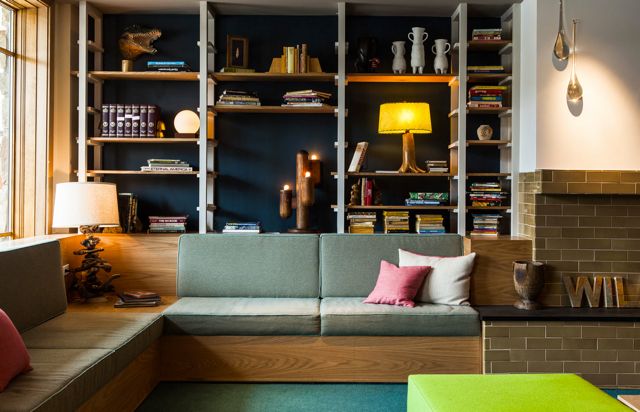 All images except 1, 3, 4, 5, 9 and 21 are by Sara Bliss for Hotel Chic. The others (the good ones) are by Laure Joliet.