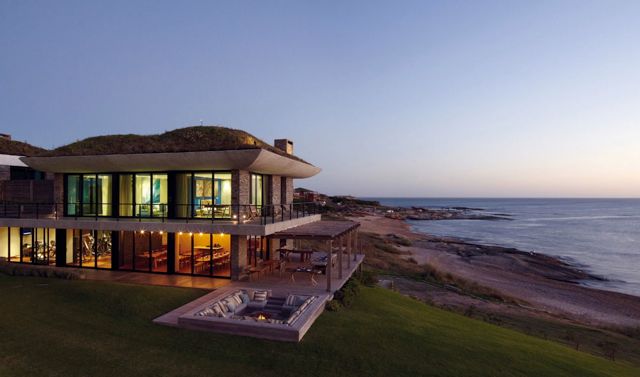 Perched on a stunning stretch of the Uruguayan coastline, Playa Vik is adding some spark to the sleepy fishing town of José Ignacio. Just like its sister property, the Estancia Vik ranch located on 4000 acres just 5 miles away, Playa Vik also boasts an impressive art collection and is eco-friendly to boot.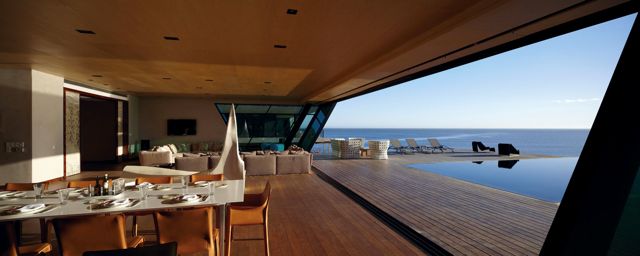 Uruguayan architect Carlos Ott  gave the main building, floor-to-ceiling exterior glass walls to take in the sweeping views. A green roof covered in sea grass and blossoming native plants is an interesting juxtaposition to the modernist architecture, but it connects the building even more to the natural beauty of the landscape. It's a cool yin and yang between the contemporary architecture and its eco-friendly features. The  75-foot long cantilevered pool features a fiber optic lit celestial map of the southern hemisphere on the terrace overlooks the beach below.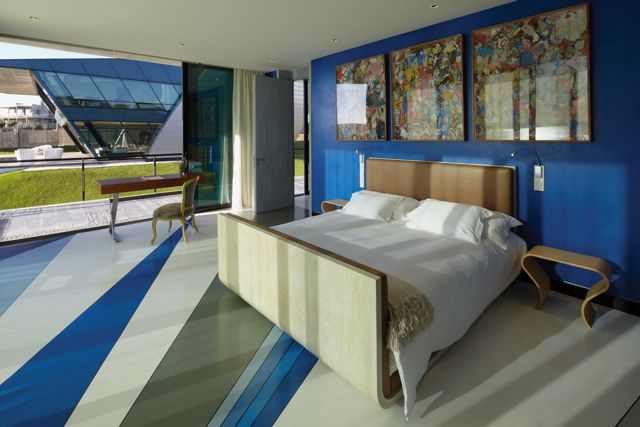 The 6 individually designed casitas  feature multiple bedrooms, a fireplace, an art-filled interior and  hand painted floors.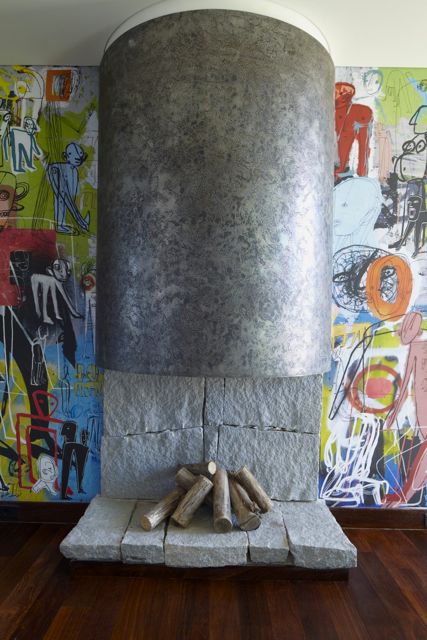 The owners are passionate art collectors and they've filled both of their hotels with work by an interesting mix of international artists including  James Turrell, Anselm Kiefer and architect Zaha Hadid.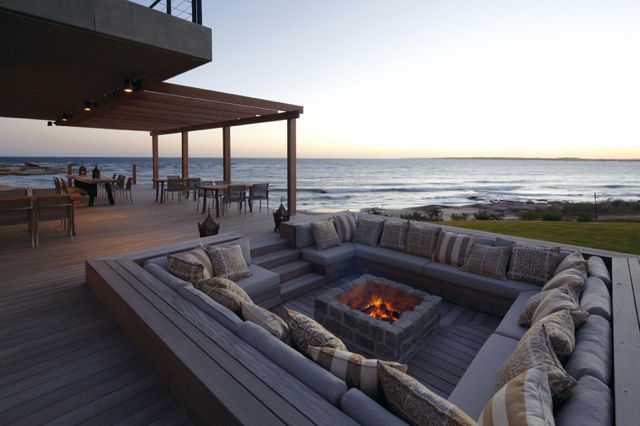 If you can't make it down for one of their spectacular outdoor barbecues, we'll bring the taste of Playa Vik to you. Here's a recipe for the perfect summer BBQ that Marcelo Betancourt, chef of the Viks Retreats, was kind enough to share with Hotel Chic.
Dinner for 4: 3 lbs sea bass (or Corvina Negra is you happen to be in Uruguay), 1 red pepper1 green pepper, 1 yellow pepper, 2 red onions, 3 garlic cloves, 7 tbsp olive oil, a handful chopped dill, salt and pepper
Start a fire and let heat for 2 hours, unless you have a gas grill and then you can ignore this step! Cut the peppers, onion and garlic into thin slices. Add a pinch of salt and pepper, and pour in the olive oil. Mix well and add a handful of chopped dill. Once the barbecue hits 320°F (160°C), take the filets and place in olive oil, either with your hands or a piece of paper and then place skin down on the grill. Sprinkle salt and pepper, and cover with the peppers and onions mix. Cook for 10-20 minutes depending on desired temperature and serve!
5 Minute Appetizer: 3 tbsp olive oil, 12 baby calamari, 12 rings of an onion, 8 peach slices with skin, salt and pepper, 1 tbsp balsamic vinegar
Put a pan over the grill until it is hot and add olive oil and calamari. Let sit for one minute, and then add onion rings, peach slices, salt, pepper and balsamic vinegar. Cook for 2-3 minutes and serve.
Add some good wine and even better friends, and the barbecue is complete.
Happy Summer!
All images courtesy Playa Vik