Designer Angel Sanchez creates clothes that are a powerful combination of sexy, colorful, and architectural. Not surprising, given that the Venezuelan-born Sanchez was once an architect himself and he often looks to art and design for inspiration. He burst onto the scene with a gorgeous bridal collection and has since expanded into evening wear, and a new secondary line called Sanchez.
I had a chance to chat with Angel about his travels and he told me about the amazing Benesse House which is located on remote Naoshima Island in Japan. Designed by architect Tadao Ando, Benesse House is a museum and boutique hotel hybrid that showcases art by Basquiat, Bruce Nauman, and Calder, in a zen like setting.  Below is my Q&A with Angel about his time there:
Hotel Chic: What is your favorite hotel in terms of design?
Angel Sanchez: I am so inspired by Benesse House in Japan. It is a gallery, museum and hotel combined. You have access to the art 24-hours a day.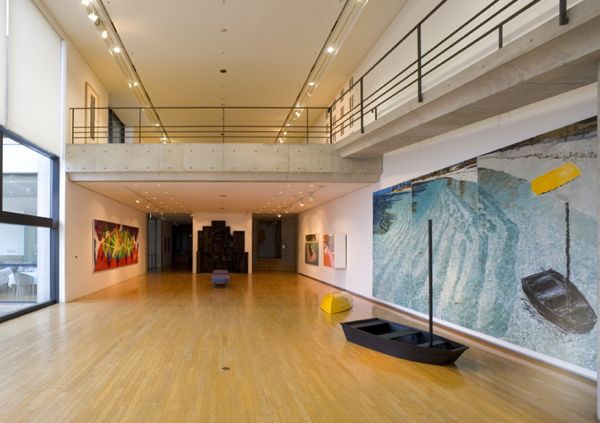 HC: How did you discover Benesse House?
AS: I went to Japan with a friend who knows a lot about architecture and art. I didn't have a clue what to expect, and it was a beautiful experience. The whole town is all about art, starting with the ferry terminal that has hundreds of mirrors reflecting images of the water.
HC: What do you like most about the hotel's design?
AS: The building itself is all concrete, but it is beautiful. And the rooms are almost monastic, so that your time there is all about contemplating art, meditation, and peace. For me it was like a spiritual retreat.
HC: What is your favorite space at Benesse House?
AS: The Oval. It is underground and when you open the door from your room, you see a wall of water flowing into a pond. It is so striking.
HC: What did you take away from your stay there?
AS: To be surrounded by art, for me, was fantastic and so inspiring. The designs for my Fall 2008 collection came to me during my time there. I could not stop sketching!
All Images Courtesy of Benesse Art Site Naoshima and Angel Sanchez