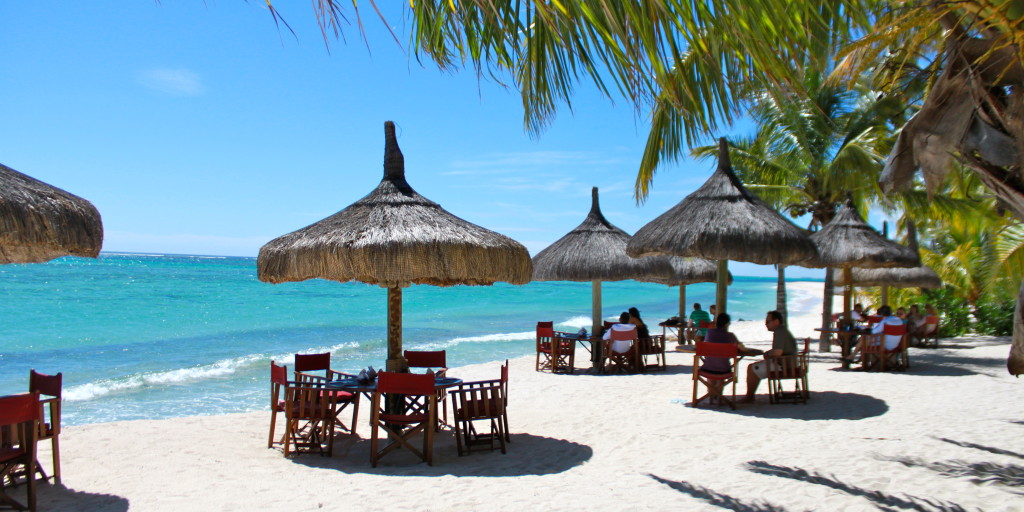 A few months back I was exploring Mauritius and covering the new St. Regis for Indagare . Around the corner from the St. Regis was the Dinarobin Resort where we parked under a palapa for a bite one afternoon. Probably one of my favorite places for lunch….ever, totally laid-back with a killer view of the Indian Ocean. The vibe was remote and mellow. It was Easter week and I have no idea where everyone was hiding as the hotel was supposedly full but we barely saw anyone. A few of my pics of the resort below:
The architecture at Dinarobin is typically Mauritian with palapas and bungalows with thatched roofs. The peak you see in the background is Le Morne, a UNESCO World Heritage Site. If you are totally adventurous, you can hike to the top.  There are only 4 resorts around the Le Morne peninsula, and on an island with over 160 resorts, it is definitely one of the more remote parts of the island.
The day we visited the resort was completely quiet, even at their massive pool right off the beach. More pics of Mauritius later in the week.