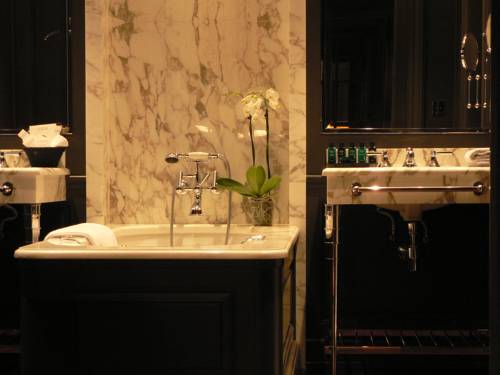 Michele Bönan is the man behind some of the most beautifully designed hotels in the world from the JK Place in Capri to Germany's Heidelberg Suites. His new 15-room Marquis Saint-Honoré  in Paris is no exception. Just like his other hotels, the spaces are designed to feel like incredibly chic homes and full of real-life design inspiration. The bathroom alone would be such an easy look to make your own and is a great alternative to the all-white bathroom trend. A slab of marble frames the tub and paired with marble sinks, pop against painted charcoal (almost black) walls and wood paneling. You could make this look your own by framing your tub walls in marble tile (less expensive than a slab). I also love that the tub is centered in the space rather than in the corner. The dark walls paired with Calacatta marble is such an ultra glamorous combo.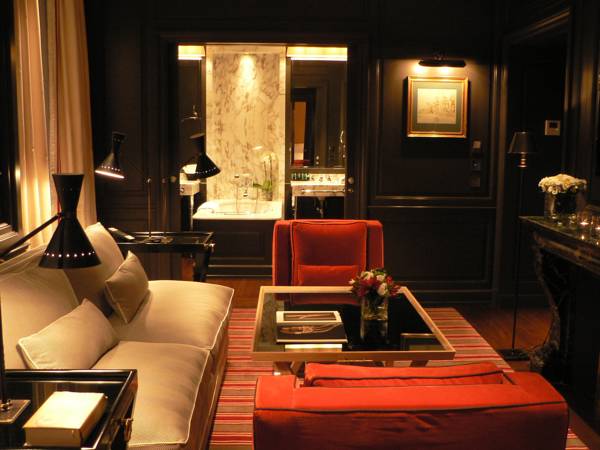 Bonan continued the dark walls and wood paneling into the living room. When you're in a tight space (like so many of us in NYC) it is actually a great design trick to remember. Echoing the color palette from room to room is a designer secret for making a space seem larger. The living space with the beige couch, pops of red, and striped rug set off by dark walls is great color inspiration for a den or smaller living space.
This will definitely be the hot hotel in Paris this year!