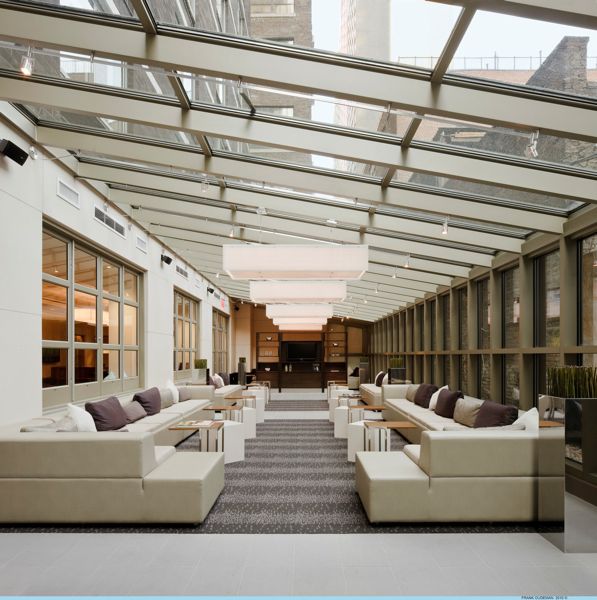 I was recently invited to tour Starwood's green hotel brand's first NYC property, The Element New York, Times Square West. I often write about eco-friendly design so I was eager to check it out. The 410-room hotel is on a bit of a random block on 39th between 8th and 9th, close to the Javits Center, but the prices for NYC are AMAZING. I found special rates starting at $129 for this last weekend in February, which for NYC is unheard of.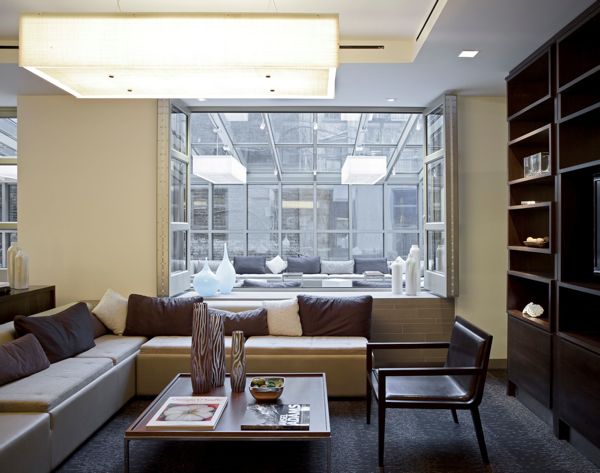 The vibe is low key and communal with plenty of places to lounge and chat. The lobby features a kitchenette along one wall with long tables for grabbing a bite or logging onto your laptop. A glass-enclosed living area with lots of wrap-around sofas, looks like the perfect place to unwind after exploring the city.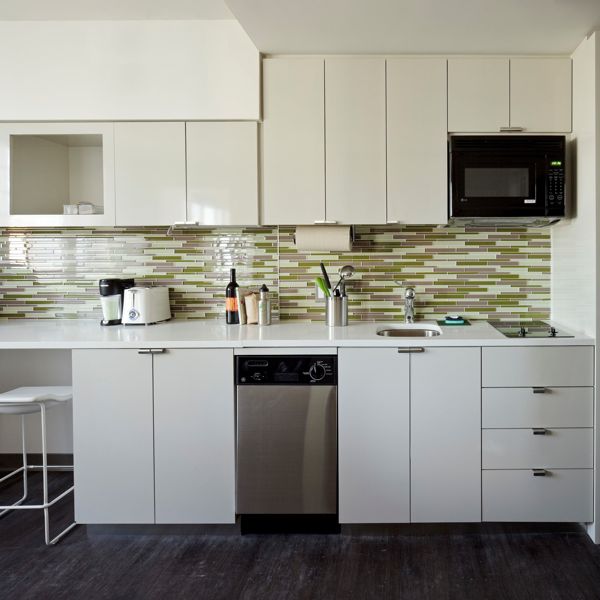 What I liked the most were the cool kitchenettes in every room. The green glass tile backsplash from Daltile is a great example of how to jazz up an all white kitchen. However, given Element's green philosophy, I had high hopes that I could share the sources for the ultimate eco-friendly kitchen with you, but it falls a little short.  The cabinets and glass tiles are fabricated locally, but I wish they were truly green and made from a recycled or renewable material. The countertops  are CeasarStone which is a quartz composite, but I'm surprised they didn't go with totally eco and local, Brooklyn-based IceStone recycled glass and concrete countertops. But the kitchens do feature Energy Star rated GE appliances, a water filtration system to cut down on plastic water bottles, and real glass and silverware instead of paper and plastic.
Element has lots of great green initiatives, like CFL and LED bulbs and low flow fixtures throughout, to save a ton of electricity and water. Element also boasts low VOC paints, green cleaning supplies from Seventh Generation, rugs made from 100% recycled content, and soy-based cushions in the guestroom sofas. All of which is terrific and pioneering for a hotel chain.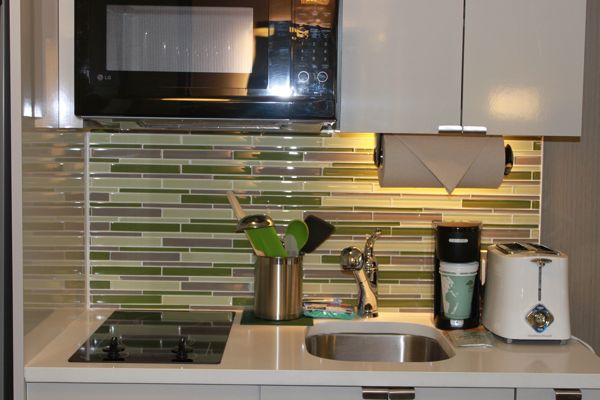 Here is a close-up shot of that gorgeous backsplash–how cool is the design? Between the kitchenettes in every room, and the low rates, the Element would be a groovy spot for a long-term NYC stay.
Cheers!