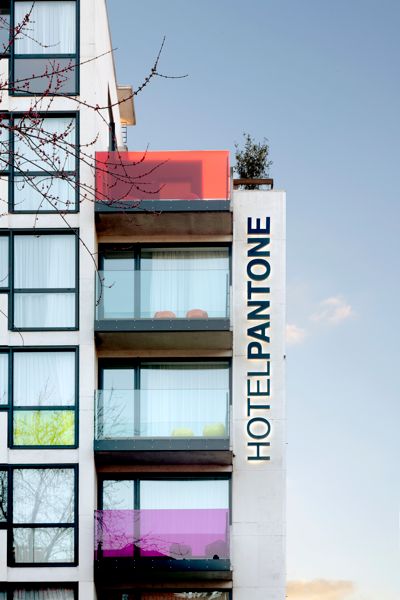 For those of you living in white boxes, either because you're playing it safe or you're in a rental that doesn't allow you to paint, you might want to take your design cues from the Pantone Hotel in Brussels.  As the worldwide color authority, Pantone is the perfect brand to open a hotel that showcases the power of color to transform a boring white box into something spectacular. (All without painting the walls!)
In the exterior of the 1970s building that houses that hotel, architect Oliver Hannaert added pops of colored glass to the exterior terraces and windows. I love how such a simple update turns the building from drab and grey, to cool and cheery. Belgian designer Michel Penneman did the interiors.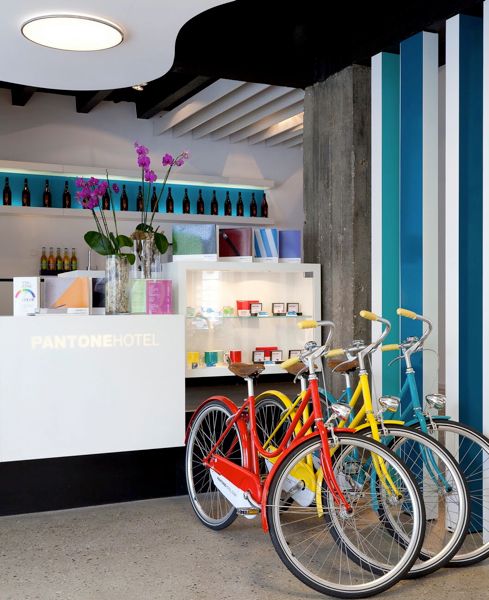 Each guest floor (and its rooms) is dominated by a different hue. When you check in you can choose one of 7 colors that echoes your mood and stay at the corresponding floor. Feeling vibrant? Go with orange. Feeling captivating? You must be in the mood for pink. You can even take a matching bike around town.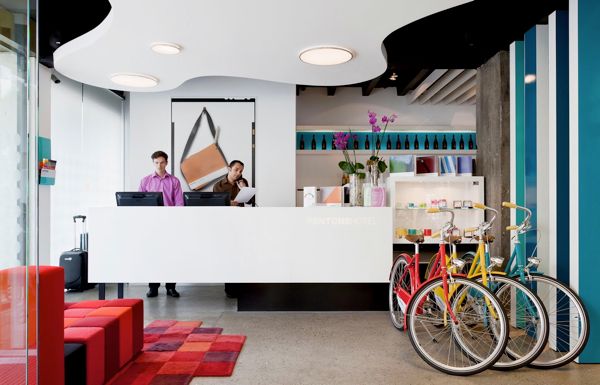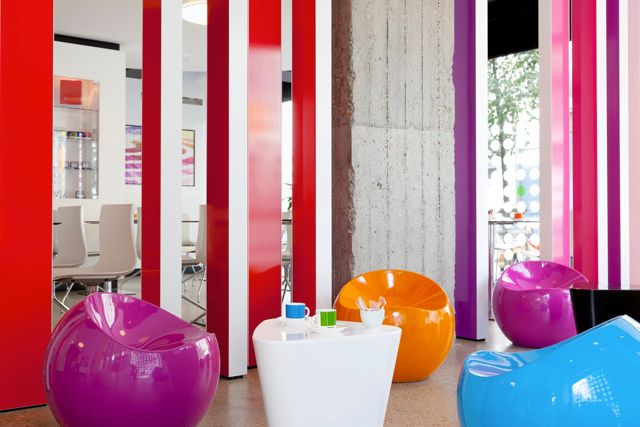 If you look closely at this pic you'll notice that some of the walls are raw concrete and others are plain white. But you would never notice the industrial background thanks to the cheery pops of intense color. The awesome Ball Chairs are by Brit designer Finn Stone and come in dozens of hues (they can also be ordered in custom shades). They are available crafted out of fiberglass or recycled plastic.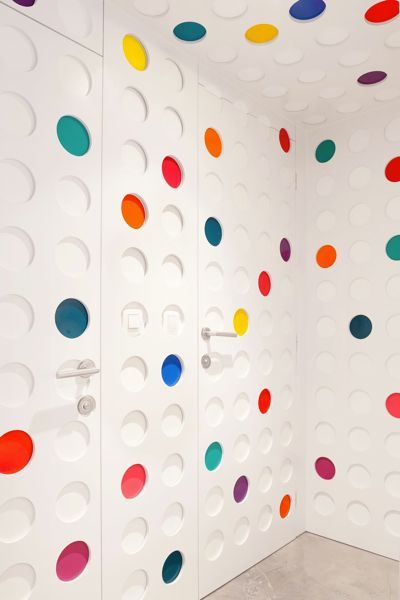 The doors to the bathrooms feature bright bursts of bold color. You could easily recreate the look with paint in a kids room. Or it could even be a fun way to jazz up a basement or even a garage.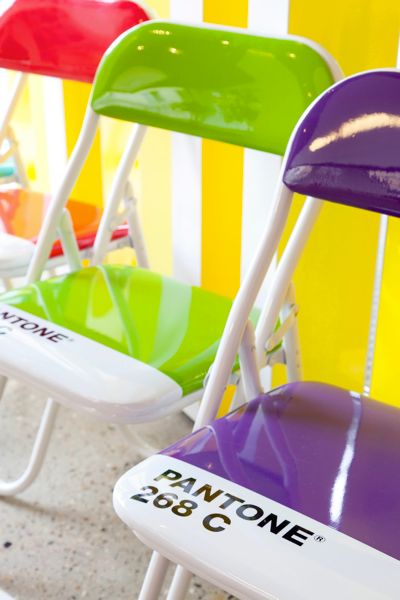 Folding chairs feature Pantone's universal numbering system that was created so designers worldwide can match exact hues.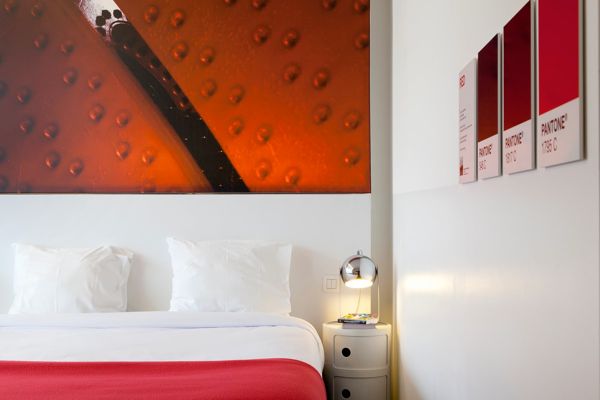 Here are two views of one the rooms on the red floor (for you daring and fiery types).  Against a white backdrop, color chips on the wall, vibrant art, and a blanket all in the same hues, results in a cool and contemporary space. It is a formula you could have fun recreating at home.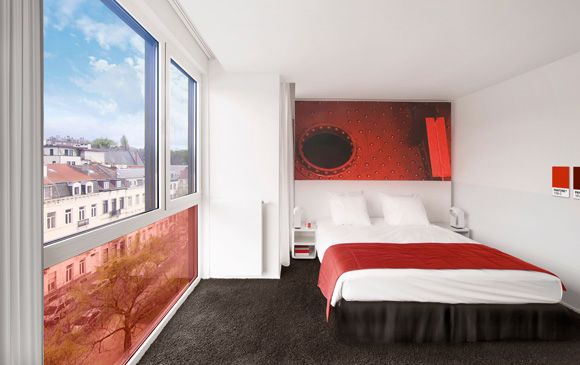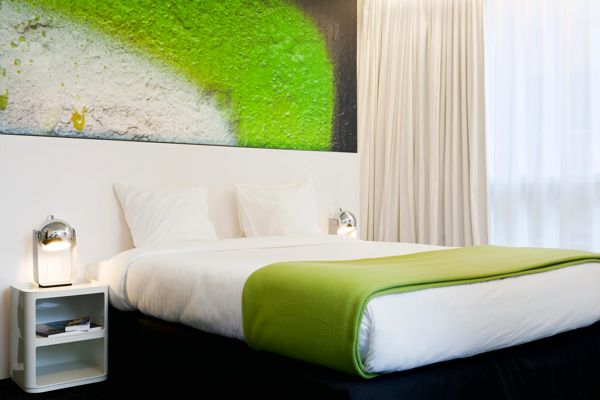 Here is one of the green rooms (for the "fresh and eager" among us). All of the art in the rooms is done by photographer Victor Levy custom for the hotel. Each photograph was required to showcase the primary hue, be abstract, and taken in Brussels.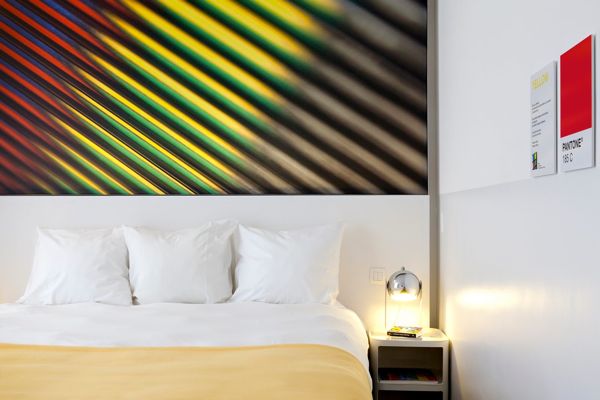 Now go be brave with color!