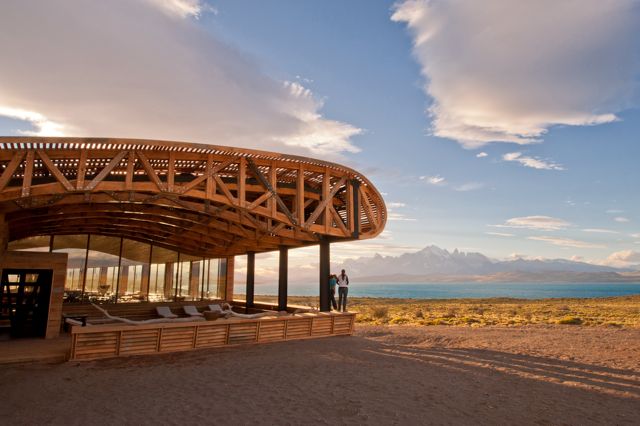 The big trends in hotels this year? Standing out and blending in. I was happy to see that many hotels are using design and architecture to create signature environments that are incredibly unique. So original in fact that they don't resemble conventional hotel design at all. From the quirky & glamorous Saint James in Paris to Francis Ford Coppola's latest masterpiece Palazzo Margherita, the newest crop of boutique hotels are designed to feel like you're staying in the incredibly cool guest room of a very glam friend.  Some of the most amazing design right now is happening in the world of hotel design as these destinations showcase beautifully. Another trend that I'm loving is how more and more hotels are using architecture to blend in with their stunning destinations, not stand out. These far-flung eco-hotels, including Tierra Patagonia to Lamai Serengeti, are aiming to right the overbuilding and overdevelopment mistakes of the past. These hotels work in harmony with their environments and the hotels pride themselves on eco-friendly initiatives including conservation and green design.
Out of all the great launches it was almost impossible to narrow down, but here are my 10 Favorite Hotel Chic destinations  for 2012. A global wishlist for sure: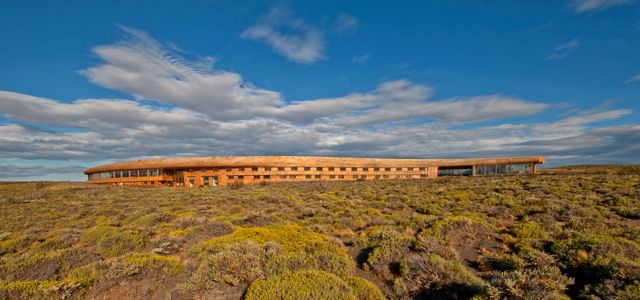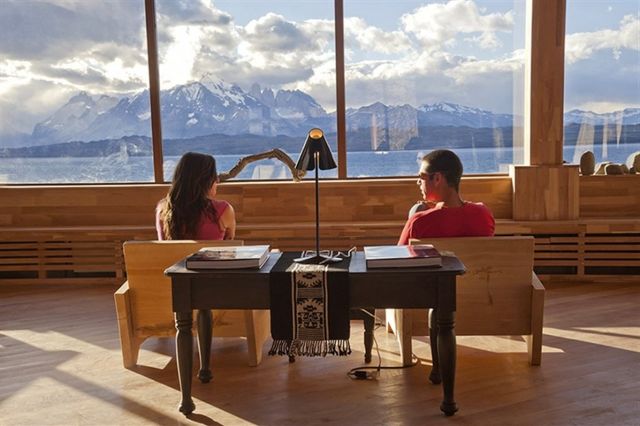 1) Chile: The sweeping and organic architecture of Tierra Patagonia Hotel & Spa fits so seamlessly with the big sky landscape that it serves as an example to what eco-conscious properties should all aspire to. The structure, while stunning,  is a supporting player in the sweeping landscape when viewed from the outside. It nestles in the curves of land and sky in an amazing flow. From the inside, the floor to ceiling glass maximizes those same stunning views  that the hotel's architecture perfectly protects.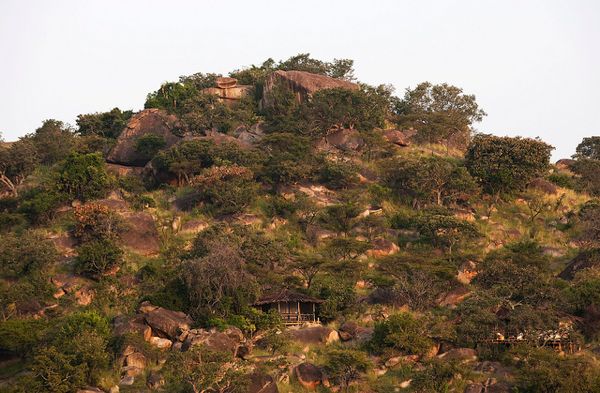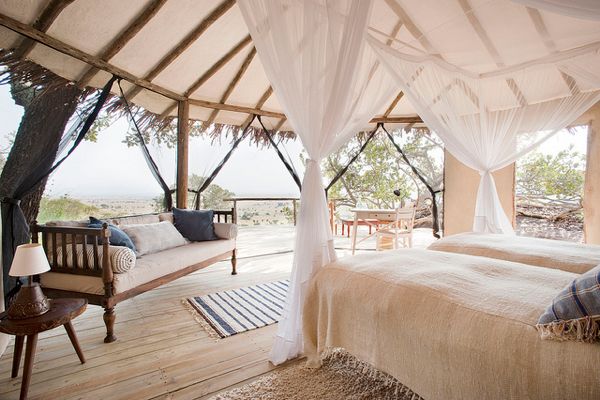 2) Tanzania: Perfectly camouflaged on the hillside, the owners of Lamai Serengeti  felt it was important to design the lodge "to see, but not to be seen, to listen but not to be heard." Owned by Nomad Tanzania, one of the top safari companies in the region, Lamai Serengeti boasts 12 open-fronted rooms that offer views of the breathtaking Serengeti National Park in Tanzania and its amazing wildlife.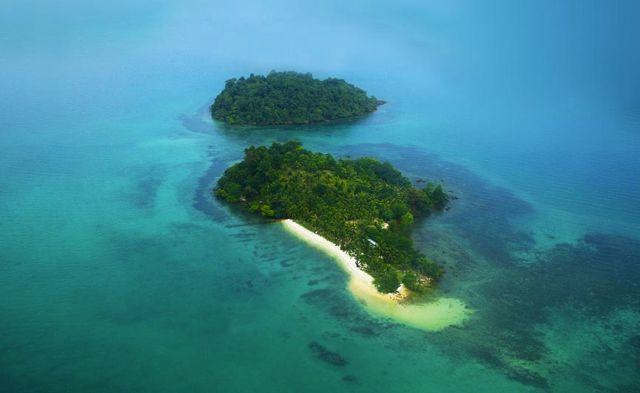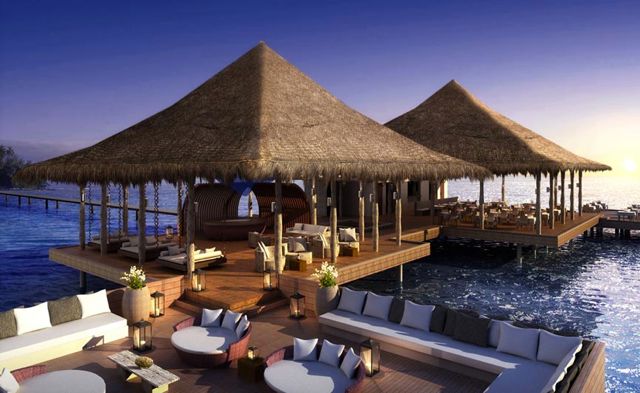 3)Cambodia:  Looking to escape somewhere incredibly remote and undiscovered? Check into Cambodia's first private island resort,Song Saa.  Located in the Gulf of Thailand, 20 miles off of the coast,the resort pairs a contemporary take on Cambodian design with an unforgettable island backdrop.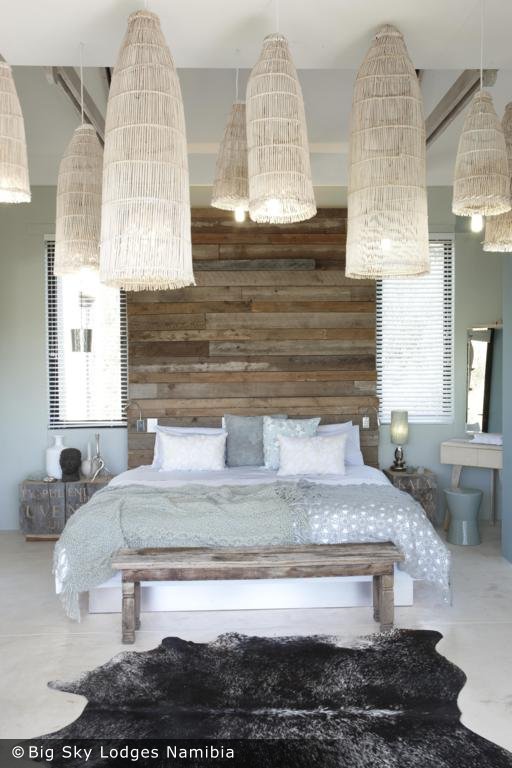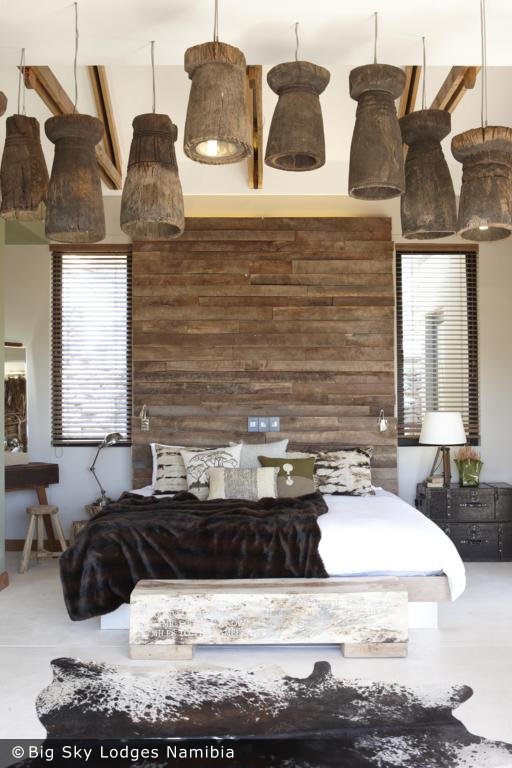 4) Nambia: Pairing traditional African style with contemporary design, the  Olive Exclusive Hotel in Namibia is the vision of South African photographer Micky Hoyle. The 7-suites feature an inspired blend of rustic and glamorous design elements. Especially notable is how Hoyle used the same basic design footprint for each space but tweaking the fabrics, materials, and palette to create rooms with entirely distinct vibes.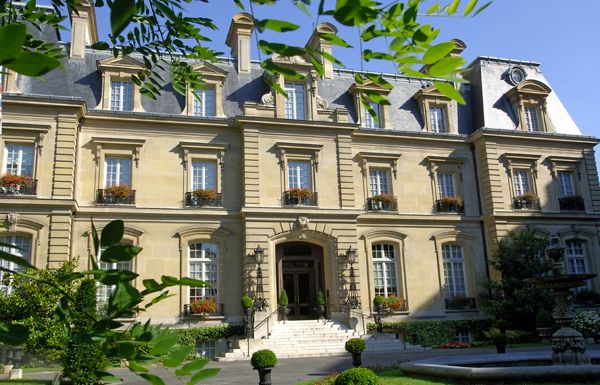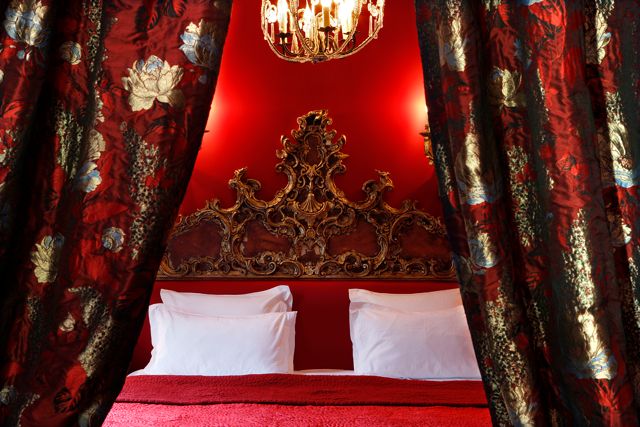 5) France: From the outside, the Saint James Paris looks like a traditional Neoclassical chateau in a quiet residential neighborhood. But thanks to a recent makeover by designer Bambi Sloan, the interiors tell an entirely different story. With leopard print carpets, pattern on pattern, and bold color galore, the interiors are wonderfully theatrical and unique.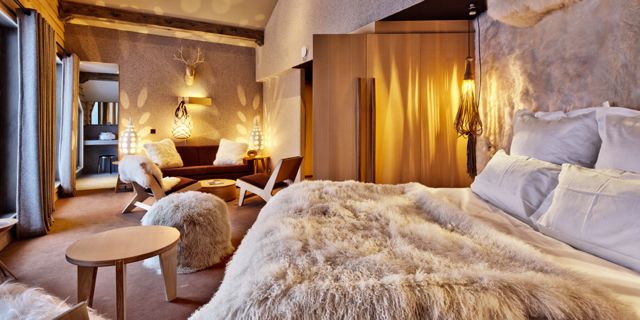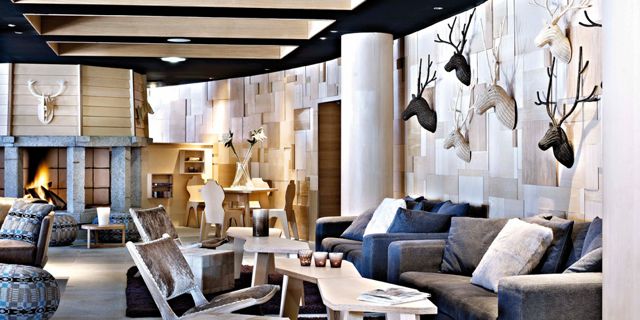 6) France: Ski chalet style is given a glamorous spin at Altapura in Val Thorens, France, a ski town known for great peaks but previously lacking in chic hotels. Located in a former 1970s ski lodge, rich textures like faux fur headboards, velvet covered chairs, and layered birch paneled walls combine with cool contemporary furniture. I will definitely be doing a Get The Look post soon!
7) Italy: Each of Francis Ford Coppola's collection of boutique hotels look like they should be the settings for a fabulous film, and Plaza Margherita is no exception.  Jacques Grange designed the idyllic 9-room hotel that is located in the hilltop village of Bernalda, Basilicata in southern Italy with a camera-ready mix of Italian antiques, gorgeous color, and beautiful pattern.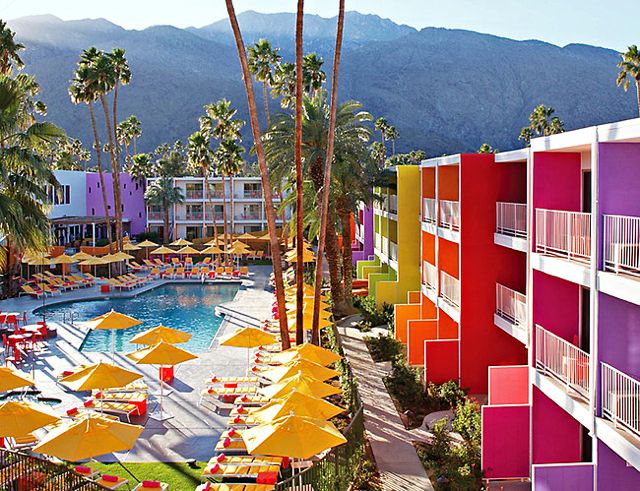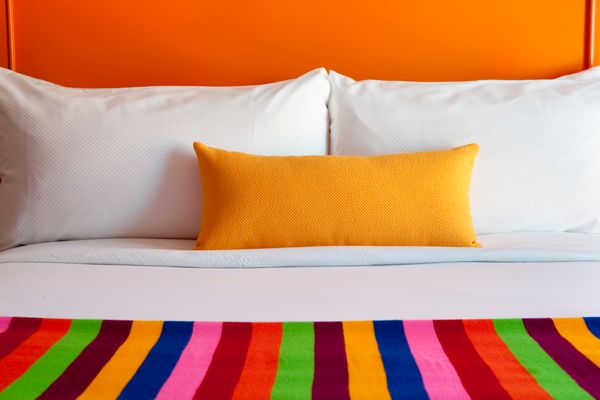 8) California:  The vibrantly-hued Saguaro in Palm Springs is proof that color can totally transform a space. Formerly a bland Holiday Inn, the 70s motel is now thriving in its reincarnation as a hip hotel. Architects Paul Aferiat and Peter Stamberg chose 12 brilliant colors found in native desert wildflowers for the hotel's eye-catching palette. Bold color pairings both on the exterior and in the rooms, is all it took to turn the hotel into a hot spot.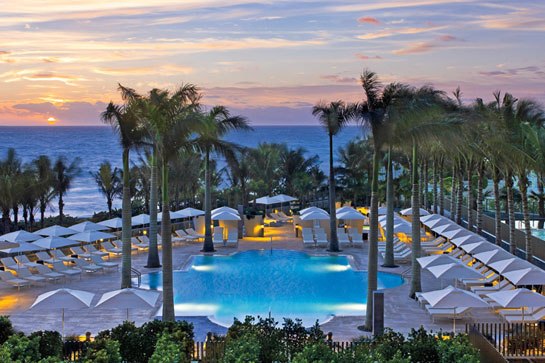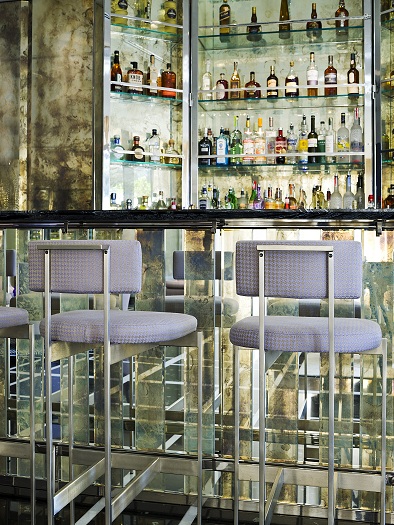 9)Miami, Florida:  Miami has become a glittering international destination and the new 27-story ocean front St. Regis Bal Harbor  adds a new shimmery glamorous resort to the mix. The design duo Yabu Pushelberg brought in lots of sparkle, touches of lavender, and utterly chic cabanas to fabulous effect.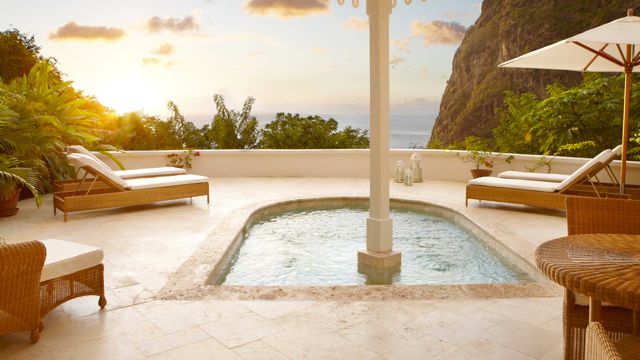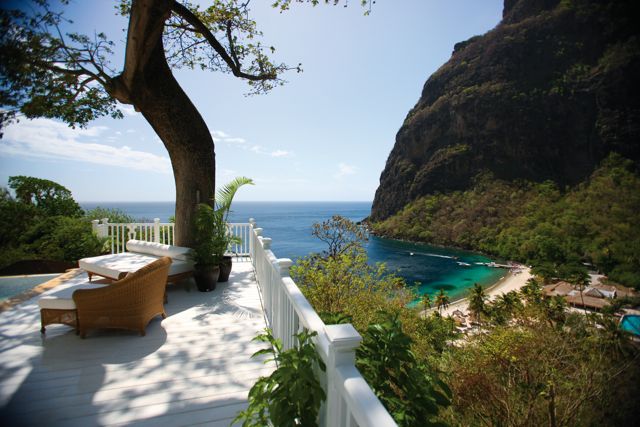 10)St. Lucia:  Nestled in between St. Lucia's famed Piton peaks, the newly rebranded Viceroy Sugar Beach (formerly the Jalousie Plantation) is one of the most magical destinations in the Caribbean. Charming French Colonial villas are perched cliffside providing guests with some of the most awe-inspiring views on the island. The villas  blend seamlessly with the lush surroundings letting the Pitons be the star.
Looking forward to discovering new destinations in 2013! Cheers!