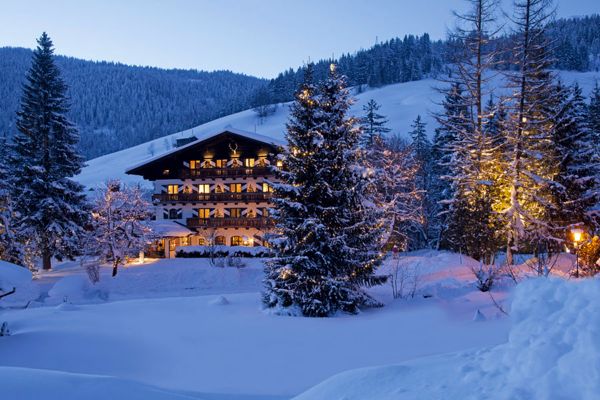 The amazing Italian architect and hotel designer Michele Bonan just revamped an Austrian ski lodge in the mountains of Steinerne Meer in Hinterthal. The very chic  Jagdgut Wachtelhof hotel (nooo idea how to pronounce that!)  is not far from Salzberg and looks like one of the chicest ski lodges ever. The hotel reopens in December after the redesign is complete. From the images, the interiors feature all of the hallmarks of a Bonan designed hotel–a sense of fun (there are way too many antlers and deer heads on the wall to be serious), rich colors (think chocolate browns, deep greens, and red), oversized wing chairs, his signature black lampshades, and art by photographer Massimo Listri. The hotel is the sister property of the glam Heidelberg Suites  in Germany. Bonan has designed some of my favorite design hotels including the JK Place Capri and the Hotel Continentale in Florence. His new JK Place in Rome just opened and I will have new pics for you later this week. In the meantime there are so many design ideas to steal from the  Jagdgut Wachtelhof, enjoy!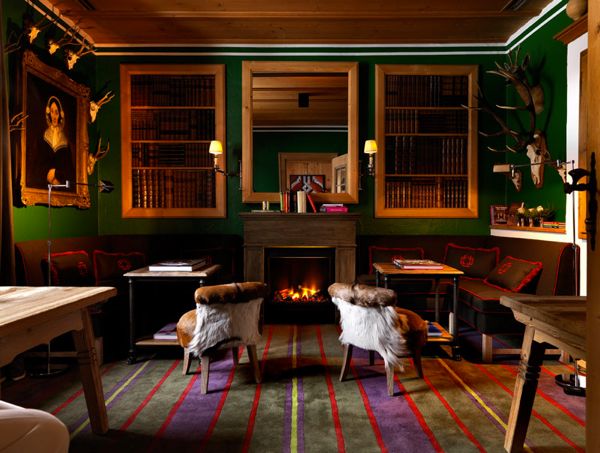 PAIR DARK COLORS WITH A BOLD RUG: Rich green walls and a dark chocolate brown corner sofas add depth and cool to this cozy sitting room. But it is the bold striped rug with yellow, purple, and red that brightens up the space and keeps it from feeling too serious. If you have a dark room, a confident and colorful striped rug could be just what it needs.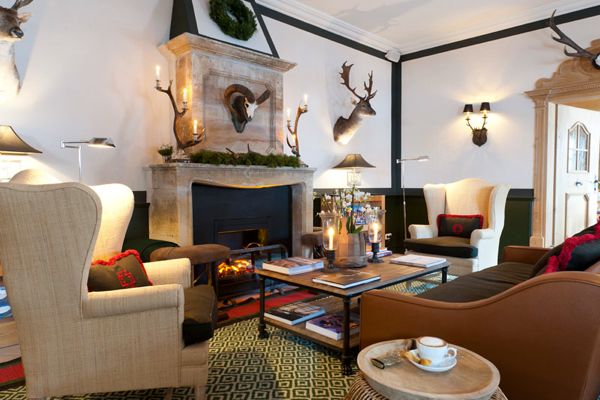 UPDATE WING CHAIRS IN LINEN: Wing chairs in the wrong fabric can look totally dated. But covered in a cool, crisp fabric like this pale linen with a lot of texture, along with a contrasting seat fabric (here it is in chocolate brown to link to the sofa) gives the classic chairs a fresh, more current, look.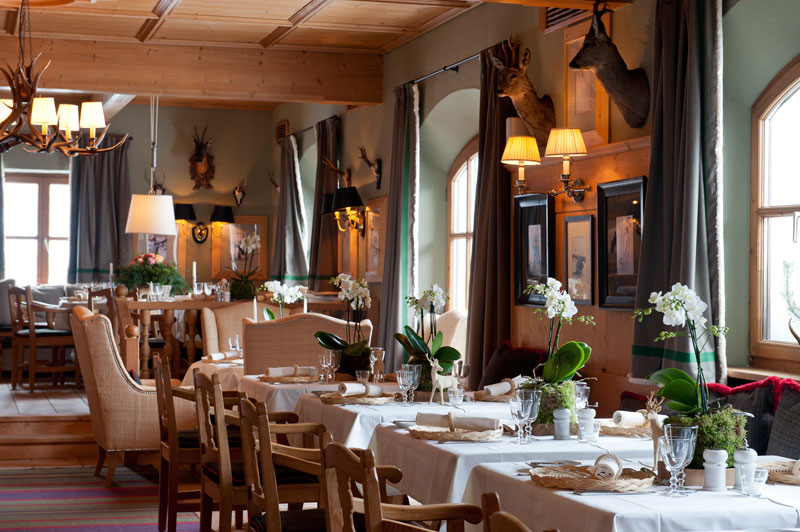 WING CHAIRS AROUND A DINING TABLE:  Speaking of wing chairs...Not the best image, but the table with four wing chairs around provides an interesting, and very cozy idea for seating in a small dining space.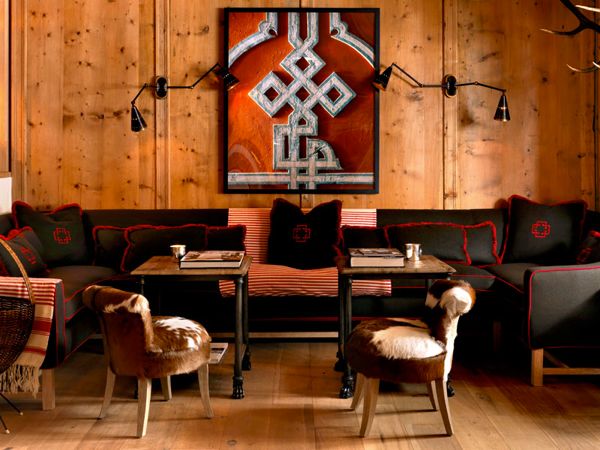 GRAPHIC ART ADDS AN INSTANT UPDATE: Bonan frequently uses images by Massimo Listri in his rooms. The photographers crisp interiors shots or graphic closeups are an example of how bold, graphic art modernizes a room.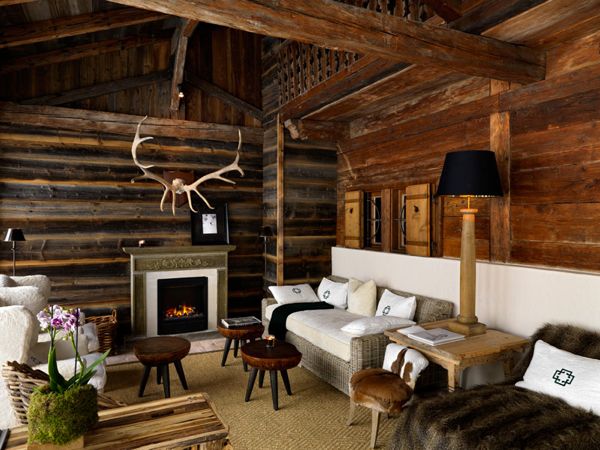 STOOLS ROCK: Cute ctools can do triple duty–they can act as tables, foot rests, and of course extra seating. A smart element to have if you live in a small space.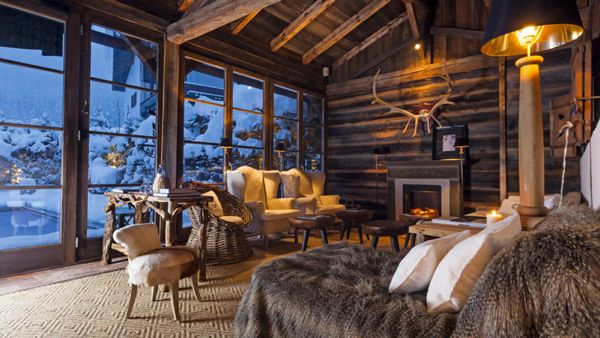 SKI CHIC PALETTE:  Sisal carpets, cream upholstery, wood planed walls, leather stools, and lots of faux fur blends together flawlessly.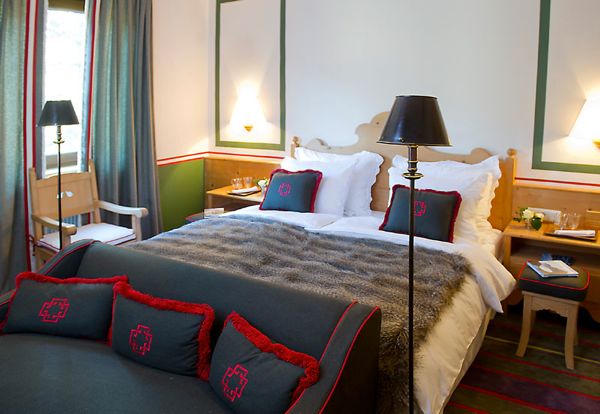 LOVING BLACK LAMPSHADES: Bonan often incorporates black lampshades into his rooms and I love how they add a bit of glamour. Bonan also has his own lighting line which is available through Discover & Deliver.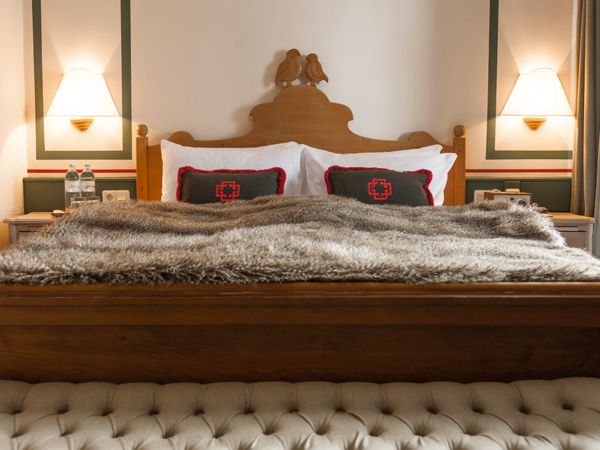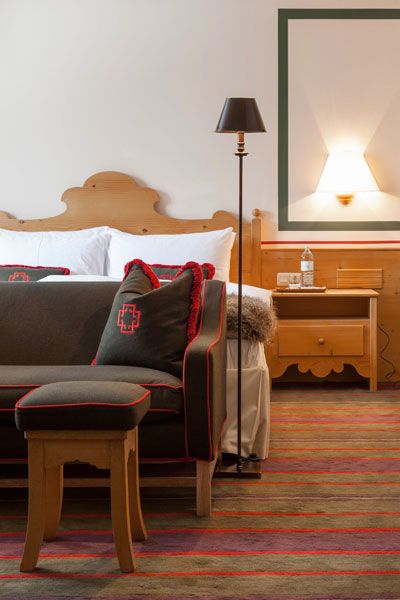 ADD ARCHITECTURAL DETAIL WITH PAINT: In a room without a lot of architectural character like this one, painting these green boxes, where molding would be, adds some character to the space.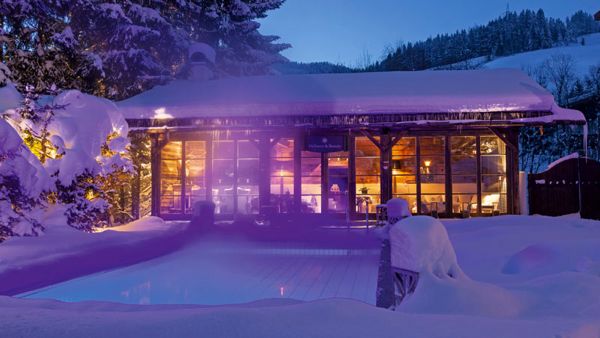 The spa…
All images courtesy of the Jagdgut Wachtelhof