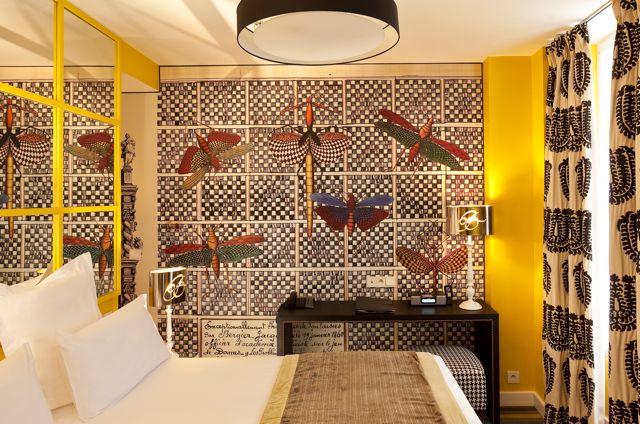 When it comes to hotels, fashion designer Christian Lacroix is completely fearless, bold and experimental. His Hotel du Petit Moulin, is a favorite for the design obsessed like Anne & Suysel from Tilton Fenwick who recently reported back on their stay for Hotel Chic. My favorite is the 34-room Bellechasse in Saint Germain, which sports the same trippy, dreamlike approach to design with pattern on pattern and bold color everywhere you turn. Dragonflies fly up the wall, while butterflies cover the ceiling, and giant fish swim across walls. It's not your average hotel. If you want to have a little more fun with design, there are so many amazing ideas here. Here are three of the best.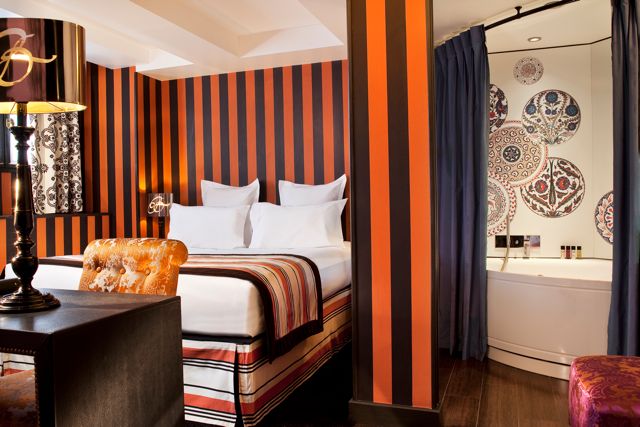 STRIPES ARE THE SOLUTION: For so many problems, stripes are you answer. This hotel room is teeny, the ceilings don't look particularly high, and I'm guessing it doesn't get a ton of light. Stripes in bold orange and navy give the illusion of higher ceilings, and totally distract from the size of the room and lack of light. It would be a fun, easy look to recreate in a teen's bedroom, a mudroom, or bathroom, even a mancave basement. Love how they added more stripes to the bedding.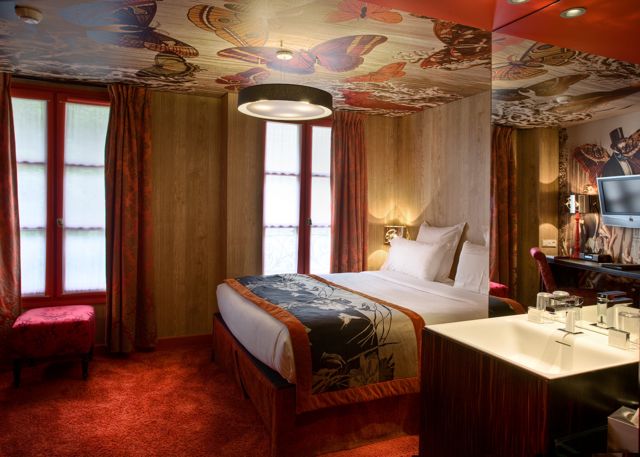 ART ON THE CEILING: When you think about it, it really makes perfect sense to have something interesting on the ceiling in a bedroom. After all, it is what you're staring at when you first wake up (or when you can't sleep). A butterfly mural is painted on wood-paneled walls and ceiling. I love the idea of doing this in a bedroom with wallpaper. 
CREATE YOUR OWN WALLPAPER: The wallpaper was custom designed by Lacroix and printed by Clipso, a very cool company that does digital wallpaper. You can give them a photo or a drawing and they can turn it into wallpaper for you. Ideal if you are artistic, or just a great photographer.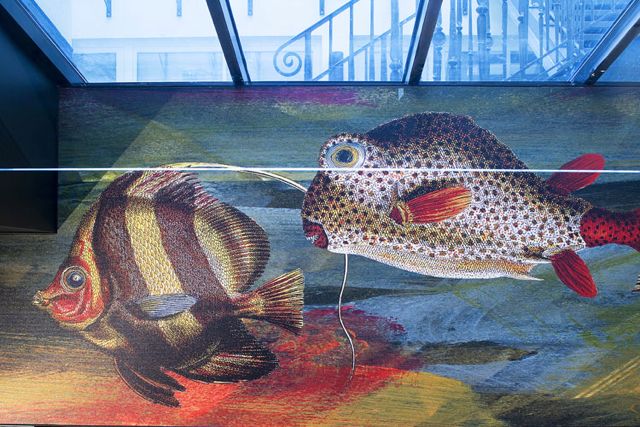 Have fun: At the core of the hotel is a sense of fun, of not taking design too seriously, of really enjoying the spaces you are in. Nothing feels too perfect or precious, but unique. If you take one thing away from the design of the Bellechasse, it should be to be creative and make sure the spaces you live in are reflections of you.

all photos courtesy of Bellechasse