I have to admit when The Public hotel in Chicago launched last year I didn't rush to write about it mainly because the all-white (or cream in this case) rooms seemed to be more of the same for hotelier Ian Schrager. He's done the all-white thing in almost every hotel from the Royalton to his Marriott co-brand Edition). However, a friend who stayed there recently sent me her snaps, and I realized I had missed out on how many clever and inspired design ideas there were. The lobby's beams lined with salvaged wood planks, inspired a trendspotting post last week. So this week, I thought I would do a whole post on the many easy-to-crib-at-home ideas from the Public. I am a little obsessed.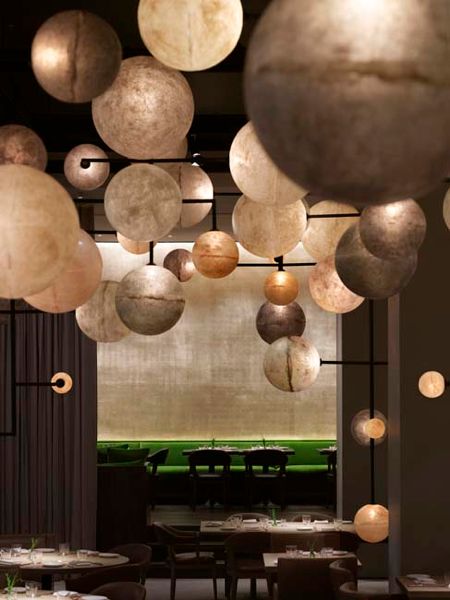 The man who invented the very concept of hip hotels,  Ian Schrager, designed  the launch of his Public hotel brand in Chicago to have only what he believes the modern traveler needs, and nothing that will drive the price of a room up. His new concept is all about accessibility, hence the name. Yes to bringing up your own bags, and no to having to tip a bellman. Yes to an edited minibar with your favorites and no to cheapo candy and soda. Yes to understated, comfortable rooms that start at $135 a night, and no to $15,000 -per-night suites decked out in marble, pricey fabrics, or antique furniture.  While, I do think his all-white hotel room concept is a little played out, there is something soothing about it. There is no doubt that Schrager  and his in-house designer Anda Andrei know what works, and how to design a great room without spending a fortune. Amazing design ideas here with the bonus that you will have enough left over to book a vacation at one of his new accessibly-priced hotels.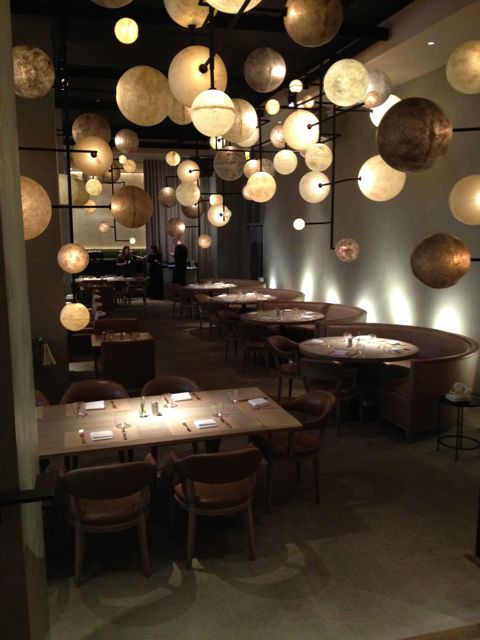 The 500 interconnected resin lights in the Pump room are amazing. They give the space a completely signature look. While these are custom, you can go for a similar vibe with the Glass Orb chandeliers from West Elm (currently on sale). They feature 7 adjustable globes in each chandelier. They would obviously be amazing over a dining table,  but what about hanging several in a dark library with leather sofas and dark green walls for a Pump room inspired space in your own pad?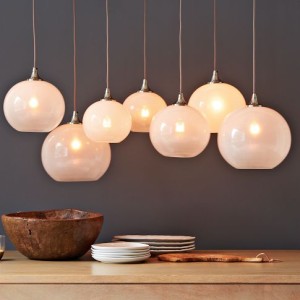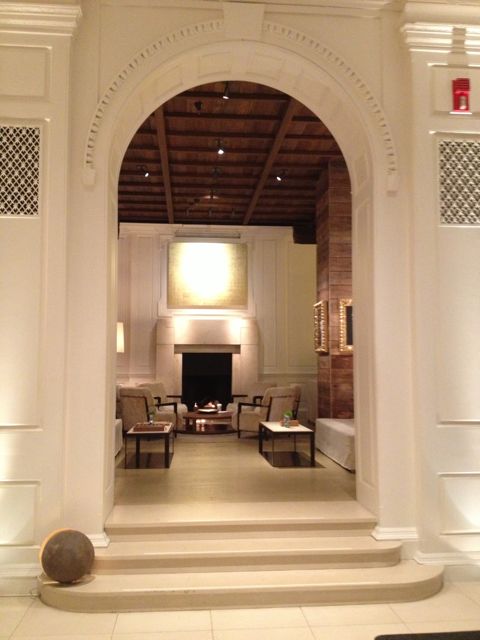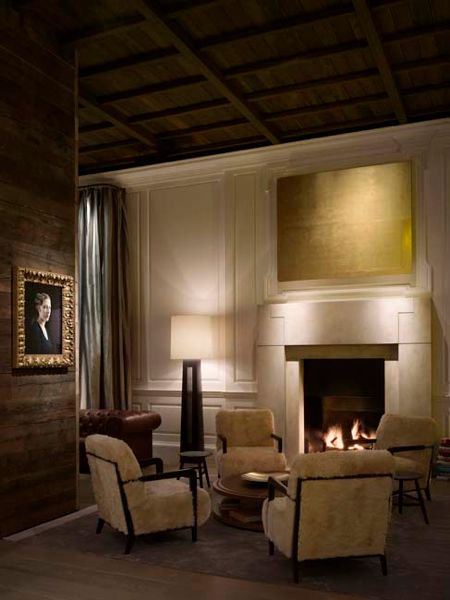 I am a little obsessed with these faux fur covered chairs in the lounge. Especially if you live in a cold climate, these would be perfect set up by a fireplace. Love the look? You have a couple of options: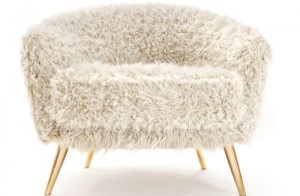 The Cutie chair from Munna Design for design lovers.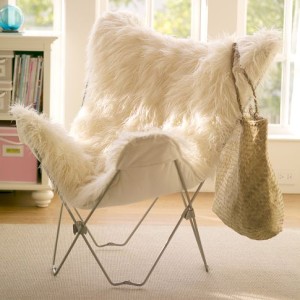 PB Teen's Furlicious Butterfly Chair provides a wallet-friendly option at $49
An easy way to get that cozy, winter chic vibe in your own living room is the faux fur throw. Every February retailers put these on sale so it is a great time to stock up and pull them out for the colder months. Notice these are cream linen sofas at The Public, what takes the lounge from basic to nordic glam are these artfully draped throws.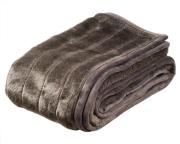 Madura's faux fur pillows and throws are all 15% off right now…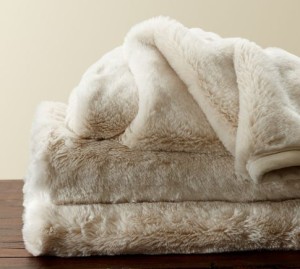 Pottery Barn's faux fur offerings come in a range of colors and are currently $99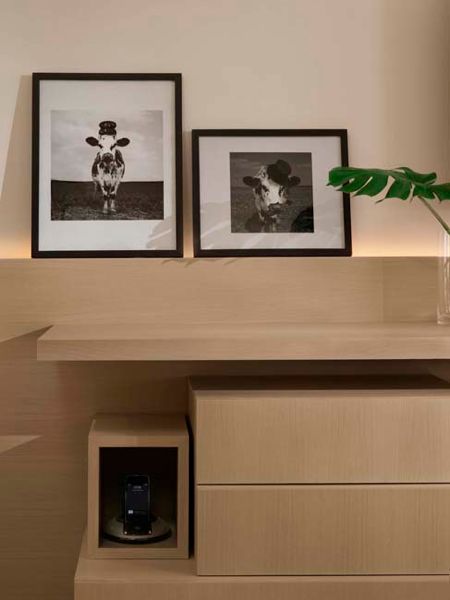 Fashion photogapher Jean Baptiste Mondino's quirky hat-wearing cow photos provide the art in the understated rooms. If you want some bovine images for your pad, Sharon Montrose's prints below, start at $25 and up…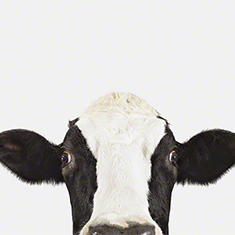 Sharon's cows don't have hats, but they are cool….She also as great images of dozens of animals from iguanas to giraffes.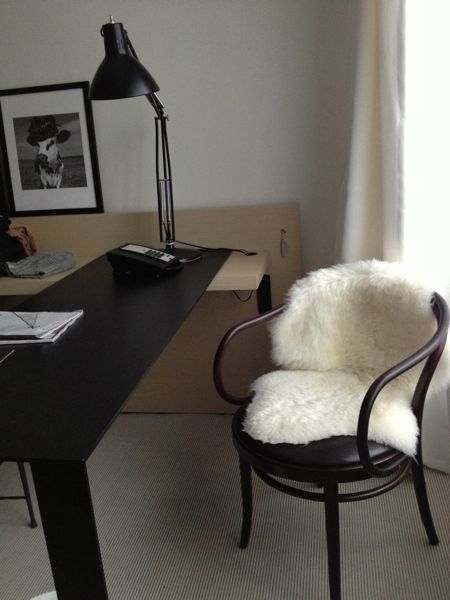 I LOVE THIS IDEA because it is so damn easy. Draping a sheepskin over any basic armchair gives it an instant update. Any chair becomes instantly that much cooler. Without it, this would just be a blah workspace, but with it….you have a hip workspace.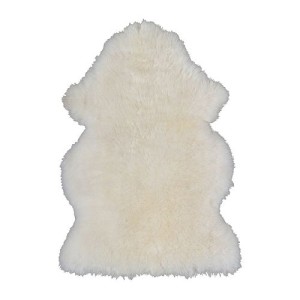 IKEA's Rens sheepskin is just $29.99.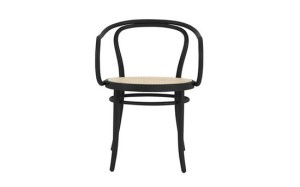 The Public features the Thonet B9 chair which is also available at DWR.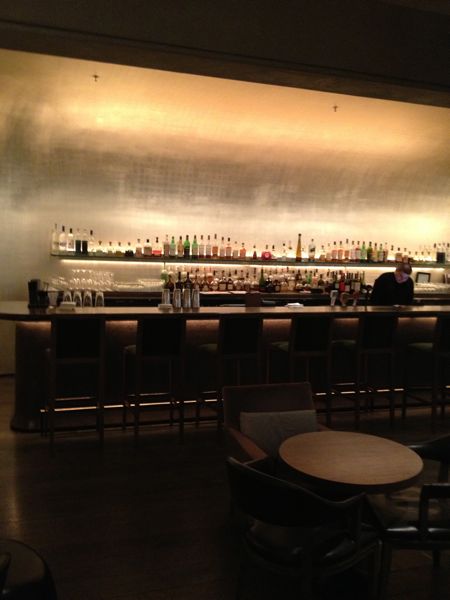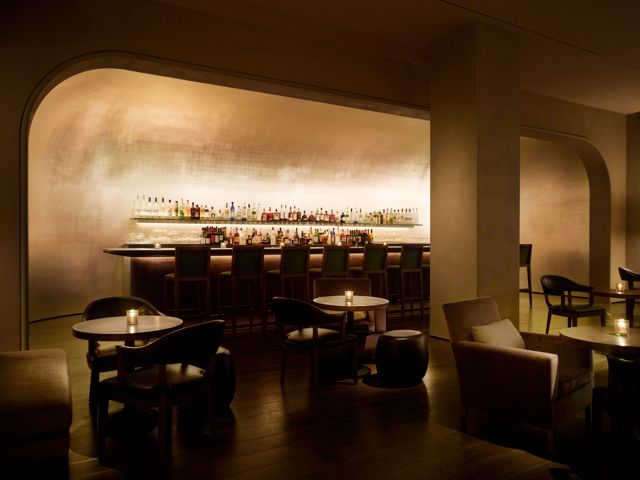 Of course, this wouldn't be an Ian Schrager space without a killer bar. Not surprisingly, it is a total hotspot–I don't think he's ever designed a space that wasn't. When it comes to creating buzz, Schrager knows what works.