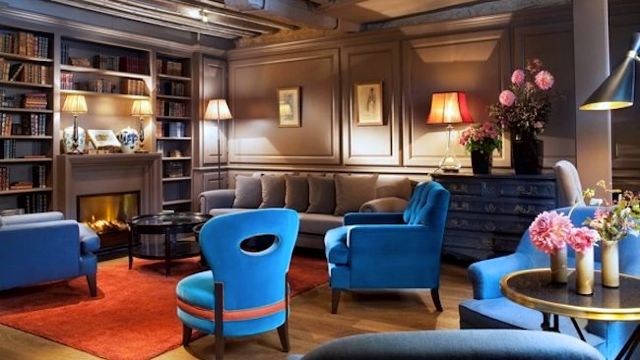 On the Left Bank of Paris, down a quiet side street is the chic and discreet, Hotel Verneuil which has just been revamped. New owner, Nicolas Nonon has given the hotel–a favorite with designers–a sophisticated, fresh update. There is so much design-inspiration here, especially for those with small spaces. Ideas below, along with a few sources for getting the look: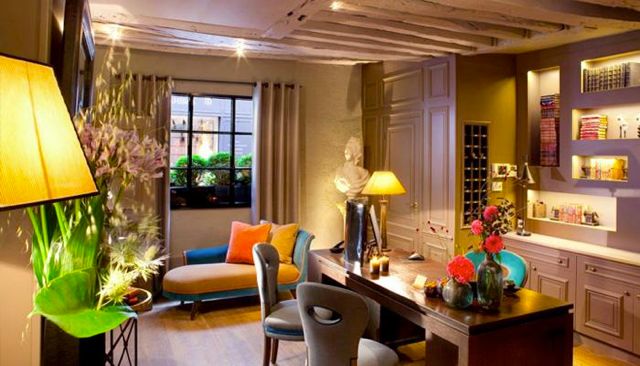 The Perfect Palette:
Rich gray walls paired with playful pops of color–bright blue and orange–is a fresh take on the gray trend. The fun hues add some levity to the sophisticated backdrop, and provide palette inspiration for a living room.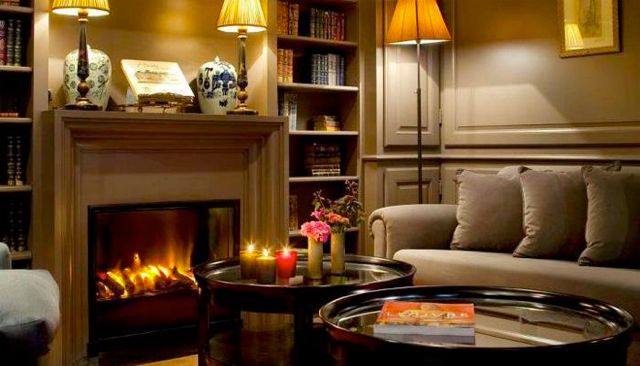 Matching your sofa to your wall: If  you are in love with your wall color, upholstering your sofa in a similar shade works well if you want to be bold elsewhere. It means less visual competition for the colors you want to stand out.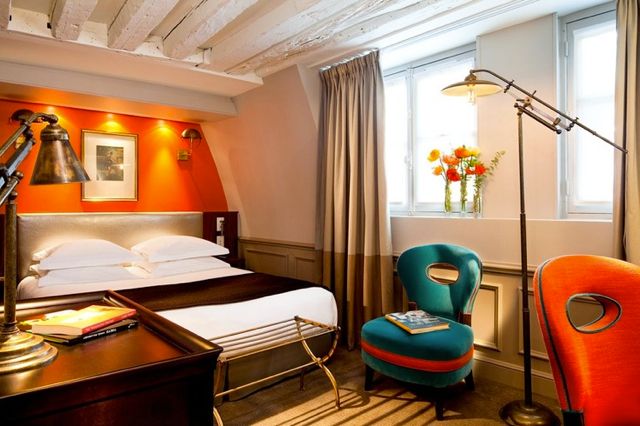 Detract from your flaws: This top floor room is awkwardly shaped and like most rooms at the Verneuil, quite small. But color and design are used here to distract your eyes from the room's imperfections. Molding brings immediate charm in a taupe shade that is similar to the floors and the curtains, so your eye is immediately drawn to the orange accent wall and the cozy nook. Funky chairs upholstered in cheery hues keep it playful.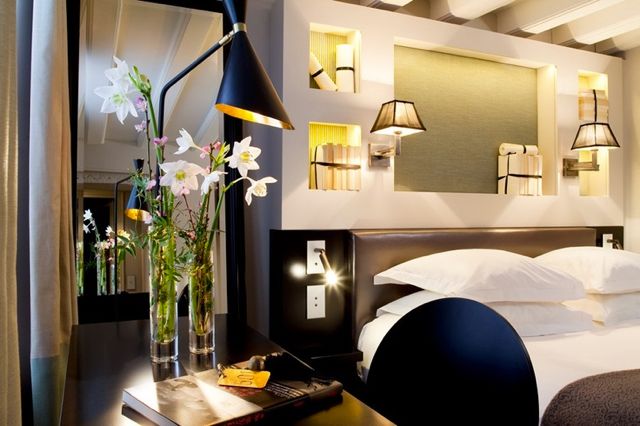 Lighting is key: People who are lighting obsessed say it makes all the difference. I am always so focused on color in a room it isn't something I really pay attention to, but clearly that's a mistake. Great lighting is like a great pair of earrings, it just pulls it all together. The Verneuil has no shortage of amazing lighting choices, from vintage inspired to this AJ Floor Lamp. I love it paired with the more classic wall sconces–black shades link the contemporary light with the more traditional fabric shades.
Calming Neutrals: The smallest guest rooms had previously been swathed in toile wallpaper, floral prints, and lots of color. After the hotel's update, these rooms are now very neutral with taupey grays being the only hues. The rooms look more masculine now, perfect inspiration for a guest room or a bachelor pad bedroom. 
GET THE LOOK