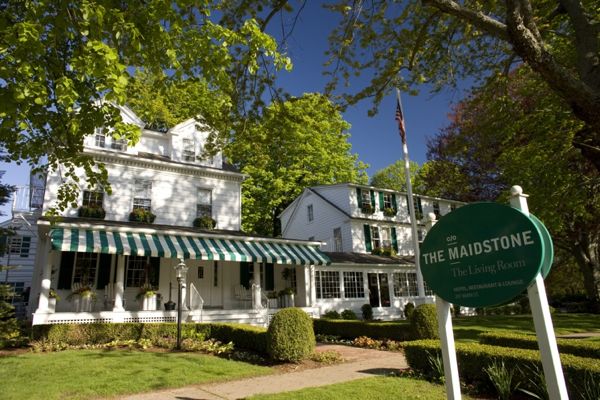 For years, East Hampton's c. 1740 Maidstone Arms inn, was a clubby bastion of New England WASPiness, complete with  blue blazer clad guests and chintz filled rooms. But East Hampton has changed–the mom and pop shops have been replaced by Dylan's Candy Bar and Scoop, and blue blazers have given way to blue jeans.  So when the Maidstone went up for sale two years ago, it needed someone to revive the faded gem with a hipper look more in keeping with East Hampton's trendier vibe. Enter 37-year old Swedish hotelier Jenny Ljungberg, who renamed it, c/o The Maidstone, and gave the inn a whimsical, color-saturated, eco-friendly makeover.
Working with Nadia Tolstoy (Leo's granddaughter), Ljungberg gave each of the 19 rooms a distinctive look inspired by a famous Swede–from the yellow and black ode to Alvar Aalto, the Father of Modernism, to the red velvet guest room done in honor of Sweden's Queen Silvia. A sense of total fearlessness and fun pervades in the hotel's gutsy design. But with very distinctive looks featuring intense colors, cheeky accents, and pattern-on-pattern, it simply isn't possible to like every room. You'll have a strong reaction to the rooms either way–but you're bound to find ones that you love (unless you are a total minimalist, in which case this isn't the hotel for you!)
I selected a few of my favorite rooms with sources and design lessons that can help you inject some hip Swede style into your own pad: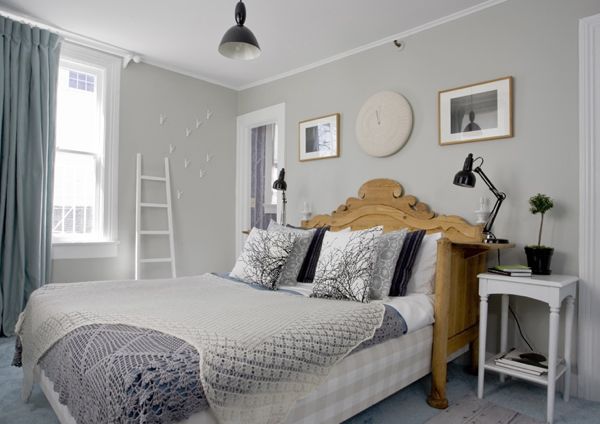 Let Your Bed Make a Statement: In the Tove Jansson room (named after the Finnish Novelist), the extraordinary wood bed was crafted from an antique 18th-century Swedish sofa.  The bed features a wrap-around headboard complete with platforms for perching lights. Against soft pale gray walls (Grey Owl by Benjamin Moore), the unusual bed is a reminder that sometimes all you need is one great piece to make a room shine.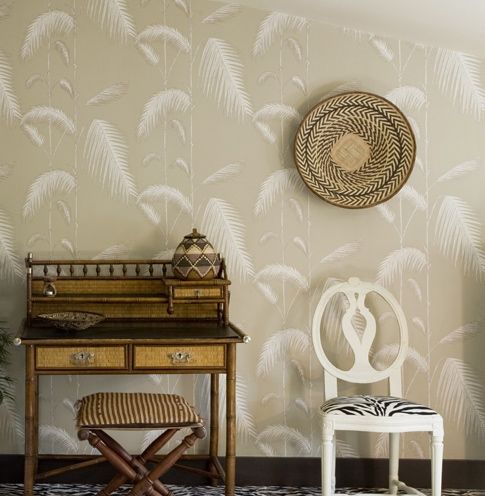 Mix it Up: In the Karen Blixon room above (she was the author of Out Of Africa), Tolstoy let the safari chic theme guide the design. Here a zebra print covers a 19th-century Swedish chair, a tropical palm print wallpaper, provides the backdrop, and a Banga basket from Zimbabwe is hung as art.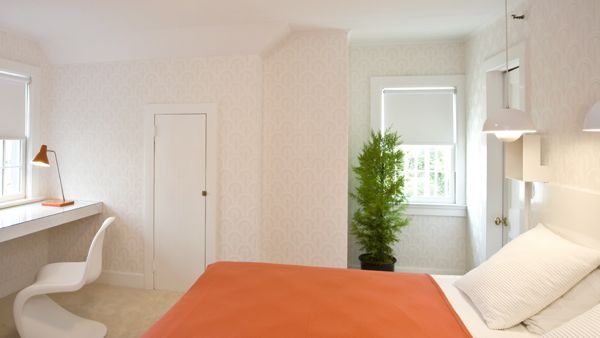 Color Pop: A great way to use color is by choosing one strong hue and injecting it in pops against a neutral backdrop. In the Vernon Panton suite, an orange blanket and lamps add a punch against walls covered in a graphic, but subtle, Torbogen print paper by Wohnzimmer. To give the space a continuous look,the dominant hue is continued in the bathroom with tangerine tile and Benjamin Moore's Outrageous Orange paint.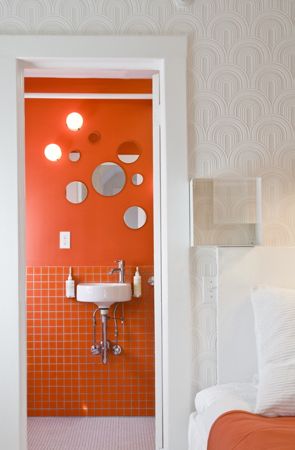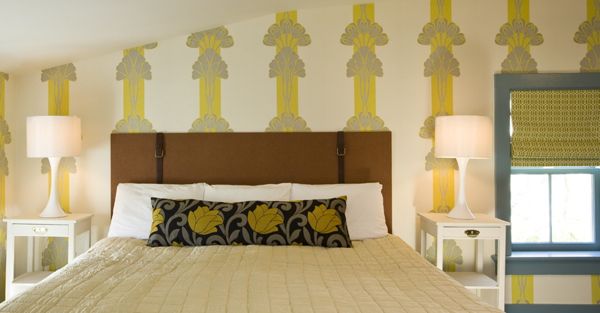 Link Prints With Color: In the Eero & Eliel Saarinen suite, a mustard yellow hue links three distinct prints–the Motif Trefle 30 wallpaper from Casamance, a vintage shade fabric, and a floral pillow from Swedish Design store Nordiska Galleriet.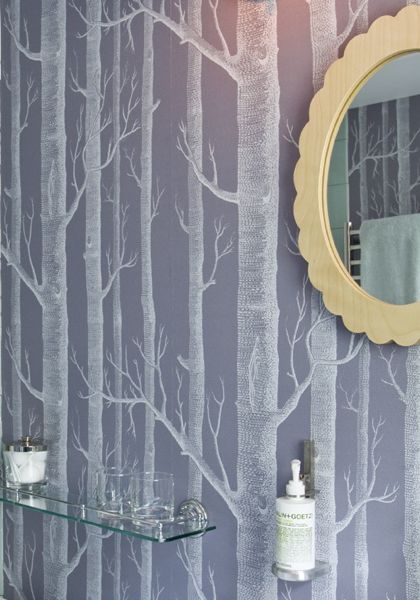 Wallpaper Your Bathroom: Because of the small square-footage, bathrooms are a great place to experiment with statement making wallpaper that would otherwise overpower a larger space. I am obsessed with both the Woods 06 print above from Cole & Son, and the amazing Kastanjertrast paper manufactured by Boråstapeter and designed by Hanna Werning, below.