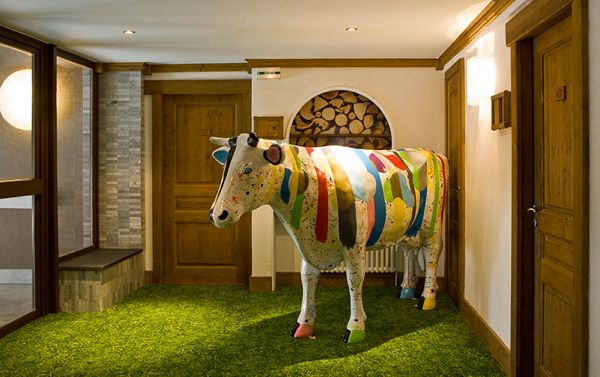 Two years ago the owners of the Hotel Ormelune decided to shake off predictable Alpine design cliches and use bright color, whimsy, and a pervading sense of fun, to guide their makeover.  Enviably located at the foot of the slopes of the renowned Val d'Isere ski resort in the French Alps, the 46-room  hotel now exudes a funky and fabulous vibe. There are cow sculptures painted by contemporary French artists placed throughout the hotel, hot pink chandeliers in the lobby, vintage skis as sculpture, and rugs that mimic grass in the suites. The cool reinterpretation of ski chic can be credited to the family run hotel's 3rd-generation owners, siblings Laurence and Sandrine Raymond.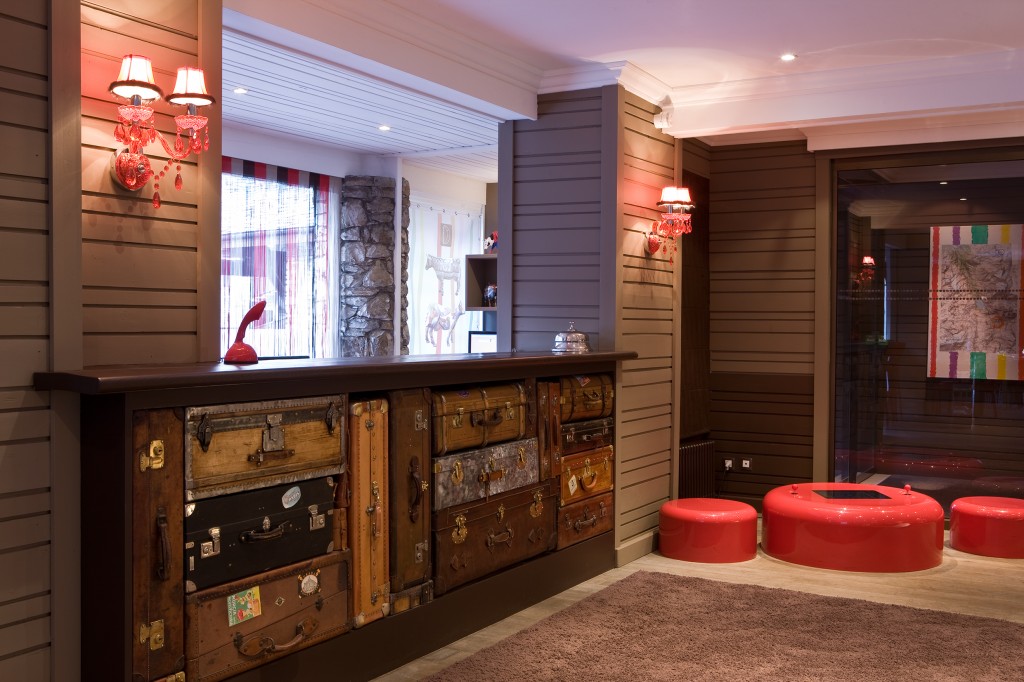 Vintage suitcases line the front of the reception desk. Lots of great design ideas here, read on for inspiration. Plus, fabrics and furniture sources for how to bring the look of the Ormelune home at the end of the post.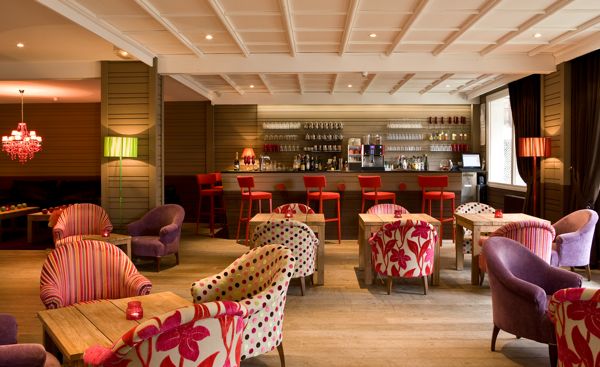 AMP UP THE COLOR: Set against neutral warm taupe walls, brightly hued prints in pink, purple, and red from Pierre Frey and Designers Guild rev up the lobby. The space is a good example of how a neutral backdrop allows you to be a bit more fearless with the colors and prints in the room.  A mix of solid and cut velvets on chairs instantly warms up the room–a perfect choice for a winter retreat.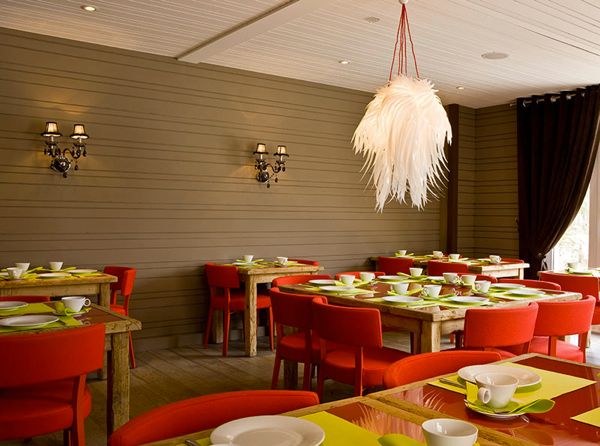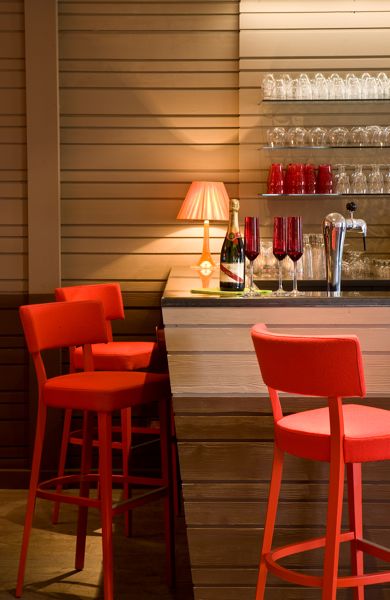 RED CHAIRS ROCK: There is nothing like a pop of red to add instant glamour to a space. Whether it is a chic restaurant or a home kitchen or dining room, red revs up any room. The bar stools and dining chairs hail from Italian furniture manufacturer Billiani.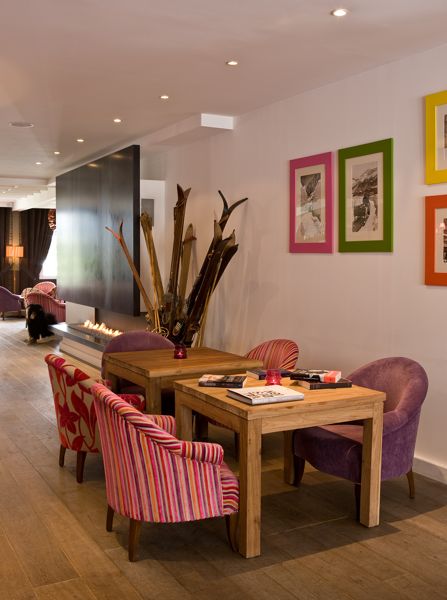 BRIGHTLY HUED FRAMES ADD ZING TO BLACK AND WHITE PHOTOS: Vintage black and white photos of Val d'Isere in the glamorous 1950s pop when framed in vibrant pink, green, orange, and yellow frames. Love these colors together for framing art in a kids room or just livening up some black and white pics.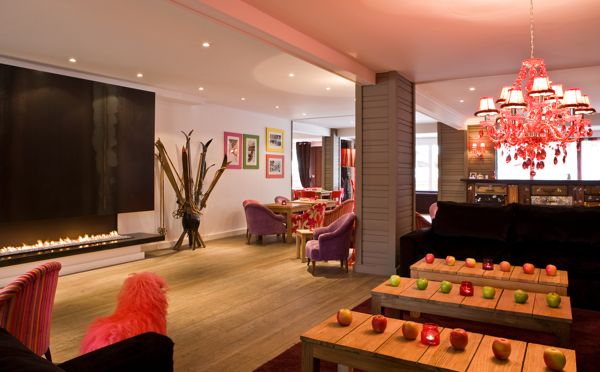 CREATE ART OUT OF THE EVERYDAY:  Notice how vintage skis form a groovy sculpture when grouped together. Apples lined up with a candle in the middle adds a dose of cool to simple wood coffee tables.
TWO TONES OF A NEUTRAL HUE PLUS A POP OF SOMETHING BRIGHTER EQUALS AWESOME: The rooms have a very simple design formula which I love: A richer chocolate shade on the bottom half of the walls and the trim, a lighter brown on the top half, separated by a thick line of vibrant color.  It is a look that's both hip and masculine. Art in the same hue as the stripe ties it all together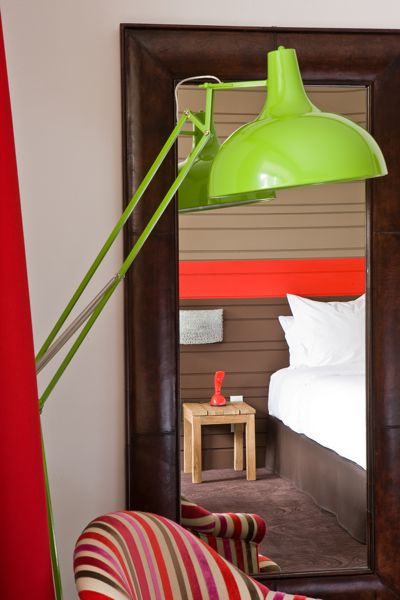 KEEP ACCESSORIES BRIGHT AND BOLD:  A lime green metal lamp from Muno, a bright red mod phone–choosing the essentials in vivid hues keeps the look contemporary and chic.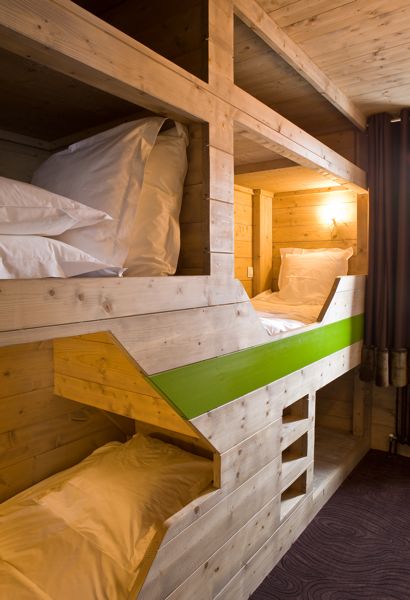 HIP BUNK BEDS: This built-in bunkbed for 2 stands out with a simple design that feels fresh and modern. It also boasts several storage nooks that you could use for books, toys, and games. If you're looking to add sleeping space for a kids room or your own vacation house, this is a groovy idea that a skilled carpenter or an intrepid DIYer could recreate.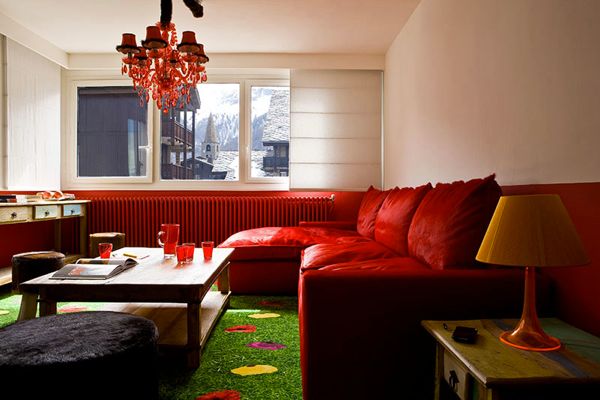 BRINGING THE OUTDOORS IN:  To bring a bit of springtime indoors, this suite features a carpet that mimics grass and blossoming flowers from Vicalvi. Note the lovely view of the Alps in the background.
TO BRING THE LOOK OF THE ORMELUNE HOME: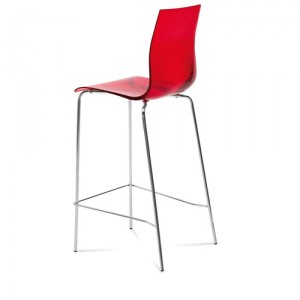 Red lucite barstool from All Modern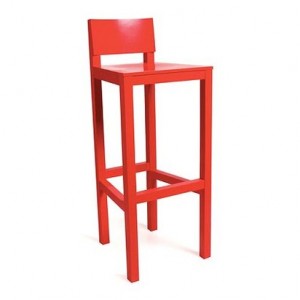 Red barstool from Moooi designed by Joep Van Lieshout.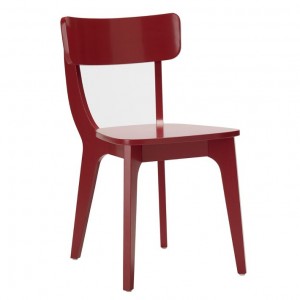 The Klismos Dining Chair from West Elm has a stunning sculptural profile.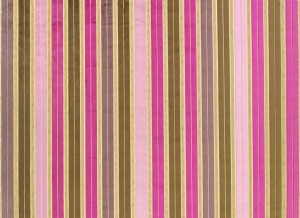 Designer's Guild Regence Peony is a striking cut velvet available in 7 colorways.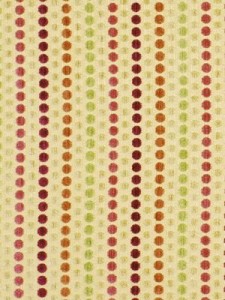 Pinion Tropic by Robert Allen available through Decorator's Best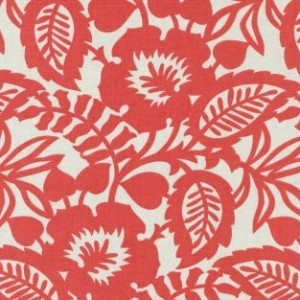 Waverly's Esme fabric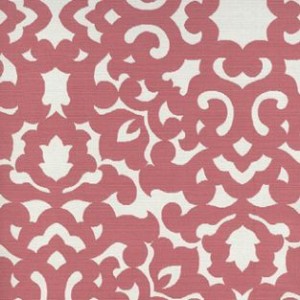 Waverly's Garden Gate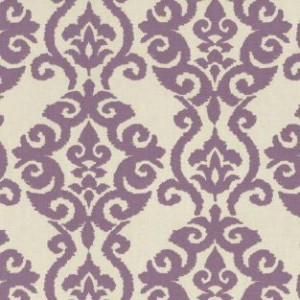 Waverly's lovely Luminary print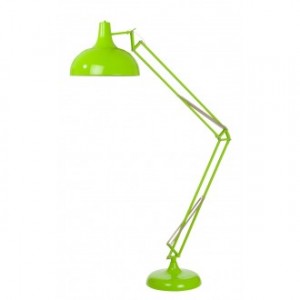 Muno Giant Floor Lamp in Green
Task lamp from PB TEEN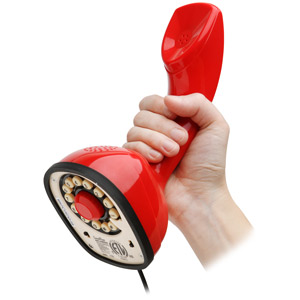 The Scandiphone is based on a retro 1950s design. Love the pop of fun and color.
Hotel Images courtesy Hotel Ormelune