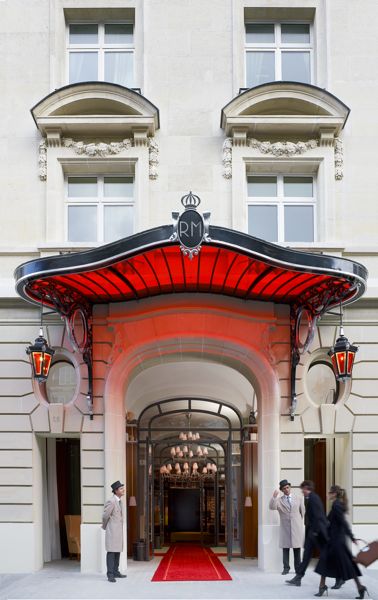 In the world of hotel design, Philippe Starck is a total rock star. He's designed some of the most showstopping and original hotels ever–Miles Redd's favorite The Fasano in Rio, The Delano in Miami, The Hotel Costes in Paris, and The Royalton in New York. His latest hotel, Le Royal Monceau Raffles in Paris, is no exception, proving to be theatrical, whimsical and very grand. The c. 1928 hotel has just reopened its 149 rooms after an extensive makeover by Starck.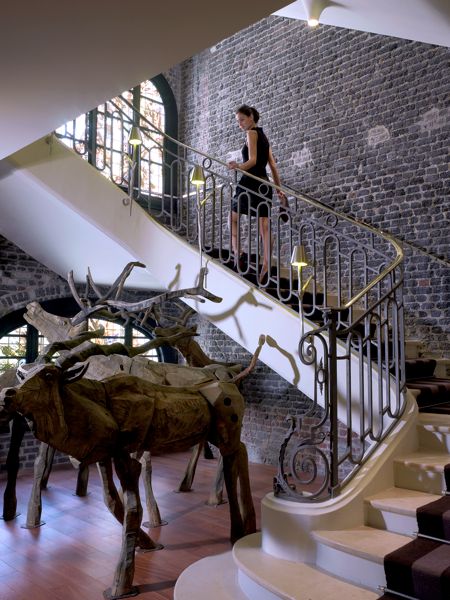 At Le Royal Monceau, Starck beautifully fuses art and design. The hotel boasts its own art collection of almost 300 pieces. In addition, you'll find unusual art installations throughout, like these carved wooden deer by Russian artist Nikolas Polissky. There is an art library where over 700 art, design, and architecture tomes are on sale, and TVs stream live feeds from auctions. The hotel also has it's own art blog, www.artforbreakfast.com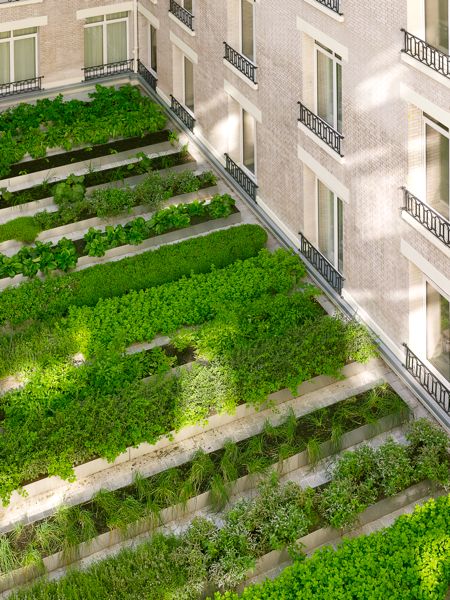 How stunning is this lush herb garden, where the hotel's chefs can gather fresh herbs for cooking?
While the design is definitely dramatic, there are a lot of interesting ideas to play with here. Read on for some food for thought: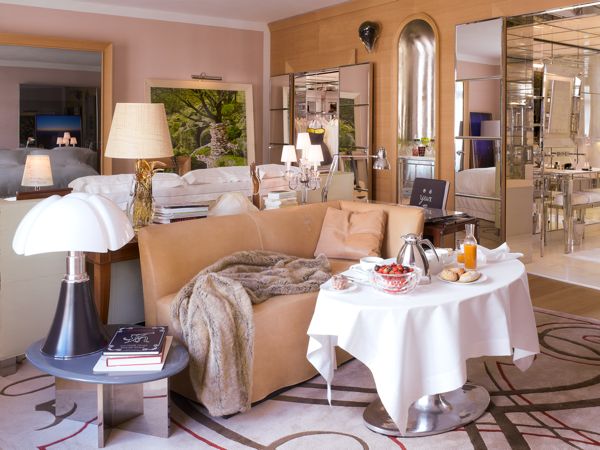 THINK PINK: All of the 149 guest rooms are done in either grey or pink. Starck's take on pink is decidedly grown-up. Paired with warm neutrals like the camel leather one-armed sofa, a wood paneled wall, and the pinky beige rug, the room feels soothing and sophisticated. If you're a fan of the one-armed sofa, CB2 has a cute one here and Design Within Reach has a sleeker, leather version here.
CENTER YOUR BED: Notice how the bed is placed in the center of the room in the above two pics. The headboard extends about a foot on each side and wraps around two little side tables, to give the bed an enclosed feeling. The end of the bed is flanked  by a long table, then a sofa and coffee table, to create a mini living area. To the left or right, depending, Starck has placed a glass-topped writing table which features a map of Starck's favorite spots in Paris. The oversized mirror on the wall there? With the click of a button it turns into the TV. How genius is all of this? He's re-imagined the furniture arrangement in the bedroom to totally maximize the space. It is a whole new way of looking at a hotel room.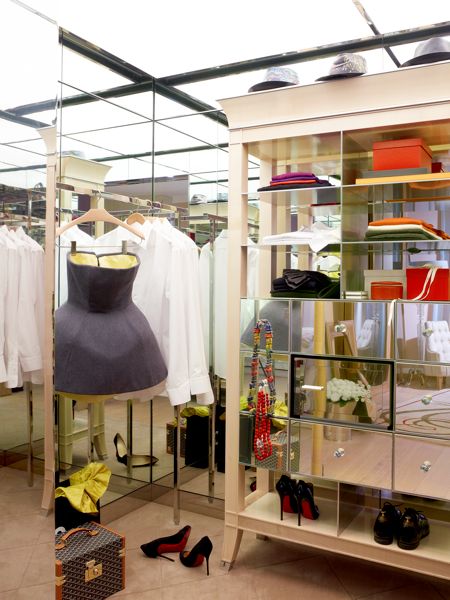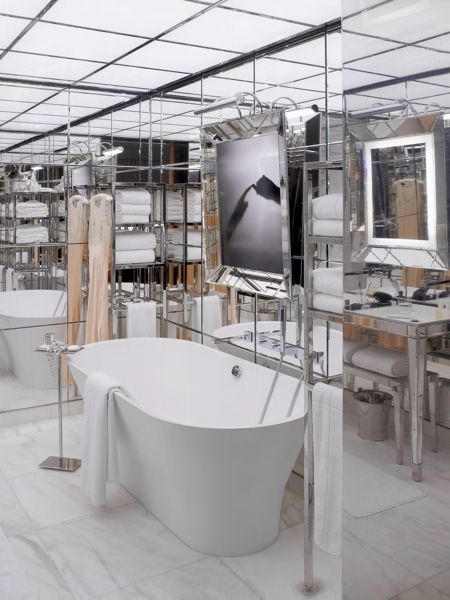 MIRROR IT UP: Yes mirroring walls went out in the 70s, but this mirrored walk-in closet and bathroom might make you think twice. Mirror is cheaper than tile and it looks amazing in both places. The tub is one of Starck's own design available from Duravit.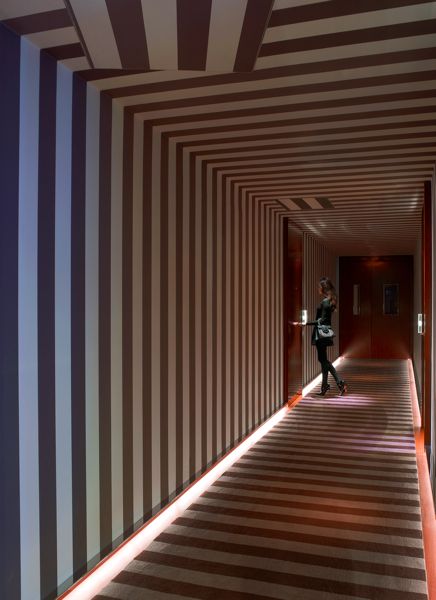 STRIPE UP YOUR HALLWAY: The striped carpet, walls, and ceiling create a funhouse Alice in Wonderland effect here. But re-interpreted in softer shades–white and grey for example–and done all in paint, stripes could be a fun way to jazz up a staid hallway.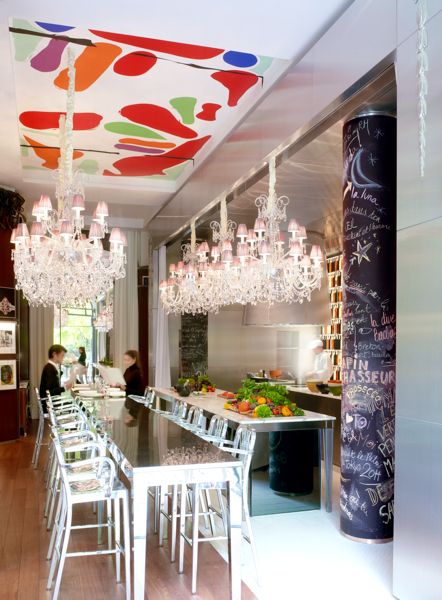 PAINT ART ONTO YOUR CEILING: In the hotel's glam restaurant, Le Cuisine, French artist Stephane Calais' colorful works are displayed on the ceiling. It is amazing how her art displayed in such an unexpected place really finishes the room. The Heritage Chairs designed by Starck for Emeco are made from 80% recycled Aluminum.
Very cool!