As soon as you walk through the red lacquered doors of Maison 140 you enter a sexy vibrant space. The c. 1939 building was once owned by silent screen star Lillian Gish and lies in the heart of Beverly Hills. The 43 rooms and the public spaces are the vision of trendsetting LA designer Kelly Wearstler. Maison 140 features a striking fusion of Parisian chic and Eastern style, luscious color with jaw-dropping pattern, and mod with vintage. From the enticing Bar Noir in the lobby to the wallpapered guest rooms upstairs, the hotel is filled with gorgeous and unexpected design ideas:

PAINT IT BLACK: The trend has long been to revive old furniture with a coat of white paint, but another more current option is black. At Maison 140 chests, consoles, beds, and tables look sultry and sophisticated in black. To get the look, transform furniture with two coats of semi-gloss black paint.  As long as the piece has a good shape, this is an easy way to glam up blah wood furniture picked up on the cheap at tag sales or flea markets.
MAXIMIZE A SMALL SPACE: The guest rooms at Maison 140 are a terrific example of how to enhance a tight space. Two cozy chairs and a table at the foot of the bed provide seating for resting, reading, watching TV or having a pow wow with a friend. It would be a smart furniture arrangement for a small studio apartment.
WALLPAPER IS MAGICAL: Dark room? Lack of square-footage? Try covering walls and ceilings in a bold print wallpaper. Employing overscale prints is a clever designer's trick to mask a myriad of flaws–a not so great view, little natural light, or a postage stamp sized room. With a printed paper,  your eye doesn't notice the room's drawbacks, but instead is dazzled by the stunning pattern.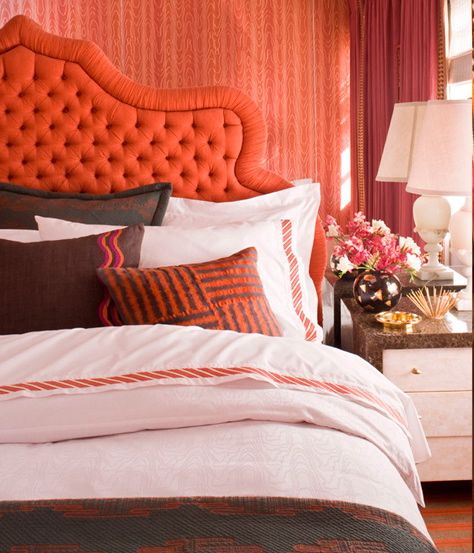 THE POWER OF RED: Red is the predominant color at Maison 140, appearing on walls, upholstery, carpets, curtains, and lighting. Not for the fainthearted, adding red to a room instantly adds a one two punch of vibrant color. If you love the color but aren't ready for a full commitment, try pops of red in a space–storage boxes, pillows, trays, or a lamp base. Even a tiny touch of red can revive a room.
Painting a bedroom entirely red is tricky. I tried it and after a year, it made me feel crazy. I couldn't wait to paint over it with something soothing. In the red room below, Kelly balanced out the red lacquered walls with  an extra wide wallpaper border, white trim, and an all white bed–smart solutions for using intense color. Sadly, after some recent updates to the Maison 140 the room no longer exists.  Thankfully Kelly and her design team were nice enough to give me the room breakdown which I've posted below.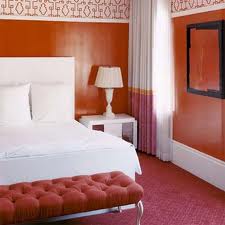 Walls: Glossy red walls are painted in Pratt & Lambert's Poppy. Wallpaper: A red and white print wallpaper  from Robert Crowder helps tone down the intensity of the walls. It's a smart idea for when you want to use strong hues in a room. Although you can't see it in the picture, the ceiling is wallpapered as well. Red Bench. The button-tufted red bench is covered in a  Lee Jofa fabric.