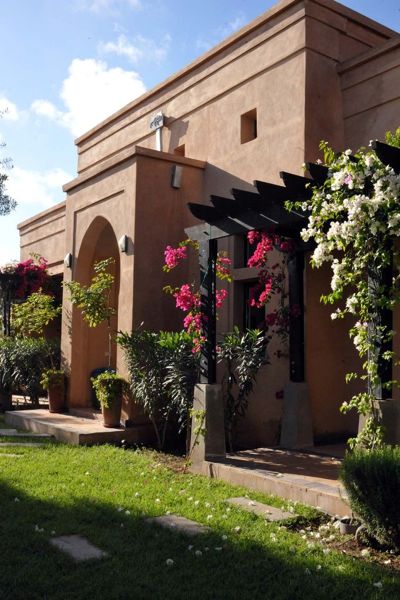 Clearly, Maryam Montague has superpowers. Maryam is the mother of 2, and a human rights and democracy specialist who advises governments. Wildly impressive on its own. But Maryam also has another very prolific and more creative identity as a designer, writer, blogger, and hotel owner. Wanting to put down roots after traveling the globe for her career, Maryam and her husband built their eco-friendly house and boutique hotel Peacock Pavilions in an olive grove outside of Marrakesh. While the architecture is inspired by traditional riad design, Maryam infused the interiors with a unique blend of exotic and contemporary design–despite not having decorated a house before. Maryam captured the experience on her blog, My Marrakesh which led to her gorgeous new book Marrakesh by Design. Oh, and she and her husband also have a business selling their gorgeous global finds on Red Thread Souk. Amazing.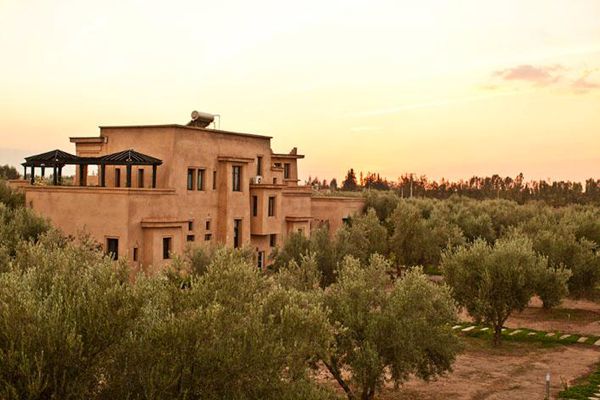 For those of you who dream about ditching the daily grind and living a more exotic life, Maryam's blog is a must read. There is something so appealing and adventurous about the idea of putting down roots in a different country.  If you love where you live however, and just want to bring a little bit of Maryam's take on Moroccan style back home, read on for design lessons from Peacock Pavilions.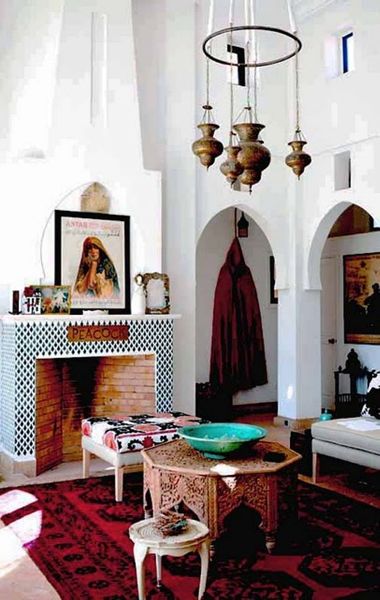 PATTERN ON PATTERN: When I interview designers, they all have rules about mixing pattern–only one big print in a room, prints should be different scales, the colors in each pattern must be linked…the list goes on. But the wonderful thing about Moroccan style is that colors and patterns are mixed much more freely and rooms never feel matchy matchy. Here, the deep red carpet, green ceramics, pink and black suzani covered stool, the indigo tile fireplace–it's all works beautifully. A white background helps by not competing with the marvelous mix. It goes to show how wonderful it is to break the rules and combine color and pattern with a little more abandon.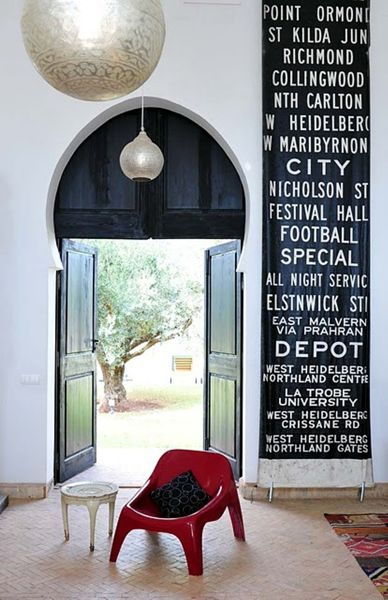 MIX IT UP:  The stunning light fixtures were a find from the Khan el Khalili souk in Cairo. The red molded plastic chair is from the 1960s and was purchased at the flea market in Marrakech. The sign is a vintage tramway sign Maryam bought from a former tramway operator in Australia. It's an unexpected mix that works beautifully. It goes to show you, focus on finding pieces that speak to you. Whether you are drawn to it because of color, whimsy, pattern, or shape–rooms benefit from having a combination of unique finds.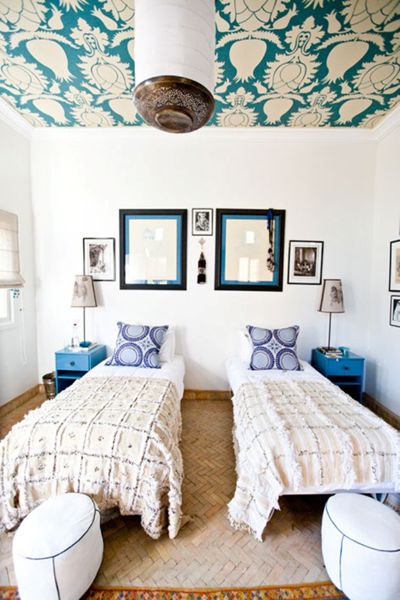 PUT PATTERN ON THE CEILING: In a bedroom, there is something incredibly cool about putting a bold print on the ceiling and having something fabulous to look at when you are lying in bed. Maryam stenciled the ceilings in these two guest rooms. The turquoise one was a custom Modello Designs stencil based on a piece of Uzbek embroidery.  The ceiling of Sufi Scribe is a stencil based on a bone weave that Maryam found in Marrakesh.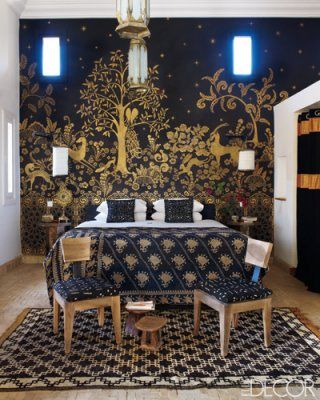 A MURAL MAKES THE ROOM: OK so this isn't really something, you can just whip up on your own. But if you are more artistic than I am, or you want to hire amazing muralist Clifton Jaeger, a mural on one wall can be stunning.  In the Golden Gazelles room, the black and gold mural was inspired by a screen made by Armand Albert Rateau that Maryam spotted in a Christie's catalog. Brass and glass lanterns from the souk hang from the ceiling.  On either side of the bed are vintage lanterns found at the old Sana'a souk in Yemen.The blanket is a vintage Kantha quilt Maryam purchased on assignment in Bangladesh.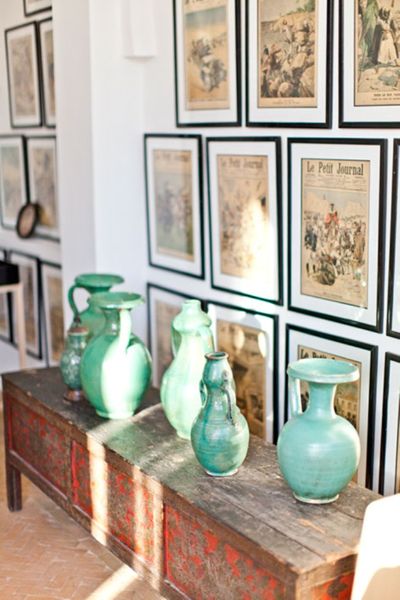 POWER IN NUMBERS: Like objects, when grouped together, make a striking visual statement. Here an arrangement of vintage Moroccan pottery from Tamgroute adds a beautiful burst of color and sculptural interest to the room. By covering the wall in framed vintage French newspaper illustrations, the grouping looks graphic and modern.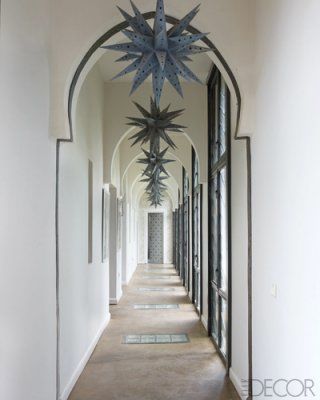 LESS IS MORE:  All it takes to bring this white hallway from basic to breathtaking are a group of hanging star lanterns. While I always love a lot of color and pattern, this space shows you how a clean, simple space with one showstopping element is sometimes all a room needs.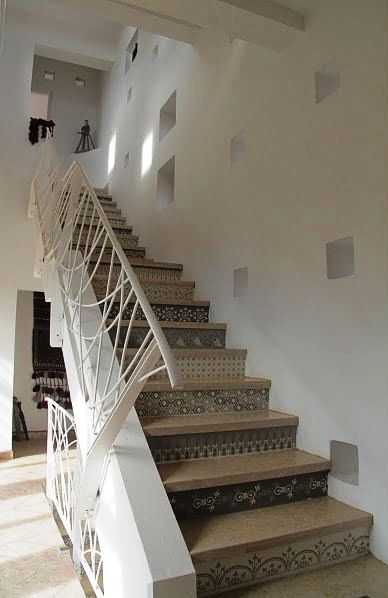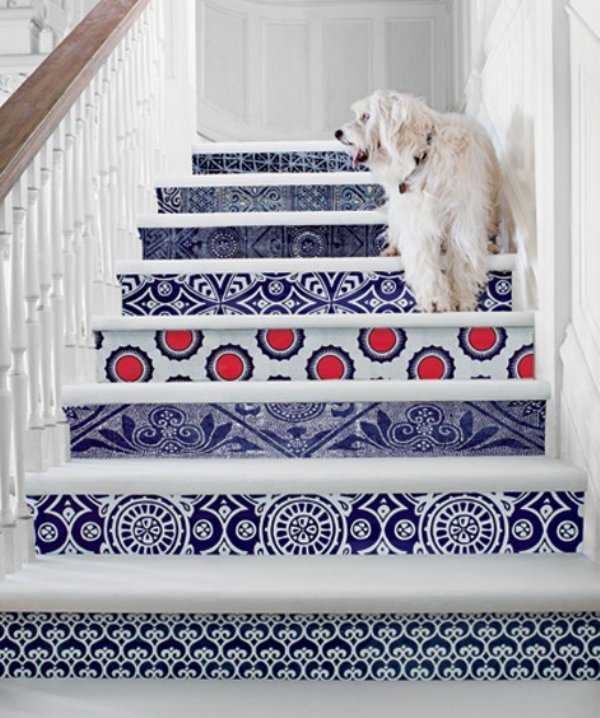 STENCIL THE STAIRS:  I adore this idea. Maryam's stairs (shown in the top image) and then the Serena and Lily catalog below, show you the potential your stairs have. This also could be done with wallpaper. Adding a pattern where you least expect it, transforms a utilitarian space.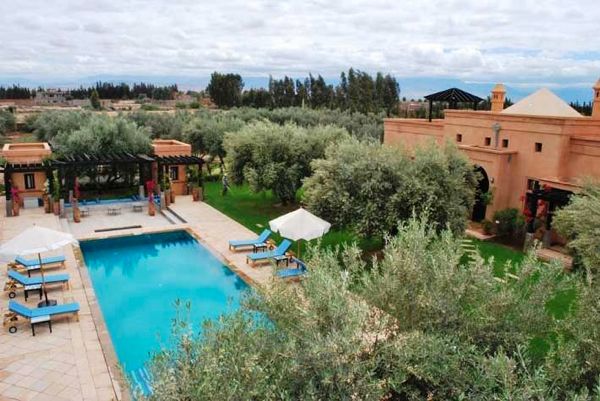 The pool at Peacock Pavilions….this pic will definitely be responsible for several serious cases of wanderlust. Happy Travels, virtual and otherwise…
Images courtesy Peacock Pavilions and via Elle Decor