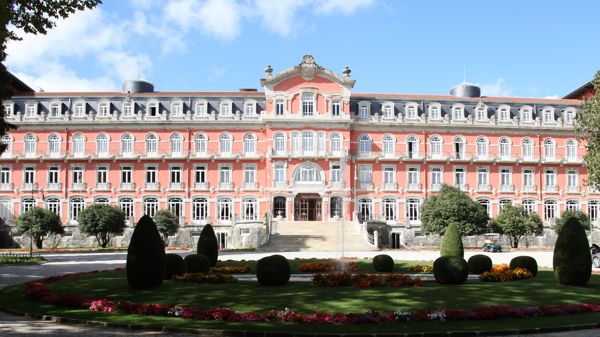 For all of you who believe in fairy tales and just need the backdrop to go with your fantasy –I bring you a pink palace in Portugal. Yes pink! And fit for a queen, or a certain fabulous Duchess that is getting lots of attention these days. Located in Vidago, a town in northwestern Portugal known for its rich mineral springs, the Vidago Palace hotel boasts 70 rooms set in 250 acres of parkland. The hotel reopened last year after an extensive facelift and the addition of a new spa. Decorator José Pedro Vieira and architect  Diogo Rosa Lã revamped the interiors of this c. 1910 Belle Epoque mansion with a beautiful infusion of color and pattern. Lots of terrific design ideas here!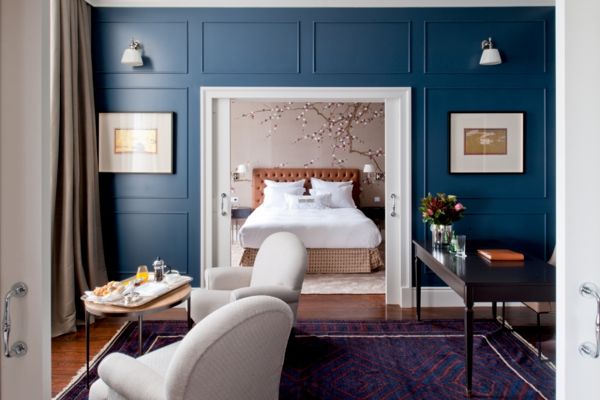 Pair color in one room with pattern in another: In the suites, the designers chose rich, dramatic colors for the living room walls. For the bedrooms, located just through a set of pocket doors, they brilliantly covered walls in gorgeous scenic wallpaper. The  fabulous deGournay wallpaper that they chose here pops perfectly against the living area's moody blue walls. It is a great example of how to play the design of one room against another. While they are separate spaces, the rooms flow beautifully. All paint is from CIN.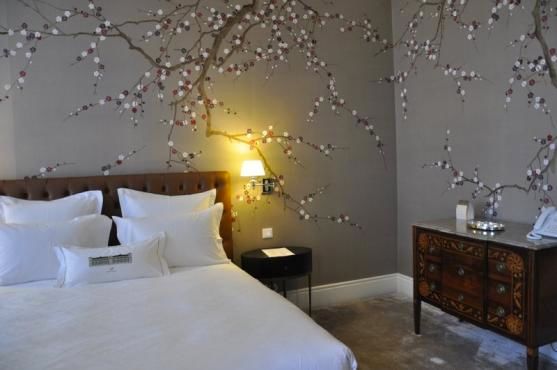 Here's a close-up of the stunning deGournay handpainted wallpaper. Dreamy.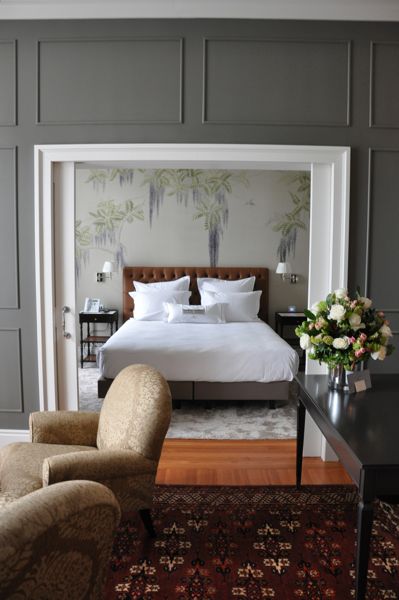 Use rich dark colors: I adore the intense charcoal grey walls in this suite. Every time I see rooms like this, I love how dramatic and modern they look. But then when I paint squares of the same hue on my own wall, I get totally scared and play it safe with some boring pale shade. These rooms are a great reminder of how stunning darker shades can be.  The cool paper in the bedroom is deGournay too.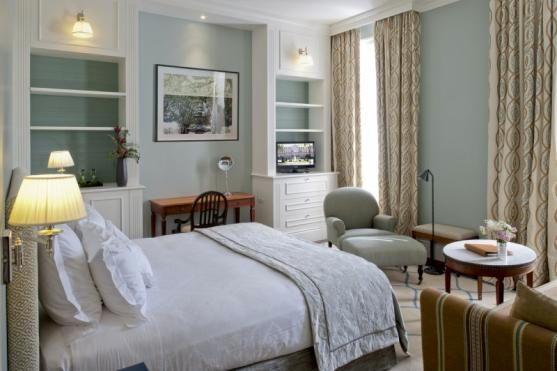 Maximize space with built-ins: Although I wish the desk in the center was a little more exciting, I think the design of these built-ins is so chic and a great way to maximize space. Note how they covered the back of the cabinets in a wallpaper that is almost the same hue as the walls. It's a nice way to add a little texture to the space. The rug is from Tapeçaria Ferreira de Sa, and the fab curtain fabric is from Zimmer & Rhode.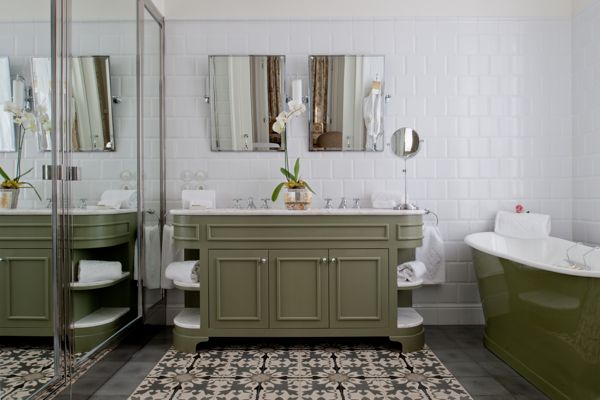 Green Bathtubs are amazing!: After seeing this awesome green bathtub from Recor, I feel like the time is right to start bringing in some more color into the bathroom. Whether it is in the sink, the tub, or the tiles– cheery color and pattern is a welcome addition to a bathroom The cement floor tiles are Mosaic del Sur.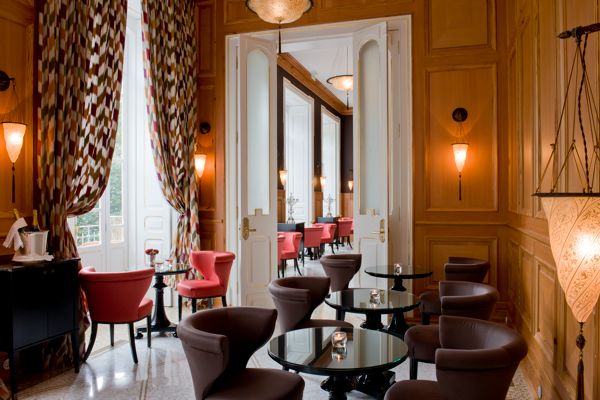 Chocolate brown plus red: Love this color combo. Especially here against the wood paneled walls, it makes a room with soaring ceilings feel absolutely cozy. What a lovely place to sip a little cocktail with your prince charming…