Looking to indulge your inner Audrey Hepburn ? Check out The Continentale, an enchanting boutique hotel in Florence with a 1950s vibe. Owned by Leonardo Ferragamo (son of Salvatore), The Continentale is one of 5 chic Lungarno hotels.  A favorite of fashionistas, the hotel features playful public spaces,  with pops of pink, and 1950s movies running 24-7 in the lobby. The 43 crisp white-on-white rooms overlook the Arno river and the Ponte Vecchio.

I adore the color scheme of the public spaces–crisp black and white with bursts of candy pink. The spaces are punctuated with oversized Faye Heller montages, and framed vintage fashion photographs lining the hallways. All you need to recreate the look are white walls for the backdrop, black, white, and pink upholstery with contrasting piping, silver accents, and cool fashion photography.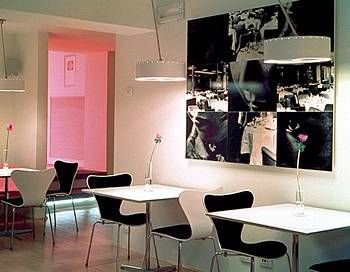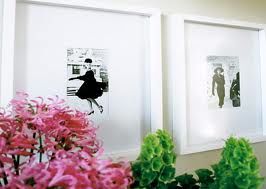 If you don't have a  budget to buy art, try cutting out the pages of a vintage fashion photography book and framing the images. Ikea and Pottery Barn both make boxy, contemporary white frames like the ones at the hotel.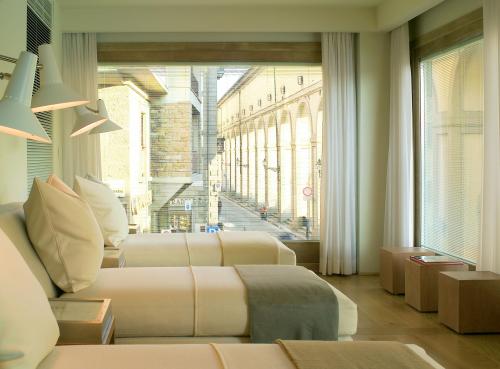 The white on white effect in the guest rooms is heaven, totally calming but contemporary. One of the reasons it works so nicely is because of the clean lines of the furniture and accessories.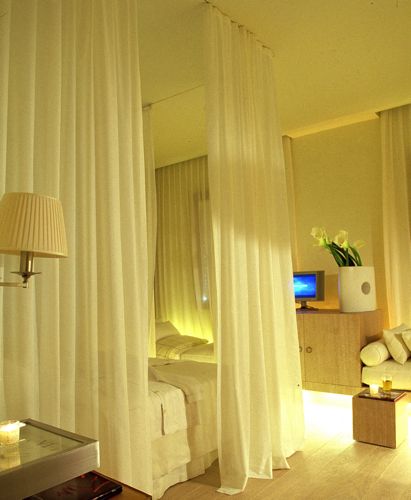 For those of you who love the look of a 4-poster bed, check out the romantic, yet totally modern version above. Sheer, billowy curtains on a ceiling mounted track give the illusion of a poster bed, while also making ceilings appear higher. Heaven.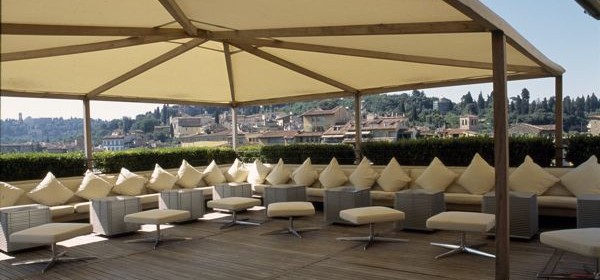 The rooftop bar offers amazing views of Florence and is a gorgeous backdrop from sampling the region's wine.  Ciao Bella!