With the goal of creating the kind of  hotel he would want to stay at, Robert DeNiro and his partners opened the unpretentious and comfortable, Greenwich Hotel in 2008. Built on an empty lot near DeNiro's popular Tribeca Grill restaurant, the 8-story brick structure is designed to look as if it's been there for years, fitting in beautifully with the architectural style of the downtown Manhattan neighborhood.

I had a chance to visit the 88-room hotel, and I was totally taken with the rustic meets refined aesthetic. The individually designed rooms are filled with pieces that ooze character including vintage furniture, reclaimed oak floors,  Morroccan tile, and Tibetan carpets.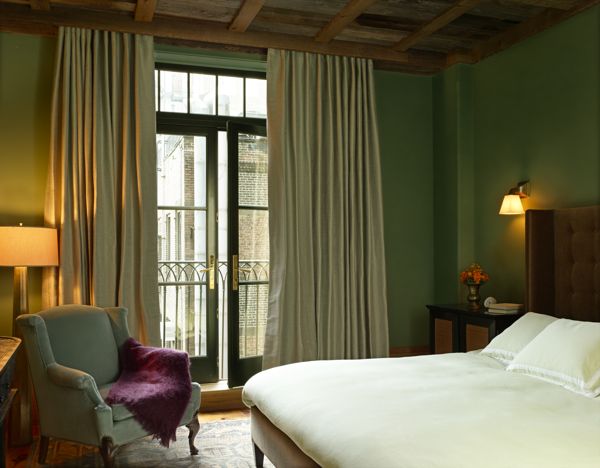 The Power of Green: There are touches of green throughout the hotel–bright green upholstery covers wing chairs in the lobby, a blueish green  appears in a Moroccan tile bathroom floor, and a deep green hue graces  a few of the bedroom walls.  The rich green walls in the bedroom above are a really masculine way to infuse a room with strong color.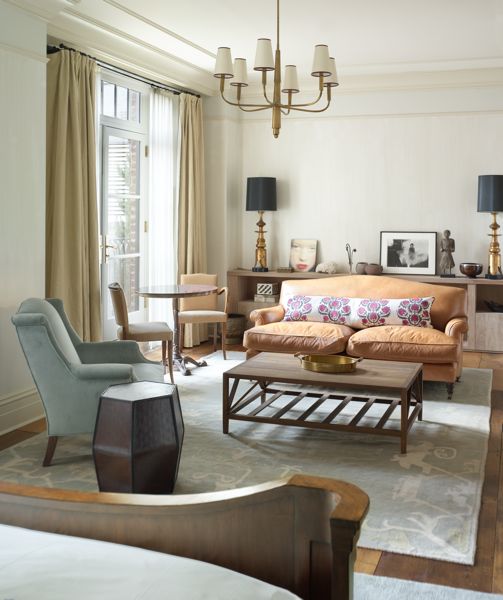 Room Breakdown: The Studio Suite
The Studio Suite above, is my absolute favorite space in the hotel. The salmon-hued leather sofa is from upscale Brit furniture maker Beaumont & Fletcher. If you like the look, check out Williams-Sonoma Home's Bedford loveseat and Restoration Hardware's English Roll Arm sofas. The long floral print pillow from Mokum textiles adds just a touch of femininity to the space.  The lamps and wing chair are vintage from designer Steven Sclaroff whose cool shop is just a few blocks away from the hotel (he also sells on 1stdibs.com)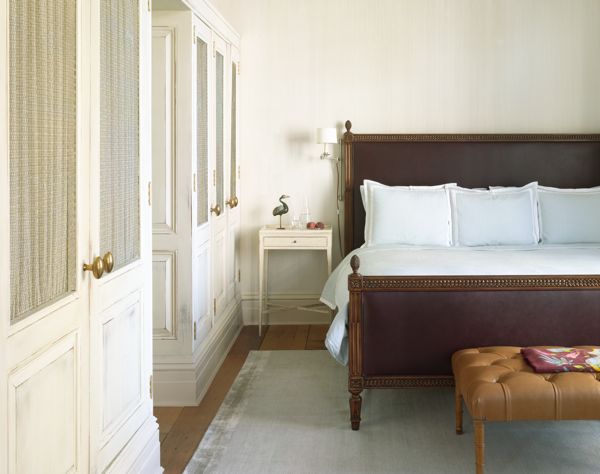 Storage Solutions: Storage is always an issue for city dwellers and these built-in wardrobes are a cool alternative to closets. You can see more clearly in the picture below, but the wardrobes don't go all the way to the ceiling, giving the room a more open feeling.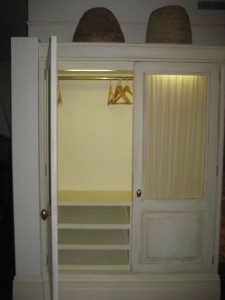 Tribal baskets line the space between the wardrobes and the ceiling. The left side of the wardrobe has open shoe racks and hanging space, while the right side has drawers.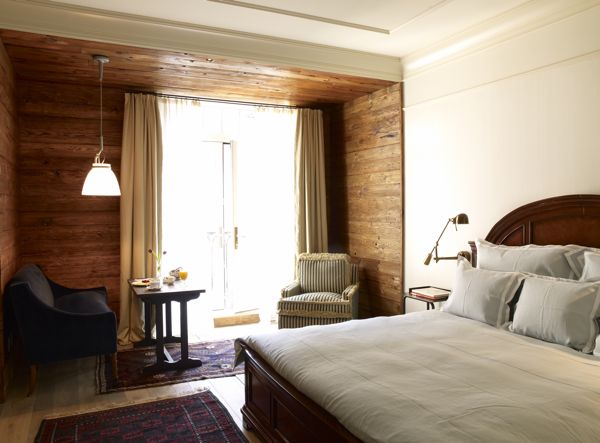 Wonderful Wood: All the wood used in the hotel is salvaged, and the weathered look gives the space instant character. I like how they used reclaimed oak planks to line the window nook, it's an unexpected way to carve out a separate seating area in a bedroom.
Comfort is Key: Each room is designed with comfort in mind. Furniture is upholstered in uber soft fabrics like chenille and velvet. Plush sofas and cozy wing chairs beckon you to relax. Each room has its own, unique mini library of design and travel tomes. Vintage accessories line shelves. All these details make each room feel more like the guest room of a close friend, than a hotel room.