There is just something about Moroccan design that I can't get enough of–the intense sense of color (all that red!), the arched doorways, the inlaid furniture, the bold patterns, the brightly colored rugs, the lanterns….I could go on and on! If you're with me on this, you will have the same reaction I did when I saw pictures of the Jnane Hotel.  The vision of hotelier and interior designer Meryanne Loum-Martin, Jnane celebrates Moroccan design, combining the look with Turkish, and French elements. Set on 9 acres of gardens, the 24 guest rooms are spread out over 5 charming villas in the La Palmeraie neighborhood just outside of Marrakesh. There are so many wonderful design ideas to crib here, enjoy!: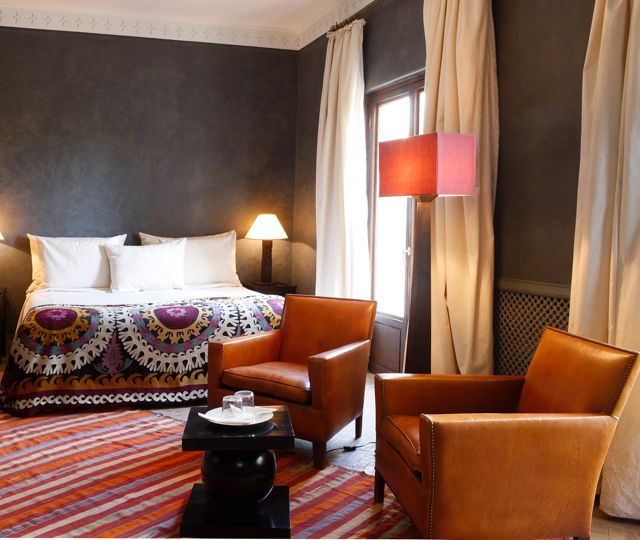 GLOBAL CHIC–STRIPES PLUS SUZANIS: Throughout the hotel, Meryanne covered floors with vibrant carpets in pinks, oranges, purples, or reds. Here, the purple, orange, blue, and cream striped carpet sparkles in this charcoal grey room.  The walls are tadlakt, which is the Moroccan version of Venitian stucco. The addition of a stunning vintage suzani print, with simple white sheets and curtains, makes this room a standout. These two amazing graphic prints, linked by purple, shows how just a few vibrant patterns can make a room.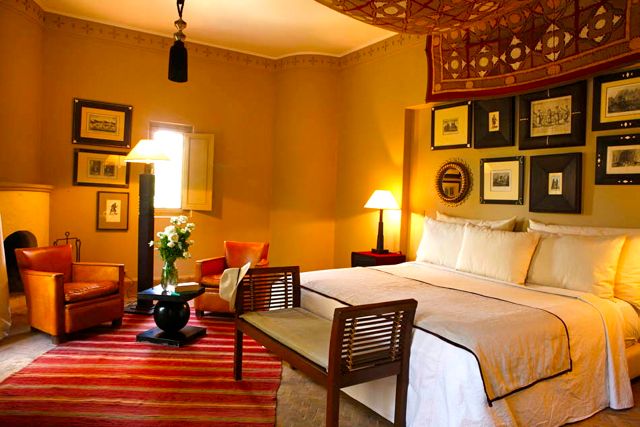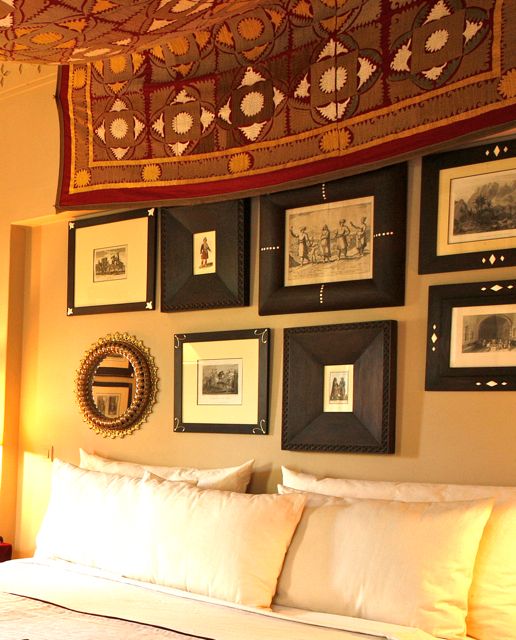 LOOK UP: A simple idea with major impact. By hanging a beautiful textile, (in this case an Ousbeki Suzani) directly above the bed, you can create a chic canopy that defines the space. How nice would it be to wake up to such a lovely pattern? If you have no headboard, the addition of beautifully framed art, hung gallery style, creates a lovely focal point. If you just have a mattress and a frame and a simple room with little architectural detail–this is a terrific idea to enhance the space.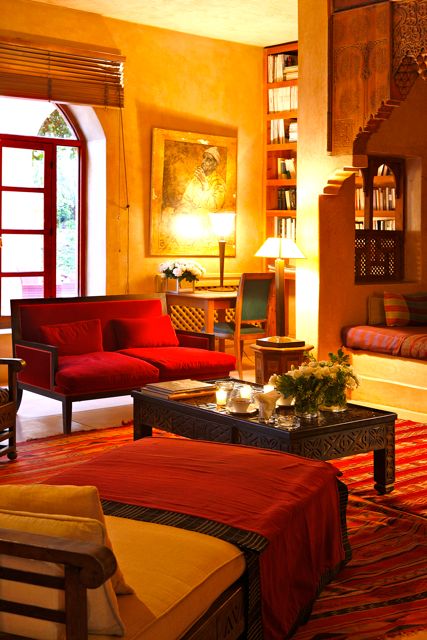 PAIR RED & YELLOW: I love this gorgeous combination of yellow tadlekt walls and ceiling with pops of red in the sofa, the rug, and throws. If you love red, but aren't ready to commit to an entire room (see below!) this is a safer, but still showstopping, color combo.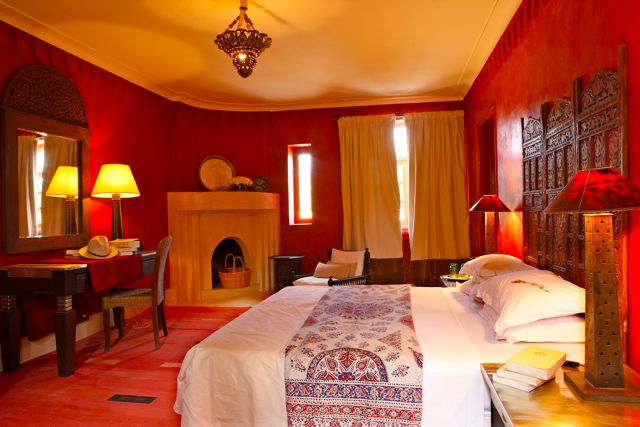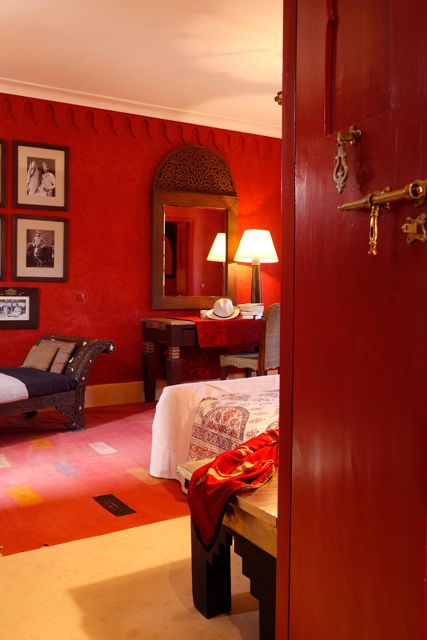 ADD DRAMA WITH RED: Dramatic, sexy, mysterious–a red room is all of the above. It's not for the faint of heart, and to be honest, works best in a room where you spend most of your time in at night. But  the right red can transform a blah space into one that is seriously stunning.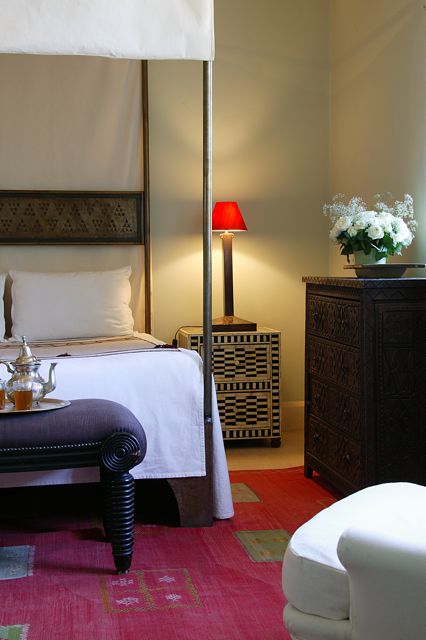 CANOPY CHIC: A quieter celadon room paired with a fab pink carpet, puts the emphasis on furniture with beautiful lines and details. While floral inlay furniture and accessories has been a trend lately, I love this more contemporary graphic version. The canopy bed, designed by Meryanne, is a more updated take on a Moroccan carved wood bed. The clean and simple lines, paired with the traditional wood carving details, make the bed a standout.
GET THE LOOK: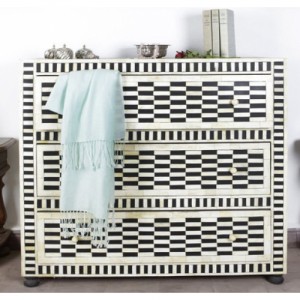 Stunning inlay chest from Brit retailer Rocomara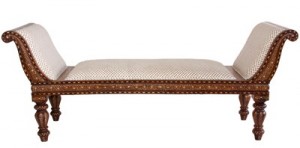 Inlay Settee from John Robshaw
Turkish Kilim runner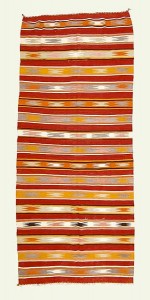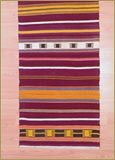 A great selection of colorful Turkish rugs can be found on kilim.com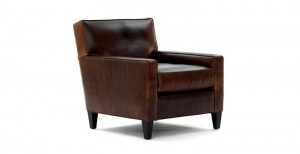 Dexter Leather armchair from Mitchell Gold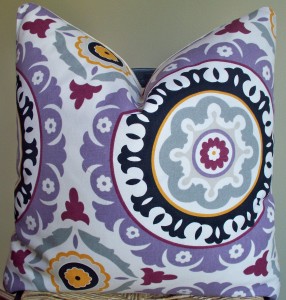 Purple suzani pillow from Laura Lett on Etsy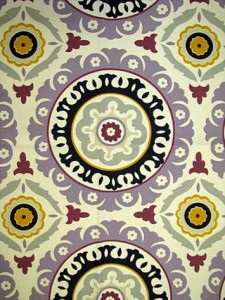 If you like this fabric, Kirtam Designs on Etsy will make you custom window panels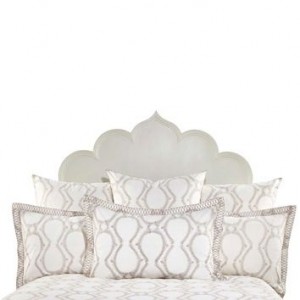 John Robshaw's Palli bedding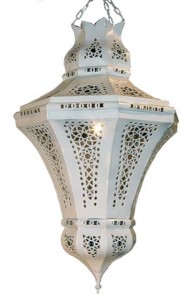 Punched metal hanging lanters from Wunderly. (thanks for the referral Stylebeat!)
All hotel images courtesy of Jnane