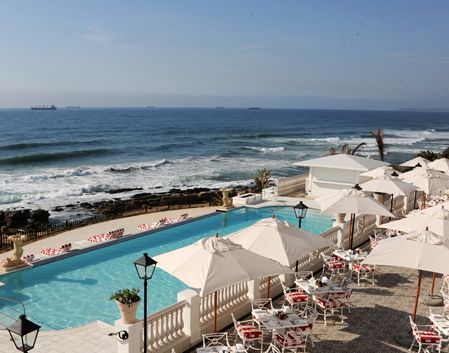 Perched on the coast of KwaZulu-Natal in South Africa, the Oyster Box Hotel boasts newly revamped interiors and incredible sweeping views of the Indian Ocean. The c.1947 hotel recently underwent a 2-year makeover, re-opening its 86 updated rooms in 2010. The new design perfectly melds contemporary South African art, colonial chic furniture and bold prints. Lots of great ideas here. Read on for design inspiration from The Oyster Box: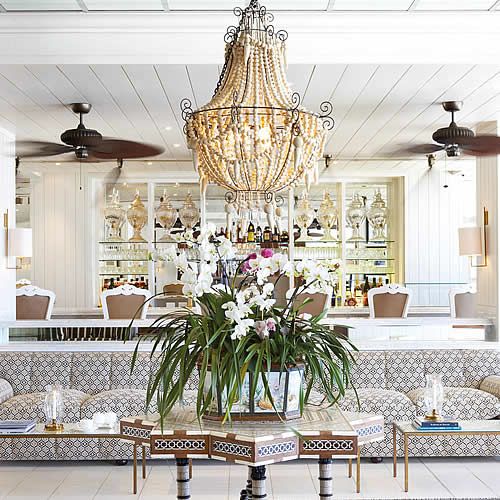 PAIR WHITE AND BROWN: The Oyster Bar restaurant, shown above, features an all-white backdrop and gorgeous rich brown prints and furniture. The elegant French bar stools with white frames look great against the marble bar. (Ballard Designs has similar stools here) The mother of pearl inlaid table is divine and echoes the room's palette. (I found a similar table here) But it is the cheery graphic print of the banquette that makes the space. For a similar look, try these two Calico Corners prints:

Designer Thom Filicia's Euclid print fabric in Teak.

And Bocce in Cocoa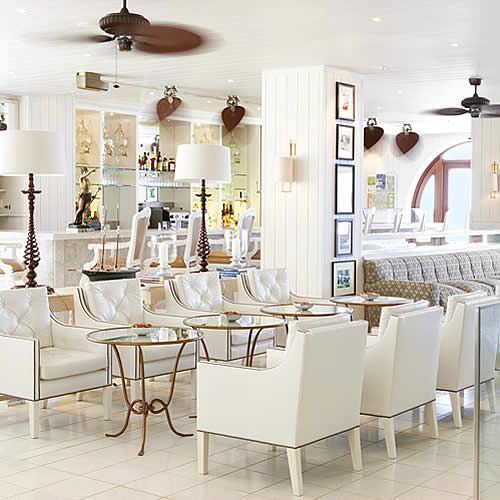 CREATE A WHITE BACKDROP: Crisp white floors, ceilings, and walls make the room bright, plus they place the spotlight on the room's wonderful furniture, finishes, and patterns. The nailhead trim is a fantastic addition to the white faux leather arm chairs. Ballard Designs has a similarly shaped chair here, while Target's Clybourn Loft Chair has similar tufting on the back.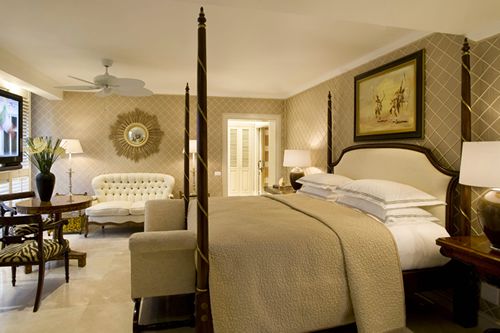 UPDATE THE CLASSICS: To offset the granny look of traditional furniture, try adding a bold print or two. Here, a touch of zebra on the chairs, a graphic print wallpaper, plus a stunning starburst mirror, punch up what would otherwise be a very traditional room. The wallpaper reminds me of Lulu DK's fabulous Chant paper in beige and cream. Target's$24.99  sunburst orb mirror echoes the one on the wall.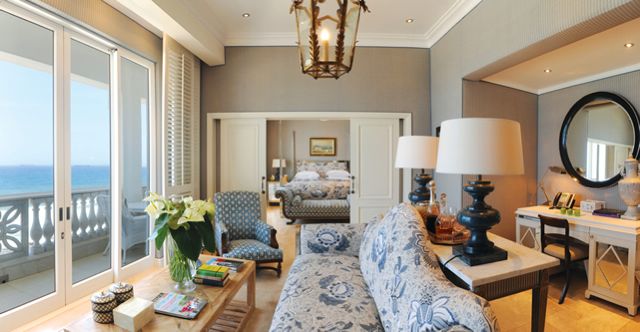 GREY & BLUE: Love this unexpected color combination. Soft grey walls provide the perfect backdrop for cream furniture, navy table lamps, and a pretty floral print fabric. Calico Corners Rabinal print in blue has a similar look.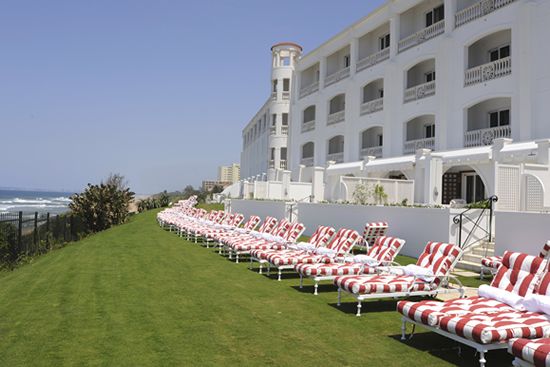 Wouldn't it be amazing to be lounging on these red and white striped chairs right about now?
Happy weekend!
Photos: Oyster Box Hotel and Calico Corners