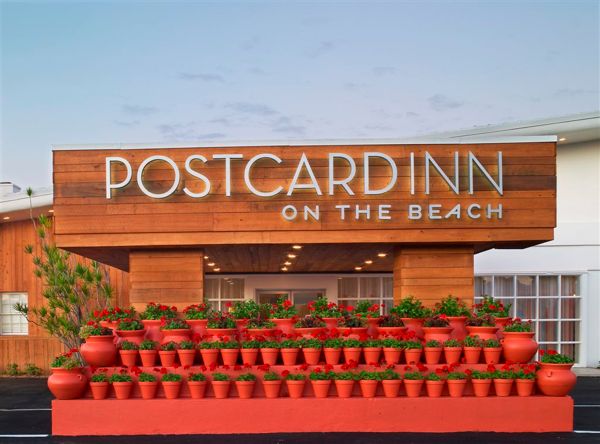 I am really loving the boutique motel trend. Hoteliers are finally realizing that savvy travelers want cool design and great rates too. Today I'm featuring Florida's fab Postcard Inn on the Beach (with rates starting at $149), hot on the heels of another motel chic property, LA's Avalon hotel–both great examples of how absolutely any space can be cool given the right ingredients.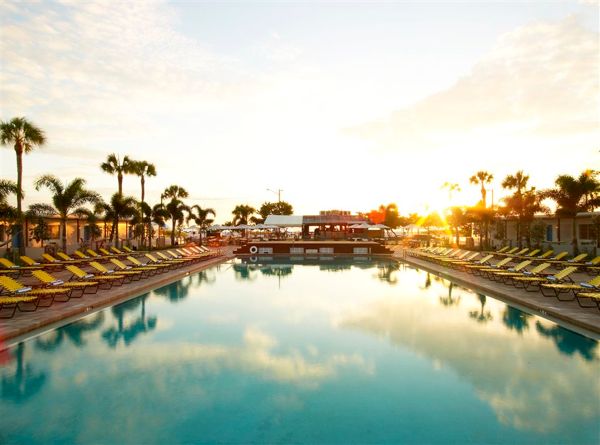 Located in the laid-back beach town of St. Pete's, Florida, the motel was originally built in 1957 and was most recently part of the Travelodge chain. Thanks to restauranteur Stephen Hanson it's been given a surfer chic makeover with vintage furniture, beachy prints, and a surfboard in every room. Interior designer Tara Oxley was inspired by photographer Stephen Shore's 1970s American road trip images–and captured that happy, free spirit vibe in the design . Lots of terrific ideas here: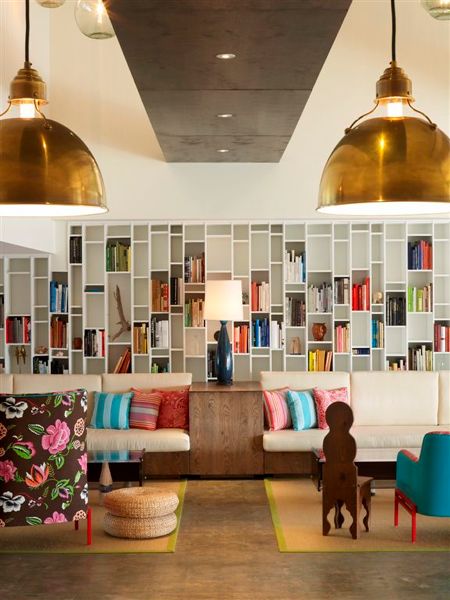 PUT YOUR FEET UP: Everything in the lobby beckons you to chill, from the pillow strewn sofas to the dozens of books ready for you to crack open. Love the built-in bookshelf, the design would work equally well in a loft-like living room or a kid's bedroom. The bold floral print fabric on the vintage armchair is from Designer's Guild. The lamps throughout the hotel are vintage as well and they add  70s flair. The amazing ceiling pendants are from Bobo Intriguing Objects.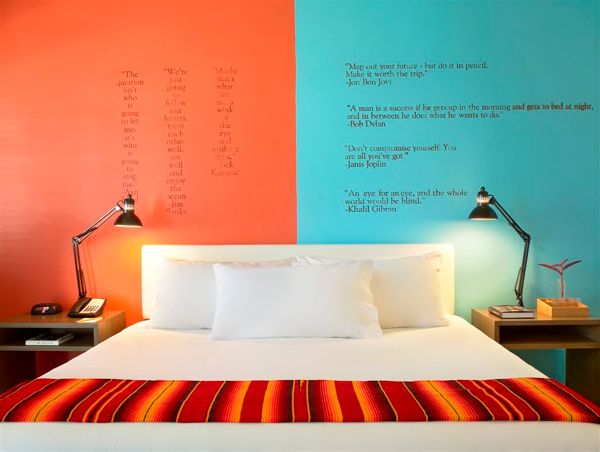 50/50: Who says you need to decide on just one color for your walls? Go for two! I've actually never seen this done and I think it's genius. Fun idea for a kid's or teen's room. The colors are Benjamin Moore Fairytale Blue and Adobe Orange. The intriguing quotes are stenciled onto the walls and feature famous lines by the likes of Thoreau, Janis Joplin, and Jay-Z. No two rooms are alike or feature the same quotes.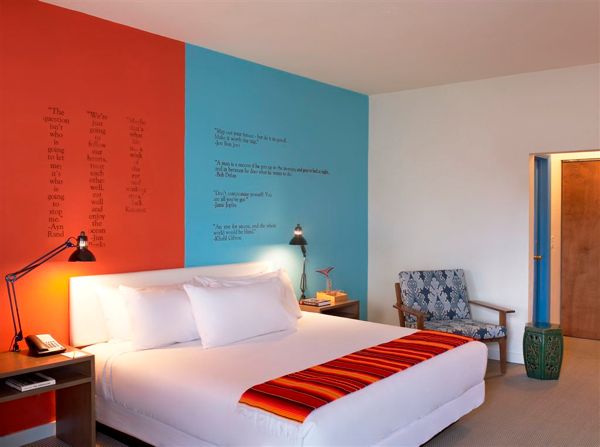 Surf Dreams: Ocean views don't have to come with big price tags. The wall behind the headboard of this guest room features custom wallpaper taken from a digital image of the surf. Photo by Dan Putnam with wallpaper manufactured by Create My Scene. It's a groovy and inexpensive idea. Just choose a shot, measure the space, and they'll make the wallpaper for you.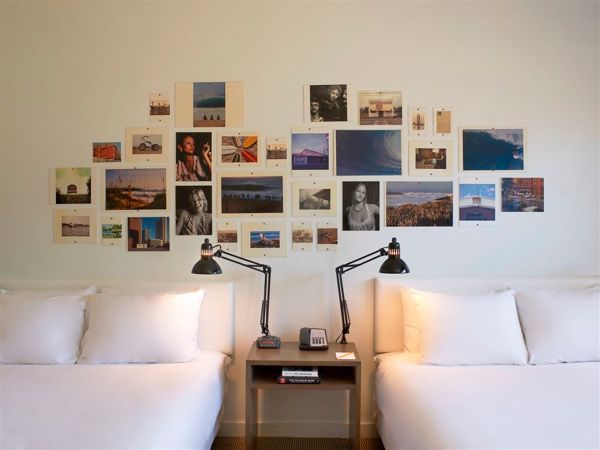 ART FROM YOUR BOOKSHELF: These images were culled from books showcasing scenes from the 70s and just tacked to the wall. If you're in an art rut, it's a cheap and simple way to liven up your walls.
Enjoy the surf!
(Images courtesy Postcard Inn on the Beach)