A friend recently asked me to track down the pretty fabric on the chairs in the Drawing Room at the Crosby Street Hotel. It is Milas by Vaughn, which reminded me that I've been meaning to write about designer Kit Kemp's new book A Living Space. Kit is the designer behind Firmdale Hotels. Every space in her hotels is unique filled with amazing art, global treasures, lots of color, pattern, and stripes. Best of all, nothing feels too serious or stuffy thanks to fun details like dog art, pattern-on-pattern, and a riot of color throughout. Each of the eight hotels is filled with inspiration for how you want to live at home.  The images below show how she has used the Milas print not only at the Crosby Street Hotel, but in her own house in London.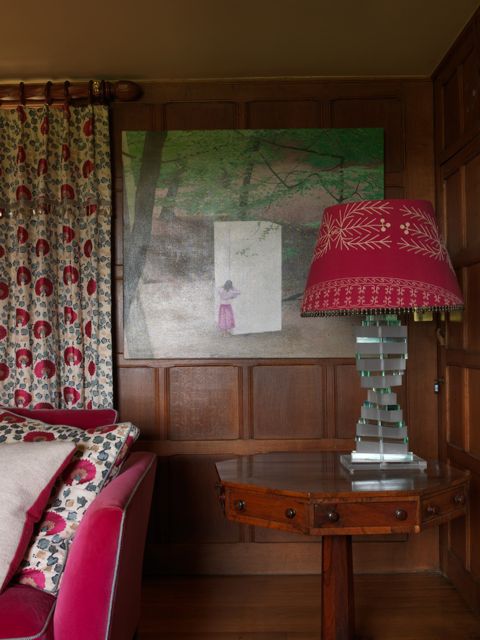 I met designer Kit Kemp a few months back at the launch party for  A Living Space held in the Drawing Room at the Crosby Street Hotel. One of the things we discussed was was her clever and chic design trick of upholstering the walls (the Drawing Room is covered in Osbourne & Little's Pink Sakura linen). Kit explained that fabric on the walls makes even the largest spaces feel cozy and warm, it is also a softer way to bring in a lot of color.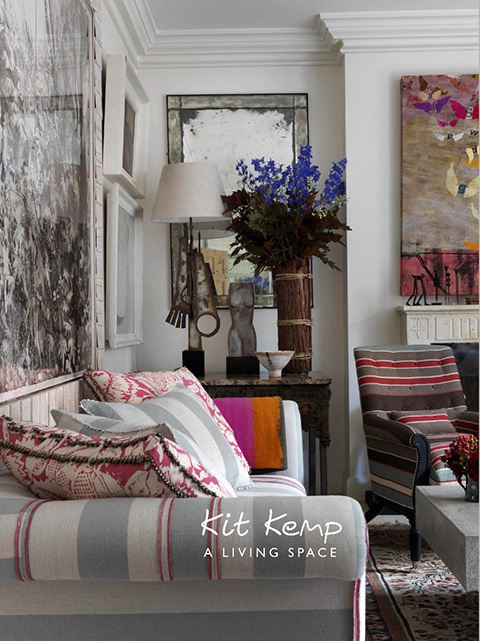 In A Living Space Kit shares her thoughts on pairing old and new, scouring for vintage treasures, adding global finds, finding great art, and how to combine color and pattern.
The images above are from the book and spotlight her design at home. What I love is that it is often hard to distinguish which spaces are in her homes and which spaces are in her hotels–Kit's hotel rooms feel that personal. Below are a few images from her hotels. Enjoy!