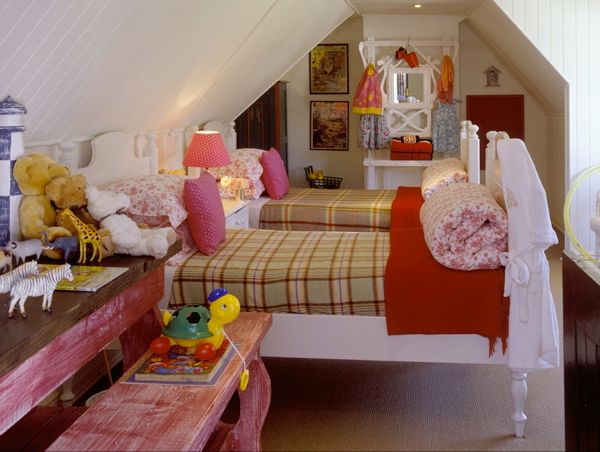 Traveling with kids often means dealing with rickety hotel-issue cribs, lumpy cots, and praying your little one doesn't break anything pricey in your room.  It's rare to find a hotel with rooms designed especially for children, but family-run Kurland in South Africa has done just that with dreamy children's lofts connected to gorgeous antique-filled rooms designed for their parents. Each of the children's rooms boasts 2 to 4 twin beds, baskets stocked with toys, and a cheery, colorful design that feels warm, cozy, and homey. They are spaces any kid would absolutely love. I'm surprised more hotels don't do the same thing–pairing kid-friendly spaces with gorgeous rooms for their parents. I love that a luxe hotel welcomes kids with open arms. Hotel owners take note!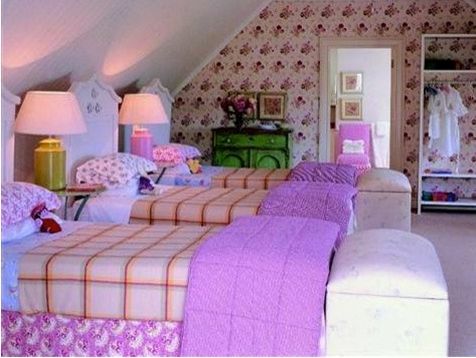 Three classic white beds lined up in a row, bright floral prints, cozy checkered blankets, pretty hampers for storing laundry or clothes, colorful furniture, fun lamps–there are dozens of great ideas here for designing a terrific kids room.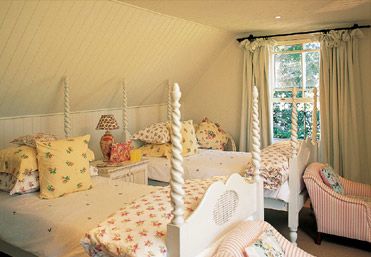 If you like the look of the white painted twin beds, Pottery Barn kids has several similar styles currently on sale.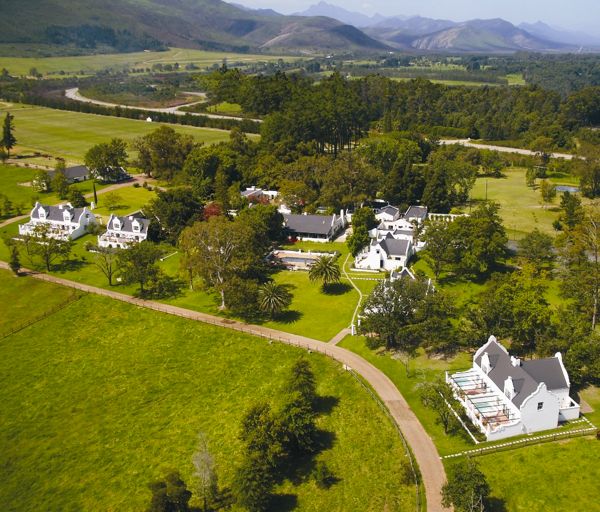 A Relais & Chateux boutique resort, Kurland boasts only 12 rooms on 1700 acres in South Africa's gorgeous Garden Route region. Located between the mountains and the Indian Ocean, with access to both just minutes away, the resort offers tennis, spa, horseback riding, and loads of kid-friendly activities.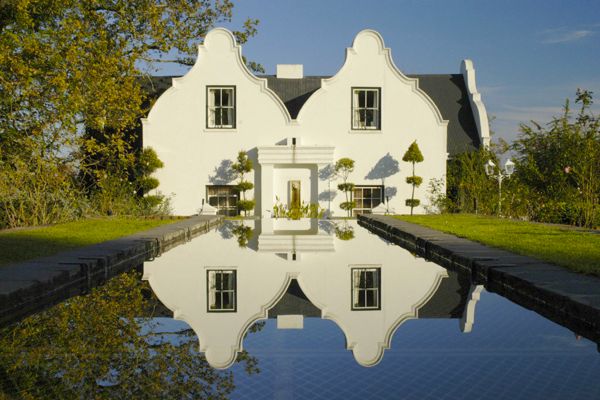 The 100 year old buildings are striking examples of Cape Dutch architecture. Baron Peter Behr discovered the estate 50 years ago, and in 2000 his grandson Peter, and his wife Dianne, transformed the family homestead into a luxury boutique hotel.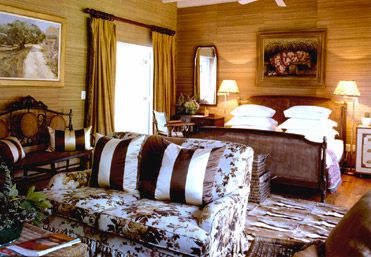 The interiors were the vision of co-owner Dianne Behr, she designed each of the adult bedrooms with lots of antiques, beautiful art, and St Leger & Viney fabrics. Lots of clever design ideas for the adult suites as well: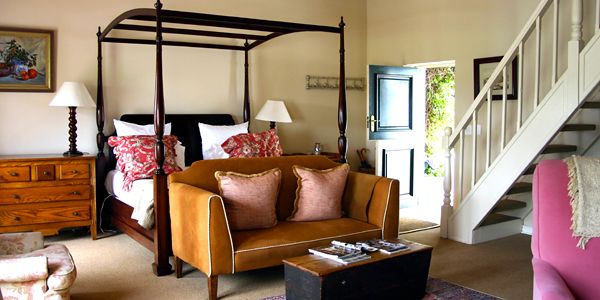 A loveseat at the foot of the bed is a clever way to maximize space in a small room.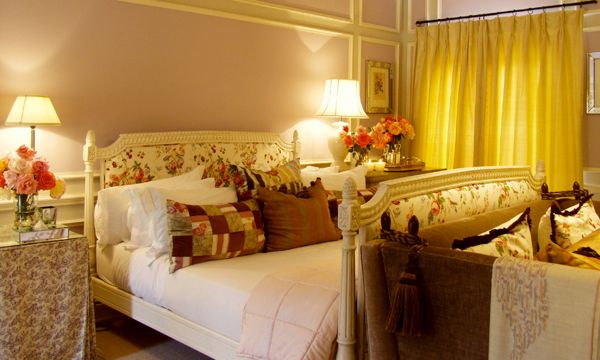 English Country house chic,  florals and toiles, French inspired furniture and lots of fresh flowers picked from the property's extensive gardens.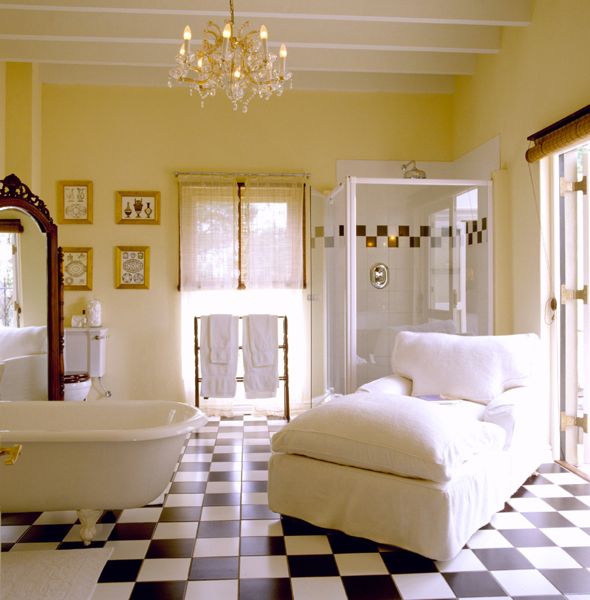 If you have the space, a comfy chair makes a bathroom feel more like a retreat.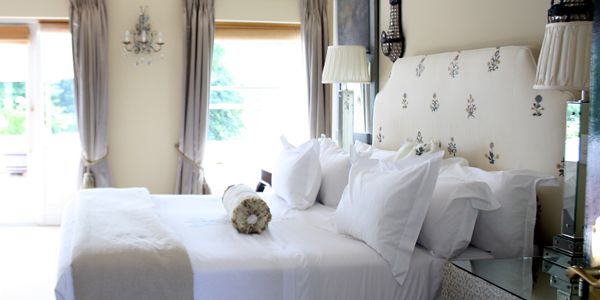 A soothing, sophisticated way to incorporate a floral print.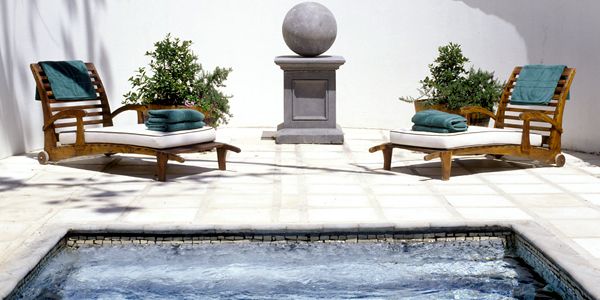 The spa pool.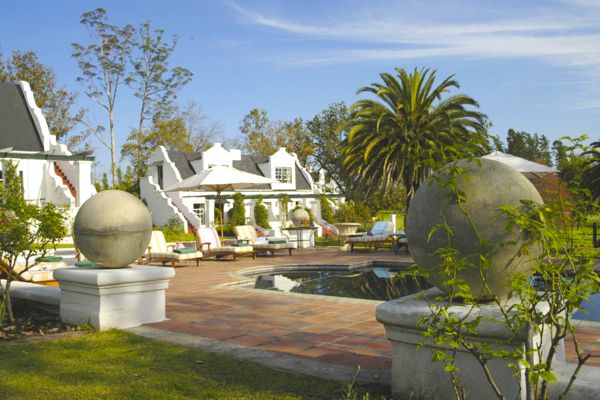 Gorgeous.