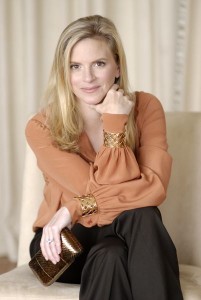 I first saw Kotur clutches at Scoop in NYC several years ago and I totally fell in love with them. They are so gorgeous and refined, yet they look as cool with a pair of jeans as they do with a party dress. Only later did I discover that the designer was  Fiona Kotur Marin. Creative genes run in their family, her wonderful sister is Alexandra,  a longtime editor at Vogue, and her mother Sheila Camera Kotur is an artist, who also beautifully illustrates Fiona's collections which you can see on her website. Fiona lives between Hong Kong and New York and in addition to being the designer and powerhouse behind Kotur, she is also the mother to 4 boys (I am the mother to 1 wonderfully active boy, so I am seriously impressed!)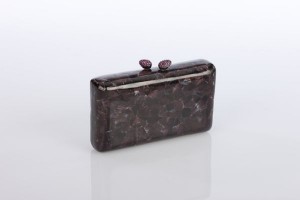 Fiona began her career in fashion and after doing stints with Ralph Lauren and Tory Burch, she moved to Hong Kong for her husband's career. But she quickly made her own mark on the city, when she discovered an array of stunning vintage brocades that were being sold by a master craftsman who was about to retire. Fiona used the incredible fabrics to launch her bag line which was quickly snapped up by an international array of chic shops from Harvey Nichols in Hong Kong to Bergdorf Goodman in New York. I love how individual they all are, total statement pieces that don't go out of style.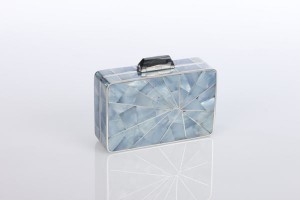 I turned to Fiona to share her favorite design hotel with us, knowing that she would choose someplace far-flung and glamorous. Fiona picked Raas in India, a hotel that combines an 18th century palace with a more contemporary addition. It is in the heart of Jodphur's walled city. What I love about her choice, is that she chose a hotel that she loves as much for its design, as for the feeling and experience she has when she is there. That's the magic of travel is that it can transport you in so many ways–visually and emotionally.  Read on for my interview with Fiona about The Raas: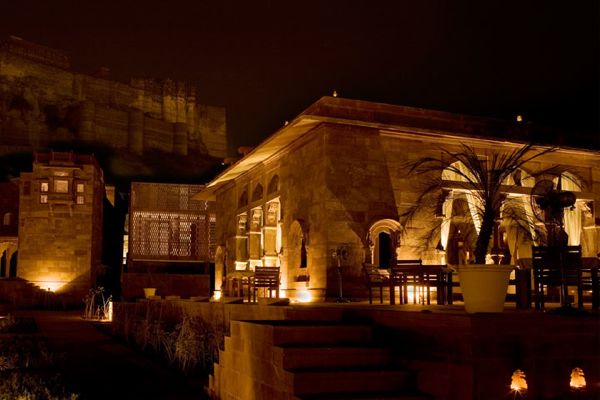 HOTEL CHIC: What is your favorite hotel in terms of design?
FIONA KOTUR MARIN: I love hotels with character and individuality, but I also appreciate comfort and modern facilities, and Raas hotel in Jodphur combines all these things. It is situated in the middle of a bustling city, yet feels completely secluded and peaceful once inside. Conde Nast Editor Nicholas Coleridge said the place is "three parts Rajastani to one part LA, with a twist of Aman…" and I agree. The new extension is quite contemporary, but made from pink sandstone, an indigenous material to the region.What I love is the way the old converted mansion was updated— an exciting combination of modern and old world style.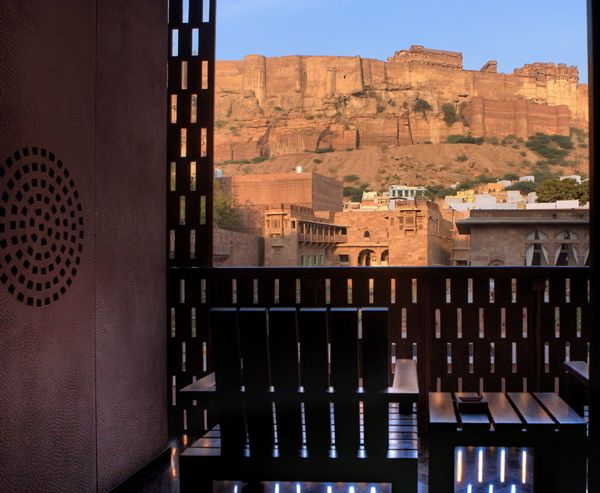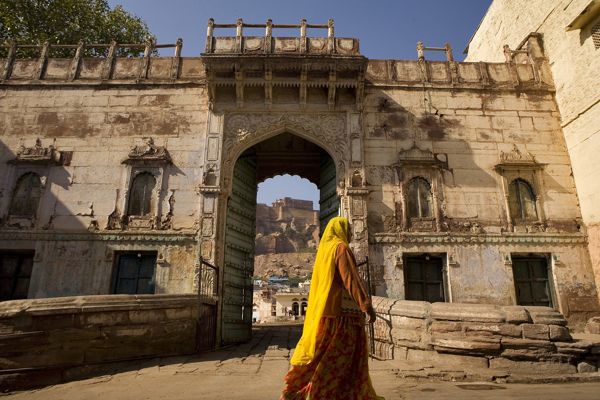 HC: What do you love best about the the hotel?
FKM: I love gazing out the window at incredible views of the Mehrangarh Fort, and all the activity  inside the walled city of Jodhpur. It is so interesting to me, that access to the city, contrasted against a sublime interior.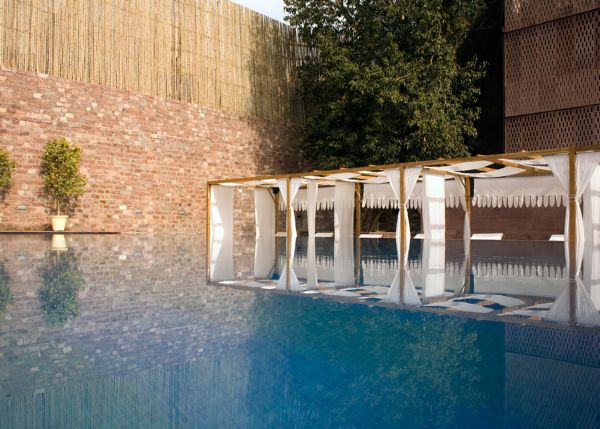 HC: What is your favorite space in the hotel?
FKM: It's not just the look, it's the vibe and feeling that I love about the space. To feel connected to different senses at the same time is so unusual and such a privilege, to relax in the canopied cabanas in the courtyard pool, while still hearing the call to prayer from the mosque next door and  the distant rickshaws humming outside.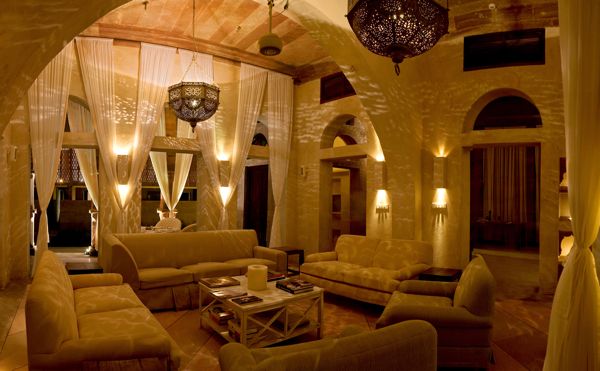 HC: Is there an aspect of the design that you would love to incorporate into your home or would inspire one of your bags?
FKM: I am very attracted to the concept of negative space and the shadows and light play it creates. The lattice screens that filter the outside scene, the perforated metal ceiling lights that create interesting shadows, they both create ambience I would like to recreate at home. I just bought loose, uneven woven linen cloth to make curtains hoping to create the same effect. For next Fall, 2011, I am also designing bags incorporating quilting and perforated leathers, to play with the surface texture to add similar interest and dimension.