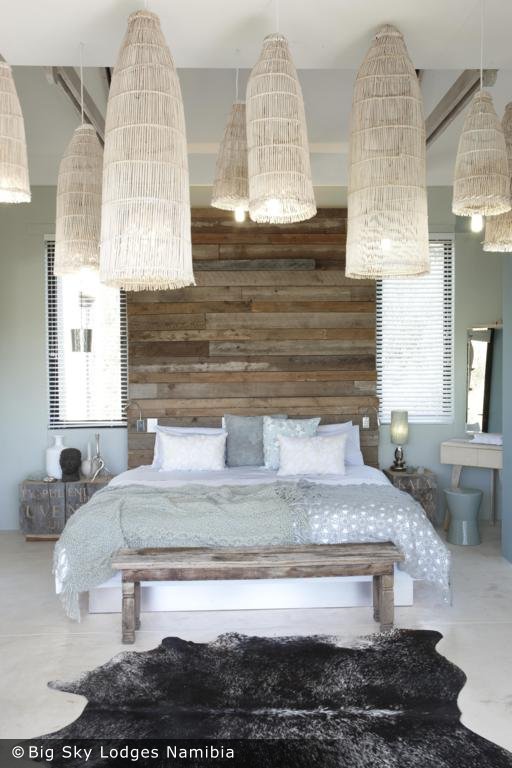 Pairing traditional African style with contemporary design, the  Olive Exclusive Hotel in Namibia is the vision of South African photographer Micky Hoyle. The 7-suites, a blend of rustic and glamorous design elements, are some of the most alluring hotel rooms I've seen. So many wonderful design ideas to crib here: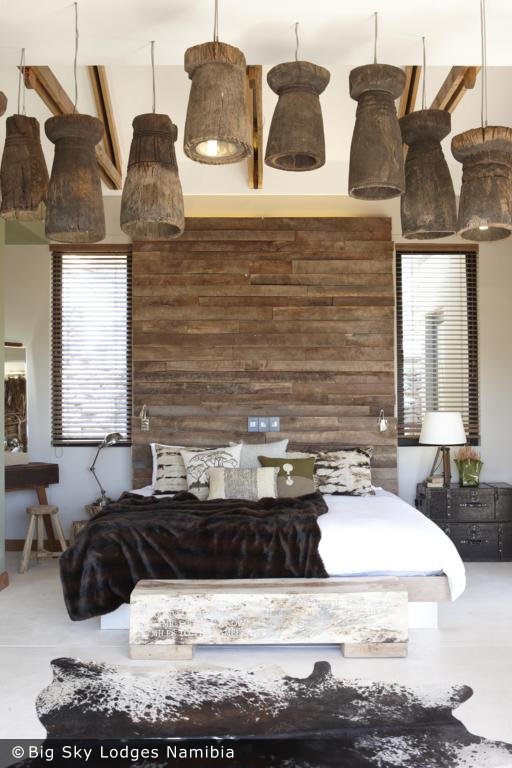 RUSTIC LIGHTING: One of the things I love best here is how a basic design footprint is tweaked slightly from room to room in terms of palette and materials.  For example, the two bedrooms above are illuminated with a dazzling display of pendant lights, but one is crafted out of rustic wood carved tables, while the other set is made from woven African baskets.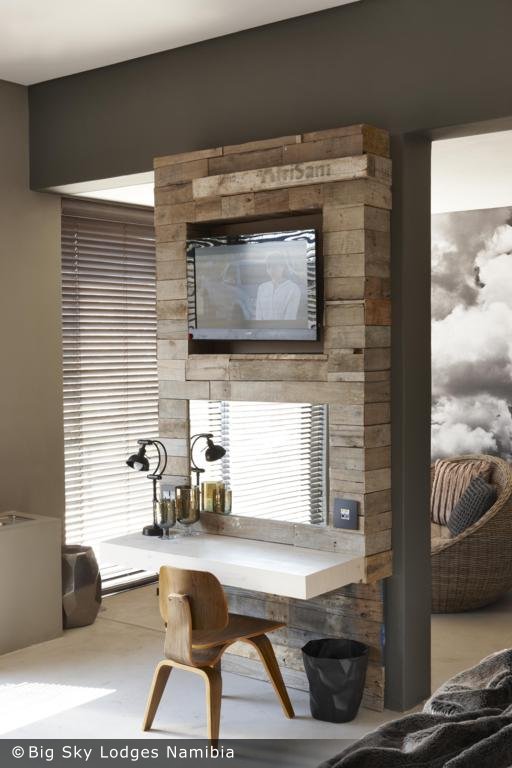 USE EVERY INCH: A brilliant small space solution here, a small dividing wall doubles as a both a desk and a perch for a flatscreen TV. The wood beams on one side add a dose of rustic cool. The mirror brings more light to the space and tricks the eye into thinking the desk is larger than it is. Very clever.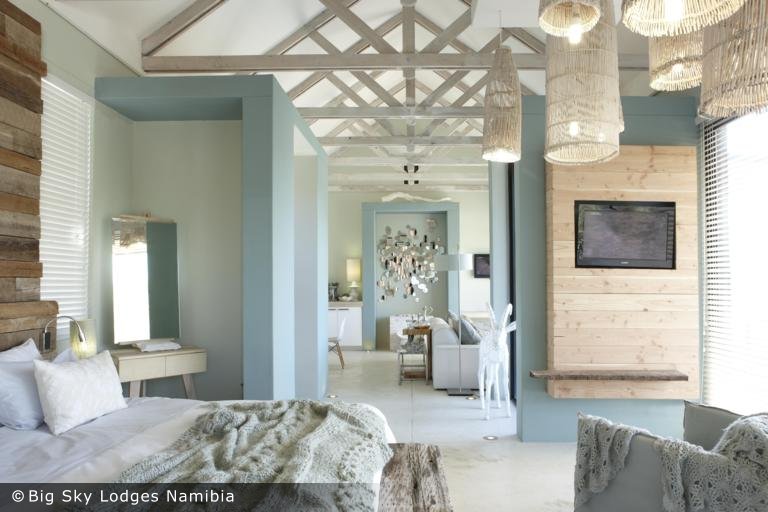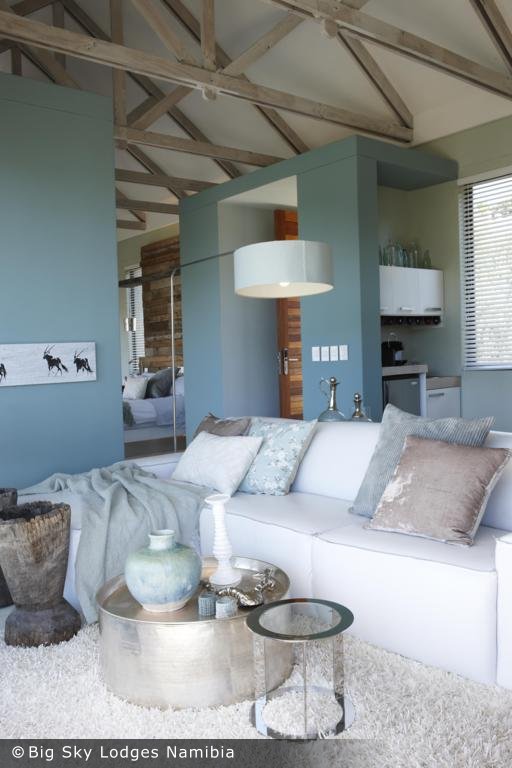 BLUE AND SILVER: There is something about blue and silver with white that just makes a room glow. It's a sophisticated palette that has a wonderful softness to it as well. Love how it is done here with dusty blue walls, chic silver accents, and a white shag carpet and sofa.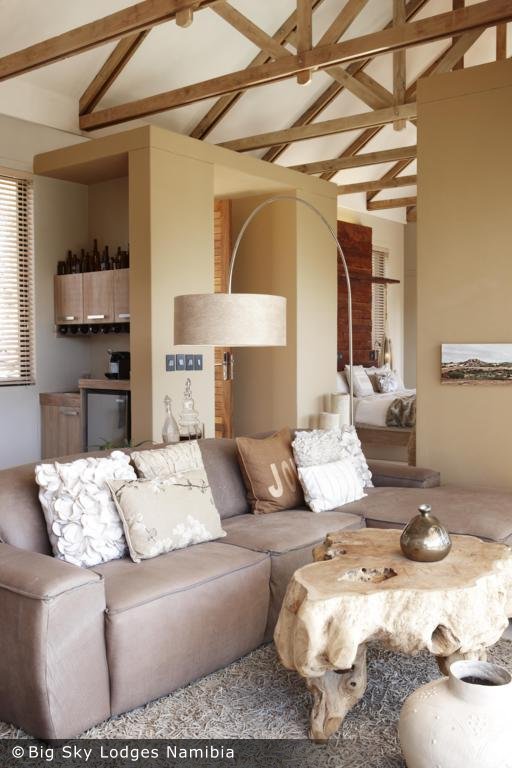 PAIR MASCULINE WITH FEMININE:  The beiges and browns in this suite's palette automatically give off a more masculine vibe. But the floral print and contemporary floral applique pillows, along with the soft curves of the rustic wood coffee table, provide an exciting tension between masculine and feminine that keeps the room interesting.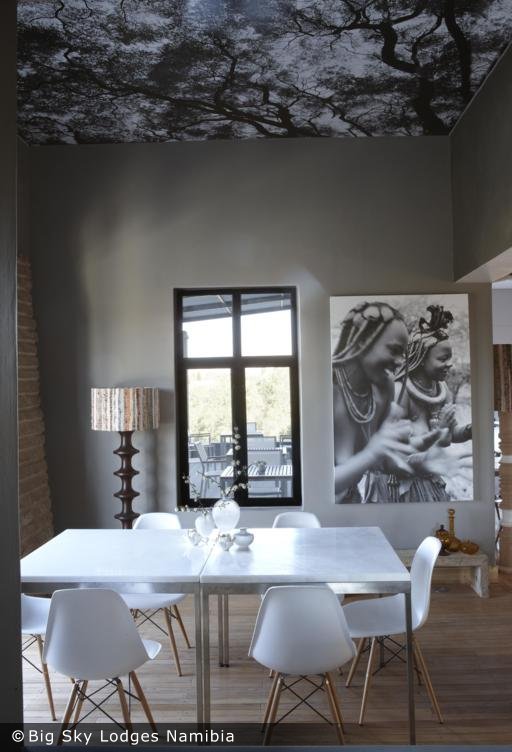 ART SETS THE MOOD: Photographer Micky Hoyle incorporated his own work into the space. The photograph above, featuring two girls decked out in traditional African accessories, is, like the design of the hotel, an intriguing blend of tradition with contemporary. In a dining space filled with contemporary furniture, the photograph serves as a reminder of the region's rich culture.PS-How amazing is the photograph of the trees on the ceiling?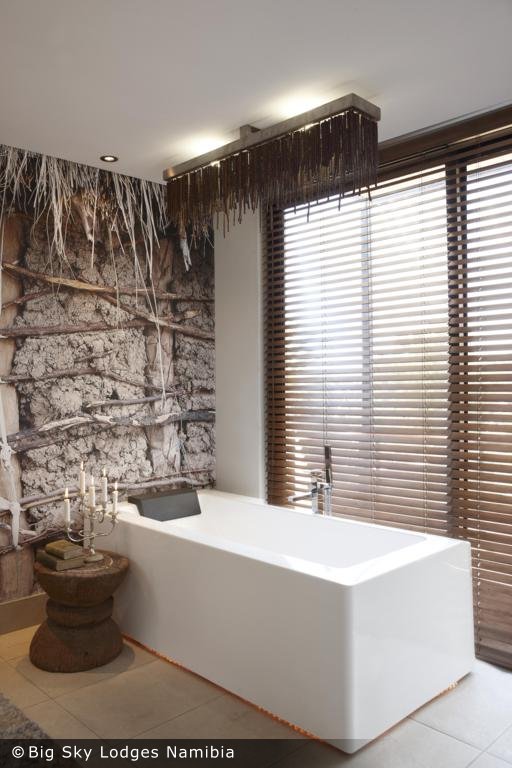 RUSTIC MEETS REFINED: A ceiling pendant with wood branches and a wall of exposed traditional construction with interlocking wood branches, is in perfect contrast to the boxy modern tub.
GET THE LOOK: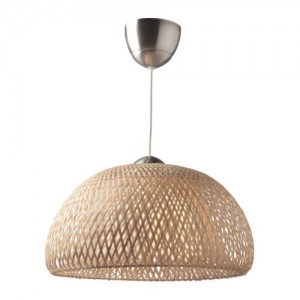 Woven rattan Boja lamp from IKEA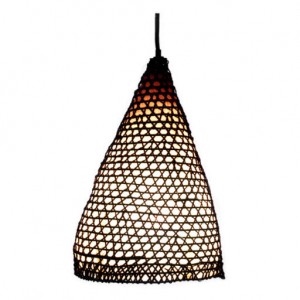 Teardrop Light from Tucker Robbins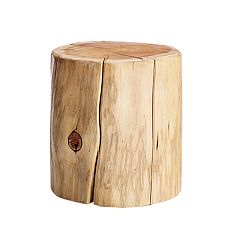 Treestump sidetable in solid cypress by West Elm

Hammered metal coffee table from Victoria Lyon Interiors in Greenwich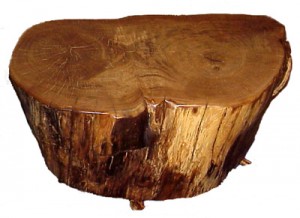 Amorphous wood coffee table from Treetables.com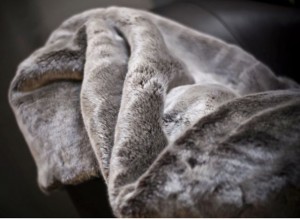 Faux fur throw from Poshpelts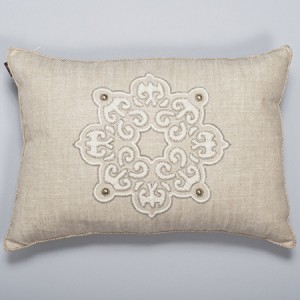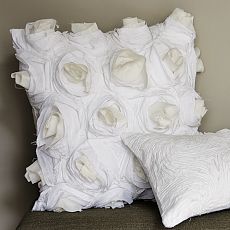 Deconstructed Rose Pillow from West Elm