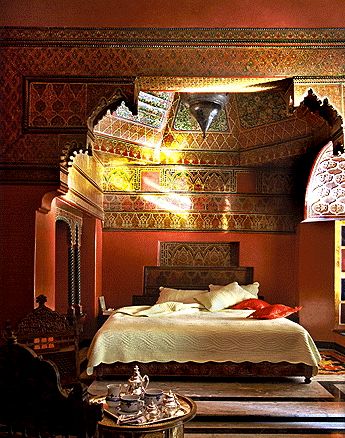 It is grey and rainy here in New York– an absolutely perfect day to hop on our magic carpets and get lost in the color and pattern of the divine La Sultana in Marrakech.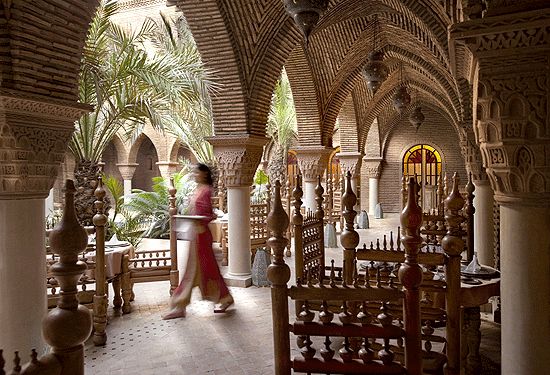 La Sultana features 27 guest rooms and suites, plus 1 apartment, spread out over 5 restored riads. Each riad features a garden or courtyard in the middle, complete with pools, palms, flowers,  and orange trees. Heaven.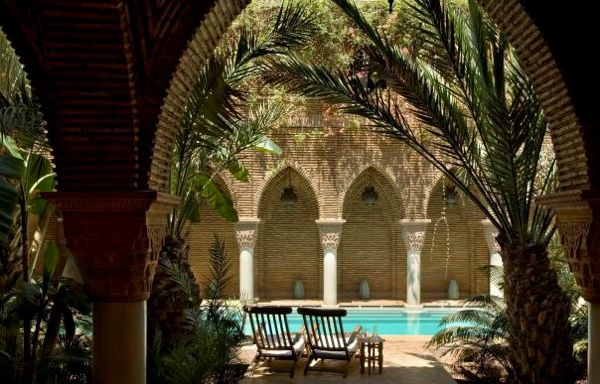 One of the hotel's pools. Check out the lounge chairs below.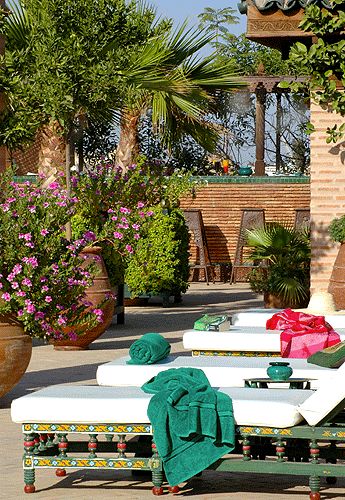 I adore the painted detail on these lounge chairs.  For those of you who are artistic, this could inspire you to jazz up a basic wood version with a little color and pattern.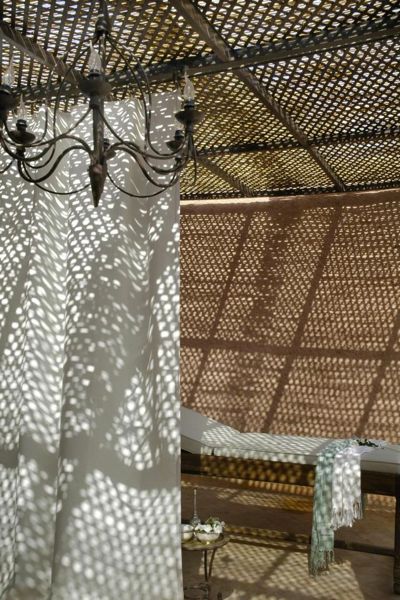 The outdoor massage room.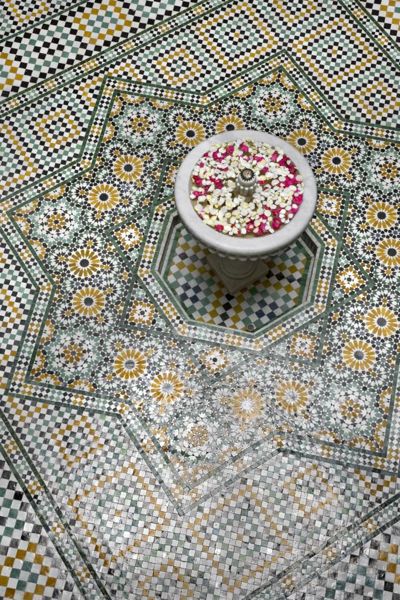 One of the things I like most about Moroccan architecture and design, is that nothing is left plain–everything from the columns, to the ceiling, to the floor, to the lighting, to the  lounge chairs, gets the star treatment. Decorative paint, carving, sculpting and inlay turns everything into a work of art.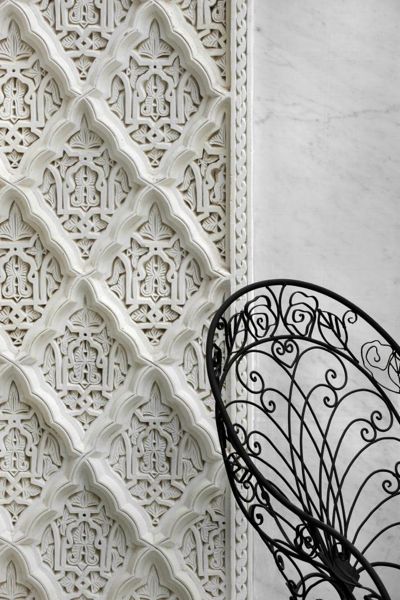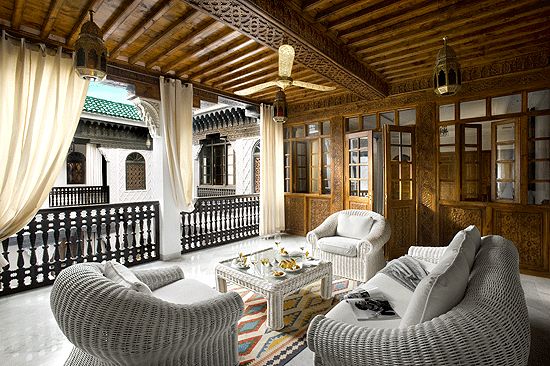 The rooms feature individual terraces overlooking the courtyard. This is the terrace of the hotel's apartment. Don't you love the intricate wood carvings and the colorful and graphic diamond print carpet? Even the blades of the fan are gorgeous.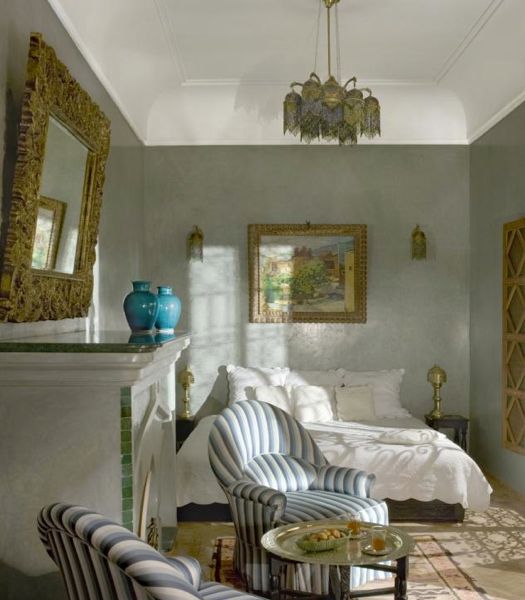 Every guest room is different and features a unique combination of colors, carpets, antiques, and Moroccan art. I love this shade of blue/grey and how the blue and gold accents pop against the wall color.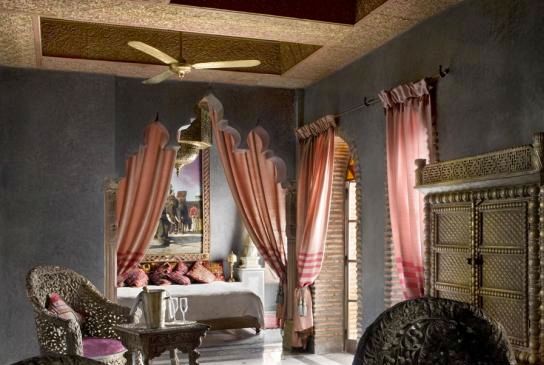 Love the range of pinks–pale to fuschia- paired with a deep grey.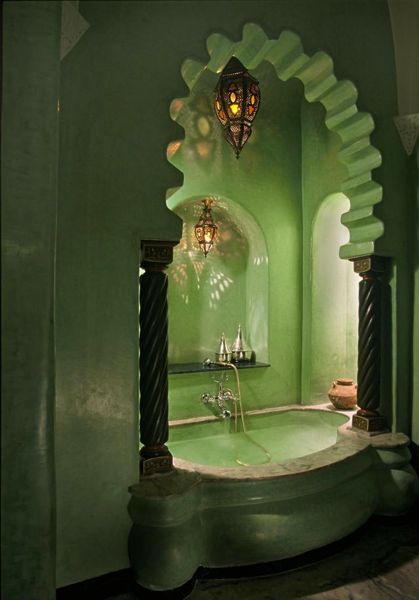 The most romantic and spectacular bathtub ever.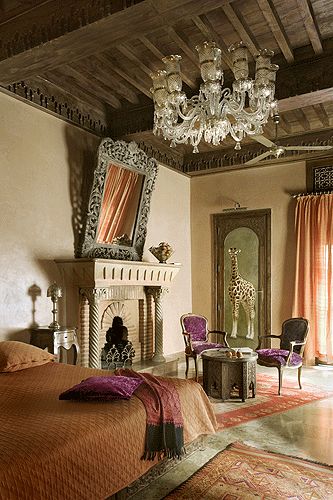 Note the moorish arches in the fireplace, the carved mirror, the coral carpets, and the giant painted giraffe.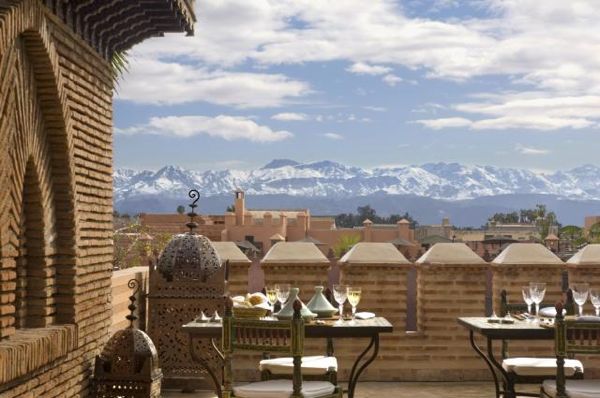 The view of the Atlas mountains in the distance from the terrace. Hope you enjoyed our little carpet ride. If you want to bring a little touch of magical Morocco home, here are a few treasures: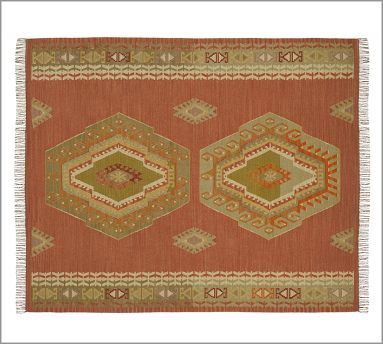 Diamond kilim rug from Pottery Barn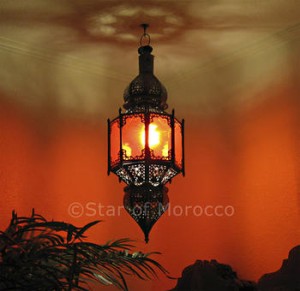 Lantern from Star of Morocco
And a few goodies from John Robshaw that have that Moroccan look.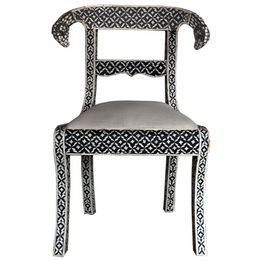 Enjoy!