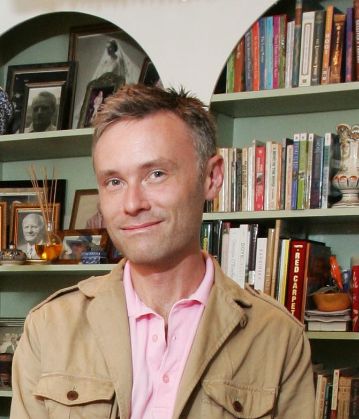 Many moons ago, I went to work for American Homestyle & Gardening, an awesome little magazine that sadly is no longer. I was hired as a staff writer which I thought was beyond thrilling I get paid to write all day! The entire magazine is in my hands! Then I got there and found out that I was one of two staff writers. If my life was a chick lit novel, this fact alone could have caused dozens of complications–competition! rivalry! etc. But the other writer was John Loecke, who could not have been more amazing, or amusing (I was cured of writers block many times by John's witticisms). In the years since, in addition to being a fab writer and stylist, John has gone on to launch the much heralded John Loecke Inc with his equally fab and incredibly talented partner Jason Nixon.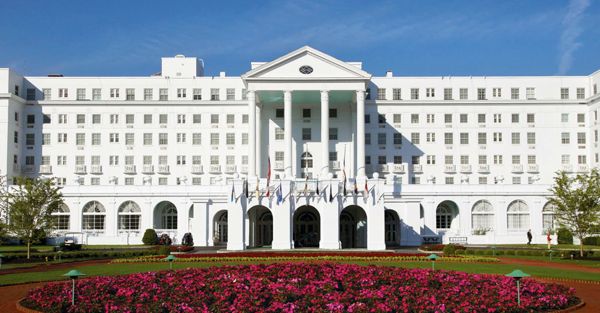 I am a huge fan of John's work, the spaces he creates are always chic, cheery, and colorful.  Like one of his idols, Dorothy Draper, who designed Greenbrier resort in West Virginia, John is a master at working with color and pattern. Not an easy feat. The Greenbrier has even served as inspiration for the cool Brooklyn brownstone he shares with Jason. Read on for my interview with John about the magic of The Greenbrier, plus pics of his hotel chic home: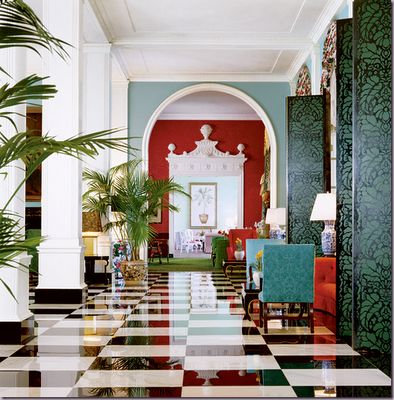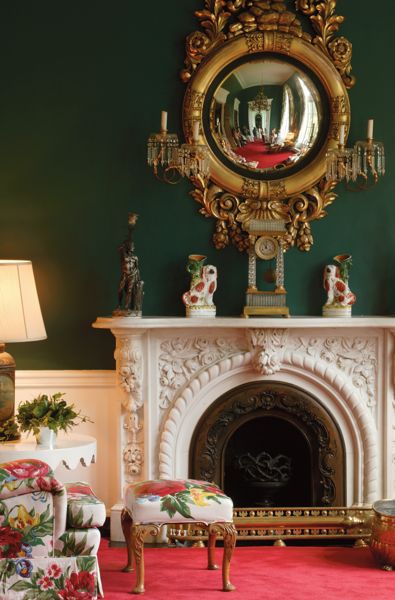 What is your fave hotel in terms of design?
I would say The Greenbrier because it is so unlike any other hotel out there. You would never expect to have such a magical over the top theatrical hotel in the middle of the mountains in West Virginia.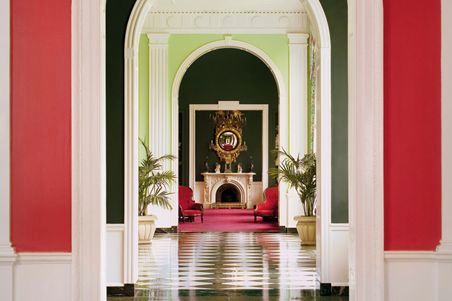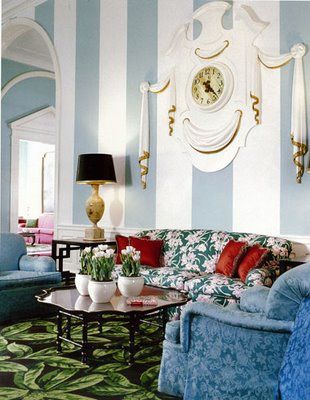 How did you find out about The Greenbrier?
I am obsessed with Dorothy Draper, she was such an interesting personality. Her way of designing wasn't about how much money you could spend, but how you could take these Victorian era spaces and give them a fresh look with color and pattern. She wanted to create spaces that were theatrical and gave you a sense of escape.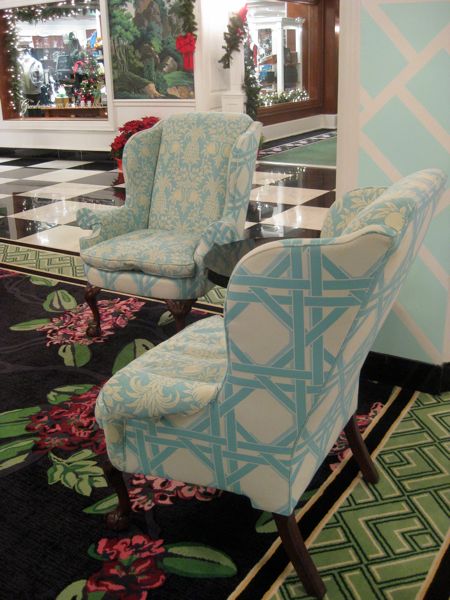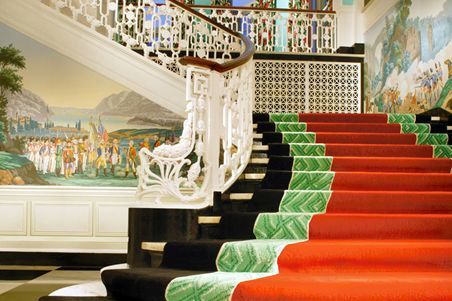 Has the hotel stayed true to Dorothy Draper's original design?
Yes, which is amazing, because the hotel has been around since 1913. Designer Carleton Varney worked for Dorothy back in the day, and he just did a huge redesign of all The Greenbrier's public spaces. What I really like is the rooms are in keeping with all of the original Dorothy Draper designs.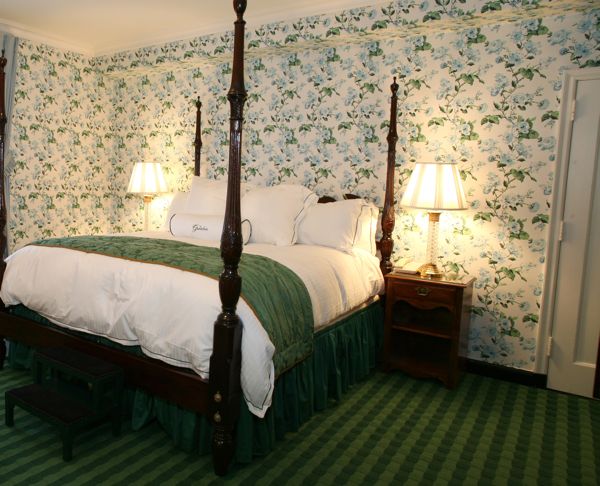 How often do you stay at The Greenbrier?
Jason and I have been 5 or 6 times, we love it. It is just a special place, a total escape. You don't feel like you're in North America. It is so colorful and different and exciting. Not a cookie cutter hotel at all.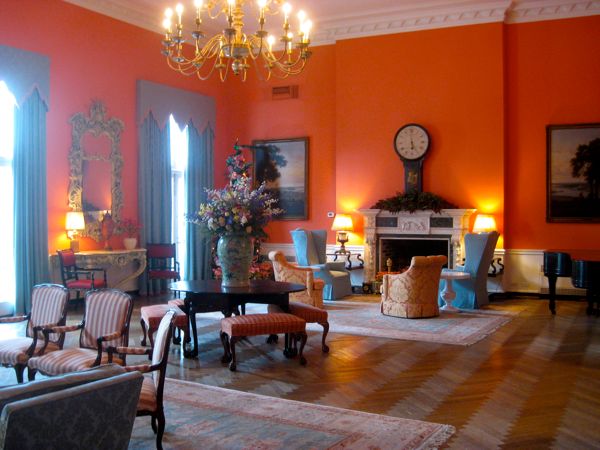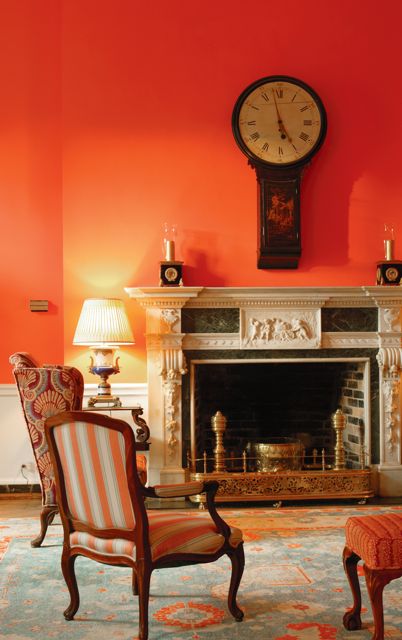 What is your favorite space in the hotel?
It is so hard to pick just one, but I've been gravitating towards the North Parlor which is this gigantic living space that overlooks the north side of the property. It is painted coral, which really makes the room feel welcoming. It's a grand living room space you would find in an English country house. It also has the perfect mix of antiques and new pieces, all in shades of coral and blue.
Would you ever recreate a space inspired by the hotel?
We did! In Brooklyn we redid our living room in a similar way. The room has a lot of traditional molding and we took the same color palette and pattern sensibility and recreated it in Brooklyn. It is way smaller, but our space has a similar feel.
Images via: New York Magazine, John Loecke, and The Greenbrier