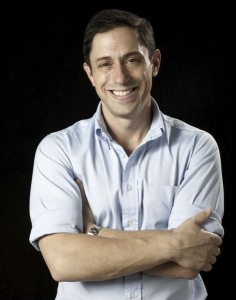 I first met Jonathan Adler at the Shelter Island dump. (Really and truly, my life is just that glamorous). I had written about the fabulous potter/designer/author before, but given that he is the only other person in the world besides me who uses the word groovy, and I think his hubby Simon Doonan is one of the funniest writers around, I just had to go over and introduce myself in person.
One of the best things about Jonathan, that is unlike so many high profile people who are great at crafting a fabulous public persona, while the reality is they are simply evil marketing geniuses–the happy, colorful, witty vibe that Jonathan has created with his cheerful designs, is truly a reflection of the real him. He is  just as funny and friendly as you would imagine from reading his books or stepping into his peppy stores. Even at the dump. And the post office too.
For his fave hotel, Jonathan picked La Scalinatella which features 30 rooms, each with terraces that offer amazing views of Capri and its dazzling blue sea. I love that the design of the hotel is bit trapped in the 80s. With the blue, yellow, and white palette, kitschy accessorizing,  paired with the dolce vita of Capri, it's totally the Eccentric Glamour that he and Simon are fans of. Read on for my interview with El Adler about La Scalinatella: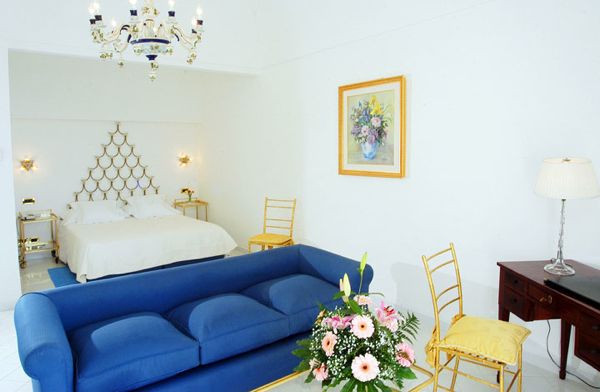 Hotel Chic: What is your favorite hotel in terms of design?
Jonathan Adler: I live for the Scalinatella hotel in Capri.  I've even given it a major shout out in my new books (Hello, Scalinatella–if you read this I just want you to know that I'm totally open to free rooms!). It's purrrrrrrfect.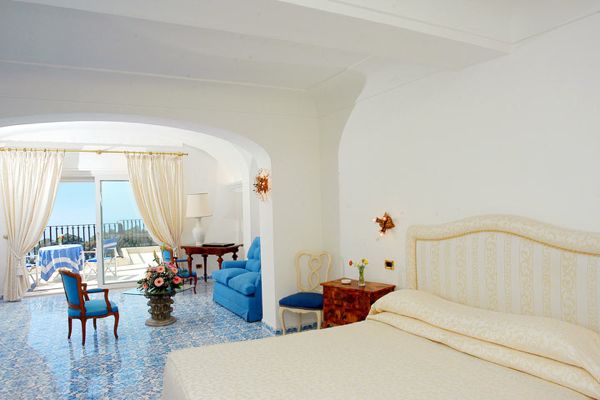 HC: What aspects of the design are you most drawn to?
JA: I love that it has a real sense of place.  The dreamy surrealism of the hotel–colorful tile floors, scrolly furniture, weird sculptures–are all whomped together in a way that captures the otherworldly majesty of Capri.  It's quirky and improbably un-self-conscious.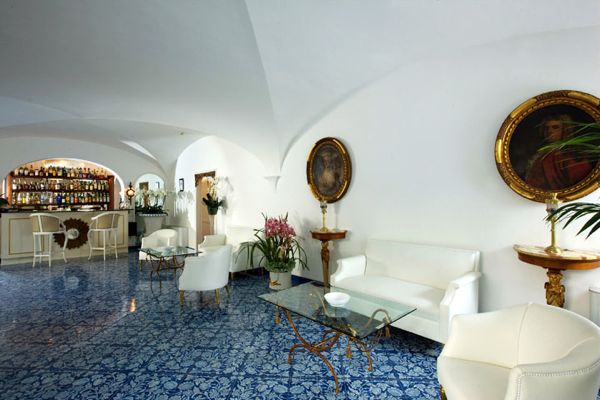 HC: What is your favorite space in the hotel and why?
JA: The lobby.  The fabulosity hits you the second you cross the threshold.  The essence of the hotel, the luxury mixed with fun, is perfectly expressed in the lobby decor.  J'adore.
HC: Who were you with when you stayed at La Scalinatella?
JA: I've gone back every year with my husband and the knowledge that I'll be there in the summer helps get me through long New York winters.  One of my fave things is that they actually chill their swimming pool.  It's so refreshing to dive in after a long sun-drenched hike.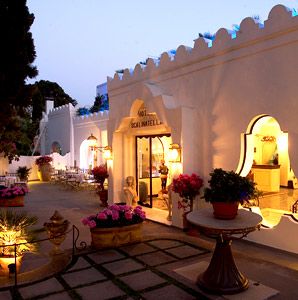 HC: As a hotel designer yourself (we love The Parker!), what do you think every hotel should do when it comes to their design?
JA: I think that hotels should make you feel at home.  I hate trendy hotels that focus on the Wow factor and end up feeling like intimidating nightclubs.  I think hotels should definitely be more eccentric and glamorous than your own house might be, but you should always feel comfy and included rather than excluded.