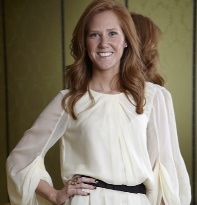 Southerner Lindsey Harper is a rising star in the design world. Lindsey has been earning raves for both her her glamorous, layered interiors and her colorful East meets West furniture line Lamshop, which she c0-designs with Maggie Currey. Her own Manhattan studio apartment is an example of her fresh take on tradition and clever solutions for maximizing a small space, (click here for the Stylebeat story).  A few weeks back Lindsey told me that she was heading west to stay at the just opened Mr. C Beverly Hills, the first hotel from the Cipriani family. The 127 room property is inspired by the glamour of 1950s Hollywood, and the interiors have the feel of the chic movie sets of that era. Lindsey was an intrepid reporter about all things Mr. C and she even went above and beyond with a top 10 list of her favorite things about the hotel. Read on for Lindsey's take on Beverly Hills' latest addition.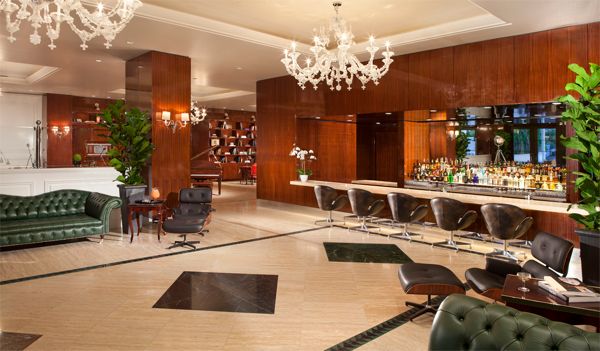 You recently visited Mr. C in LA, what was your first impression when you walked through the door?
The lobby was actually my favorite part of the hotel. The first thing you see when you walk in is this very cool sunken bar with these retro modern swivel chairs where you can sit and have a cocktail. Check-in is actually around on the other side of the bar and I liked that it wasn't the first thing you saw when you arrive.  In the evenings, while I waited for friends I would sit at that bar with a Bellini and watch the whole glamorous scene.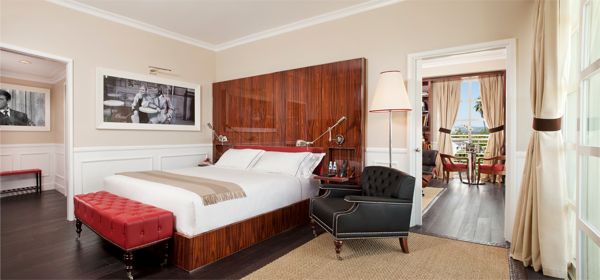 What made you choose Mr. C?
I had to travel to LA for work and I loved the pictures I saw online. Plus they had an amazing sale on Jetsetter, so I got a terrific rate.
Was the design as gorgeous as you had hoped?
The nice thing was that the pictures on their website are really true to the look of the hotel. Some hotels show you the best pictures, and then you get there and your room is overlooking a cinderblock wall. This was the first time my hotel room was even better in person.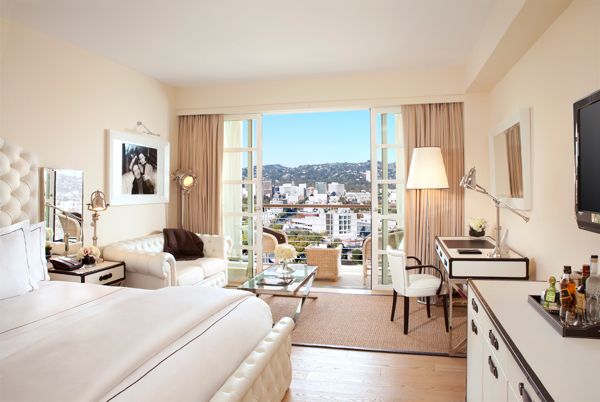 What did you love about Mr. C?
The hotel is very chic and very new. The room I stayed in was blonde and beautiful with pale walls and white leather chesterfield sofas. It had these amazing black and white film stills on the walls. The whole space was throwback to Hollywood glamour. Every room has a balcony, so I had breakfast there every morning and could hang out and see all of LA and the sunshine. You don't get that in NYC!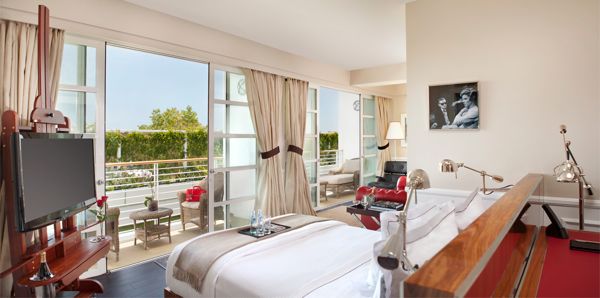 From a designer's perspective what did you think of your room? 
It was so well thought out. I loved that there was a separate dressing room with a dressing table, mirror, and a plug which is sometimes a forgotten element. The mirror was the size of the dressing room, so you're not standing on the bed to see what you look like. I also liked that all the rooms had a small tray on top of the dresser it was a very chic addition.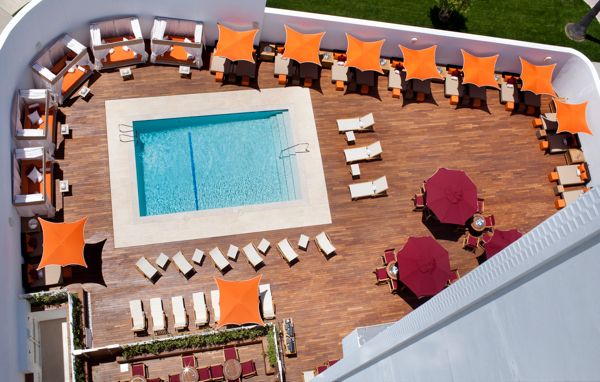 LINDSEY'S TOP 10 REASONS SHE LOVES MR. C BEVERLY HILLS
1.  There is a Bellini waiting when you arrive! Plus the staff immediately knew & called me by my name the entire time I was there….there is something old fashioned about this that does the trick.
2.  People Watching. Try to count the ridiculous cars pulling up to dinner each night (Phantoms, Aston Martins, Maserati's) the dining room was all a buzz!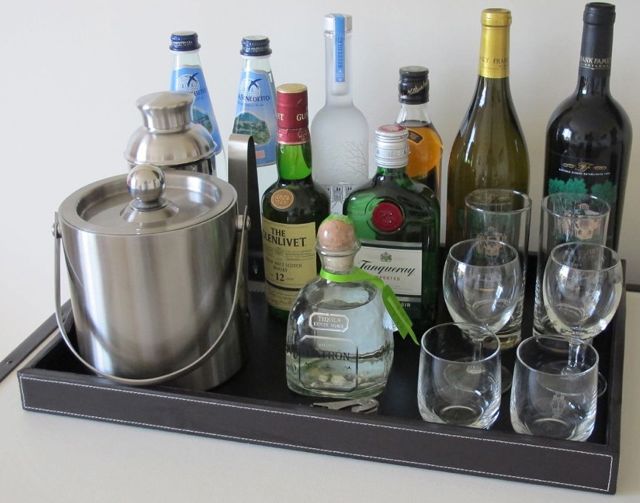 3.  There is a well stocked bar (in addition to the mini-fridge) in each room
4.  Friendly and attractive staff, I appreciate the throw-back to the white jacket and slicked back hair and a bow-tie
5.  Beautiful Blonde rooms-everything is upholstered in white leather and chrome, tres chic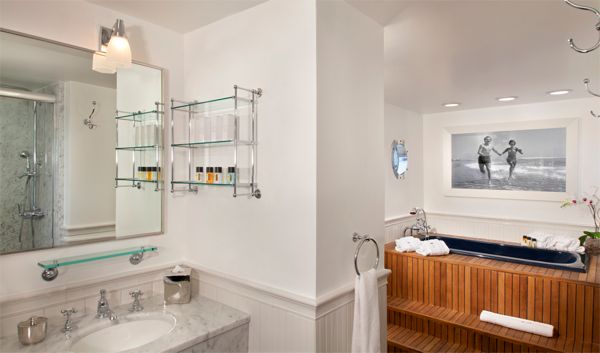 6.  Brand new Carrera marble bathrooms w/Waterworks fixtures  plus the best hair dryer I've ever used anywhere in the world!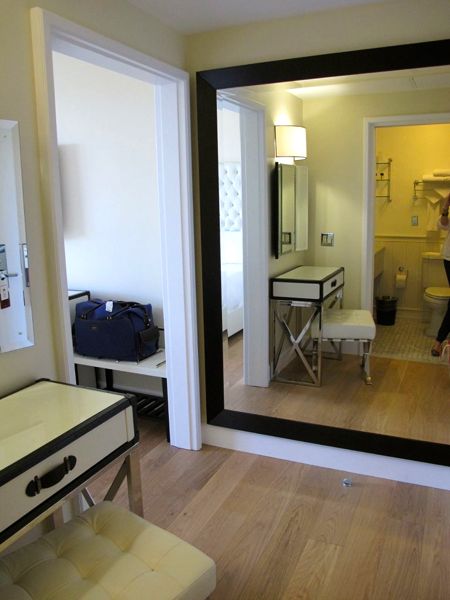 7.  Each room has it's own dressing room w/giant mirror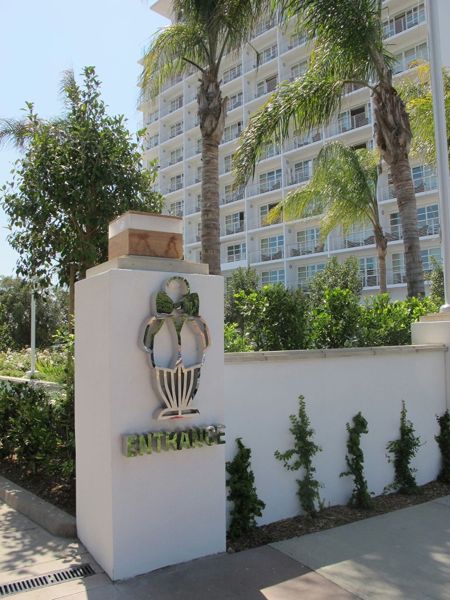 8.  I I love Mr. C!- adore the chic logo.
9.  Pool and cabana boys!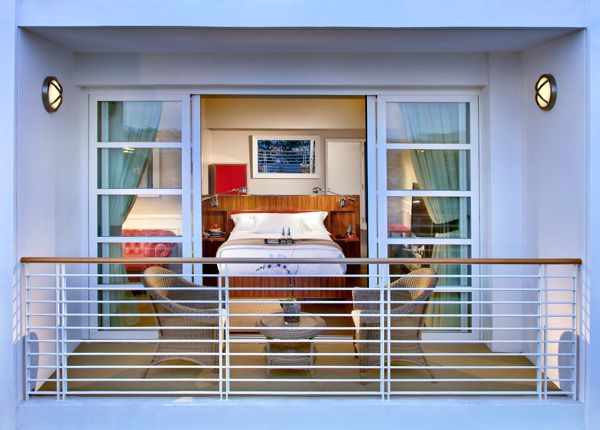 10.  Each room has a balcony, perfect for breakfast in your room!