A few weeks back, I spent a few days in Miami checking out the new hotel scene there for Refinery29.   I stayed at the St. Regis Bal Harbour, which is about 20 minutes away from South Beach. While, I love South Beach, it has become a bit like Vegas, especially at night with packs of people hitting the Collins Avenue hotel strip, so if you're not single and 21, staying in Bal Harbour is kind of ideal. You're close enough to zip over and revel in the fun of South Beach after dark, or check out the amazing Design District foodie scene (love Juvia). But then you can head back to enjoy the whole zen glamour and beach resort experience of the St. Regis. The Yabu Pushelberg designed resort is  gorgeous and grown-up, with killer ocean views from every room. While you're still in a highrise hotel (it is Miami after all), the beach is so beautiful without the wall-to-wall people you expect on Collins Ave (although the people watching is not nearly as good, no neon thong-wearing people here…sigh) Here it is all about spending the day poolside in a cabana, heading to the beach, the lovely Remede spa and retreating to the peaceful, glamorous rooms.  The nighttime scene is very quiet and subdued (except for a late night rockstar sighting in the elevator…but more on that another time!)
I took a few snaps of the St Regis for all of you, the hotel's pics are below too. More inside peaks at Miami hotels later this week. Enjoy!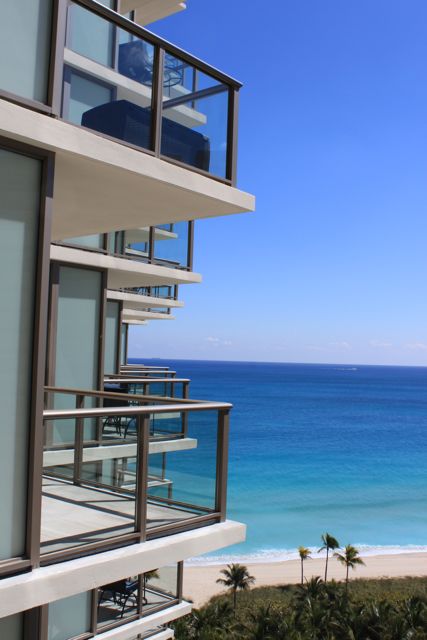 Every room has its own roomy terrace with a killer view…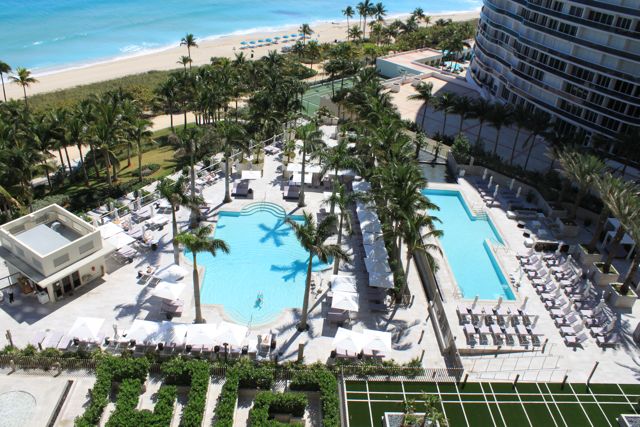 The pool on the left is the adults-only pool at the resort (there is another slightly smaller one for families). On the right is one of the two pools for the condo owners.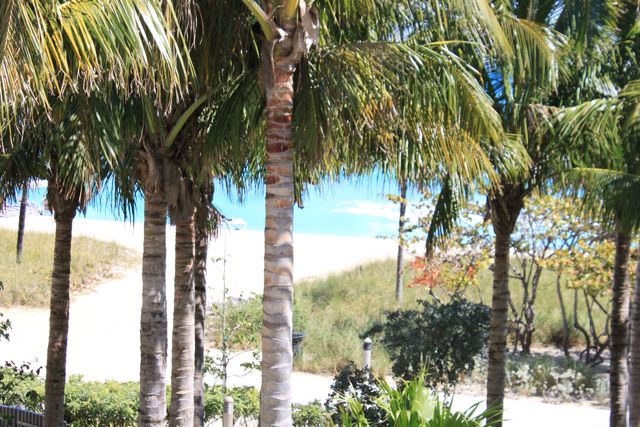 The view from the pool heading over to the beach. There is an 8-mile path that parallels the beach, perfect for biking or running, or walking…..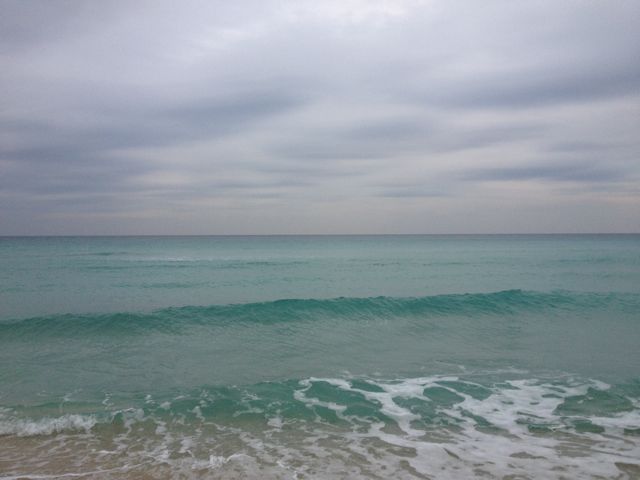 Even on a cloudy day, the water is the most gorgeous color.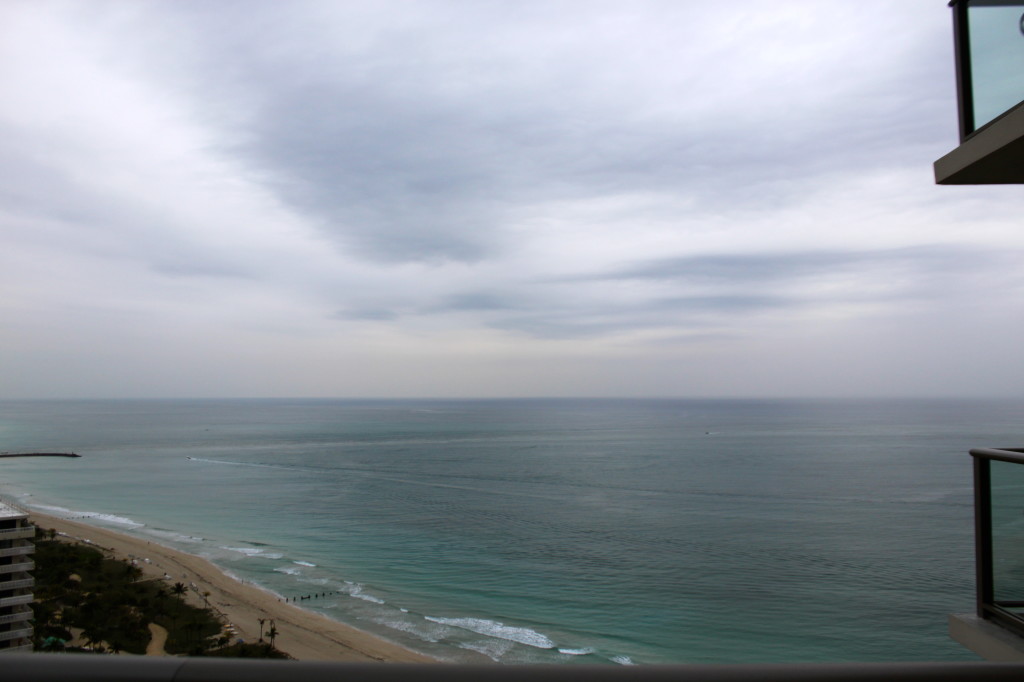 You really can't beat the views.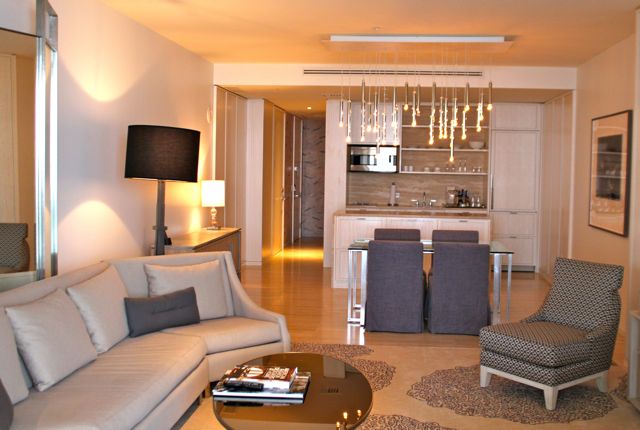 I got to take a sneak peak into one of the suites.  Not only do they each come with kitchens, but also your own Butler.
I love the mirrored mosaic headboards and the lucite lamps. There's lots of sparkle and shimmer in the rooms, pale woods, and purple and grey. It's all very serene and soothing, yet still glamorous. Really lovely.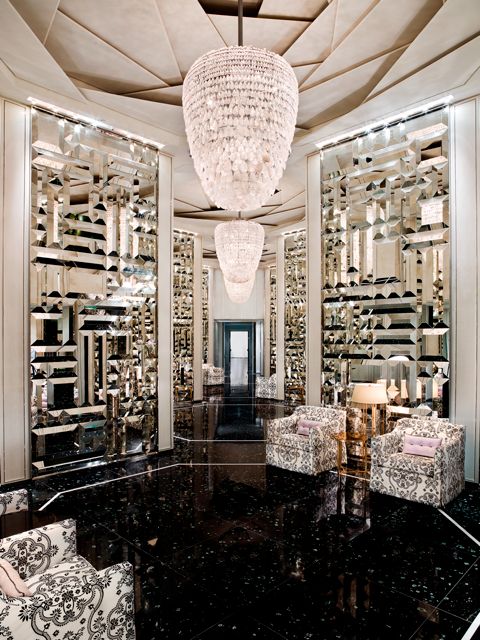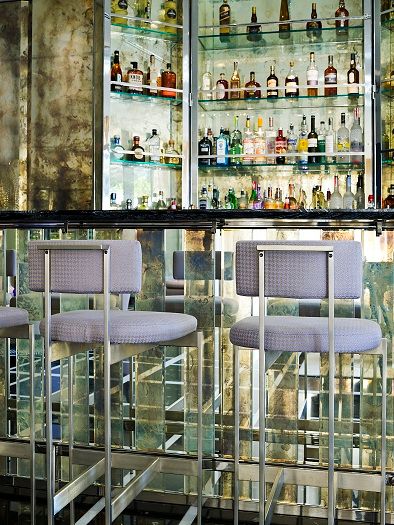 Talk about sparkle and shimmer…the lobby bar and hallway.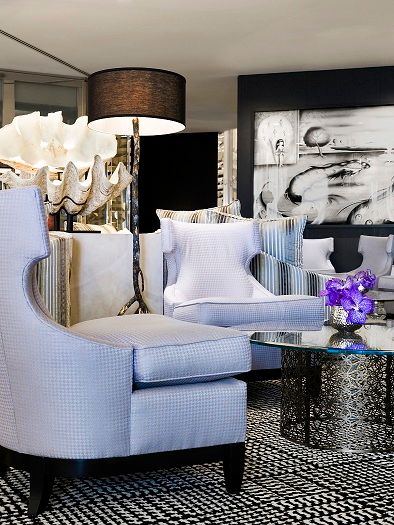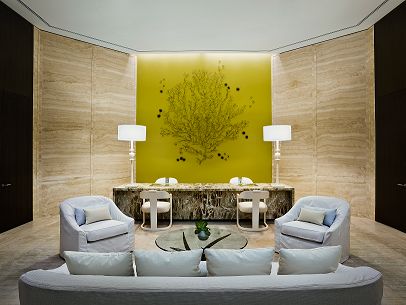 The spa…where they serve Champagne & chocolates with every treatment–my kind of place.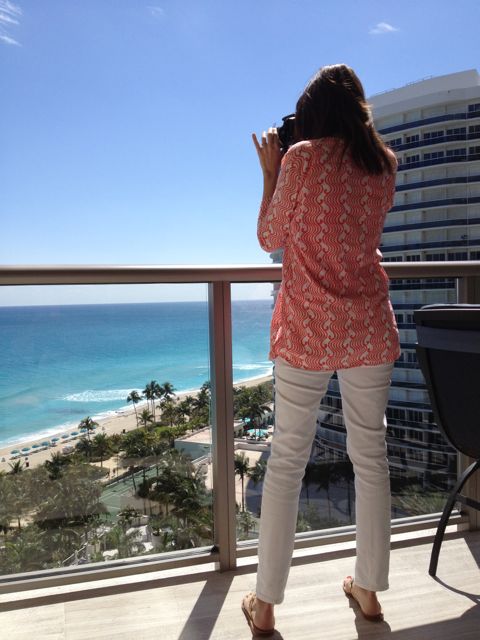 Capturing the view.
Photos: Sara Bliss and Courtesy of the St. Regis Bal Harbour