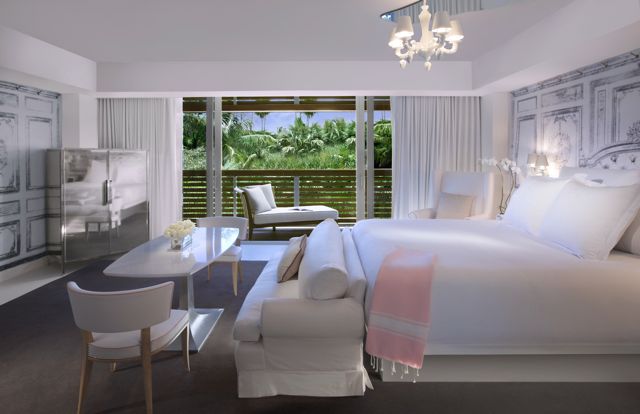 Every few years a new hotel rules the scene on South Beach. There was a time that it was the Shore Club. The Raleigh held court for a bit. Recently it was the fab Soho Beach House. But right now, the it-hotel is the SLS.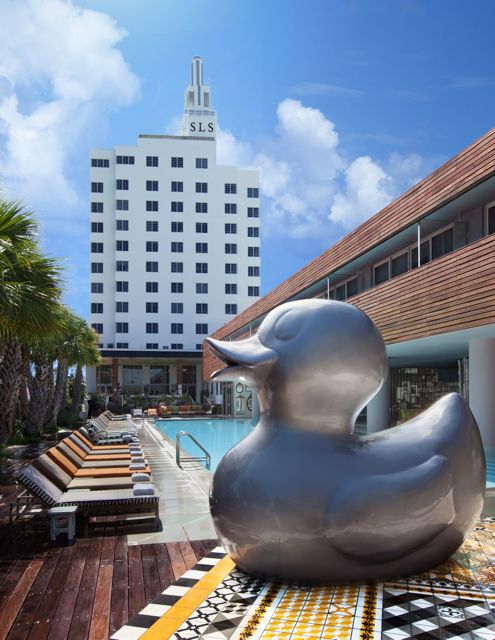 I toured the SLS South Beach when I was writing my Miami hotel write-up for Refinery29. I thought it was amazing. I really think the best hotels are all about transporting you to another world, giving you a totally new experience. This SLS does that times 10. Philippe Starck was inspired by his dreams and the result is that every space feels totally different. You have a completely different vibe in the Madame du Pompadour inspired guest rooms than you do at the retro 70s surf shack inspired club, Hyde Park. Ditto on the 1950s camp-themed reception area. If you are a hotel design junkie you will go crazy for all the distinctive, unbelievably original spaces. It is also fun to see what a total departure it is designwise from the Delano which Starck designed forever ago.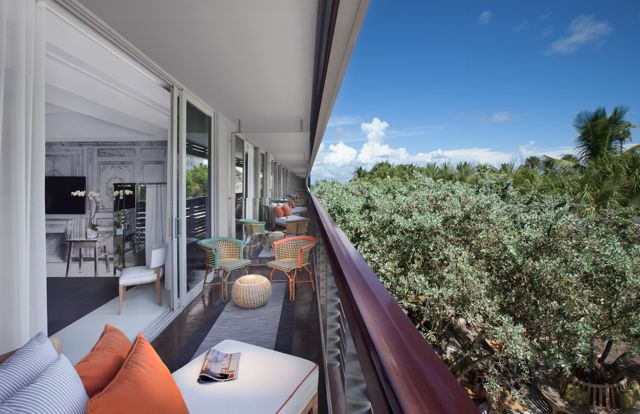 If you want to be at the center of the buzz when you visit South Beach, this is definitely the place to stay. If you need to relax and go to bed by 11…this is probably not the place for you.  There are hotspot restaurants, chic cabanas, a lively outdoor bar or two, and a rock & roll penthouse designed by Lenny Kravitz. I have several of the hotel's stock pictures, but then a few of mine t00 which I posted below. Lots of great design ideas to boot. Enjoy!
The Madame de Pompadour inspired guest rooms are amazing. Starck tried to channel a cheeky take on French chic with the design. If you look closely you will see that the headboard and the architectural details are all painted onto tapestries that aredrawn with a loose hand. It is an idea you could crib and make your own. The best part is, unlike wallpaper, you can swap out your design as often as you like.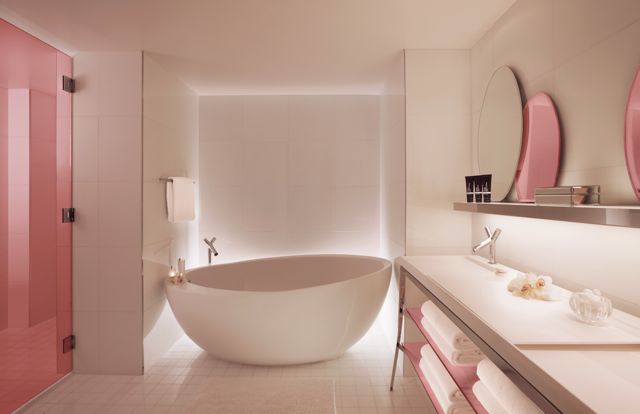 The tiniest little tweak to an all-white bathroom makes it that much cooler. Pink glass and shelves, and a pair of pink mirrors add a rosy cool to the space.
Lenny Kravitz has enjoyed a second career as an amazing interior designer. His spaces are confident, masculine, and very sexy–a total reflection of the rock star himself. The SLS penthouse is a great example of how very talented he is.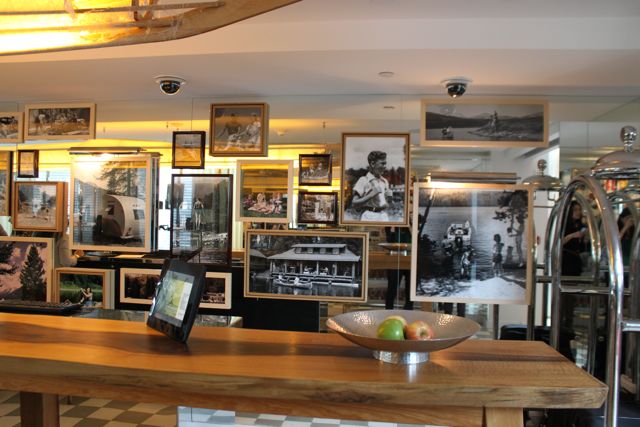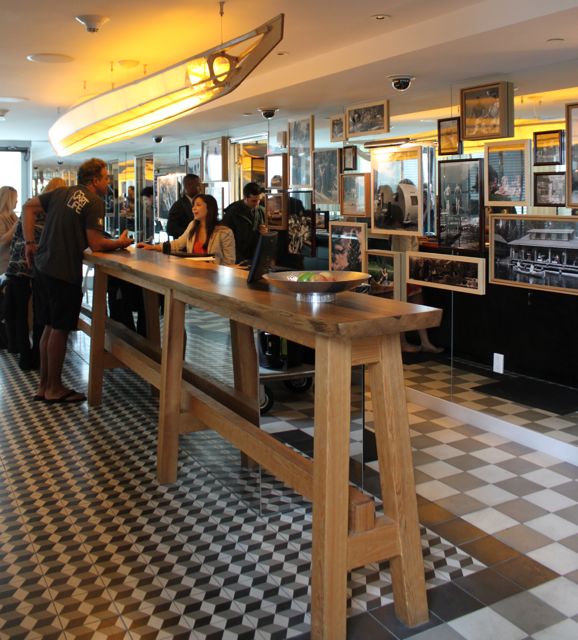 OK so here are my totally not-professional shots. This is reception. Note the upside-down canoe chandelier, tricked-out sawhorse desk, and the 1950s black and white camp-themed photos. Totally throwback, fun vintage vibe here.
Inspired by chef José Andrés' grandmother's designing room, Starck managed to make a buzzy restaurant feel warm and cool. He did the tapestry trick again here, this time with painted faux bookshelves. Mantles are stocked with family photos, pearls like the ones his grandmother used to wear, and handpainted ceramics. The giant shell chandelier has something like 50,000 shells.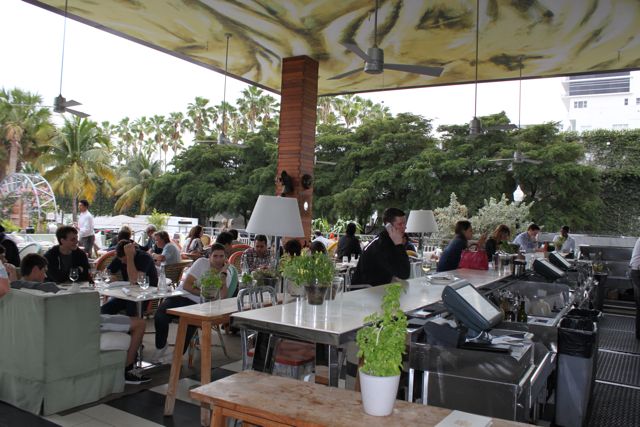 The outdoor bar for Bazaar. Note how the ceiling repeats the colors and motif from the art inside.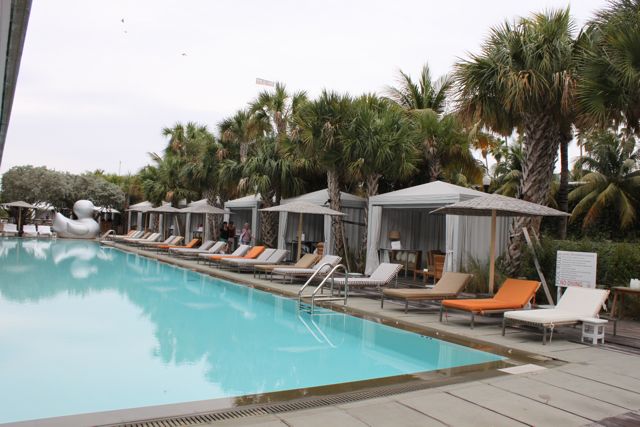 The pool. It was a totally cloudy and cold day so the pool scene is subdued (for the moment).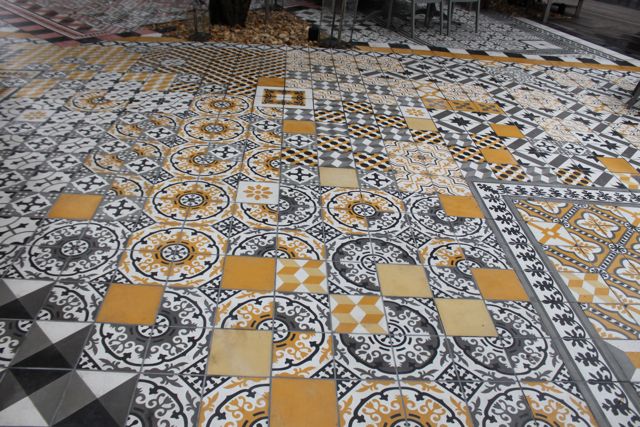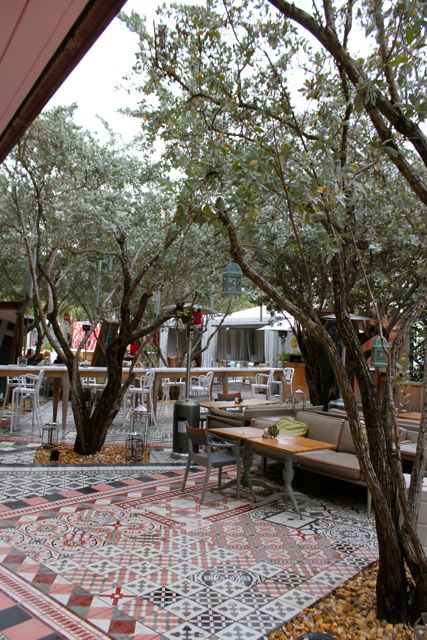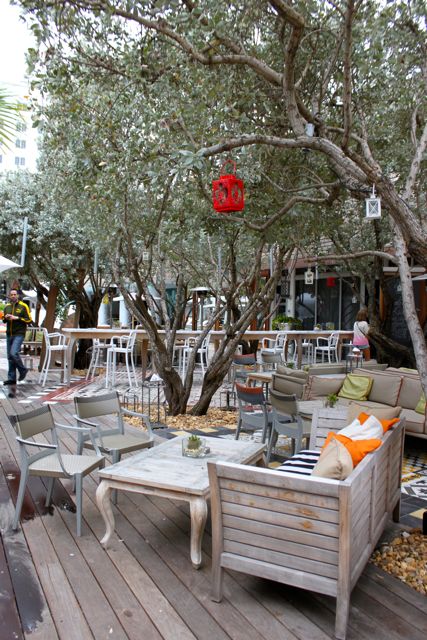 Right off of the pool is Hyde Park. Starck has set up  "carpets" with Colombian handpainted cement tiles. I love how they don't quite match.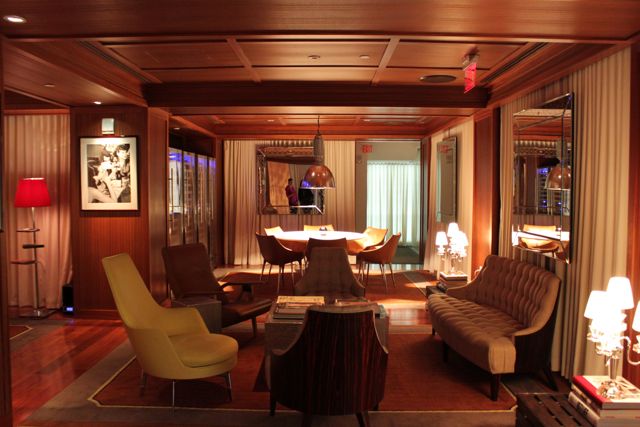 The living space paired with the table and seating makes it cool inspiration for a small apt. Since they don't have a traditional lobby (you walk right into the restaurant) this is sort of a defacto one upstairs. Cozy and mod.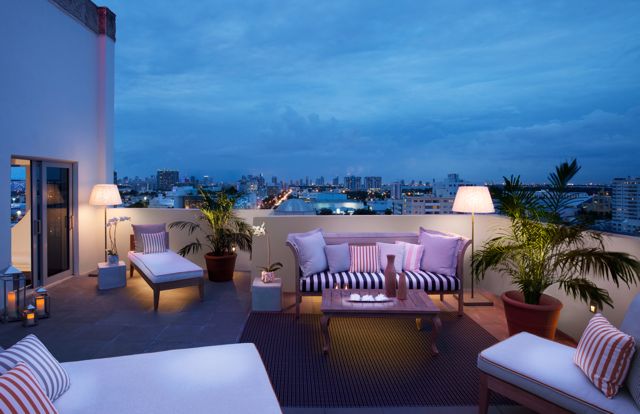 Photos courtesy SLS South Beach & Sara Bliss