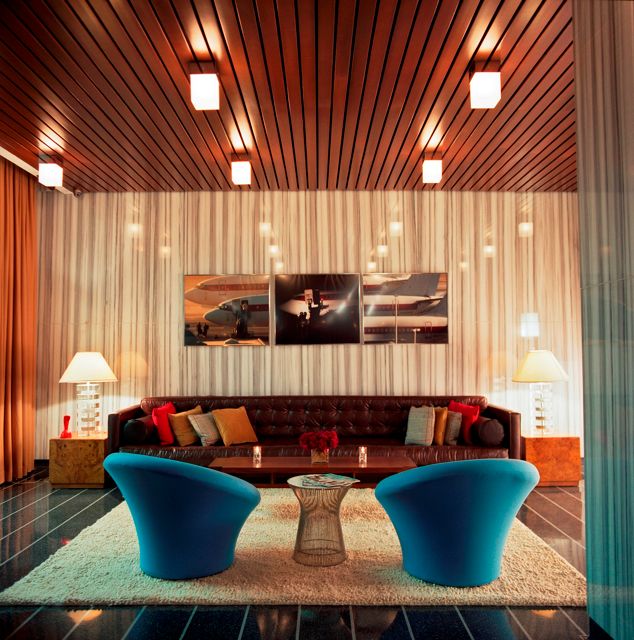 Located on West 58th Street, just across the street from the bustling Time Warner Center and just 2 blocks from Central Park, 6 Columbus boasts an enviable location in the heart of Manhattan. Even better are the swank 60's interiors designed by Steven Sclaroff. Those of you who love mod style (or are fans of the new show Pan Am), will vibe with the boutique hotel's fab retro design.  I visited the 88-room hotel last week, and while the lobby (shown above) is teeny, it definitely sets the tone.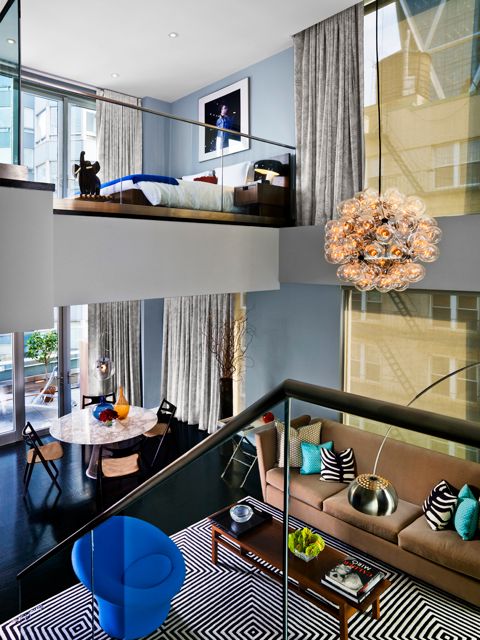 The most stunning space in the hotel is the Penthouse Loft. Greyish blue walls provide a soothing backdrop that offsets eye-catching elements like the op-art inspired Verner Panton rug, Pierre Paulin mushroom chairs, and the Taraxacum 88 pendant (designed by Achille Castiglioni.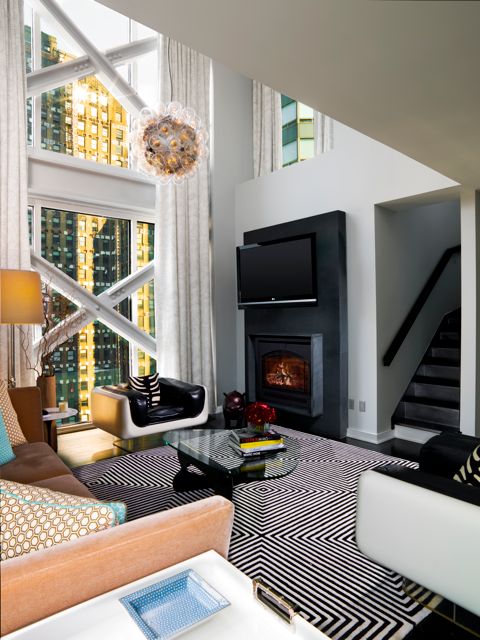 Scarloff relied on iconic 1960s designs to set the mood, including vintage leather chairs by designer Joe Columbo and the classic Noguchi coffee table.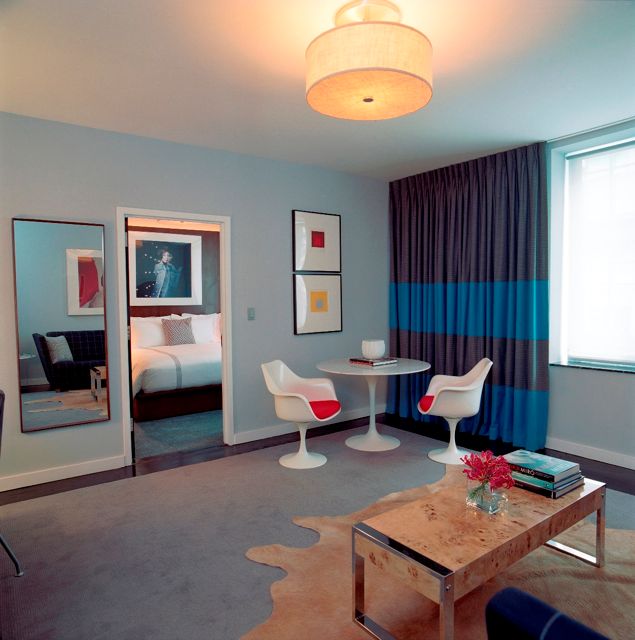 A view into one of the hotel's 12 suites. The curtains are actually easily copied, with alternating bands of grey wool pinstripe fabric and blue felt. If you are furnishing a small space,  the sleek proportions of the tulip chairs and table are a cool option.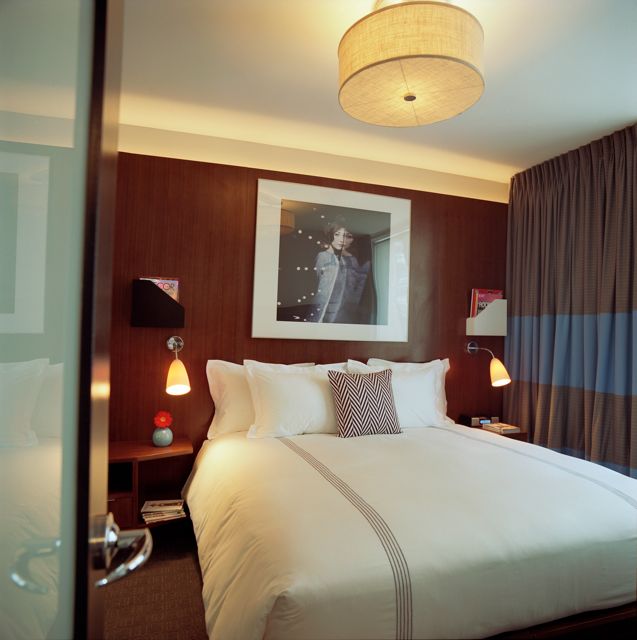 Vintage prints from French photographer Guy Bourdin hang above all the beds in the guest rooms. What do you think of the magazine racks hung on the wall by the bed? Clever idea or totally random?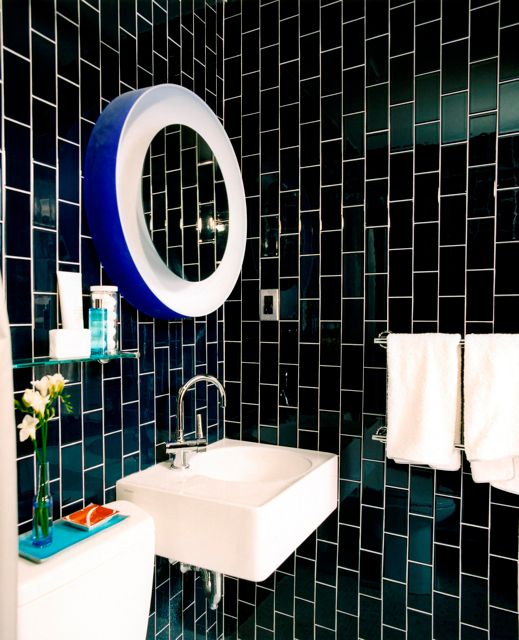 Notice the navy verticle subway tiles in the bathrooms. Not only do they make a stunning design statement, but by setting the tiles this way it actually elongates the space. It's so refreshing to see a hip alternative to safe white bathrooms and a new take on subway tile.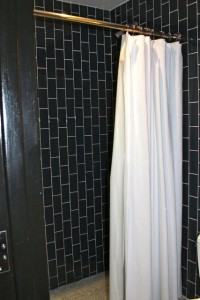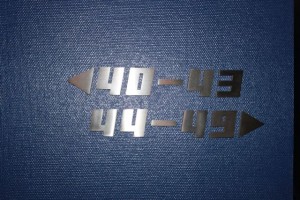 The hallways are painted this sexy Yves Klein blue. It's the perfect shade if you want to create a moody vibe in a hallway.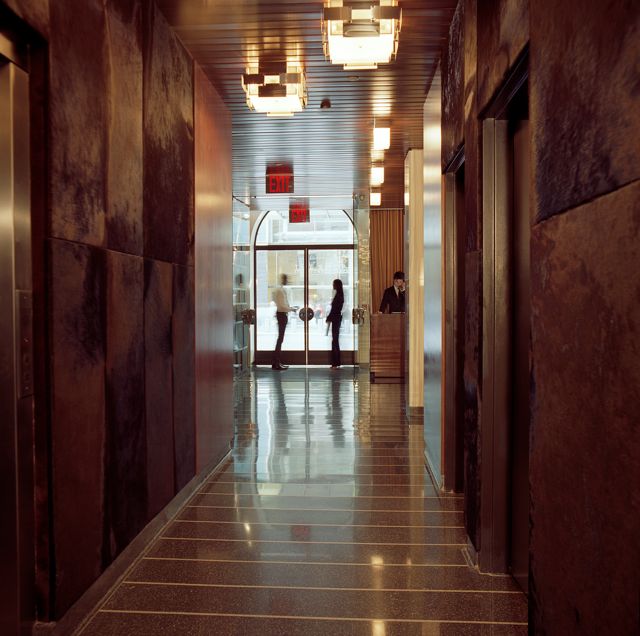 Love the faux pony paneled walls in the lobby. It instantly transforms a basic elevator hallway into a hip and intriguing space.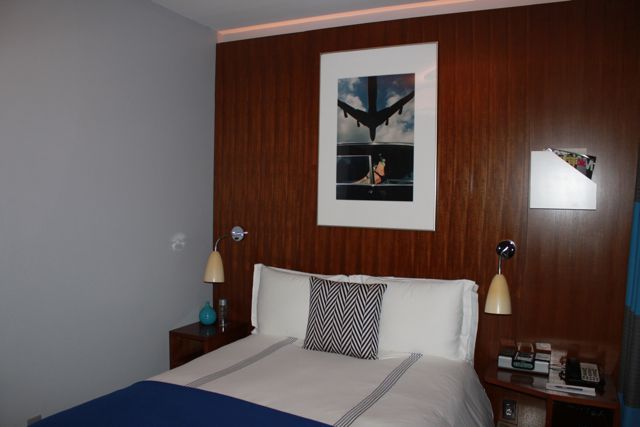 Here is my pic of a standard room, totally cute, but like all NYC hotel rooms it is on the small side. Thankfully there is a bustling Blue Ribbon Sushi restaurant and bar downstairs and a fun rooftop lounge when you need a little more space.
Stunning.
Images Courtesy Thompson Hotels and Sara Bliss