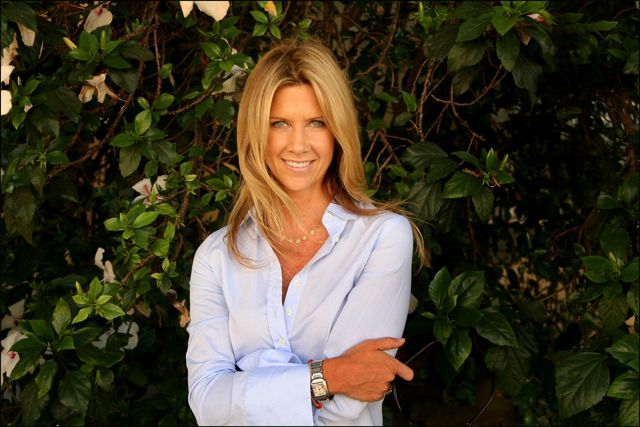 I just discovered LA-based designer Schuyler Samperton's work and I love how she mixes classic antiques with a boho-chic approach to color, accessories,and fabric. Her rooms feel warm, cozy, and laid back. Beautifully layered with cool art and accessories, her spaces have soul.  Schuyler just got back from the funky and fun Hotel Saint Cecilia  in Austin Texas. Read on for her amazing review of Austin's grooviest hotel.

SS: A stay at the Hotel St. Cecilia in Austin, is like visiting the chicest home of your coolest friend.  With only fourteen rooms, the dog-friendly property has a distinctly laid-back vibe that appeals to those interested in pampered seclusion just a short walk away from the trippy shops, clubs and restaurants of South Congress Avenue.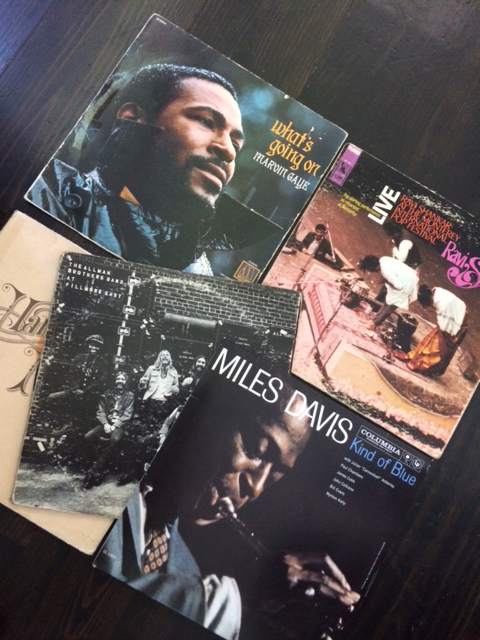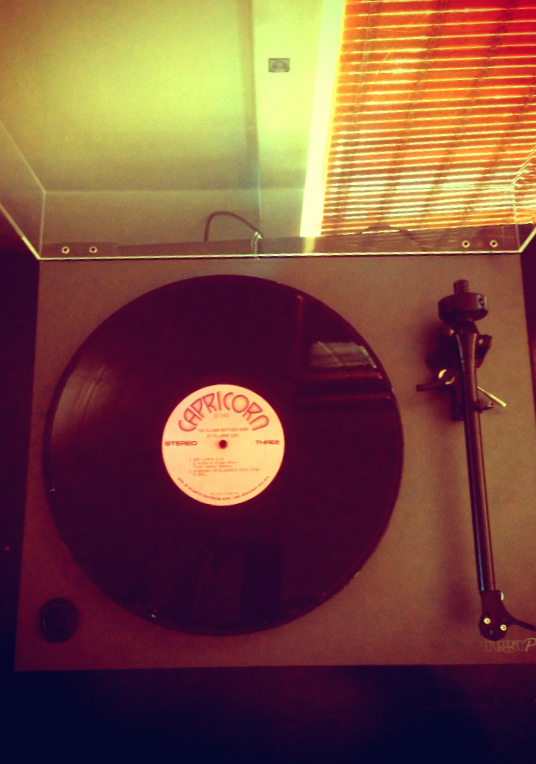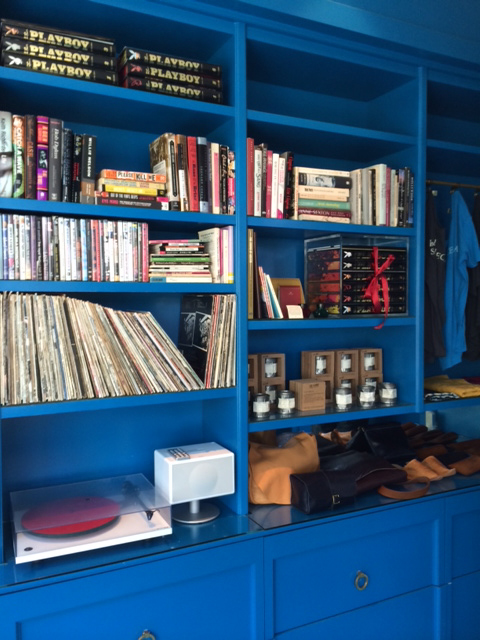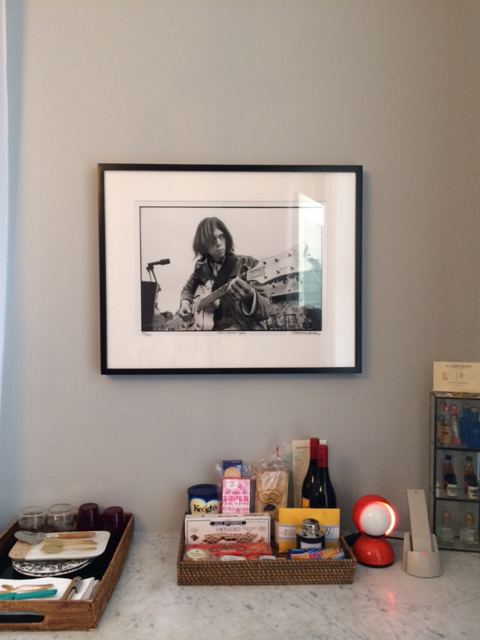 WHAT I LOVED:
Turntable and vintage albums in your room – LPs come from owner Liz Lambert's personal collection. There's also a lending library of rock 'n roll-themed biographies and DVDs.
Each room comes with Batik kimonos and hand-made bison leather slippers
A huge selection of Santa Maria Novella bath products, and the most delicious mini bar treats – salted caramel biscuits, prosciutto and Mexican coca-cola!
Magnetized distressed leather Do Not Disturb and Breakfast Order tags that guests attach to their doors
Select gift shop goodies that include antique kimonos, Hotel logo t-shirts and beautiful metal cuff bracelets
The pool at night – perfectly romantic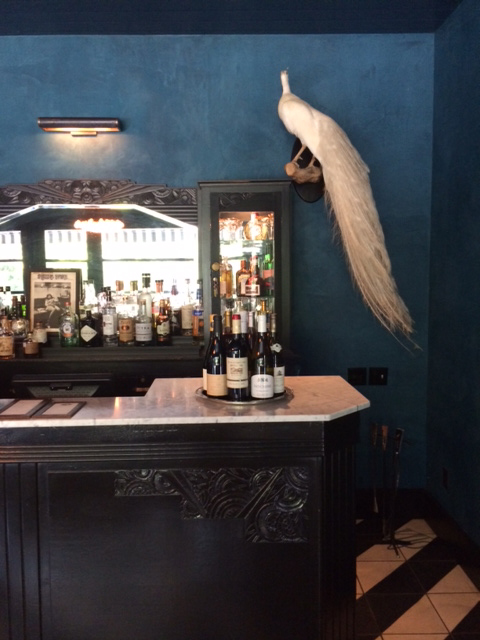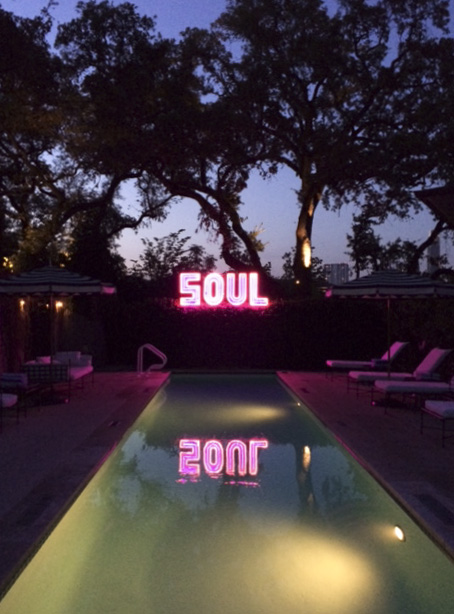 SO COOL:
Walking through the garden listening to the Stones' Torn and Frayed on the hotel sound system.
The seclusion – the room was like a funky tree house, surrounded by leafy perfection!
The intimate lounge is a fantastic mix of antique concrete floors, French bistro furniture and the hotel's mystical mascot – the snow white peacock.
PS – Only hotel guests and their friends are allowed to enjoy the pool and lounge, a policy that contributes to the relaxed atmosphere.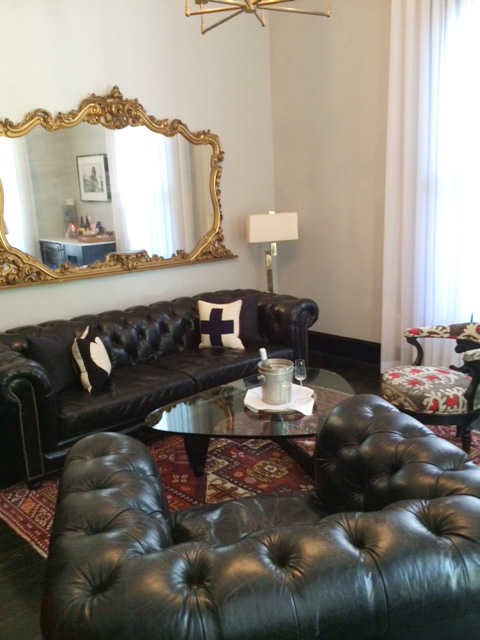 ROOM DETAILS: Each room is individually decorated with a combination of antique and modern pieces that give each space a relaxed feel, without being obnoxiously hip. The generously-sized bathroom featured an ENORMOUS walk-in shower, with black penny ceramic tiles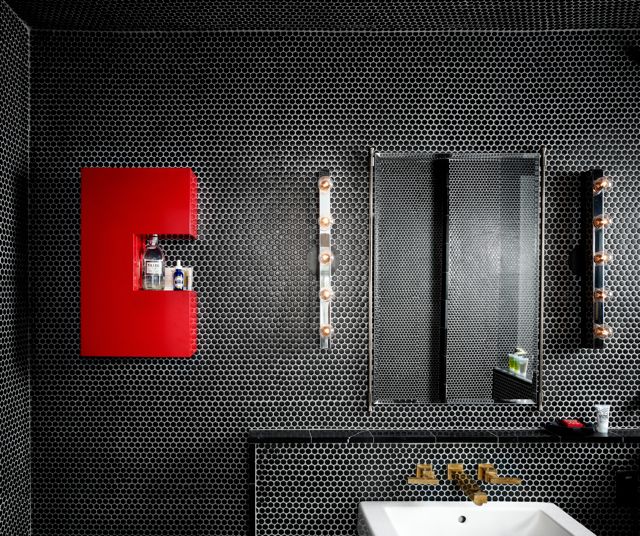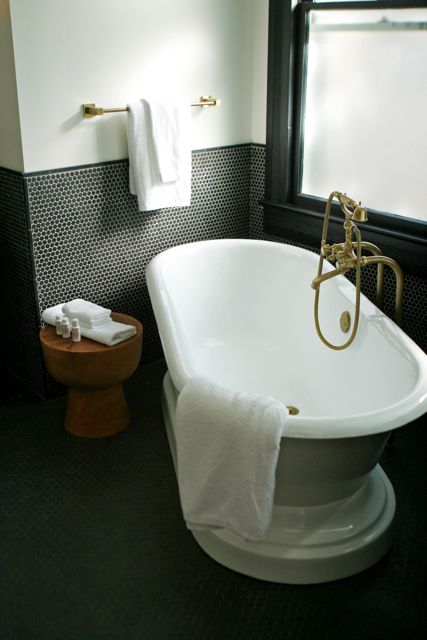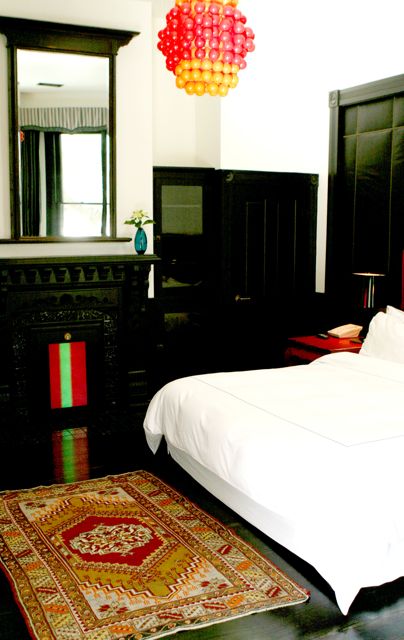 DESIGN ASPECT I WOULD RECREATE: I loved all of the black casework – the painted doors, wainscot, and mantel surrounds looked so fresh against the white walls. I also loved the super long black marble countertop in the bathroom – made up of hex tiles, it looked fantastic with the black penny tiles of the floor, and the marble slab backsplash and base trim.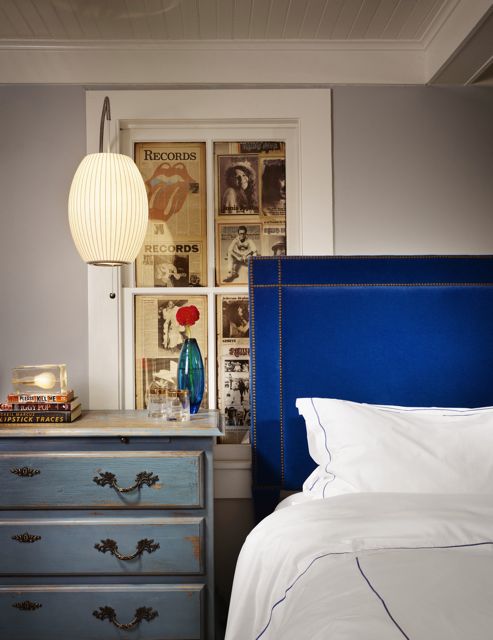 ROOM TO BOOK: There are three types of rooms – suites, studios and pool side bungalows. Suites are located in the main house, a renovated gem from the 1880s with a wide wraparound porch. Through a secret source, I found out that one of the UK's coolest bands like suites 1 and 4. INSIDER TIP: Room #5 has a piano!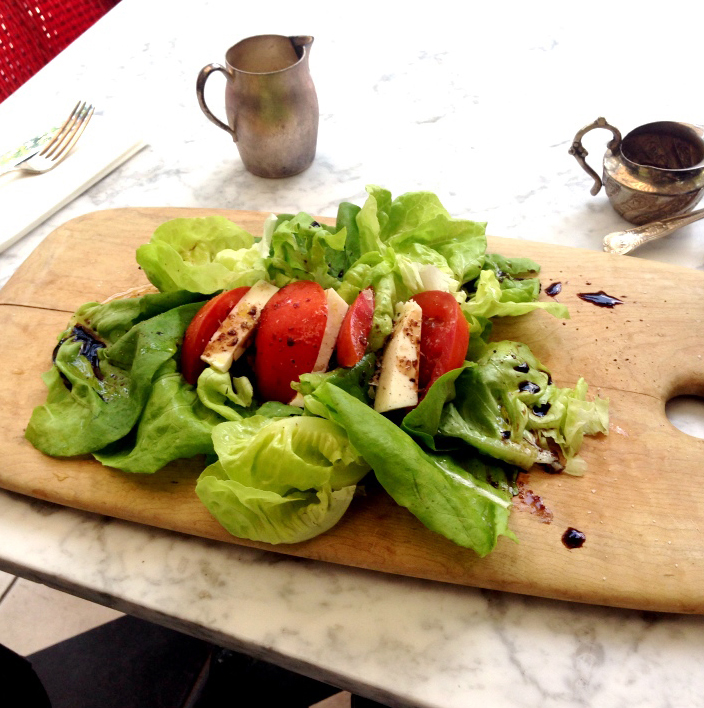 FOOD 411: The hotel doesn't offer 24 hour room service, but they have lovely selection of breakfast options and a well-edited Lounge Menu. Available from 11:00 AM – 2:00 AM, the lounge menu includes treats like a seasonal salad, a cheese and charcuterie board and s'mores.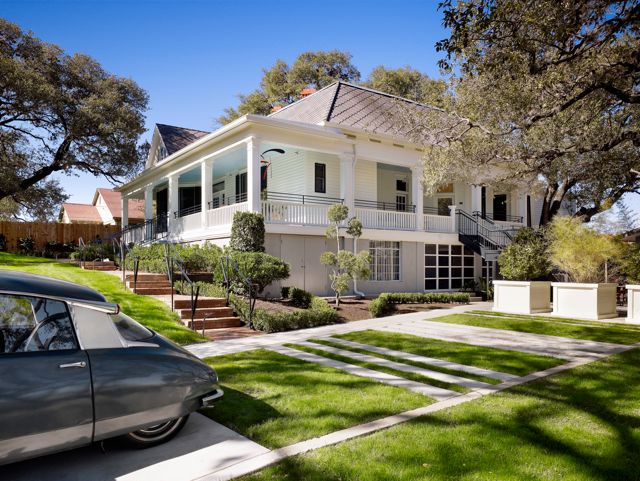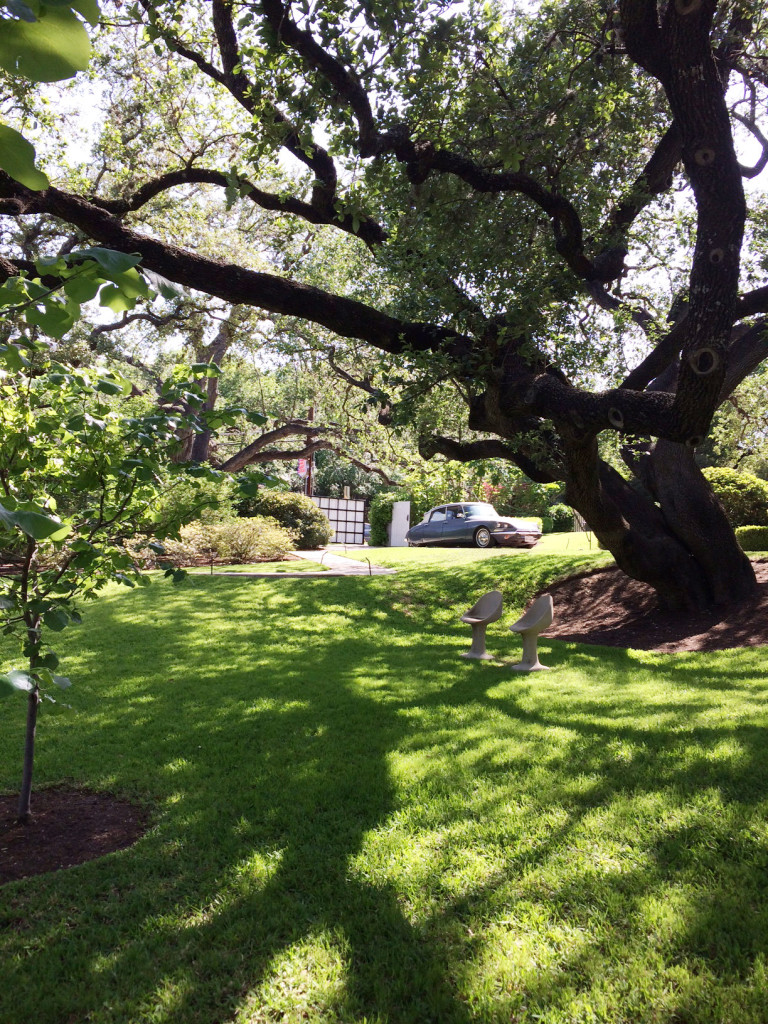 TRIP HIGHLIGHT: Listening to Neil Young's Harvest while relaxing on the terrace, reading the New York Times, and enjoying a yummy breakfast of a cheese omelet and fresh fruit.