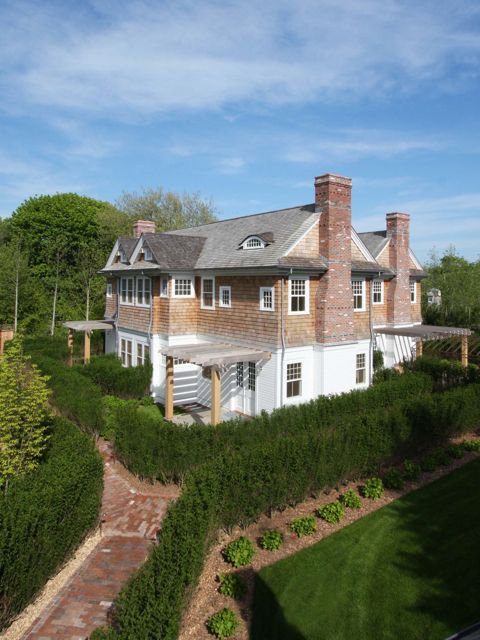 Come September and October, the New Yorkers who give New Yorkers a bad name have cleared out and the gorgeous resort towns of Long Island become idyllic once again. Without the club hopping crowds, the fall is definitely the time to head out East. Amagansett's Reform Club Inn offers a retreat designed with serenity in mind. The main inn, shown above, has 7 suites in addition to 3 shingled 1-bedroom cottages. Tucked behind the hedges on 2 acres it is a quiet, luxe, (and I'm sad to report a tad pricey) place to unwind.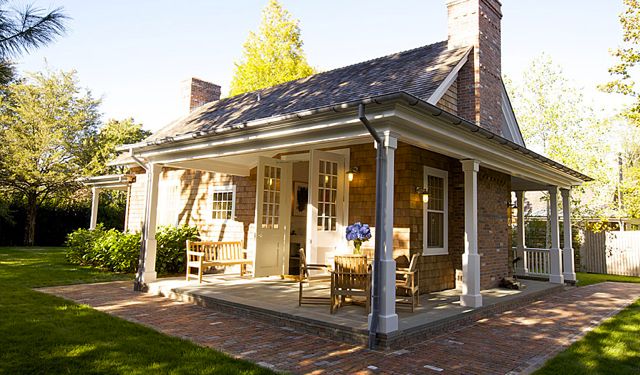 For those of you who have dreamt of a shingled cottage by the beach, it probably looks something like this–cute, tucked away, and the perfect place to write that novel. The inn's 3 sweet cottages boast fireplaces, cathedral ceilings, outdoor patios, and a gym in the basement.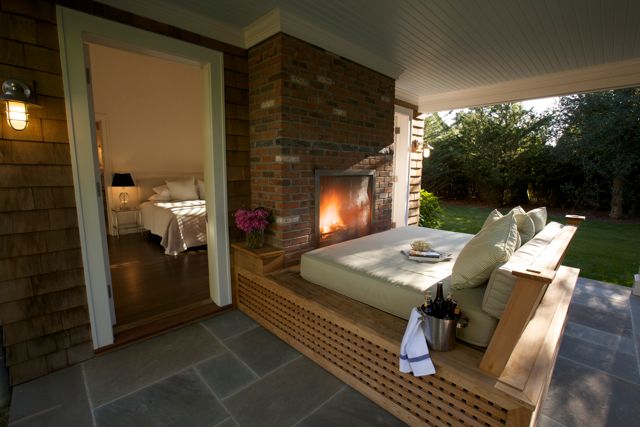 Check out these fabulous cedar beds facing the outdoor fireplace. Intrepid DIYers take note of the bed design. What a great use of outdoor space, this would be an amazing place to enjoy a crisp fall night.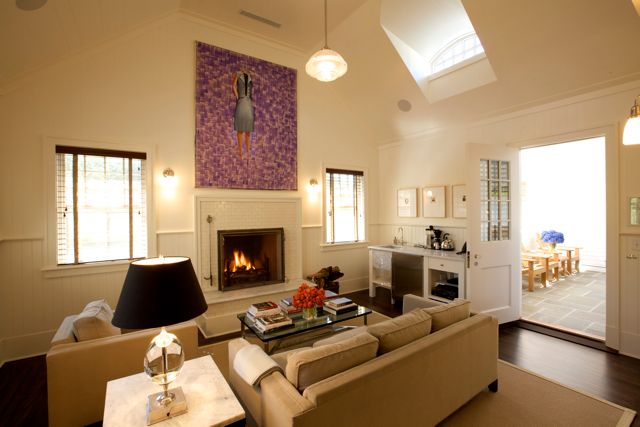 While I tend to be drawn to interiors with color, I periodically look wistfully at neutral rooms and the instant soothing AAAAHHH effect they give off. I wonder if living in a space filled with beige and caramel would be more calming. What I like about the Reform Club's interiors is that the emphasis is on comfort, soothing colors, and the one bold statement of contemporary art. The canvas here is Electra by British artist Stephen Farthing.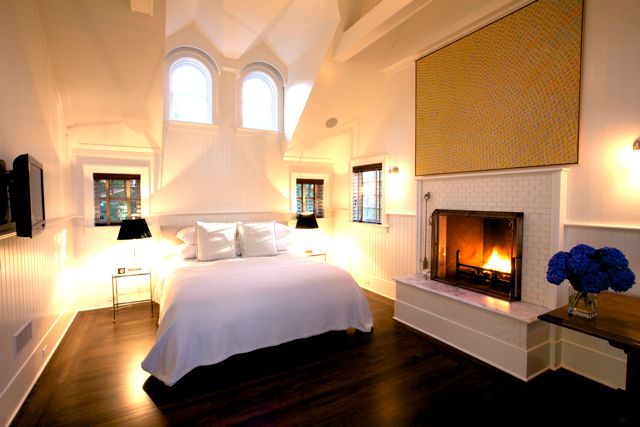 British contemporary artist Noel Forster's yellow abstract painting adds color and zing. With double height ceilings this room needed a large eye-catching artwork to balance the space. White brick and marble surround creates a chic fireplace that contrasts beautifully against dark walnut floors.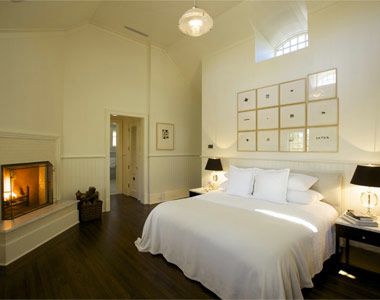 A framed series in black and white by artist Humphrey Ocean is hung gallery style above the bed in one of the guest suites. Black lampshades on glass lamp bases pick up the palette of the art.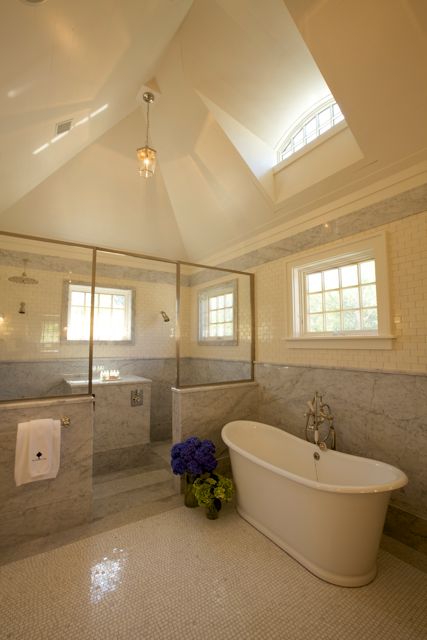 The combination of mosaic tile floors, marble surround, and subway tiles results in a beyond glamorous bathroom. The deep soaking tub hails from LeFroy Brooks.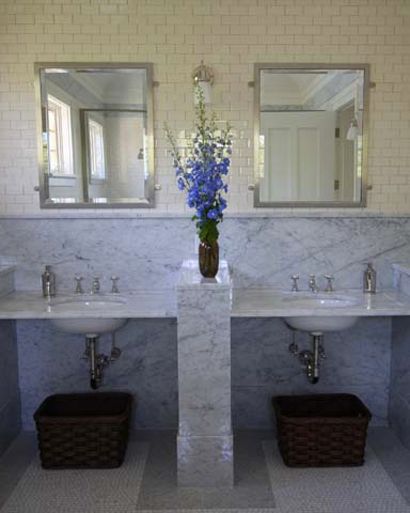 Like the look? Here's how to bring Reform Club style home: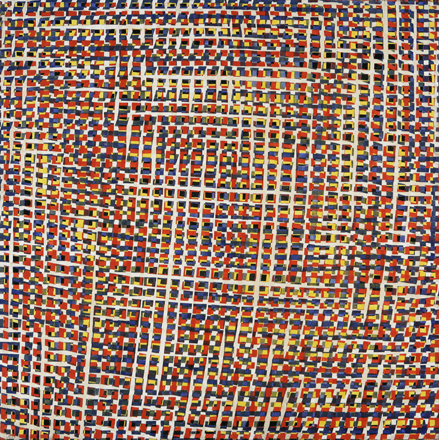 British artist Noel Forster (1932-2008) abstract canvases pair line and color, drawing and painting in his series of intersecting arcs. The stunning Colours in Black is available through Flowers Gallery in London.
If you like this type of work, but don't have a big ticket art budget, Joe Kievett's 7-sided  on 20 x 200 has a colorful, graphic feel.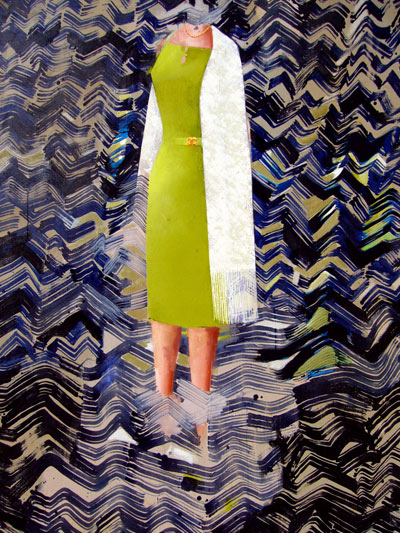 Artist Stephen Farthing's Clothes series features headless bodies in gorgeous clothes. While this sounds creepy there is something haunting and cool about them. Love this one called Channel above. The British painter has a studio on Amagansett and splits his time between there and London. Here's a pic of his Long Island studio below.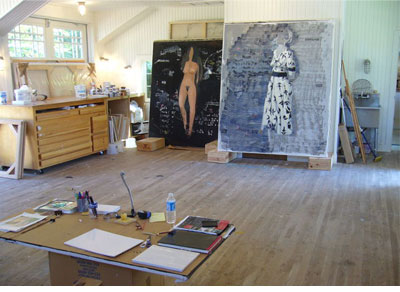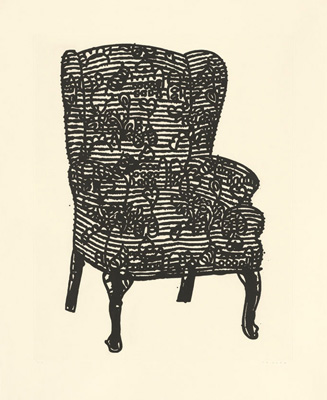 Humphry Ocean  another well respected British painter, did the black and white series in the Reform Club's suite. He is also known for his portraits. I personally adore his chair prints and paintings, especially the one shown above, Stripey Love Chair (how great is the title?). If you want to know more, Nick Hornby wrote a great bio on Ocean  here.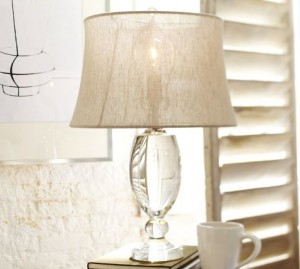 If you replace the shade with a black one, the Lexington Crystal lamp from Pottery Barn has the same elegant feel as the versions at the Reform Club.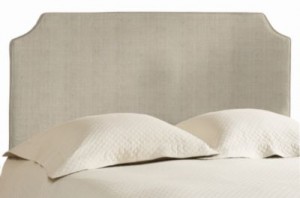 Ballard Design's Stevenson Basic Headboard offers a soothing backdrop for bedtime.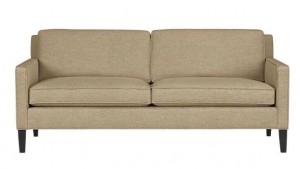 Crate and Barrel's Vaughn Apartment Sofa has clean lines and a warm taupe linen like the versions at the hotel.