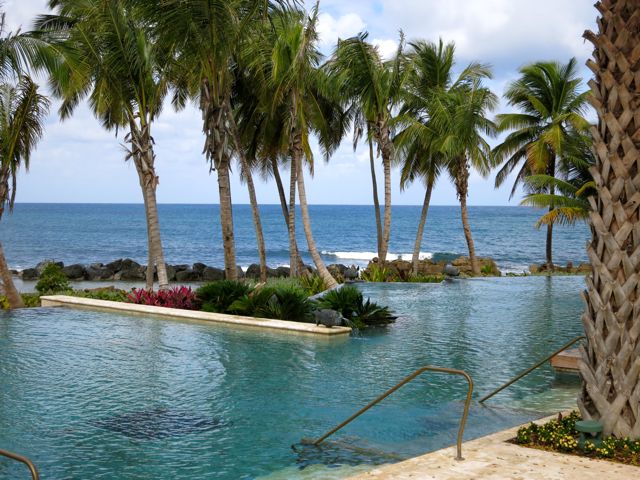 Ritz-Carlton's new Reserve brand aims to be more fabulous and intimate than your standard Ritz hotels.Their first property Phulay Bay in Thailand definitely fit the bill with a remote, completely unspoiled location two hours from Phuket,  54 1-bedroom suites, each with their own butler, and a gorgeous design inspired by traditional Thai architecture. The second Reserve property is the  just-opened Dorado Beach resort in Puerto Rico. Along with the St. Regis Bahia Beach Resort, the brands are hoping Puerto Rico will once again become the glamorous destination it was in the 1950s when Laurance Rockefeller and starlets like Elizabeth Taylor, vacationed there.  Dorado Beach was one of the first RockResorts that Rockefeller established. The new Dorado Beach boasts 114 oceanfront rooms, each with either a rooftop or beachside plunge pool. The spa is spread out in 22 buildings across 5 acres and features treehouse treatment rooms. An 11 acre nature trail and a kids program designed by Jean-Michel Cousteau emphasizes conservation and the environment. There are 4 golf courses to boot. Sounds pretty amazing.
A good friend just got back from a weekend at Dorado Beach and passed on a few pictures so that I could share them with all of you. I've pasted them below along with a few hotel images of Su Casa, a 1920s plantation house that is part of the resort. Perfect timing for a little virtual vacation with this freezing weather (I was in Florida where it was 43 degrees eeek!). Looks absolutely gorgeous!
Here are a few of images courtesy of the hotel of Su Casa a stunning $30,000 a night 4-bedroom plantation house originally built in the 1920s.