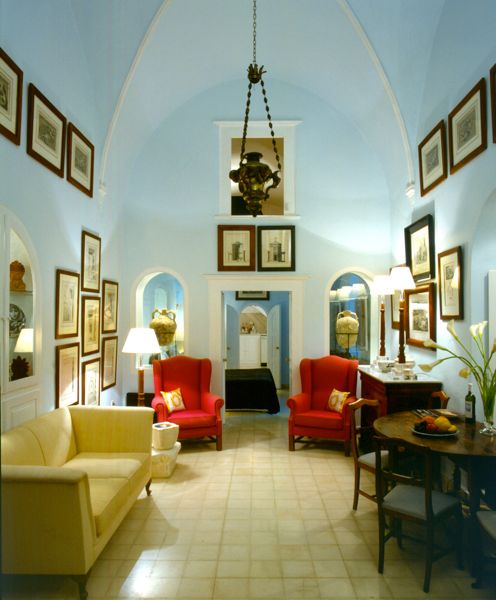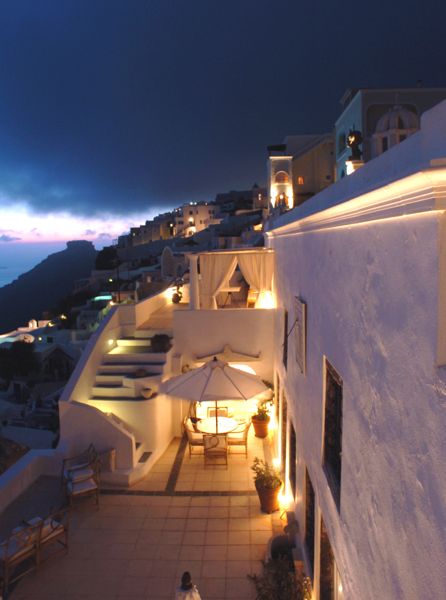 I've always wanted to visit Santorini, the glam island in the South Aegean. The crisp white cliffside architecture paired with the sapphire blue sea and sky looks like an incredible place to kick up your heels. So in need of a little virtual vacation in between deadlines, I did some online sleuthing, checking out the design of some of Santorini's hotels. I saw dozens of hotels bathed in all-white, letting the cliffside views, not the design, be the star. But  there was one hotel that completely stood out from the rest–the Tsitouras Collection.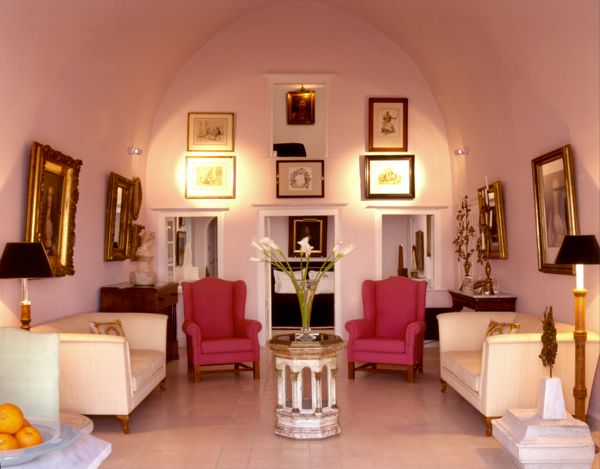 Owner Dimitris Tsitouras designed the hotel the 80s in collaboration with design legend David Hicks. While Tsitouras filled his guest rooms with art, antiques, ceramics, and lighting from his extensive private collection, Hicks advised on color schemes and themes for  the 5 individual suites. The result is a dream destination for art and antiques lovers who will relish living among the Byzantine sculptures, ancient and contemporary Greek art, Venetian mirrors, Biedermeyer furniture, Picasso ceramics, and 17th century nautical maps that Tsitouras has assembled. David Hicks fans will love the designer's signature cheery color schemes, like the hot pink wing chairs paired with pale pink walls showcased above.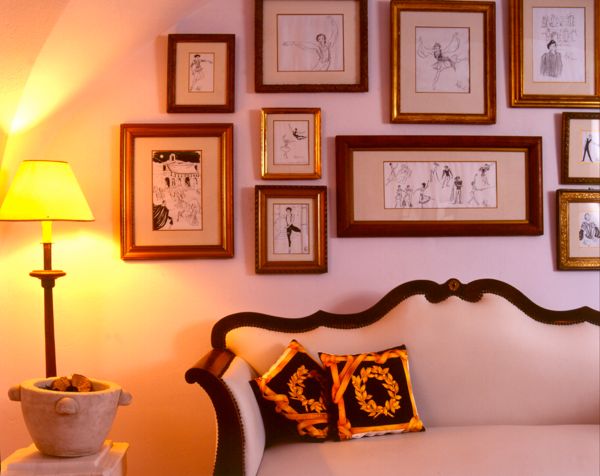 Each of the 5 suites features a different theme reflecting the collection housed within. There is House of Portraits, House of the Sea, House of Winds, House of Porcelain and shown above House of Nureyev. The famed Russian ballet dancer Nureyev was a close friend of Tsitouras who celebrated his friend in this beautiful suite. The whimsical line drawings of Nureyev in motion are hung gallery style in vintage frames above an antique sofa creating a very chic corner of the living room.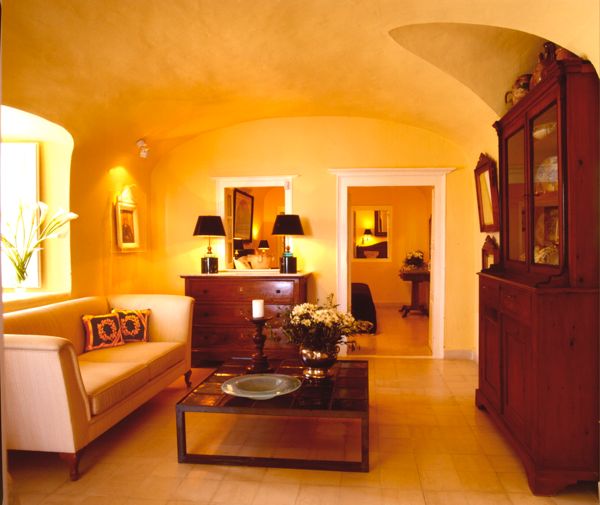 The buttercup walls of the House of Porcelain were chosen to work with the 19th century antiques, Minton porcelain, and Royal Copenhagen china.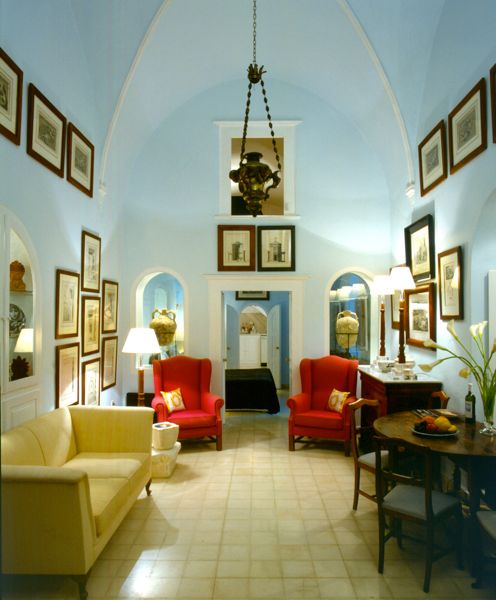 19-century engravings hung high to draw the eye upward to the soaring sky colored ceiling make the living room of the House of Winds a showstopper. The pendant light is a silver Venetian oil lamp. Note how drums from ancient marble columns are reborn as side tables.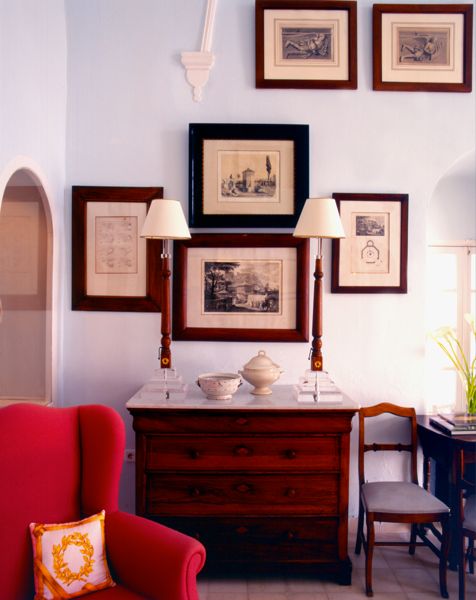 Hicks' fun color scheme at work in the House of Winds–tomato red pops against pale blue.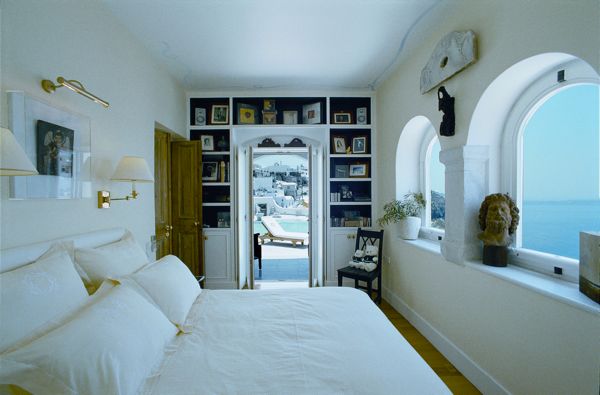 Wouldn't you love this view? For those of you how have built-ins, notice how painting the back of the shelves a dark color expands the room somehow. Beautiful.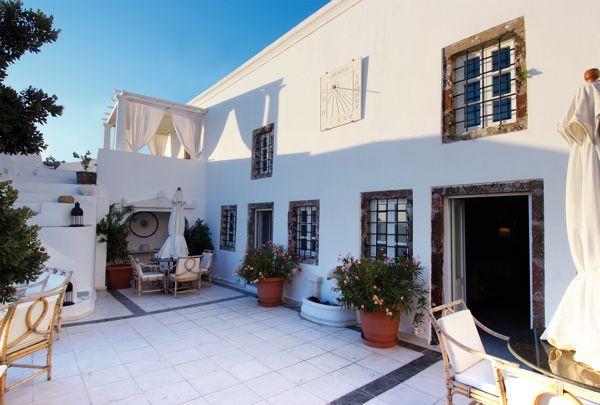 Happy summer travels, (virtual or otherwise)