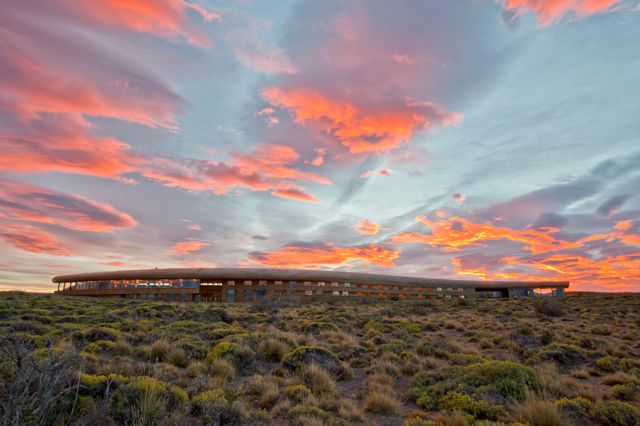 I get so focused on all of the gorgeous hotel interiors that I feature here, that I'll admit that I sometimes overlook the importance of architecture. In particular, how a hotel fits in the landscape. It is something I definitely consider–there is nothing I hate more than cookie-cutter highrise hotels on a once beautiful beach, for example (Miami excluded). However, after seeing images of the breathaking Tierra Patagonia Hotel & Spa, I'm reminded of how incredibly important that connection between architecture and the landscape is. Especially as new hotels inhabit more remote  corners of the globe, leaving that landscape unspoiled should–ideally–be on every good hoteliers mind. The sweeping and organic architecture of Tierra Patagonia Hotel & Spa fits so seamlessly with the big sky landscape that it serves as an example to what eco-concious properties should all aspire to. The structure, while stunning,  is a supporting player in the sweeping landscape when viewed from the outside. It nestles in the curves of land and sky in an amazing flow that melds into the land. From the inside, the floor to ceiling glass maximizes those same stunning views its architecture perfectly protects. It is an amazing feat that the architects and designers have pulled off.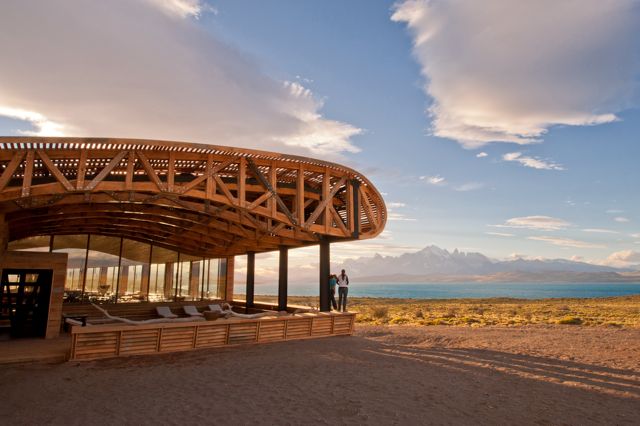 Tierra Patagonia is vision of Chile's leading architects–Roberto Benavente, Rodrigo Ferrer, and Cazu Zegers–and interior designers–Alexandra Edwards and Carolina Del Piano.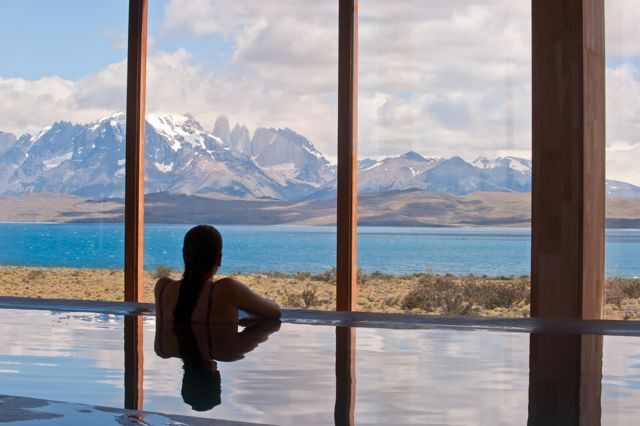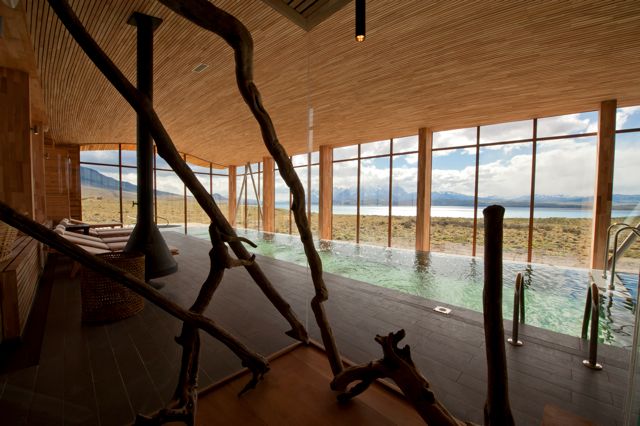 Tierra Patagonia located in Southernmost Chile, is the sister resort to Tierra Atacama Hotel & Spa in northern Chile and the Portillo Ski Resort in the Andes Mountains in central Chile. The 40-room hotel sits on the edge of the Torres del Paine National Park, the centerpiece of Chilean Patagonia and a UNESCO Biosphere Reserve site.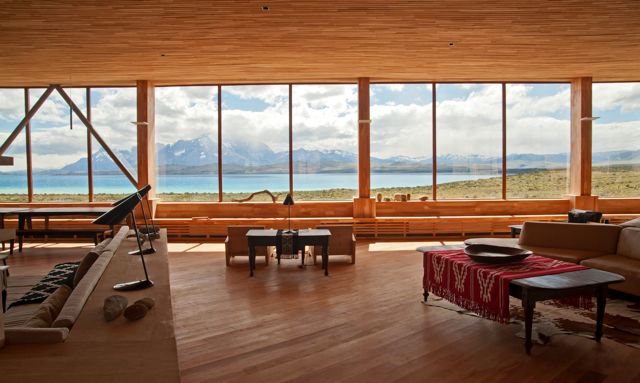 Natural materials in the interior–wood, leather, wool, cotton–keep the interiors subdued and the the emphasis on the spectacular landscape. The whole feeling is very calm and zen. The interiors beautifully connect to the outside with the amazing windows. Whether it is the fllor-to-ceiling windows and soaring ceilings in the common areas or the windows' framed views in the guest rooms.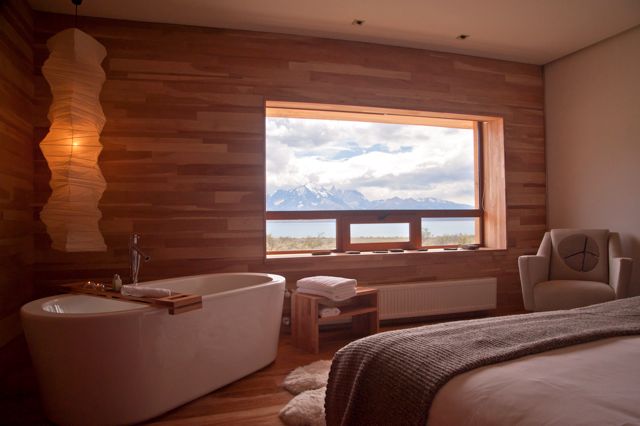 The framing and placement of the windows turns the views into art.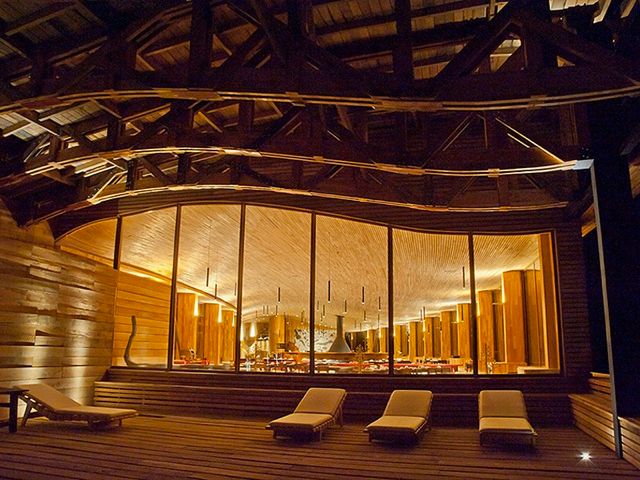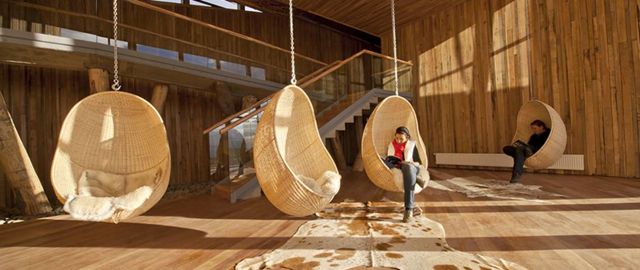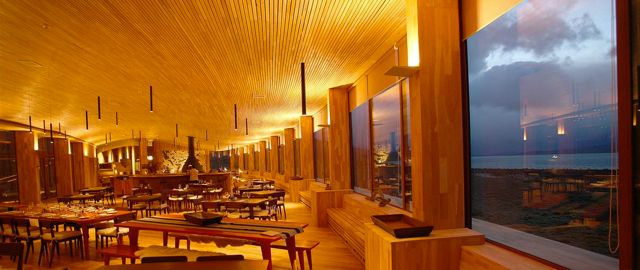 I can't decide which is more stunning–the views of the hotel and the breathtaking surrounding landscape–or the awe-inspiring views from every angle of the interior. What do you think?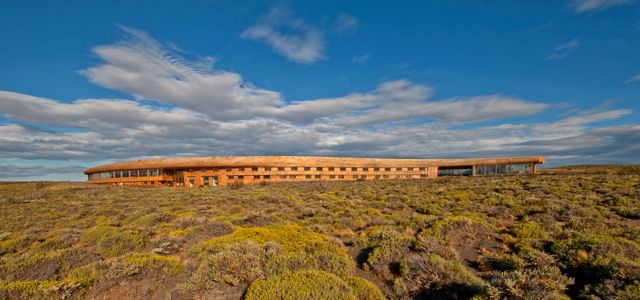 Photos courtesy Tierra Patagonia Hotel