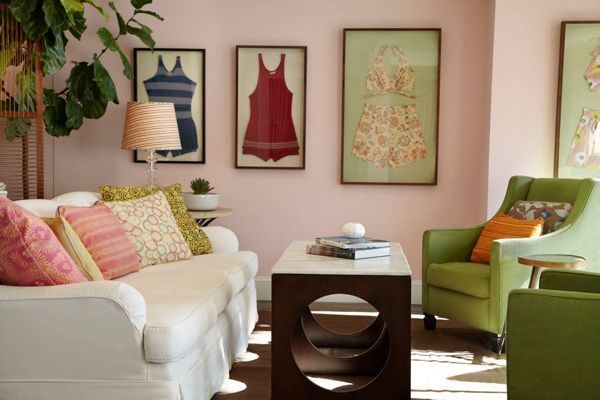 The perfect pink! Not too girly, not too Pepto, and not too bright, the dusty pink walls of Santa Monica's Hideaway restaurant at the Oceana Hotel are just right. The playful, yet sophisticated, shade of pink is Sheer Rosebud (DE 5112) by green paint manufacturer, Dunn Edwards. The color would look fantastic in a powder room, bedroom, or living room. Notice the framed vintage bathing suits on the wall–an easy DIY art idea. eBay is a great source for vintage 1940s and 50s suits.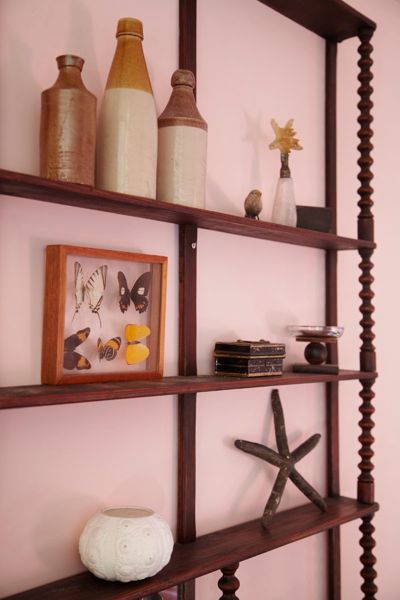 The Hideaway, the 70-room hotel's guest-only restaurant and lounge, has a wonderfully homey, retro chic feel. Chris Barrett designed the space so that guests would feel like they were in their own laid back luxe beach house. Comfy white slipcovered couches, piled high with colorful pillows, beckon you to put your feet up. Nosh on their small plates menu, take on some Backgammon, and enjoy the views of the palm trees and the Pacific.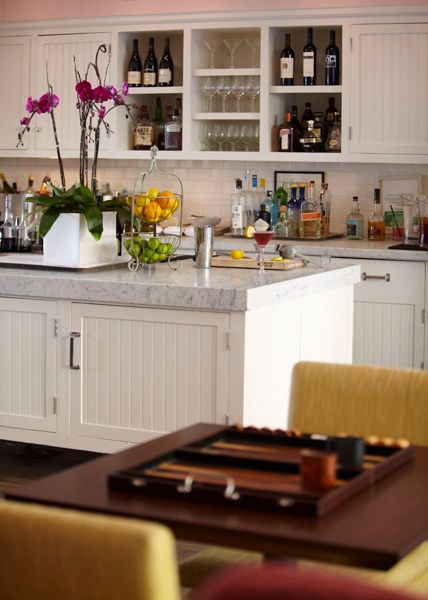 Can you believe this is the bar? I love how it looks like a dreamy home kitchen. The thick marble counters, beadboard cabinets, and a subway tile backsplash are a perfect combo. Each morning the liquor bottles are tucked away and the countertops are piled high with muffins, fresh juice, fruit, and other goodies.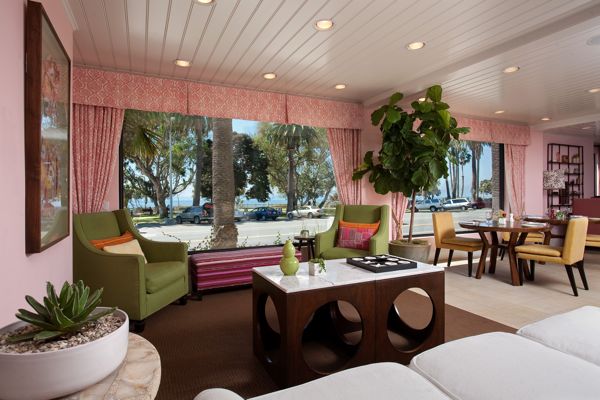 While pink and green is usually a pretty preppy combination, the deeper shade of green, paired with bursts of yellow, pink, and orange, plus loads of stripes, give the space more of a 70s-chic look. The cheery curtain fabric is Oakleaves Pink from Travers (107403). The restaurant's beach view promises sunsets over the Pacific every night. Heavenly!