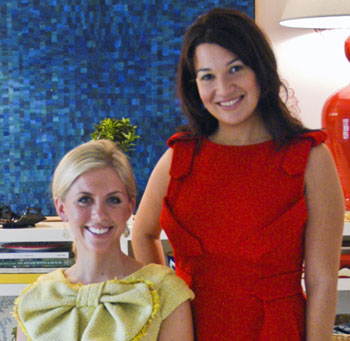 It's been less than a year since they've launched their design firm Tilton Fenwick, but Anne Maxwell Foster and Suysel dePedro Cunningham have quickly become the designers to watch. With a sophisticated eye, an affinity for gorgeous color, and a fresh aesthetic, its no wonder that the design duo are turning heads. But it's the fact that Anne and Suysel are so funny and down-to-earth that has made them such a fast favorite with clients and press alike. Below are two examples of their work–the first is Suysel's own fab apt (I am obsessed with the burnt orange and light blue combo), and below is their posh "Man Cave" that they magically created from an awkward basement space in this summer's Hamptons Designer Showhouse.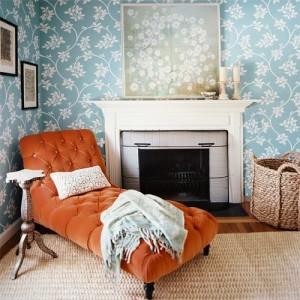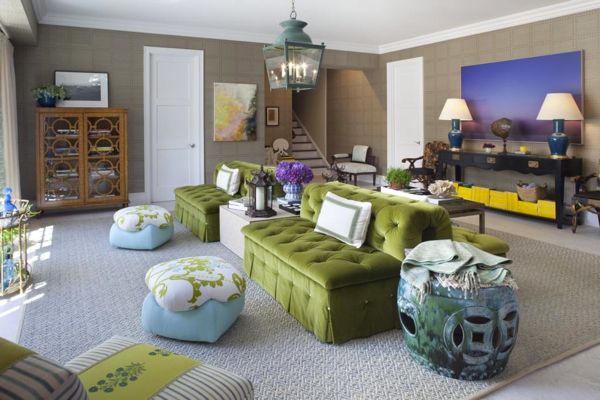 Given that they love daring prints and eye-catching color, I asked Suysel and Anne to share with us the hotel that's most inspired them. They choose the Christian Lacroix designed boutique hotel in Paris, Hotel du Petit Moulin. With an over-the-top sense of design, the hotel is not for those who need serene spaces to sleep! Each of the 17 rooms is a world onto itself–theatrical, gutsy, and exuberant. The hotel offer guests the chance to stay in a bit of a fantasy world if only for a few nights. Read on for pics and my interview with Suysel and Anne: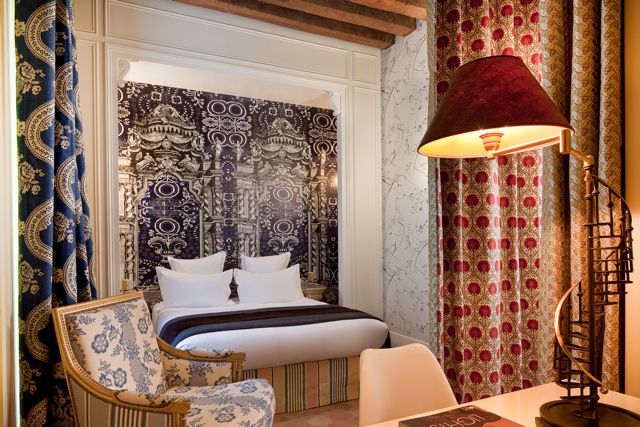 What is your favorite hotel in terms of design?
Suysel and Anne: While it's hard to narrow to just one hotel we love for design, the Hotel du Petit Moulin in the Marais district in Paris is one we are both are crazy over!  Designed by the famous French fashion designer, Christian Lacroix, the tiny hotel represents many of what makes Paris such an amazing city.  The hotel is rooted in centuries of history: situated on the site of an ancient bakery, the building dates to the 17th century. The façade was renovated in 1900 and recently updated the interiors represent the vision of one of the greatest designers of our time.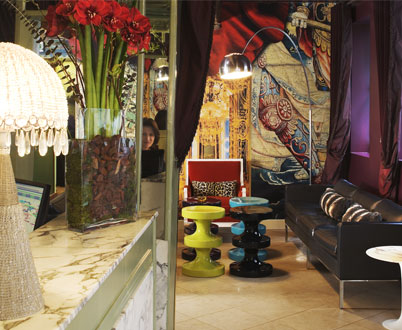 What space in the hotel made the biggest impression on you?
The lobby of the hotel is a major statement. We loved the layering of wall tapestries, sleek modern sofas, one huge chrome Arc lamp, animal print pillows, and jewel colored velvet Bergeres.  We became totally enamored by the shaped ceramic stools grouped to function as the room's central coffee table.  Upon further research, we found out they were designed by India Madhavi for Pucci (sold at a showroom just half a block from our office in NYC!).  The graphic shape, bold colors and the way Lacroix used them in the space—as a group of four functioning very differently than one by itself—was genius. The lobby became our meeting spot before departing on daily excursions or evening nights on the town.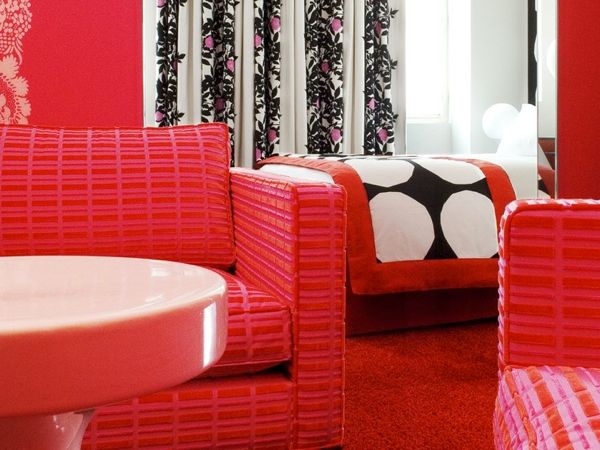 Did you go together? Was the trip for work or fun? 
It was a Team Tilton Fenwick trip to Paris! In January of this year we went together with our husbands in tow for the Maison et Objet home show and to scour the flea markets.  Rummaging through the flea markets is always a favorite pasttime of ours – curating in full force. We also happened to catch a Basquiat Retrospective happening at the Musée d'Art Moderne, which was an incredible exhibition and high on our list of best memories from the trip.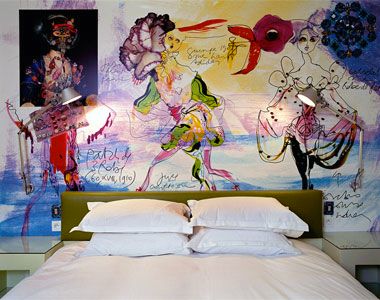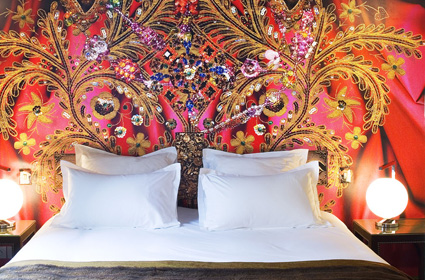 What were your rooms like? The good and the bad….
One of the many charms of Hotel du Petit Moulin was the decoration of each room.  No two rooms looked alike. Seventeen rooms and seventeen unique schemes. Suysel's room walls was covered in haute couture sketches, Anne's was a bird motif on straight black wallpaper. The same was true of the bathrooms, though we each agreed the showers were extremely tiny and difficult to use: a handheld showerhead without shower curtain or doors proved to be an extreme logistical challenge! Both bathrooms would inevitably be soaked floor to ceiling after bathing.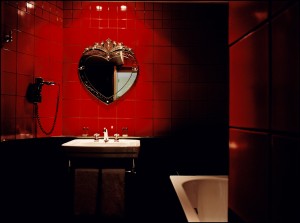 Is there something you wish you had known about the hotel before you went?
While in Paris, we were unaware of the hotel's historic significance. Later we learned the building's painted glass facade, the interior wooden staircase and the Boulangerie shop sign are all classified 17th century historic monuments. Ultimately, it was just the perfect spot for two interior designers (and their husbands) to relax between flea markets and boutique shopping in Paris.