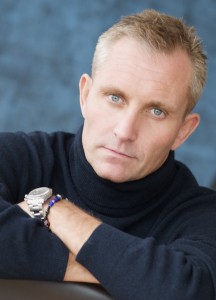 Jeweler and gemologist Tito Pedrini has the dashing, debonair style of a 1950s movie star. It's a quality you rarely see anymore but it certainly makes the charming Italian native, who lives in Manhattan, the perfect ambassador for his worldly and sophisticated jewelry line.  From stunning green tourmaline necklaces to black onyx and purple sapphire rings, his pieces are coveted by those crave wonderfully distinctive designs. When I first met Tito he had just returned from his favorite hotel, Le Sirenuse in Positano and he raved about how special it is. The stunning red hotel was for years the summer property of his friends, the Sersale family, and in 1951 they simply turned their antiques filled house into a hotel. In 1989 it underwent a major overhaul but the family continued to design and fill each room with antique art and paintings, maintaining the sense for guests that they are staying in a fabulous home.
Read on for my interview with Tito about his jewels, why he's been going back to Le Sirenuse for 20 years, and how the hotel inspired one of his collections.
How did you get into jewelry design?
First and foremost, I am a gemologist and my love for gemstones is rooted in years of experience in the auction world.  After working for Sotheby's and Christie's I started receiving requests from clients and friends. In time, a namesake collection was born, always with the emphasis and central design aspect being the gemstone itself.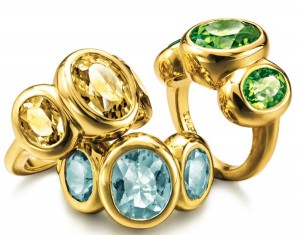 Have you ever designed a collection or a piece of jewelry inspired by travel?
The Amalfi Coast is a muse.  At the Sirenuse hotel in Positano, the view is so amazing that it actually inspires anyone seeing it.  The sea is of a very dark shade of blue and looks immense. It is framed by the village houses, perched on steep cliffs and a massive yellow and green tiled church dome.   The colors of these tiles, next to the blue ocean is so striking.  Le Sirenuse is owned by the Sersale family, and I have been friends with them for a lifetime.  One of my most successful collections is called the SERSALE collection. (Sersale ring shown above).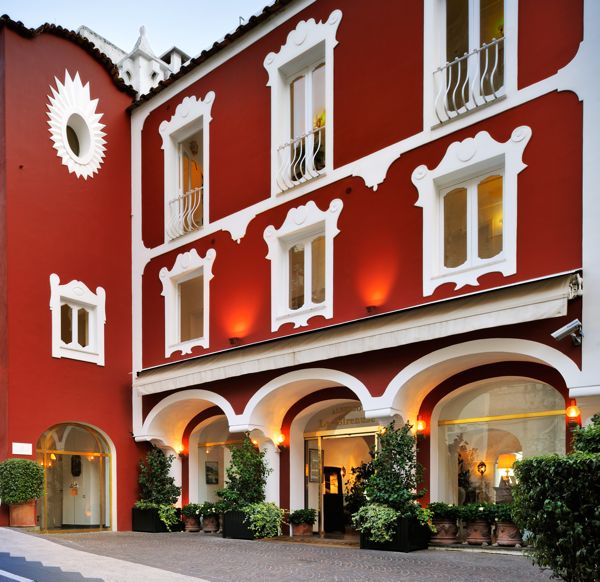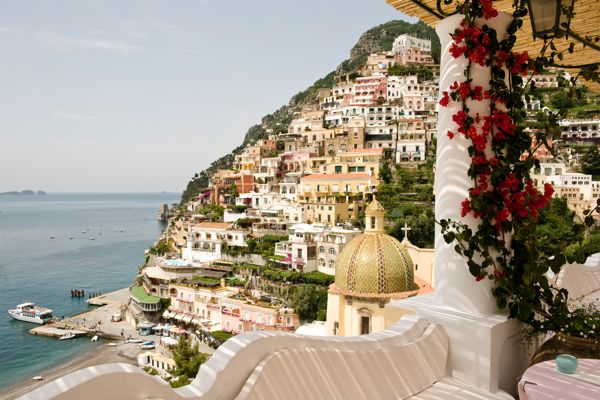 When was your first impression of Le Sirenuse?  
I visited Le Sirenuse about 20 years ago for the first time, I was invited by the owners and my friends Antonio Sersale and his wife, Carla.  I distinctly remember the bright sunlight reflecting off the wonderful multicolored tiles, I loved the contrast between the bright colors and the cool white-washed walls.  I remember the blue, blue sea as I looked out from my balcony.  Le Sirenuse is a very romantic place.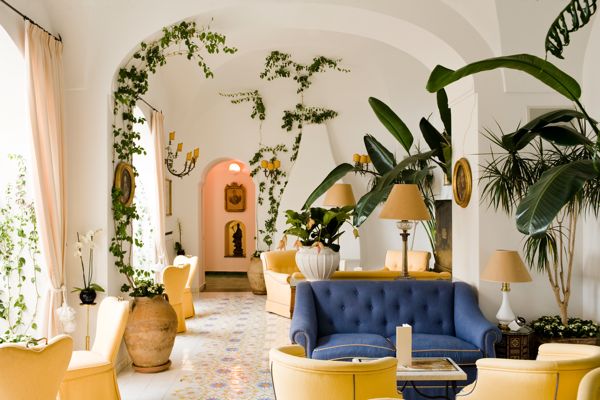 What makes Le Sirenuse stand out from others in Positano?
The hotel feels like an elegant family house and totally reflects the personality of the Sersales.  When you stay for a few days, you entirely forget that Le Sirenuse is a hotel.  You have the impression of being a guest in a home.  I love this feeling.  You get it only at Le Sirenuse and nowhere else in the world.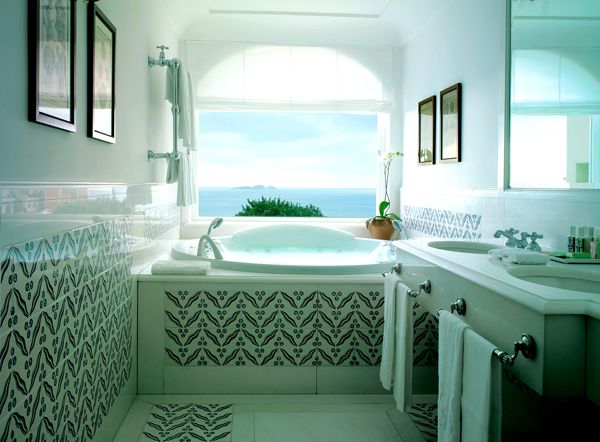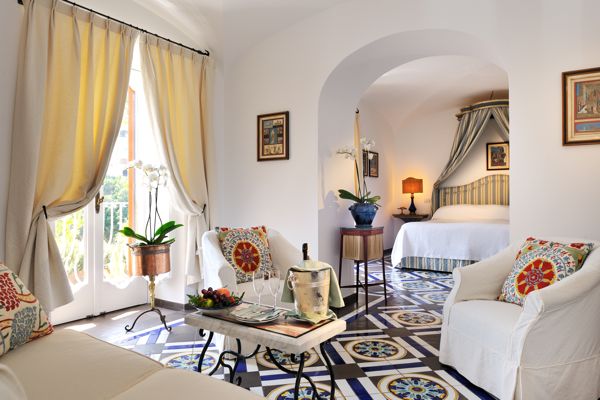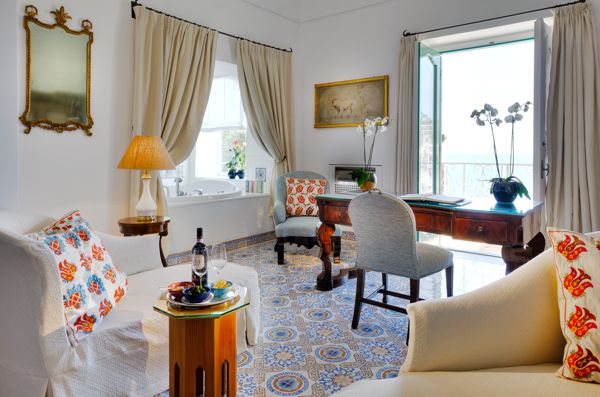 How would you describe the design of the hotel?  
The hotel's architecture is typical of the older Positano houses, a mix of Moorish and Baroque.  Inside, it is decorated like the house of a Neapolitan family with authentic period furniture and Old Master paintings on the walls.  At the same time, it is fresh and airy, as all the walls are painted white, the ceilings vaulted, with plants and orchids all over.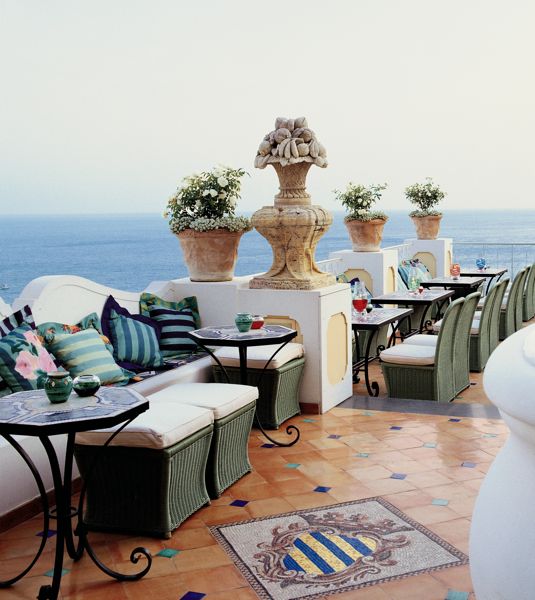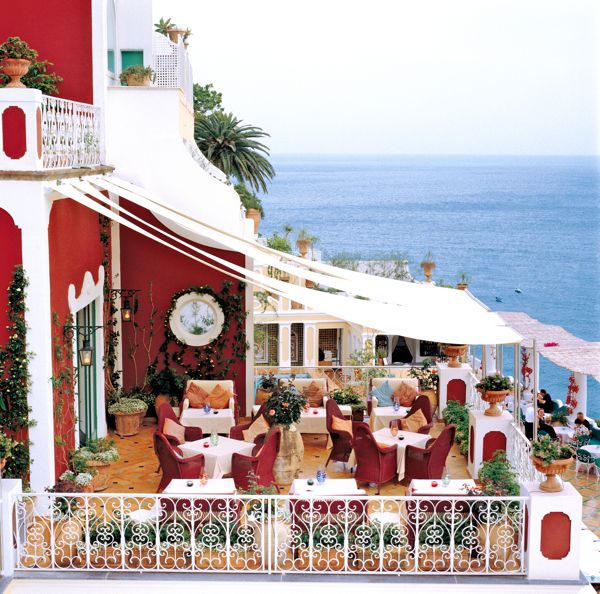 What is your favorite spot in the hotel?
The Champagne and Oyster Bar is a truly magical place.  We all meet there at 8.30 for drinks and immediately you are enveloped in its very special atmosphere with the best DJ'd music, good champagne, pretty girls serving the tables dressed in long black gowns flowing in air like flower petals.  It's irresistible.  And the view from this floor is even more breathtaking than from anywhere else in the hotel.  You have the impression that you can touch the houses or the church that are in your view.  The glasses are handmade by a famous Venetian glassblower called Carlo Moretti.  The plates are handmade in Milan by Carla's sister, Costanza Paravicini.  Most of all, I love Billecart-Salmon Brut Rose champagne.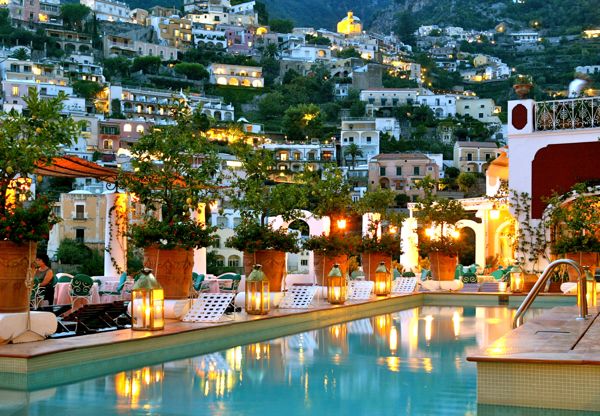 What do you  love the most about Le Sireneuse?
Everything!  It is so chic and has the most modern spa. Elegant luxury, but not over the top. It is perfection. I find a sense of peace there.
Photos Courtesy of Le Sirenuse