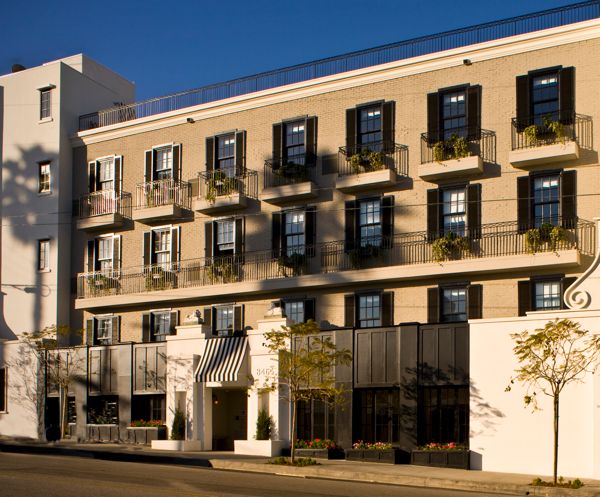 Wishing you could find a hotel in L.A. that doesn't feel like a hotel at all, but rather the hip Hollywood pad you've always dreamed of? Searching for a place with your own gorgeous  kitchen, a staff that will stock groceries in your fridge, plus your own  private outdoor terrace for eating a home cooked meal under the stars? And for evenings you want to be social (or pow wow with your agent), wouldn't it be great if your hotel had a hot restaurant and lounge? And wouldn't it just be perfect if this hotel was pooch-friendly too? Have I got the place for you.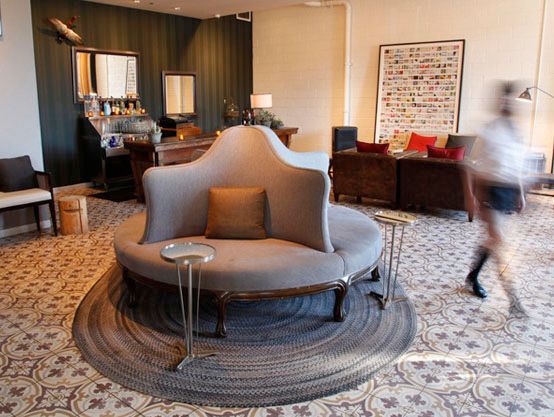 Palihouse in West Hollywood is designed for people who want a hybrid of cool boutique hotel with apartment-style living.  It's ideal for those of you who need a crash pad that caters to longer-term stays–the rates even get lower the longer you're there. Crash for 30 or more days and rates hover at $250 a night. Stay for a night and you'll be paying $400 for the same space. It pays to hang out in L.A.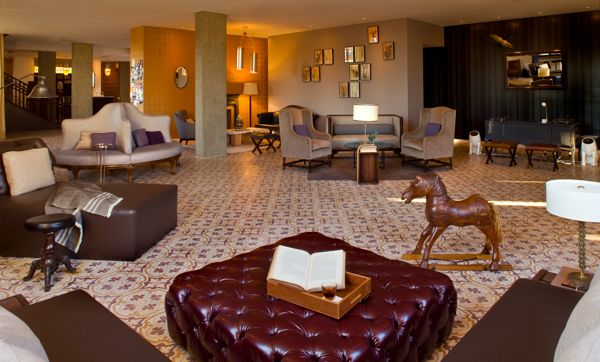 With the to-die-for Moroccan tile floors, distressed leather ottomans, and velvet covered wing chairs, the Palihouse lobby is a cozy place to relax with your iPad during the day. On weekend nights however, the lobby becomes a hopping lounge complete with DJ and cocktails.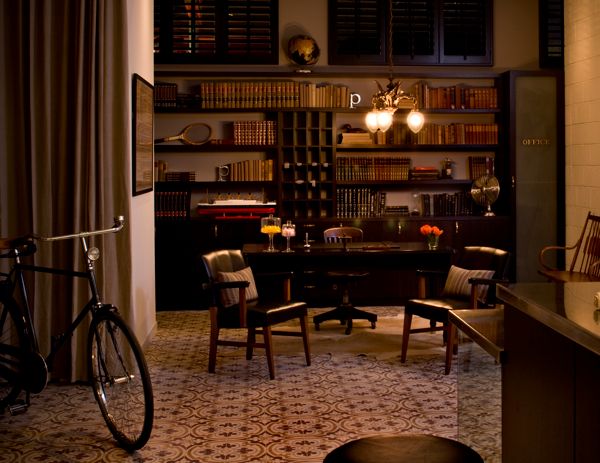 This is the front desk and it totally sets the laid-back masculine vibe. Weathered leather-bound books, vintage globes, and old-school tennis rackets line the shelves making the space feel like the personal library of a well-traveled, well-read friend (or one of The Royal Tenenbaums). If you want to check out West Hollywood by bike, they offer awesome vintage wheels for guests.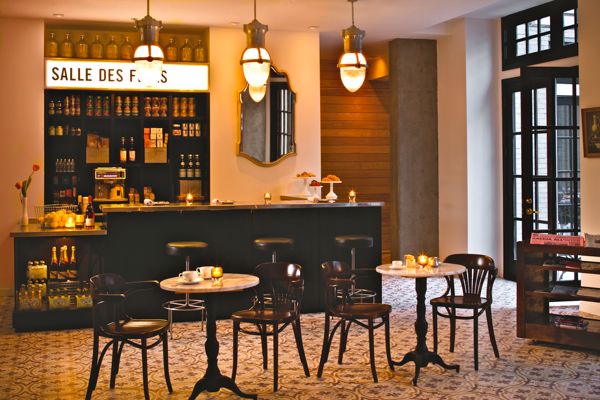 The lobby cafe is inspired by the amazing restaurants and bars in New Orleans bohemian chic French Quarter. With the French signage, the stainless steel counters against dark wood cabinets, black leather bar stools, paired with a patterned tile floor, the look could also be recreated in a hip kitchen.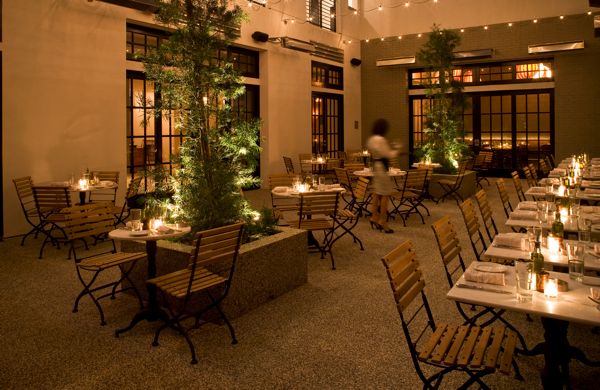 The Courtyard Brasserie looks like a gorgeous place to linger over a long meal and a bottle of wine.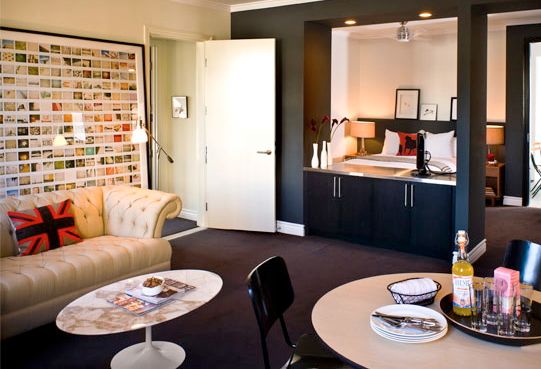 Palihouse has 36 roomy suites ranging in size from 600 to 1900 square feet. They offer studios or 1 and 2-bedroom suites, so you could easily bring your fam or friends. Some of the suites feature private terraces. Maybe it's the colors, or the pillows, but I feel like the bedrooms have a bit of a Brit feel to them.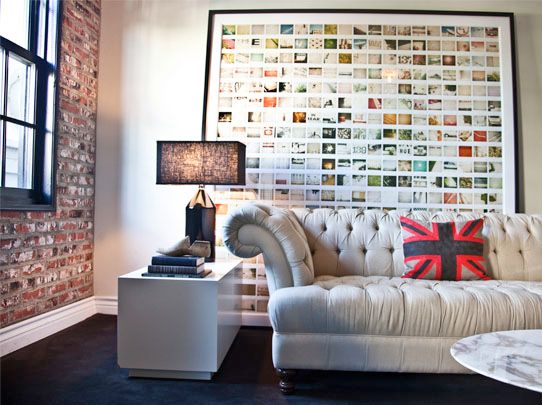 Love the Chesterfield sofa, the exposed brick, and the Saarinen coffee table, but its the art that I think is really eye-catching. If you look closely you'll see that they've lined up abstract Polaroid pics that they've taken of the neighborhood. It's a fab DIY art idea.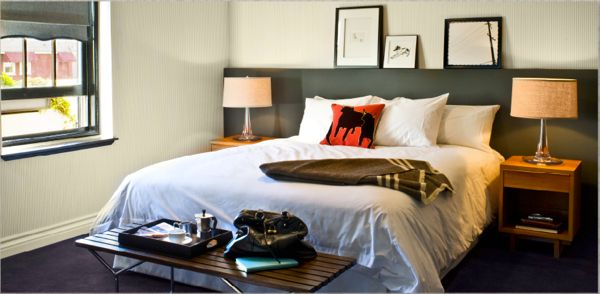 Speaking of art, I also like how they've displayed art in the bedrooms on top of the built-in headboards. If you like to rotate art, gallery style, its a nice idea.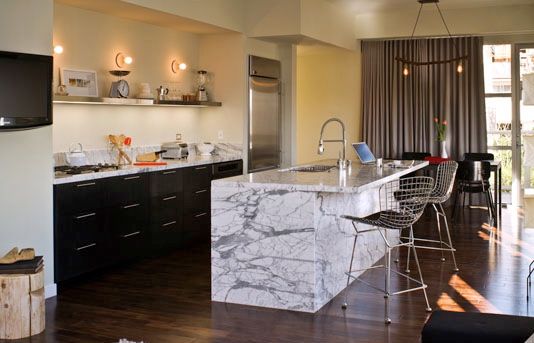 The kitchens are amazing, not only because of the marble island and stainless appliances, but because they don't resemble hotel kitchenettes at all. They are dream city kitchens. Love the contrast of the marble with the dark cabinets and the walnut floors.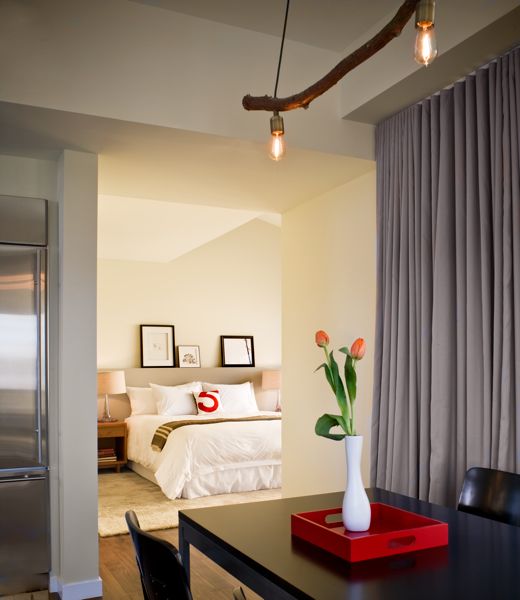 If you like the look of Palihouse check out these must-haves: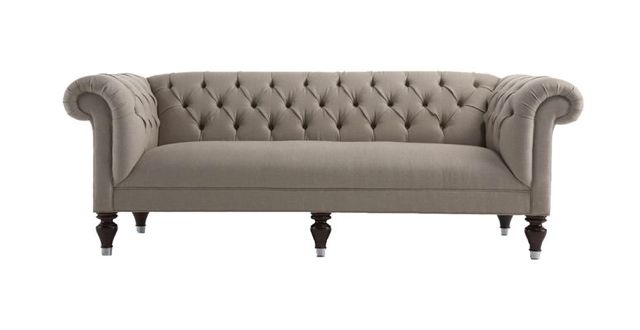 The Chester sofa from Mitchell Gold.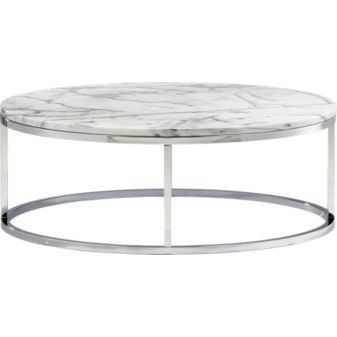 You can get the Saarinen tables that they have at Palihouse at DWR, but for a similar look for less, you can't beat the CB2 Smart Round Coffee Table

For a dose of Brit cool try Jonathan Adler's British Flag pillow.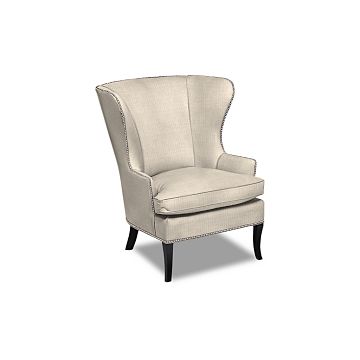 William Sonoma Home's Chelsea Wing Chair in Velvet.
Happy decorating!