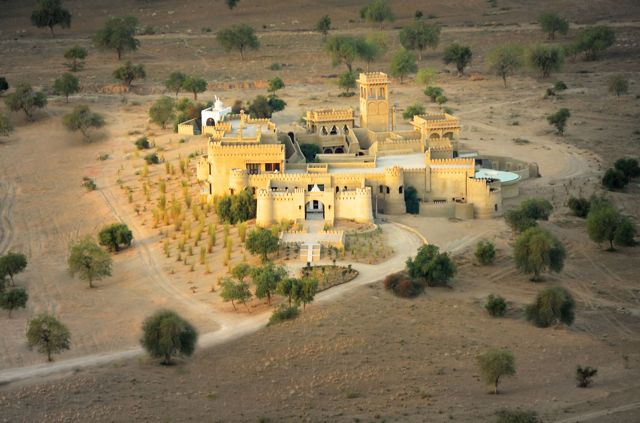 If at first glance Mihir Garh looks almost unreal–like a fairytale castle from a dream–it may be because it was designed that way. Husband and wife owners Sidarth and Rashmi Singh, had the vision for the property while standing together on a small dune in the Thar desert in India's Jodphur region. They were so inspired by the serenity and beauty of the location, that they imagined building a gorgeous Indian fort where the location and traditions of India could be celebrated. Over the course of 12 years, they designed the hotel "guided by intuition rather than reason, and inspired by emotions rather than rationale." I love that the design wasn't driven by marketing wizards at some hotel chain, but a couple who wanted to create something truly magical and one-of-a-kind.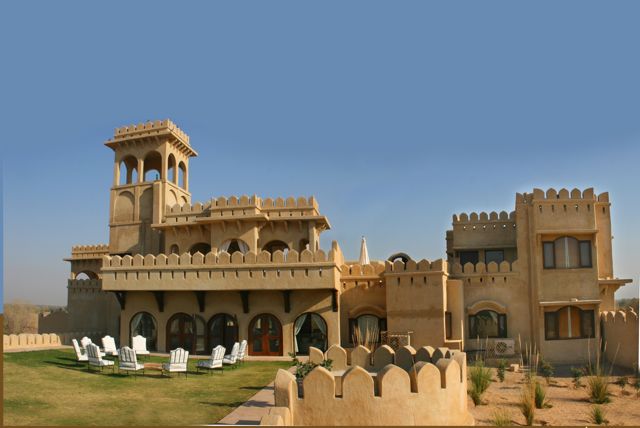 The couple enlisted the help of over 150 craftsmen and artisans to celebrate centuries old building techniques and craftsmanship from the region. Rashmi designed every piece of furniture, customizing every detail of the interiors from the  art to the jewel-toned fabrics from Jodphur.
The luxury property features nine 1700-square foot suites. Each room boasts a private plunge pool, terraces, and lots of banquettes  piled high with pillows for taking in the sweeping views.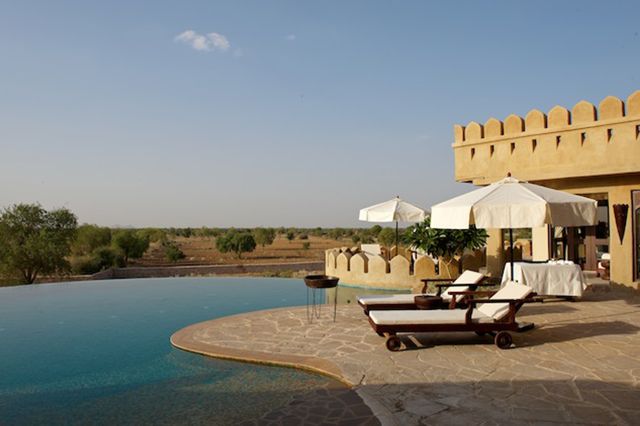 The hotel has a luxury spa, infinity pools,  and access to the couple's stable of Marwani stallions. Explore local villages or take a class in traditional Rajastani cooking.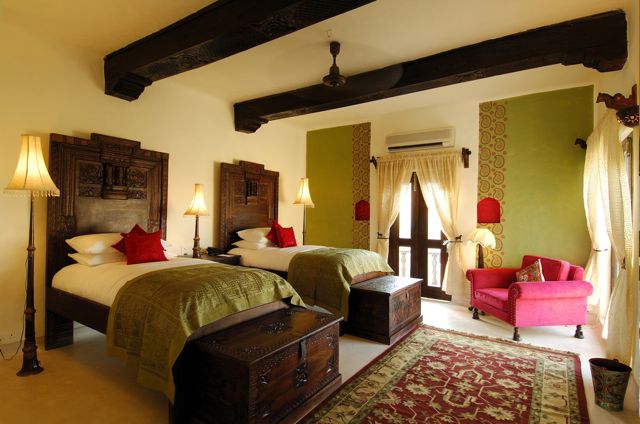 The stunning wood beds boast traditional wood carving, but the high headboards and clean design make them feel more contemporary. A more muted green paired with raspberry pink gives the preppy color combination an exotic spin.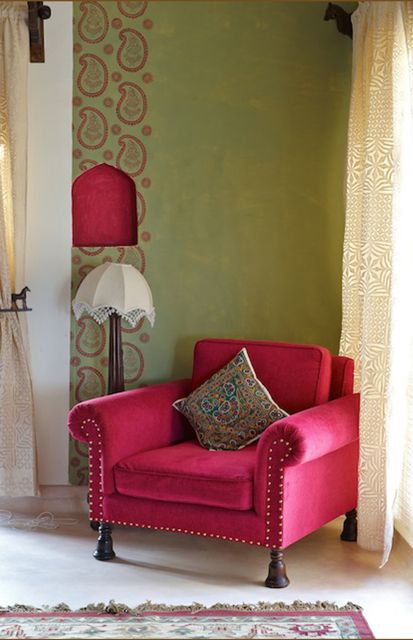 Love the pink paisley stencil border flanking the window. It would be a simple DIY project.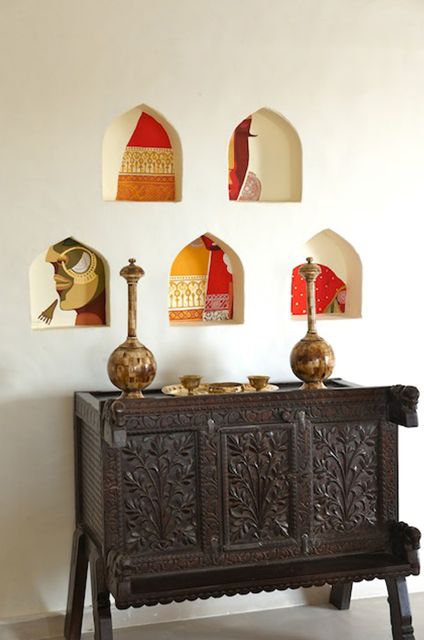 Cutout arches giving the illusion of seeing peek-a-boo sections of a painting. It is an interesting alternative to a traditional canvas. Here's another take below.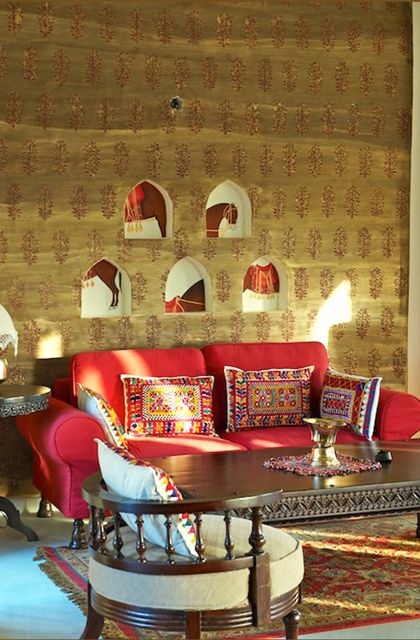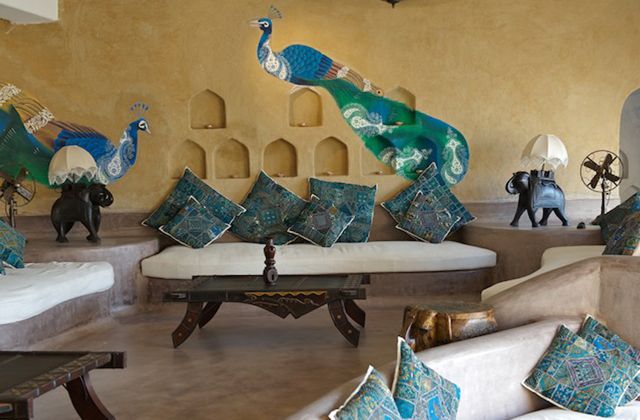 In this living room, gorgeous modern peacock murals are painted over the arched cutouts. The throw pillows echo the dazzling blues and greens of the birds, tying the room together.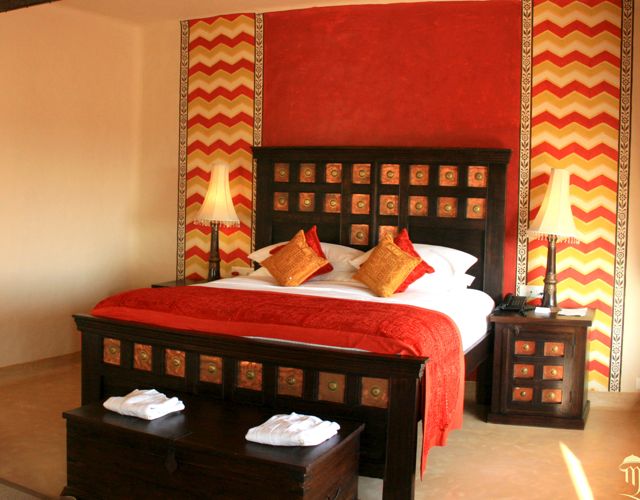 The walls behind the beds were hand painted by local artists. Intense red frames the bed while a multicolored chevron border adds a modern, graphic edge. DIYers take note.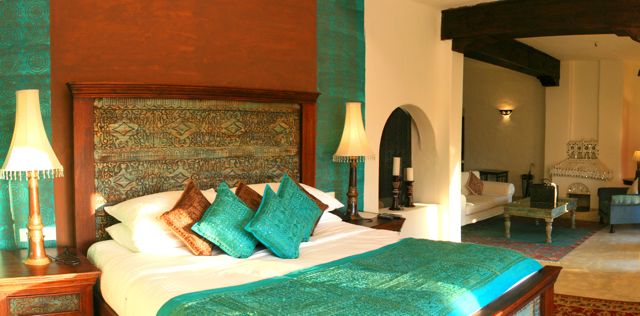 A color trio dominates each room. Here brown, turquoise and cream are featured in the wall murals, bed silks, and throw pillows.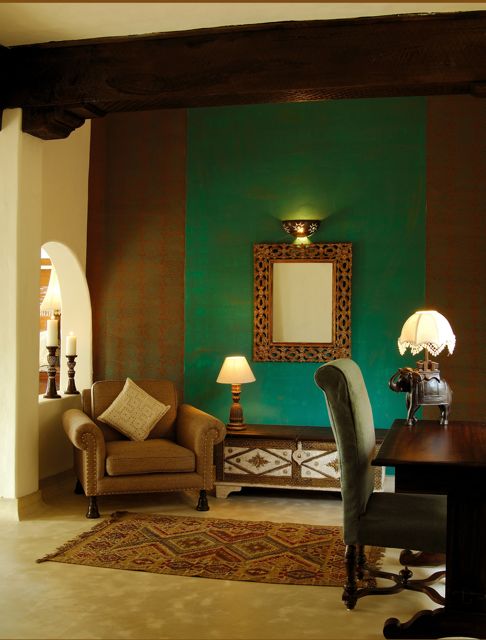 From the metal chest, to the carved ivory mirror, to the cute elephant lamp, Rashmi designed breathtaking pieces that showcase the incredible local craftsmanship.
If you like the look: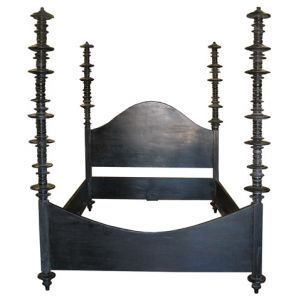 The Ferret Bed from Hudson in Boston.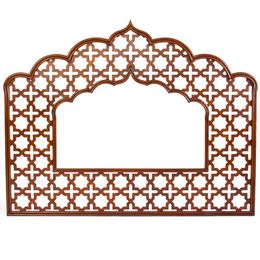 Carved wood headboard through John Robshaw.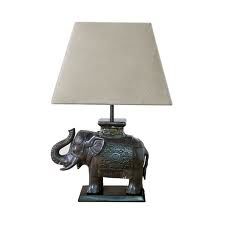 Bronze elephant lamp.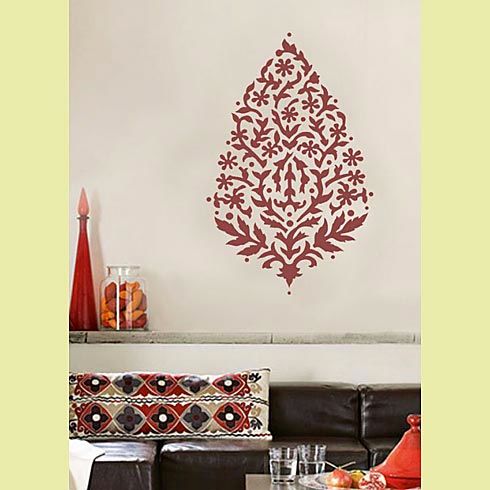 Wall stencil kit for a large paisley sari stencil from Cutting Edge Stencils. Also check out this paisley stencil pack.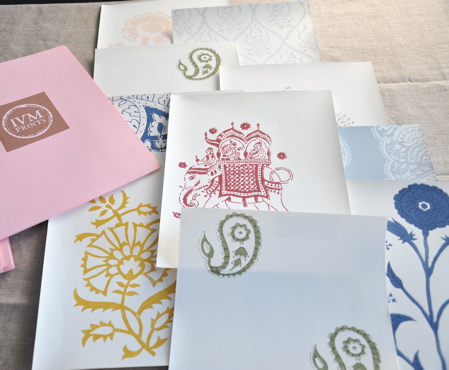 Wallpaper samples from Les Indiennes.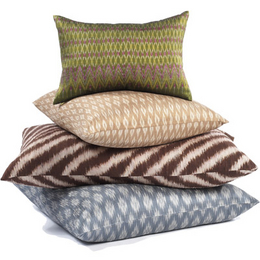 Silk Ikat pillows from John Robshaw.
You Might Also Like: