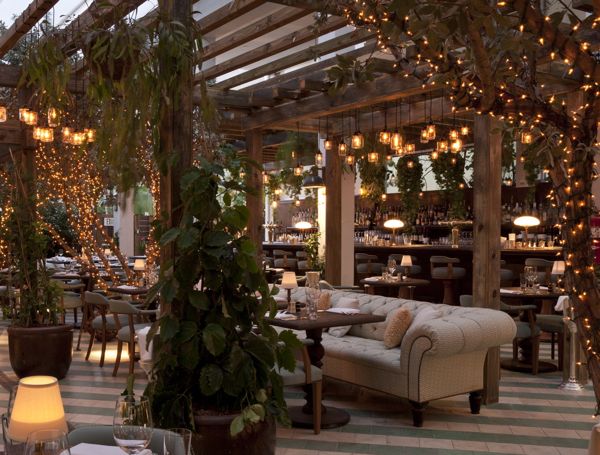 One of the cooler design trends that I've been seeing is a more innovative approach to dining room seating. It's no longer about the standard matching sets of chairs around a table. Instead, the dining room is being reborn with a mix of chair styles, alternating fabrics, or an unexpected combination of chairs and upholstered pieces. It's a more relaxed look in a room that is becoming less about formal dining and more about fun, comfort, and multiple uses.
At Cecconi's, a gorgeous restaurant at the Soho Beach House in Miami (which I posted on a few weeks back), designer Vicky Charles beautifully paired a classic and cozy sofa opposite more standard restaurant chairs. The Early Victorian Chesterfield sofa is from couch guru George Smith and upholstered in Quadrille's Carlo II in Teal. If you like the look, Restoration Hardware's Kensington line of sofas is very similar and comes in 5 lengths so you could find a size to match your dining table, (it's also slightly less expensive although this style of sofa is generally pricey). If you're looking to update your dining room, adding a sofa in lieu of chairs is a stylish, not to mention, uber comfy idea, perfect for long and leisurely dinners with friends.
The lights were custom made for Cecconi's by a set designer, but if you are the crafty type you could recreate them. They are vintage glass jars fitted with filament bulbs.
Under a retractable roof, surrounded by silver buttonwood trees, and twinkling lights wouldn't this be a heavenly place to have a holiday dinner?
Speaking of….I hope you all have a wonderful holiday! I will be taking some time off from blogging to be with friends and family and think of cool new ideas to post in 2011. If you come across any chic hotels in your holiday travels, please email me!
Cheers!