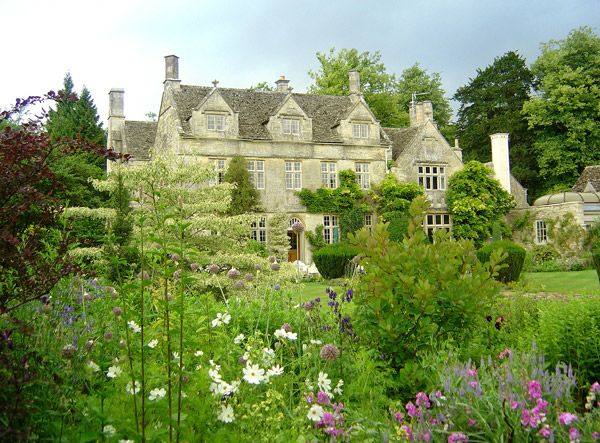 It has been a bleak and rainy couple of days here in New York, but the elegantly cozy rooms at Barnsley House in The Cotswalds, are the perfect antidote to rainy day blahs. They are the kind of rooms you just want to curl up in, regardless of the weather, with earthy, muted color schemes and beckoning furniture.
The Barnsley was originally built as a private home in 1697. In the 1950s it was the home of celebrated British garden designer Rosemary Verey. Today the hotel features 4 pretty acres of her formal gardens for guests and visitors to wander through. Just this past spring, the hotel was redesigned and now features 6 bedrooms in the main house and 12 cottage and stableyard rooms. Lots of pretty design ideas here, read on for inspiration: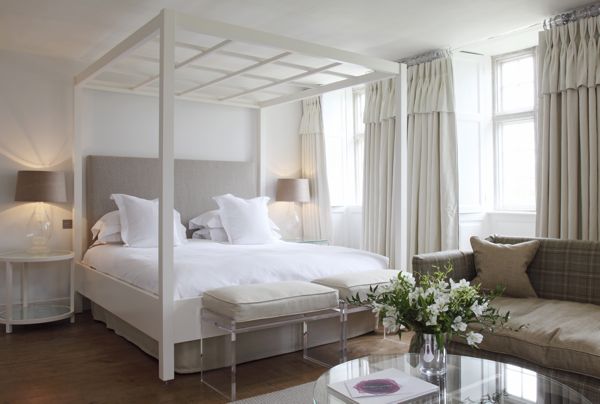 Earth Tones Are Easy: Room 1 above, feels so heavenly in a soft, neutral palette of soft browns, warm beiges, with creamy whites. I love the oatmeal linen headboard that almost matches the drum shades on the clear glass lamps (if you like the lamps try the Bacchus version from Pottery Barn). Note how the plaid sofa is updated with a solid linen seat cushion, a great idea if you need to tweak your sofa but don't have the budget for a total redo. Interior designers Martin Hulbert and Jay Grierson were inspired by the look of a pergola for the amazing bed they created for the hotel, and their lucite benches with cushions add a dose of cool to the room.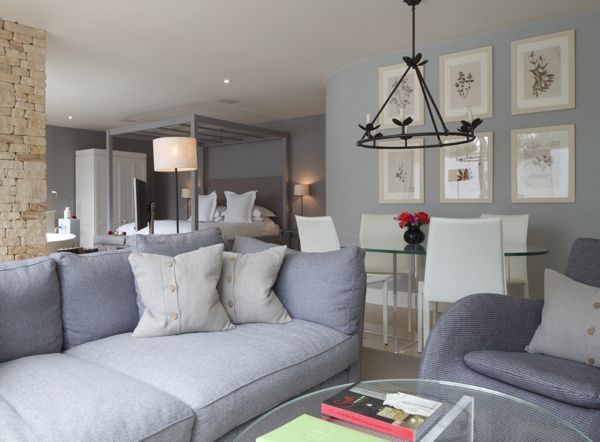 Grey Day: Grey is such a hot color right now, but finding a warm rich paint shade that isn't too intense or doesn't resemble cement, is tricky. The color in the  Secret Garden Suite, above, is Pigeon Breast Grey by Dulux (which I think is Glidden in the U.S.). I really like the tone-on-tone palette, with shades of grey everywhere from the sofa to the bed. The framed botanical images are from Rosemary Verey's book, Making of a Garden.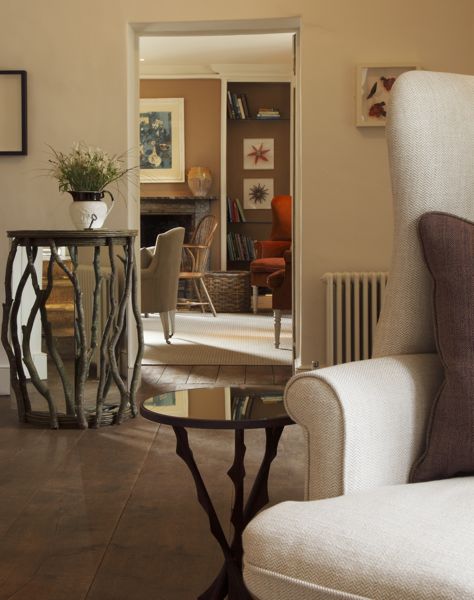 Bringing the Outdoors In: Because the gardens are such a big part of Barnsley House, the designers wanted to connect the interiors to the exteriors in their design. Branches are a recurring theme and I love the cool branch side tables above, along with lots of cuttings from the gardens displayed throughout.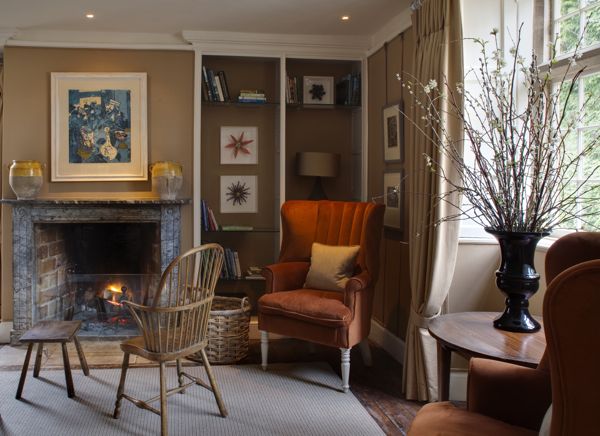 The Color of Fire: I adore these stunning orange velvet wing chairs, what a great color to put in a room with a roaring fire. To further warm up the space, the walls are covered in a taupe colored Irish Linen. Gorgeous.
Cheerio!