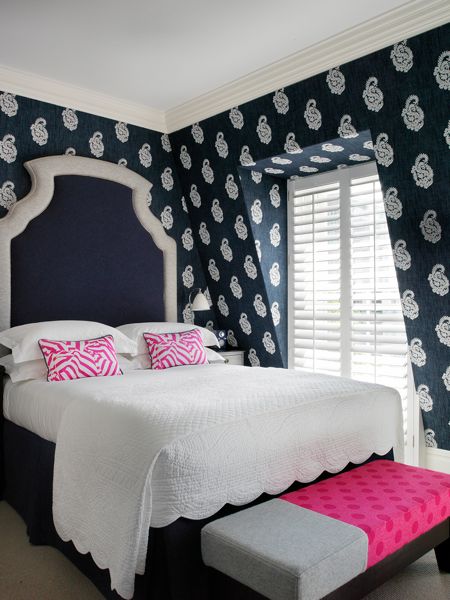 Every time I step into one of designer Kit Kemp's amazing Firmdale Hotels I think, I wish my apartment looked like this. The unabashed use of color, the gorgeous patterns everywhere, the great art–there is so much to love.  Kit has made her hotels feel like the best version of home–cozy, colorful, and fun–the way so many of us would love to live. The Dorset Square Hotel is a great example of that.  The Dorset opened in 1985 and was the first Firmdale hotel. It was sold in 2002, but bought back this year and revamped in their signature cheery style. I've pulled a few of my favorite rooms, with design ideas from each to inspire your own pads.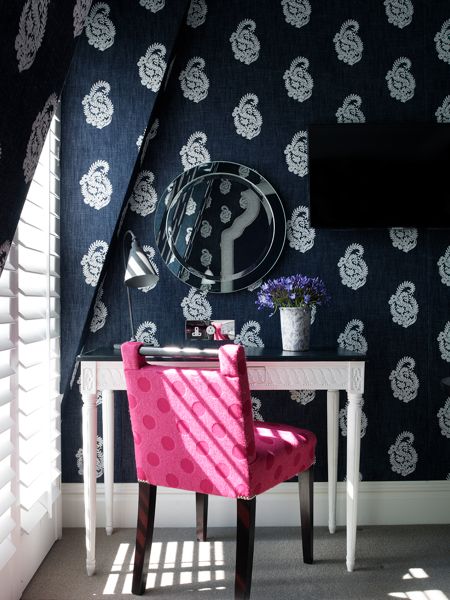 Pattern Hides All Flaws: When you look closely, you can see this room is on the small side, with a sloping wall that could make it feel more cramped. But with an oversize graphic paisley print in a confident shade of blue, your eye only notices the great pattern and nothing else. A burst of pink on the bench, pillows, and desk chair adds even more fun to the space. The paisley is from Harlequin.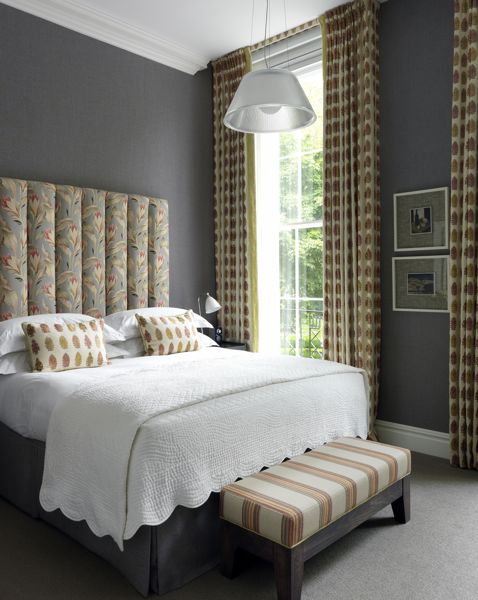 Want Instant Coziness? Cover Your Walls in Fabric:  I recently met Kit at a party for her  book A Living Space and we talked about why she loves upholstering walls. Not only does it last, but Kit notes that fabric adds refinement and immediate warmth to a room. So true. The Dorset features upholstered walls with batting etc behind them, but you can also have back fabric with paper and apply textiles to the walls that way (a wallpaper installer can usually do this).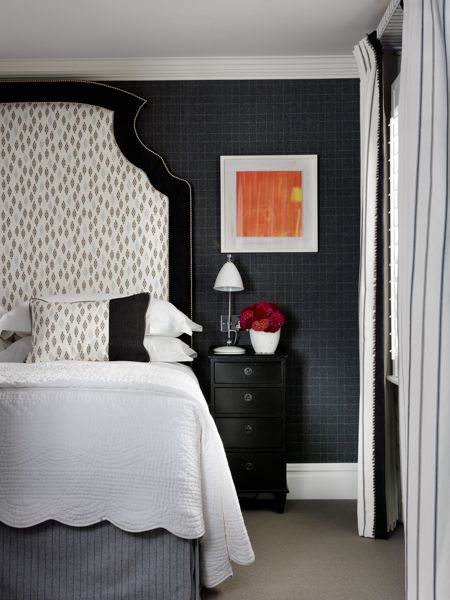 How High is Your Headboard: The combination of a plush headboard that reaches just below the ceiling, with  grey flannel covered walls, makes this room instantly cozy. Notice how the graphic pattern is framed in a darker hue and trimmed in nailhead, giving the headboard more tailored look. Grey flannel sets an elegant and masculine tone here, one that would also be ideal for a library or office. The headboard print is from Robert Allen and the flannel is from Moon.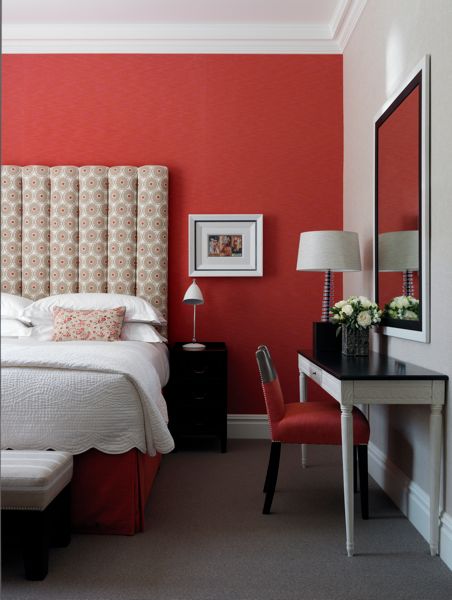 Fearless Use of Color: One vibrant red wall provides an exciting focal point for this guest room. While the space is tempered with soft grey paint on the other 3 walls, red continues to punctuate the space on the bedskirt and  chair. If you are in love with a bold color, but think it would be too overwhelming on every wall, this is a clever trick for living with a stronger hue. It is also a design idea that could be copied inexpensively with paint and solid fabrics. The graphic print on the headboard is from Baker Lifestyle.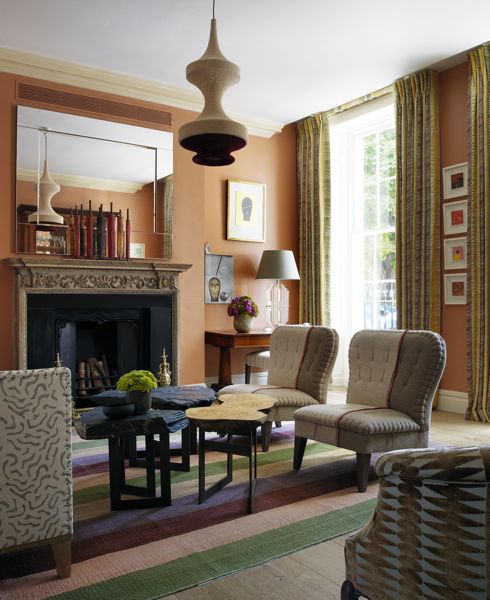 Banish the Beige: Dusty coral walls set a gorgeous backdrop for this living space. The beautiful hue is an example of how to use color in a sophisticated way. No need to play it safe with beige in a living room, even when you use  a lot of color and pattern on furniture and carpets.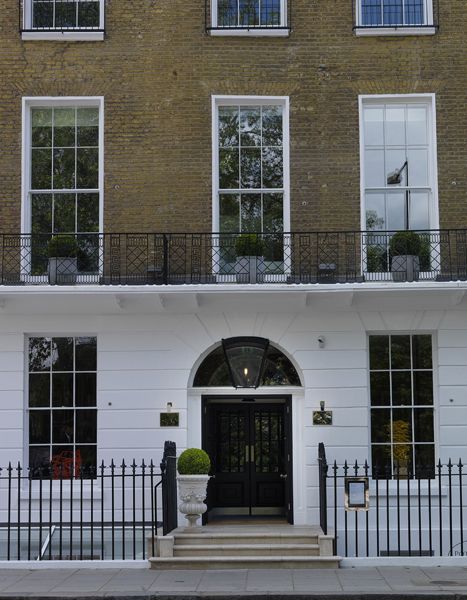 The 38-room Dorset hotel is located in Marylebone neighborhood of London. It would be a lovely place to spend a few winter nights.