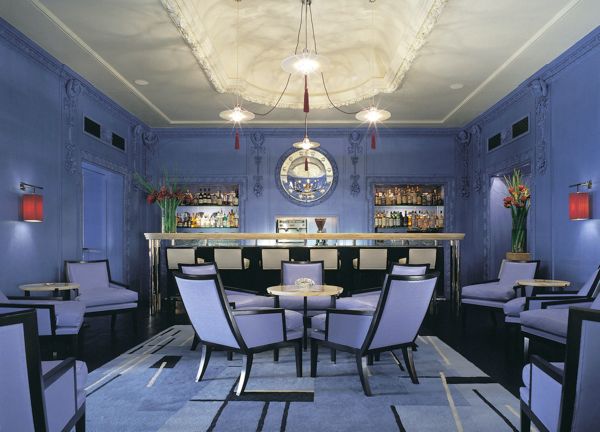 With black crocodile print leather floors, a white onyx bar, and moody blue-on-blue color scheme, the Blue Bar at London's Berkeley hotel feels wonderfully glamorous. With only 50 seats, the intimate bar designed by David Collins is the perfect combination of sophisticated and sexy. If you are in London for the Olympics this summer, you should drop in and enjoy the cocktail of the moment, a Japanese Sour created by bartender John Higgins. The drink is a version of a sour, but utilizes fresh ginger and yuzo juice, both known for their cleansing properties. If you just want to bring a little of the Blue Bar to your place, try their Japanese Sour recipe below. If you can't find Yuzo juice (available at some Whole Foods) try equal parts lime and orange juice.  Also regular whisky is fine too. Cheers!
50ml Yamazaki Hakushu 12 yr green label whiskey (regular whisky works too). 25ml Yuzo juice,  a type of Japanese citrus fruit with a flavor similar to mandarins and lime (substitute equal parts lime and orange juice if you can't find Yuzo juice).1 thumb fresh ginger. 3ml cinnamon liqueur (goldschlager or equivalent). 5ml Xaneth vanilla liqueur. 10ml sugar syrup. The white from one egg.
Method: Muddle the ginger in the base of a Boston glass and fill ¾ full of cubed ice. Add the rest of the ingredients and shake vigorously to achieve a froth and double strain into a chilled martini glass.
Image courtesy Berkeley Hotel