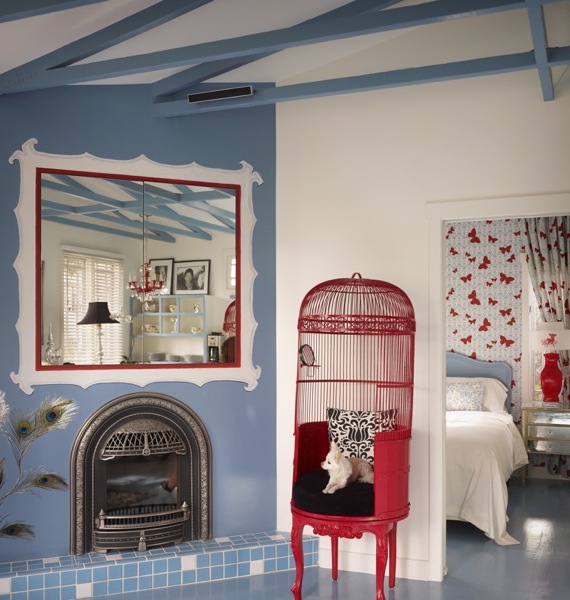 Located 4 blocks from the happening California coast are the Venice Beach Eco Cottages, three adorable 1920s bungalows which have been lovingly transformed into cheerful examples of green style.  Husband and wife owners, Cynthia Foster and Karel Samson rely on solar energy to power each of the 1-bedroom cottages. A water filtration system, recycled materials, flea market finds, low VOC finishes, along with organic linens and mattresses, keep up the hotel's eco-friendly ethos.
The interior design of the Le Bebe cottage was done by green guru Kelly La Plante. One of my favorite touches is the a whimsical red chair that was crafted from a vintage birdcage, the short ends of a picket fence, and a lazy susan. Brilliant!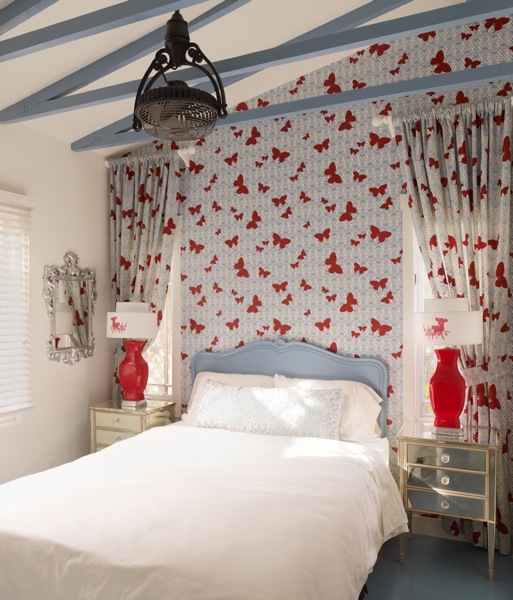 The Le Bebe cottage, features a delightful red and pale blue color scheme throughout. The cheery wallpaper and fabric is Butterfly Jubilee from ModGreenPod. Both are hand printed with non toxic inks on vinyl free paper and organic cotton. Almost all the furniture is vintage, scored at local flea markets and given new life with a fresh coat of nontoxic paint.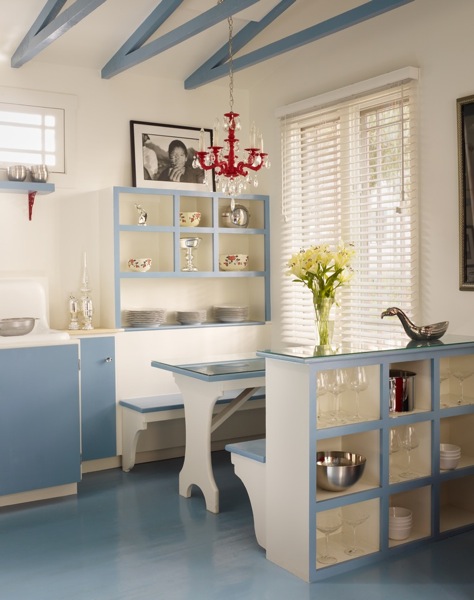 Each cottage features its own kitchen. There is even a jacuzzi made from recycled milk jugs (yes, seriously). All wall and floor colors were custom blended at Naylor's Paint & Wallpaper.  The blue floor paint is Benjamin Moore Natura Zero VOC and topped with a no voc clear coat by AFM Safecoat.
The Venice Beach Eco Cottages prove that green can be both gorgeous and unique.
Enjoy!