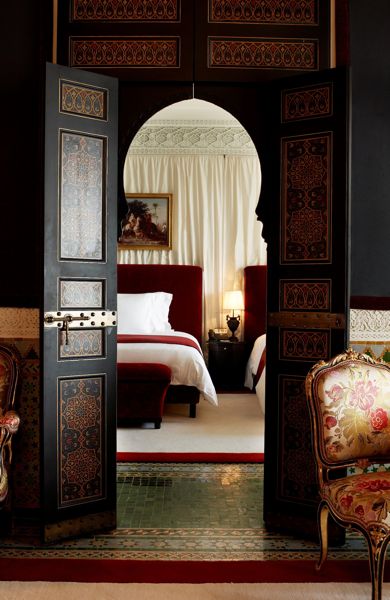 Prepare to be totally wowed…La Mamounia in Marrakesh is so color-saturated, theatrical, and exotic, that as I looked through the pictures of this 207 room Moroccan hotel, I kept oooohing and aaaahing with a few, Amazing!'s thrown in. (Plus a few sighs, because I can't imagine when or how I will ever get there!)
Originally built as a wedding gift from Morocco's King Abdellah to his son Prince Moulay Mamoun in the 18th-century, the palace was transformed into a hotel in 1923. It has long been considered one of the best and most beautiful hotels in the world. La Mamounia reopened in late 2009 after a 3-year $180 million dollar renovation, spearheaded by French designer, Jacques Garcia (who also did the sexy Hotel Costes in Paris). Garcia worked with thousands of craftsmen who created mosaics, handcarved and painted ceilings, inlaid doors,  crafted tile, and carved plaster. The result is dazzling.
Usually when I look for hotels to feature, I gravitate towards places with accessible design ideas that you can recreate at least  bit of at home–a great paint color, a cool lamp shade, a gorgeous fabric. Here, the work is all custom and incredibly over-the-top, so my post is more about inspiration. Jacques Garcia has described the hotel this way, "Reminiscent of a far away time and place, La Mamounia is a modern day fairy tale." Enjoy!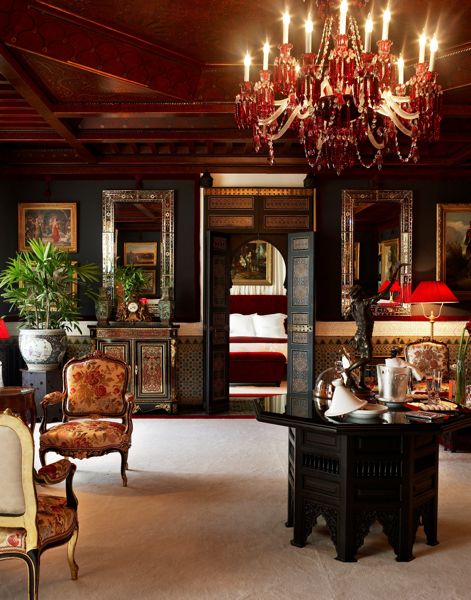 I love how this living room is a mix of Moroccan elements–the octagonal table, the arched doorway, the tiled walls–paired with European touches like Venetian mirrors and Louis XV chairs.  If you like the look, Ballard Designs has a terrific Louis XV reproduction and Horchow has a nice mix of  Venetian style mirrors as well as some cute Moroccan style side tables. I also found this cool Moroccan furniture website.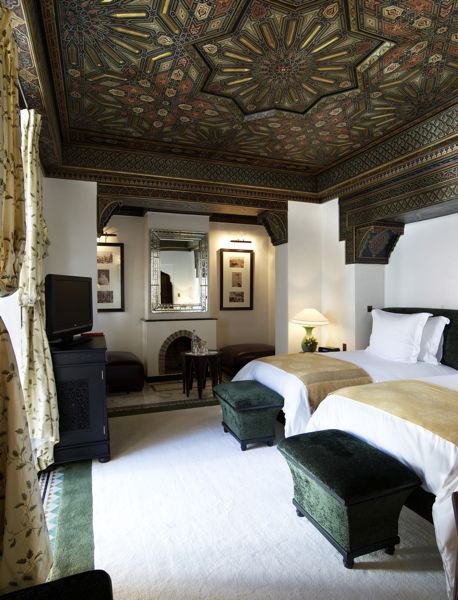 Can you imagine waking up to this divine ceiling, above? I would never want to get out of bed!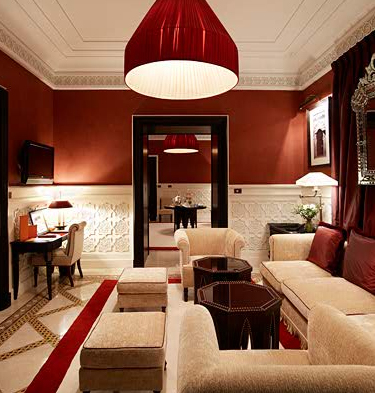 This living room above would be the easiest to recreate the look of (minus the intricate plasterwork and the marble floors!). It would be a great look for a cozy den. I love the burnished red walls against the beige sofas paired with two glossy octagonal tables. The red trim on the furniture is a nice way to pull the look together. The red fabric covered pendant chandelier, is my fave. I found a similar one here.
Garcia made red the signature color of the hotel, and the gorgeous hue is used throughout. Above, the red border of the carpet and  throw, are just enough of the showstopping shade to make a chic statement. Many of the guestrooms overlook the 20 acres of gardens.
Even though Garcia kept the above room in neutral tones, it still has such a sense of drama and elegance. The inlaid coffee table and the carved wood ceiling are both stunning.
Garcia designed the hotel's three Riads–gorgeous 3-bedroom suites that feature their own private pools. Don't you just want to dive right in?